What is the Best Robot Vacuum Cleaner for Carpet?
BY Andry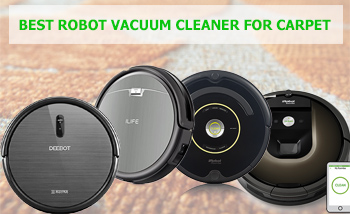 You will agree with me that owning a carpet is everyone's wish but cleaning it is the reason why most people don't like it…
But here's some good news; with the coming of robot cleaners for carpets, it is now easy to keep your carpet clean and most importantly, in good shape. However, for many carpet owners, shopping for the best robot vacuum cleaners for carpets remains a hurdle.
It is for this reason that we decided to come up with this review of the best vacuum cleaners that carpet owners should have in their wish lists. So, without further ado, let's get straight to business.

Comparison table
Cleaning Modes
Spot, edge, and planned cleaning modes
Auto, Spot, Edge, Single room
Navigation
Entirely random navigation
3 types of Anti-Drop Sensors
The RoboVac 11 is a great vacuum cleaner that can be ideal for carpet owners on a budget. It boasts high suction power and a triple filter system that ensures deep carpet vacuuming and filtering of the tiniest particles like dust and allergens and pet hair that hide deep inside your carpet. Its design allows it to get just anywhere including under sofas.
So, without further ado, let's get straight to the review of the Eufy RoboVac 11 and see why it features in our list of the top 5 best vacuum cleaners for carpet floors.
First, this vacuum cleaner sports a low-profile and stable design to allow it get almost anywhere. It can maneuver under the sofas to kickstands and even corners.
Besides, it has elaborate wheels that give it stability for seamless navigation. Above all, these wheels allow it to climb from floors onto the carpet without getting stuck. This is among the reasons that make this vac stand out when it comes to carpet cleaning.
Pros
Low-profile design
Elaborate wheels
Triple filter technology
High Suction power (1,000Pa)
Ideal for carpets, pet hair and allergens
Cons
Not ideal for high-pile carpets
Random navigation
The RoboVac 11 also has an effective cleaning system which is among the features that sneaked it in this list of the best vacuum cleaners for carpets.
Important
Eufy engineered this cleaner with a 3-Point Cleaning System which includes a side brush, a rolling brush and lastly, powerful suction power. The sides brush has been crafted to work well on carpets and rugs by sweeping the path of the cleaner. Besides this, the rolling brush ensures all dirt on the carpet and floors is picked up ready for vacuuming.
Lastly, it has a powerful motor that delivers up to 1000Pa for maximum suctioning. With regards to filtration, the RoboVac 11 has triple filters for effective filtration.
In these 3 filters, one is a HEPA-style filter to cater for allergens like dust mite, spores, and pet hair. This makes this cleaner also ideal for pet hair. The RoboVac 11 has 3 cleaning modes; Edge, Spot and Max modes.
This vacuum cleaner has infrared sensors that guide the vacuum cleaner. However, this navigation system is not as elaborate as that in cleaners like the Roomba. There are also a set of Anti-Drop sensors that enable the vac to detect cliffs to prevent falling on stairs.
The Robovac 11 is powered by a powerful Lithium Ion battery that can power it for up to 90 minutes. The unit comes with an integrated home base where the cleaner docks for recharging and resumes immediately it gets fully charged.
verdict

Even though this vacuum cleaner lacks a reliable navigation system, it offers superb performance on carpets. Besides, it is ideal for anyone suffering from allergies and even pet owners. Considering its price, I would recommend this vacuum cleaner for anyone who has a carpet and love to keep pets!
#4. iLIFE A4s Smart Robotic Vacuum Cleaner
The iLIFE A4s is another great vacuum cleaner carpet owners can get value for money in. This vacuum cleaner combines high suction power and extended battery life to ensure your carpet remains clean and most importantly, in great shape. Besides, it has an LCD and remote for easy control.
When it comes to design, this vacuum cleaner is among the best. It stands at less than 3-inches thus enabling it to maneuver under sofas and other household furniture.
To enable it to climb carpets from floors, it has large wheels that have been crafted to offer stability to avoid falls and getting stuck. There's also an LCD that enables you to operate the vacuum cleaner.
Pros
Low profile design
Large wheels
Mop, Suction, Sweep, Wet and Dry
High suction power (1,000Pa)
Powerful battery
LCD
Important
With regards to cleaning performance, it has been designed to work best on carpets and rugs as well as all floor types. One great feature in the ILIFE A4S is the 3-stage cleaning system and high suction power. It offers better agitation and suction for enhanced performance. The ILIFE A4S features a HEPA filter system. This system can trap plant pollen, pet dander and even tiny dust mite among many other allergens. The HEPA filter should be replaced in 6 months.
ILIFE brought on board the newly designed Double V-Shaped bristle brush. Bristle brushes improve brushing by 50%. The V-Shape, on the other hand, reduces tangling. This brush system can scrub even stains on the floor.
The ILIFE A4S is a real-life robot. It has been engineered with programmable scheduling for scheduled cleaning. You can preset it for seven consecutive days. It will then start cleaning automatically. When the charge is low, it will also locate and go to the docking station for recharging.
The A4S has an impressive battery life. On a full charge, it can run for around 140 minutes.
In case you want it to operate for longer, you can switch to the Active Max mode which reduces battery consumption drastically without compromising on cleaning. Besides the impressive battery life, it features a cordless design.
The ILIFE A4S has the revolutionary Anti-Collision and Anti-Drop Technology that enables the cleaner to avoid obstacles and most importantly, avoid falls. This technology uses infrared sensors to detect their environment. This makes it a very safe vacuum cleaner regardless of your floor types or home design.
verdict

The ILIFE A4S is a revolutionary robotic vacuum cleaner that can come in handy for carpet owners. It features a simple, compact design that allows it maneuver through the tightest areas in your house. The cyclone power 3 stage cleaning system and the double bristle brushes ensure detailed cleaning on walls and corners. With all these in mind, I would recommend the ILIFE A4S to anyone looking for a low budget robotic vacuum cleaner.
The Roomba 650 is a great vacuum cleaner in the Roomba series that is more affordable than the Roomba 980 and offers quite some good performance on carpets. It has a dynamic head, Dirt Detection and a reliable and tested cleaning system. Above all, its price is affordable considering it is manufactured by iRobot, a top brand in the market.
The Roomba 650 has a low profile design that allows it to creep under sofas and other household furniture.
Besides this, the large wheels enable it to climb or carpet edges. This is unlike many vacuum cleaners that get stuck on carpet edges. The best design feature that makes it great for carpets is the Adjust head that automatically adjusts to make sure the brushes are in close contact with the deepest parts of the carpet fabric.
Pros
Low-profile design
Large wheels
Superior cleaning technology
Dirt Detection
Virtual Walls
Affordable
Cons
Long charge time
Noisy when working
Important
The Roomba 650, just like the rest of the Roombas, uses the renowned Patented 3-Stage Cleaning system that ensures comprehensive cleaning. This system works by sweeping, brushing and then suctioning leaving floors and carpets clean. One thing to note here is that the Roomba 650 has better suction power than many of its competitors.
This is among the reasons why it is recommended for carpet cleaning. In addition to this, it uses high-quality filters and brushes that won't allow any dirt to escape. Another unique feature here is the Dirt Detection which detects areas with more dirt and cleans the area intensively.
In terms of navigation, this vacuum cleaner is a top player. It employs the popular iAdapt Navigation System from iRobot. This is considered among the best navigation technologies in the world or robotic vacuum cleaners. It enables the cleaner to clearly map out your house for a precise and methodical cleaning. Furthermore, it combines with the Virtual Walls to facilitate multi-room cleaning as well as restricting the Roomba from reaching certain areas.
The Roomba 650 runs on a powerful lithium-ion battery that can run it for 60-90 minutes. It also comes with self-docking meaning it will go to its base for recharging and resume cleaning automatically thereafter. The only disadvantage is that it takes very long to fully charge.
verdict

The Roomba 650 can be a great purchase for any homeowner with a carpet. It is able to climb carpet edges seamlessly and adapts to the carpet surface for maximum brush contact. Besides, it has high suction power for high power vacuuming. If you want an affordable Roomba for your carpet, then this is the deal!
#2. ECOVACS DEEBOT N79 Robotic Vacuum Cleaner with Wi-Fi
The ECOVACS DEEBOT N79 is another great robotic vacuum cleaner that you can get for your carpet. It has high suction power and a hardy V-shaped brush that makes it great for carpets as well as floors.
This particular cleaner is unique from the above when it comes to connectivity. It comes with Wi-Fi compatibility and can also be operated from your device using the ECOVACS App.
This vacuum cleaner sports a cool brushless motor design. It offers higher rotation speed and thus more suction power. It can produce up to 1000Pa thus enable the cleaner to efficiently collect dust, dirt, debris and even pet hair from all kinds of carpets and floors.
To ensure more lifting power, the DEEBOT comes equipped with a V-shaped main brush system. This brush system can lift and clean deep areas of carpets. The DEEBOT N79 greatly reduces airborne contributors. It can vacuum and filter out allergens thus leaving you with free, breathable air.
Pros
Spot cleaning
Wi-Fi and App connectivity
One of the cheapest robot vacuums with WiFi
Avoids barriers and falls
Low noise operation
Long run time
Cons
The Anti-Collision fails at times
Will not work on high pile carpet or rugs
The DEEBOT N79 has four main cleaning modes. First, there's the Auto mode for general cleaning. The second mode is Single Room mode which cleans specific rooms. The third is Edge mode which is for cleaning specific edges while the last mode, Spot Cleaning is for intensive cleaning on specific areas, especially where there are stains.
Important
The DN79 ensures detailed cleaning by using the SMART MOTION technology. It cleans rooms regardless of their shape or size in a repetitive and advanced cleaning path. The DEEBOT N79 comes with Advanced Safety Technology. It is equipped with 3 Anti-Drop Sensors. These sensors can detect drop-offs larger than 3.1 inches. This technology ensures your cleaner avoid hitting obstacles as well as falling off the stairs.
The ECOVACS DN622DN79 is great in connectivity. Like earlier said, it comes with Wi-Fi connectivity that allows you to connect to the cleaner via the ECOVACS App. From the App, you can issue commands to the cleaner remotely.
verdict

The ECOVACS DEEBOT DN622DN79 is a superb vacuum cleaner. It offers reliable carpet cleaning and requires no supervision. When it comes to operation, you can connect to the cleaner quickly via App using its Wi-Fi compatibility. The DEEBOT N79 is among the best vacuum cleaners that you can buy when on a budget. If you want an easy-to-use carpet vacuum cleaner, then this particular robot cleaner from ECOVACS should be on your wish list.
At number one in our list today of the best robotic vacuum cleaners for carpets is the Roomba 980, the best vacuum cleaner in the Roomba series. This vac has been engineered to offer the best all-round house cleaning including carpets and pet hair. It has high suction power and an elaborate cleaning system equipped with Carpet Boost mode to guarantee deep carpet cleaning.
Having said that, it's time we look at the features and performance of this vacuum cleaner to establish why it is ranked the best vacuum cleaner for carpets.
First, this vacuum cleaner has been built in a low-profile design that enables it to maneuver in the deepest parts and corners of your house. Besides this, it has large wheels that guarantee seamless movement, especially from the floor onto carpets. It doesn't get stuck when climbing on carpets like many other vacuum cleaners.
Pros
Low profile design
Carpet Boost mode
Superior navigation
Wi-Fi & App compatibility
Extended battery life
Virtual walls
Cons
Quite pricey
Noisy when in Carpet Boost mode
This vacuum cleaner has the renowned AeroForce 3-Stage Cleaning system. In the first stage, the sides brush sweeps dirt and debris. After that, in the second stage, the dual counter-rotating brushes ready for suctioning in the final stage. When it comes to its action on carpets and rugs, its performance is excellent. This cleaner is programmable and can be scheduled for 7 straight days.
You can also choose from Auto, Edge, Spot and Schedule cleaning modes depending on your cleaning needs. The AeroForce® High-Efficiency filters that guarantee the capture of pet hair, 99% of allergens, pollen, and other particles. Second, it has the ability to handle hair with a lot of ease. The brushless extractors prevent tangling and jamming of hair which is a major issue when cleaning pet hair.
Besides the 3-Stage AeroForce Cleaning System, iRobot brought onboard the Carpet Boost mode that enhances the cleaner's performance on carpets and rugs. In this mode, the powerful motor delivers 10x the suction power as is in normal mode. With the high suction power, the cleaner vacuums even the deepest parts of the carpet leaving it free from any dust and dirt that normal vacuum cleaners can't reach.
Important
When it comes to navigation, this cleaner uses the iAdapt 2.0 Navigation system. Besides this, it also employs visual localization for more precise and real-time navigation. iAdapt 2.0 uses a set of sensors that clearly map your house for a methodical and patterned navigation that guarantees entire level cleaning. In addition to this, there is a camera that takes images of how your house is in real time to avoid collisions and also to complement the native navigation system. There's also Virtual Walls that lets you restrict it from accessing specific areas.
When it comes to convenience, the Roomba 980 has self-docking whereby it recharges and resumes cleaning automatically. The powerful battery can last the Roomba 980 for a cool 120 minutes and takes around 3 hours to recharge fully. In addition to this, it has Wi-Fi and App compatibility and can also be operated using Voice-Activated controls like Amazon's Alexa and Google Assistant.
verdict

If you are shopping for the best robotic vacuum cleaners for carpets as well as general home use including pet hair cleaning, then the Roomba 980 will be the perfect purchase for you. Even though it is quite expensive, it is the real value for money. It has been specially designed for carpets, pet hair, allergens, and general house cleaning.
Best Robot Vacuum for carpet – Buyer's Guide
By now, you must be wondering what makes the best robotic vacuum cleaners for carpets. It is imperative to note that there are specific factors to look for here. These factors should not be mistaken with the general factors to consider when buying a vacuum cleaner.
Remember, we're buying vacuum cleaners specifically for carpets. Here are factors that you need to clearly consider before buying a vacuum cleaner for pet hair.
1. Wheels
Even though it is not a prime consideration when buying vacuum cleaners, it is when it comes to vacuum cleaners for carpets especially if you don't have a wall-to-wall carpet. A good vacuum cleaner for carpets should have large wheels to enable them to climb carpets without getting stuck.
2. Suction Power
This is perhaps the most important feature you should look for in a vacuum cleaner for carpets. Most carpet dirt hides deep inside carpets and can only be removed with intense vacuuming power. When shopping for a vacuum cleaner for your carpet, get a vacuum cleaner with high suction power.
3. Battery Power
Many vacuum cleaners for carpets rely on high suction power for detailed cleaning of carpets. With this in mind, the motor will definitely require more power to produce more suction power. With this in mind, a good vacuum cleaner for carpets should have a powerful battery to enable it last longer on carpets until all dirt is suctioned.
4. Scheduling
Carpets are known to catch dirt every time, be it from dust or pet hair. For this reason, you will need to be cleaning it more often. However, thanks to technology, you can program auto-clean sessions with the scheduling function. With this feature, your vacuum cleaner will start cleaning your carpet at your preferred times without you having to prompt it to do so. With this in mind, when buying a vacuum cleaner for carpets, make sure it has the scheduling function. It will make life easier for you as you won't be minding about cleaning your carpet for a straight week. Most vacuum cleaners come with this function so it shouldn't be a major cause of alarm.
5. Cleaning Area
The average cleaning area is also an important consideration when buying a vacuum cleaner for carpets. Before you go out shopping, make sure you know the rough estimate of your carpet. Get a vacuum cleaner that has the ability to clean your entire carpet in a single clean. Nothing can be worse than buying a cleaner that will need a recharge before finishing cleaning or will take extra long to finish cleaning your carpet.
6. Noise Operation
When working on carpets, most vacuum cleaners emit a lot of noise. This is because the motor will be working on overdrive to produce enough suction power for vacuuming the carpet. However, there are vacuum cleaners whose motors have been optimized to operate on low noise. Such a vacuum cleaner is what you should buy as it operates with minimal disturbance especially if you prefer vacuuming your carpet at night.
7. Dirt Bin Capacity
Carpets are known to have a lot of dirt, especially dust. Many vacuum cleaners have upset carpet owners because the dirt bins used to get full very fast. With this in mind, a large capacity dirt bin is essential. When shopping for vacuum cleaners for carpets, make sure you buy a cleaner with a dirt bin of at least 0.3 L to cushion you from the hassles of emptying the bin frequently. Remember, a vacuum cleaner will stop whenever it requires emptying.
8. Brush Action
In as much as you'd like to keep your carpet clean always; you also want to keep it in great shape. A good vacuum cleaner for carpets has brushes with soft textured bristled. These bristles have mild action on carpets as opposed to ordinary brush bristles that may scratch and even tater the carpet's fabric. So, when buying your carpet a vacuum cleaner, don't go for the hardy and tough brush bristles lest you end up with an old-looking carpet after a few cleaning sessions.
Our Recommendation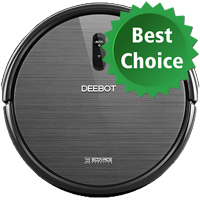 It is evident that the Roomba 980 carries the day when it comes to the best robot vacuum cleaner for carpet floors. What makes it beat the rest is the unique Carpet Boost mode that has been specially engineered to offer 10x more air power that greatly boosts the vacuuming of dirt and dust that hided deep in carpets.
Unfortunately, the $900+ budget may not be something everyone would want to hear. Fortunately, the DEEBOT N79 is here. It costs around $700 lesser and still offers excellent carpet cleaning courtesy of the 1000Pa suction power. So, if you can't get the Roomba 980, the DEEBOT N79 is still a great purchase. Furthermore, it has Wi-Fi and App compatibility.