What is the Best Robot Vacuum for Carpet in 2019?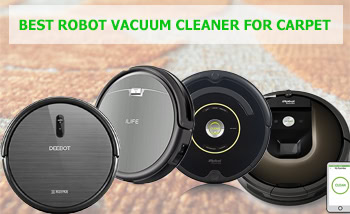 You will agree with me that owning a carpet is everyone's wish but cleaning it is the reason why most people don't like it…
But here's some good news; with the coming of robot vacuum cleaners, it is now easy to keep your carpet clean and most importantly, in good shape. However, for many carpet owners, shopping for the best robot vacuum for carpet remains a hurdle.
Comparison table of the best robot vacuums for carpet
After the RoboVac 11 was released, Eufy took the critics opinion positively, went to the drawing board and brought us a more refined robot vacuum that will handle all types of carpets.
Remember, the predecessor has quite some good action on some carpet types only; it gets overwhelmed on thick carpets and rugs. But this one, it did exceptionally well on all the carpet fabrics we tested it on.
So, what makes the difference?
As we are going to see, later on, this new version has better suction power, a new brush system, design and even the overall performance. The battery performance is also enhanced and will comfortably handle a two- bedroomed standard house without worries of a half cleaned house because your robot ran out of power.
I also like the fact that the dirt box is bigger, so it reduces human intervention – by the way, nothing sucks like coming to a dirty house only to remember the bin was full. But at the end of the day, the price is very affordable you wouldn't think twice!
verdict

To be honest, the Eufy PowerBoost is an excellent robot vacuum cleaner that should top any homeowner on a budget. It delivers enough suction to handle low to medium pile carpets. Besides, it handles all pet messes and can do a relatively excellent job on all hard floors.
Unfortunately, it doesn't have Wi-Fi meaning you are confined to the remote. But for its price, I wouldn't complain much.
2.iLIFE A4s a Revolutionary Robotic Vacuum Cleaner
The iLIFE A4s is another great vacuum cleaner carpet owners can get value for money in. This vacuum cleaner combines high suction power and extended battery life to ensure your carpet remains clean and most importantly, in great shape. Besides, it has an LCD and remote for easy control.
When it comes to design, this vacuum cleaner is among the best. It stands at less than 3-inches thus enabling it to maneuver under sofas and other household furniture.
To enable it to climb carpets from floors, it has large wheels that have been crafted to offer stability to avoid falls and getting stuck. There's also an LCD that enables you to operate the vacuum cleaner.
ILIFE brought on board the newly designed Double V-Shaped bristle brush. Bristle brushes improve brushing by 50%. The V-Shape, on the other hand, reduces tangling. This brush system can scrub even stains on the floor.
The ILIFE A4S is a real-life robot. It has been engineered with programmable scheduling for scheduled cleaning. You can preset it for seven consecutive days. It will then start cleaning automatically. When the charge is low, it will also locate and go to the docking station for recharging.
In case you want it to operate for longer, you can switch to the Active Max mode which reduces battery consumption drastically without compromising cleaning. Besides the impressive battery life, it features a cordless design.
The ILIFE A4S has the revolutionary Anti-Collision and Anti-Drop Technology that enables the cleaner to avoid obstacles and most importantly, avoid falls. This technology uses infrared sensors to detect their environment. This makes it a very safe vacuum cleaner regardless of your floor types or home design.
verdict

The ILIFE A4S is a revolutionary robotic vacuum cleaner that can come in handy for carpet owners. It features a simple, compact design that allows it to maneuver through the tightest areas in your house. The cyclone power 3 stage cleaning system and the double bristle brushes ensure detailed cleaning on walls and corners. With all these in mind, I would recommend the ILIFE A4S to anyone looking for a low budget robotic vacuum cleaner.
3.Roomba 650 with iAdapt Navigation System
The Roomba 650 is a great vacuum cleaner in the Roomba series that is more affordable than the Roomba 980 and offers quite some good performance on carpets.
The Roomba 650 has a low profile design that allows it to creep under sofas and other household furniture.
Besides this, the large wheels enable it to climb or carpet edges. This is unlike many vacuum cleaners that get stuck on carpet edges. The best design feature that makes it great for carpets is the Adjust head that automatically adjusts to make sure the brushes are in close contact with the deepest parts of the carpet fabric.
This is among the reasons why it is recommended for carpet cleaning. In addition to this, it uses high-quality filters and brushes that won't allow any dirt to escape. Another unique feature here is the Dirt Detection which detects areas with more dirt and cleans the area intensively.
The Roomba 650 runs on a powerful lithium-ion battery that can run it for 60-90 minutes. It also comes with self-docking meaning it will go to its base for recharging and resume cleaning automatically after that. The only disadvantage is that it takes very long to charge fully.
verdict

The Roomba 650 can be an excellent purchase for any homeowner with a carpet. It can climb carpet edges seamlessly and adapts to the carpet surface for maximum brush contact. Besides, it has high suction power for high power vacuuming. If you want an affordable Roomba for your carpet, then this is the deal!
4.Deebot N79s Vacuum Cleaner wiyh Alexa compatibility
The Deebot N79s is an upgrade of the previous model, the Deebot N79 that lacked a dedicated mode for carpets and Alexa compatibility. The best thing about Deebot N79s is that it's cheaper.
The Deebot N79s vacuum cleaner sports a cool brushless motor design. It offers higher rotation speed and thus more suction power. It can produce up to 1000Pa when in Max mode thus enable the cleaner to efficiently collect dust, dirt, debris and even pet hair from all kinds of carpets and floors.
To ensure more lifting power, the DEEBOT comes equipped with a V-shaped central brush system. This brush system can lift and clean deep areas of carpets. The DEEBOT N79 dramatically reduces airborne contributors. It can vacuum and filter out allergens thus leaving you with free, breathable air.
The DEEBOT N79s has five cleaning modes.

The ECOVACS Deebot N79s is excellent in connectivity. Like earlier said, it comes with Wi-Fi connectivity that allows you to connect to the cleaner via the ECOVACS App. From the App, you can issue commands to the cleaner remotely. It also supports Alexa, unlike the previous model that couldn't work with voice control.
verdict

The Deebot N79s is a superb vacuum cleaner. It offers reliable carpet cleaning and requires no supervision. When it comes to operation, you can connect to the cleaner quickly via App using its Wi-Fi compatibility.

The DEEBOT N79s is among the best vacuum cleaners that you can buy when on a budget. If you want an easy-to-use carpet vacuum cleaner, then this particular robot cleaner from ECOVACS should be on your wishlist.
5.Roomba 980 the Best Vacuum Cleaner for Carpets
At number one in our list, today of the best robotic vacuum cleaners for carpets is the Roomba 980, the best vacuum cleaner in the Roomba series. This vac has been engineered to offer the best all-round house cleaning including carpets and pet hair. It has high suction power and an elaborate cleaning system equipped with Carpet Boost mode to guarantee deep carpet cleaning.
First, this vacuum cleaner has been built in a low-profile design that enables it to maneuver in the deepest parts and corners of your house. Besides this, it has large wheels that guarantee seamless movement, especially from the floor onto carpets. It doesn't get stuck when climbing on carpets like many other vacuum cleaners.
This vacuum cleaner has the renowned AeroForce 3-Stage Cleaning system. In the first stage, the sides brush sweeps dirt and debris. After that, in the second stage, the dual counter-rotating brushes ready for suctioning in the final stage. When it comes to its action on carpets and rugs, its performance is excellent. This cleaner is programmable and can be scheduled for seven straight days.
You can also choose from Auto, Edge, Spot and Schedule cleaning modes depending on your cleaning needs. The AeroForce® High-Efficiency filters that guarantee the capture of pet hair, 99% of allergens, pollen, and other particles.
Second, it can handle hair with a lot of ease. The brushless extractors prevent tangling and jamming of hair which is a significant issue when cleaning pet hair.
Besides the 3-Stage AeroForce Cleaning System, iRobot brought onboard the Carpet Boost mode that enhances the cleaner's performance on carpets and rugs. In this mode, the powerful motor delivers 10x the suction power as is in normal mode. With the high suction power, the cleaner vacuums even the deepest parts of the carpet leaving it free from any dust and dirt that ordinary vacuum cleaners can't reach. It tends to drain the battery first, but fortunately, the Roomba has resume function.
When it comes to convenience, the Roomba 980 has self-docking whereby it recharges and resumes cleaning automatically. The powerful battery can last the Roomba 980 for a cool 120 minutes and takes around 3 hours to recharge fully. In addition to this, it has Wi-Fi and App compatibility and can also be operated using Voice-Activated controls like Amazon's Alexa and Google Assistant.
verdict

If you are shopping for the best robotic vacuum cleaners for carpets as well as general home use including pet hair cleaning, then the Roomba 980 will be the perfect purchase for you. Even though it is quite expensive, it is the real value for money. It has been specially designed for carpets, pet hair, allergens, and general house cleaning.
Best Robot Vacuum for Carpet – Buyer's Guide
Now, having looked at the best models in the market, it's time we show you how to shop for the best robot vacuum for carpets. In this buying guide, we want to cover the most critical aspects homeowners need to be aware of when buying a robot vacuum cleaner.
Why a robot vacuum cleaner?
The first reason you want to buy a robot vacuum cleaner is that they are highly specialized. Some homeowners have complained that regular vacuums damage the fabric of their carpets. This is true because the primary asset of regular vacuums is super high suction power. White vacuum power is fundamental when it's too high; some fabric gets damaged because of the high pressure.
However, for robot vacuums, several specialized features do the job, not just only the vacuum power. Another thing, robot vacuums have soft bristles that gently pick up dirt without damaging the fabric. But note that not all robot vacuums have gentle bristles that's why it's important to be very selective.
First, regular vacuums need to be pushed around, but robot vacuums work autonomously. That takes us to our next point about convenience. These little robot cleaners can be programmed to clean the house daily for the entire week. Now that carpets require frequent vacuuming, a robot vacuum is the most convenient way of vacuuming.
Will a robot vacuum replace my regular vacuum?
A lot of people have been asking this question, and today, I want to address it in depth. Well, your regular vacuum may be doing quite a great job on your carpet. But now, you want something more convenient, and that's what a robot vacuum offers.
Even though vacuuming daily dramatically prevents your robot vacuum from getting too dirty, it will eventually require high power vacuuming. This is the same case when you want to clean an old carpet that has been in the store. To cut a long story short, robot vacuums are meant for light carpet vacuuming only.
What's the best robot vacuum for low and high pile carpet?
Now that we have reviewed the top robot vacuums for carpets, it's time we make a distinction between the different types of carpets available.
But why should you be worried about the kind of carpet pile you have?
Well, to put it into simple terms, robot vacuums offer varying performance of different carpet piles.
Low vs. medium vs. high pile carpets
Before we advance, it's imperative to note the different types of carpet piles in most households.
So, what is carpet pile and how does it come into play?
Carpet pile is a term used to refer to the height of the carpet. Basically, pile is the interwoven fabric that makes up a carpet, so low pile means the carpet fabric is short whereas high pile has a lot of braided fabrics and makes the rug heavy.
You will also find low or high pile carpet being referred to as light pile and dense pile.
Choosing the best robot vacuum for your carpet pile
When shopping for a robot vacuum cleaner, the most important thing to do is knowing your carpet pile. Once you have figured out what you have, you are now set to purchase the best robot vacuum for carpet.
From our review above, it is not clear what robot vacuum suits which carpet pile. That is what we now want to sort out in this section.
Now, let's look at how each robot vacuum recommended above fits low, medium and high pile carpets.
We have shared the cleaning results we got after testing several robot vacuums on the low pile, medium pile and lastly, high pile carpets.
We tested these robot vacuum cleaner with different kinds of household dirt and here are the results.
Low pile carpet cleaning results
If you have a low pile carpet, then you shouldn't worry too much when choosing a robot vacuum cleaner. This is because low pile has very few places where dirt can hide and even with above average suction, say anything above 500 Pa, you are good to go.
All the robot vacuums we tested vacuumed the dirt pretty thoroughly save for the ILIFE A4s, Roomba 650, and Deebot N79s.
These three models had trouble picking up the fine dirt particles like flour. After vacuuming, they left some whitish patches on some areas. As for the Roomba 980 and Robovac 11+, all the dirt was vacuumed. But how often will you be spilling flour on your carpet anyway?
Medium pile carpet cleaning results
Here, we didn't see much changes, but you are supposed to be keen on the few observations we made.
First, the pile starts having more spaces where small dirt particles hide. That makes it hard for the average robot to vacuum and that's why you should be very keen on a powerful robot vacuum here.
The much powerful robots that is the Roomba 980 and Robovac 11+ performed quite well just like on the thin carpet.
However, for the other three, they were still troubled, this time leaving behind quite a lot. Also, for the Robovac 11+, we now saw stains of flour meaning it doesn't vacuum all the flour from medium pile. But the Roomba 980 was excellent; it sucked everything!
High pile carpet cleaning results
Here, things get a little bit tricky, and it is an area I really want to emphasize on.
Well, most of the robot vacuum cleaner brands advertise their vacuums as "best for carpet", but they don't specify the type of pile. In most cases, they refer to the low pile carpets, but on a high pile, they get overwhelmed.
Our tests confirmed this when the Deebot N79s, ILIFE A4s and Roomba 650 failed our cleaning tests terribly. Even with the large dirt debris, they were not able to clear everything because of the tick pile.
The Robovac 11+ put forward quite some impressive performance but still, it wasn't up for the task. The Roomba 980, on the other hand, performed quite exceptionally, and it is the only robot vacuum I can recommend for the heavy pile.
Robot Vacuums Runtime on Carpets
A lot of people have been complaining that their robot vacuums have shorter runtime when it is vacuuming carpets.
This is a common observation that we also tested. So, if your vacuum has been misbehaving on carpets, then this is a segment you want to follow to the end.
Well, to start, there is nothing wrong with your robot vacuum if it runs for a shorter time on carpets. But then, there is one thing you need to note; the higher the pile, the shorter the runtime.
So, what's the explanation for this?
A good example is the Roomba 980. While it has been rated 120 minutes, it does an average of 90 minutes when on medium to high pile carpet. On the other hand, on the low pile, it can do 105 minutes comfortably.
That said, you shouldn't get worried when your robot vacuum starts giving you lesser runtime. But then, if it behaves the same on bare floors, maybe it's time to replace it.
Choosing a robot vacuum for carpets
Many people assume that just any other robot vacuum will do the job. This is not true at all because there are specific models designed for carpets, the same way we have robot vacuums for hardwood floors or robot vacuums for pet hair.
In this section, we want to look at the critical factors that you need to consider when shopping for a robot vacuum for pet hair.
1. Design
Though it may not directly be related to the cleaning performance on carpets, make sure to buy a low-profile robot vacuum.
A good vacuum should be able to creep under furniture to vacuum those hard to reach spots where most dirt hides. But then, it all depends on the kind of furniture you have. If you are sure they have enough ground clearance, this should not matter to you so much.
But for the record, I know several guys who have had their Roomba and Botvac D7 stuck under furniture.
2. Priority
What other surface does that robot vacuum clean? It doesn't just end at choosing the right vacuum for your carpet. You also need to consider the cleaning performance on other surfaces.
In other words, get a versatile robot vacuum cleaner. This is because your entire house is not covered by carpet, there are areas where there is the bare floor.
3. Vacuum power
This is the most important consideration and perhaps what makes Roomba 980 the best. Carpets require high vacuum power, so anything with less than 1000 Pa is not good for carpets. In fact, for high pile carpets, only a few robot vacuums can deliver the 1500 Pa plus of suction power required. Also, it should preferably have two power modes; low and high power.
4. Brush
This is another critical cleaning feature that should worry you. Carpets are very delicate and may not endure the rough action hard floors endure.
Make sure you go for the gentle bristle brushes, especially rubber extractors. Rough bristles will damage the fabric and make the carpet look old.
Another thing to look out for is tangling, a major concern for pet owners as well as carpet owners.
You find that some carpet fabrics like polypropylene have thin nylon threads that get tangled on the brush and this poses the same headache as the fur of long-haired dog breeds.
Here, I still recommend the Roomba 980, or anything with a proper mechanism to handle tangling.
5. Battery runtime
One thing you need to note is that on carpets, robot vacuums require more torque and at the end of the day, it ends up draining the battery faster. For that reason, you need to get a robot vacuum with longer runtime at least to compensate for the drag on carpets.
Apart from the battery capacity and runtime, also consider getting robot vacuums that will resume cleaning after recharging.
Most of the vacuum cleaners will go to the charging base but forget about cleaning so many are times you find the house halfway cleaned. But lay more emphasis on longer runtime because recharge times are usually longer 2-3 hours; your guests might arrive in a dirty house!
6. Navigation
This is not related to the cleaning performance of a vacuum, but it is essential to buy a robot vacuum with the best navigation technology.
The first reason you want such a robot is to ensure it navigates seamlessly without hitting obstacles or falling off the stairs.
Second, a good navigation system is essential to ensure fast and efficient cleaning.
7. Wheels
Though not a primary consideration when buying robot vacuums, the wheels are a crucial aspect when purchasing robot vacuums for carpets. This is especially if you have high pile carpets that are often hard to climb.
8. Smart features
The convenience of robot vacuum cleaners is mind-blowing.
The first thing you want to look for is scheduling. This is a feature that allows you to program your vacuum for daily cleaning throughout the week.
Also, get a robot vacuum with Wi-Fi to support Smartphone App operation. You can always control the robot vacuum even when you are miles away.
What's the best robot vacuum for carpets?
The Roomba 980 is the best overall robot vacuum cleaner for carpets. But what makes it better than the rest, including the Roomba 960?
Well, the dedicated mode for carpet cleaning called Carpet Boost makes the difference as it can deliver a whopping 1700 Pa when activated. This is enough suction to handle even the heaviest of carpets.
Besides the Roomba 980 has an excellent navigation system; iAdapt 2.0. This is the industry-leading technology because it uses cameras and sensors whereas most robot vacuums use sensors only. Roomba 960 also has this navigation system but lacks Carpet Boost which is primary in our discussion today.
Lastly, it is Smarter and more intelligent. Roomba 980 has advanced cleaning settings a feature even the predecessor lacks. In this feature, you can customize your cleaning to your preference.