How to choose Roomba Vacuum Cleaner for pet hair in 2020?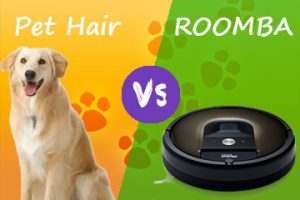 Will you agree with me that Roombas are the best choice for pet owners in the market today?
In this article, we have reviewed the most popular models of 2020 to answer the main question, "which is the best Roomba for Pet Hair today?"
We also have a detailed buying guide to help you identify a model that suits your cleaning needs.
It's 2020 folks, and the Roomba Pet Series is no longer an option if you have furry friends.
There have been lots of advancements since the times when the Roomba 562/563 dominated the market. Below are the iRobot vacuums that should be on your wish list if you have pets.
Best Roomba for Pet Hair Comparison Chart
iRobot Roomba S9/S9+ – Best Robot Vacuum for Pet Hair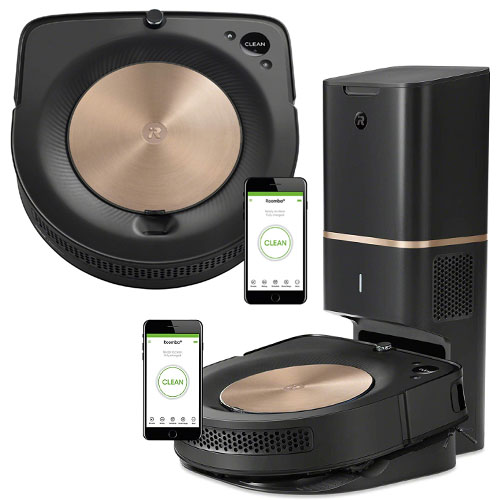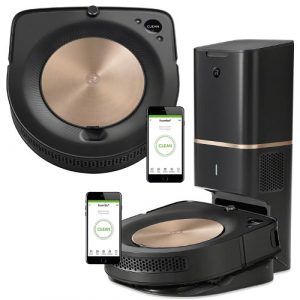 The S series is the latest vacuum from Roomba and features the revolutionary self-emptying bin technology.
Now, what's the difference between the S9 and S9+?
The Roomba S9 doesn't include the CleanBase unit but the S9+ tags along with the CleanBase, at a higher price, of course. Buy this model if you are looking for all-round performance; on bare floors, and all carpets.
The Roomba S9 uses a 3-stage cleaning system. The motor is very powerful and delivers a maximum of 2200Pa. This is the most potent robot vacuum we have reviewed so far. The dual multi-surface brush is tangle-free and 30% wider while the AeroForce filtration captures 99% of allergens, dust, pollen, and mold.
Among the unique features of the S9 is the D-shape design, dubbed PerfectEdge technology.
The Roomba S9 has a pretty impressive runtime; 120 minutes to be precise. The robot recharges and resumes cleaning automatically.
We like the fact that it can intelligently calculate the exact charge it requires to complete the job instead of waiting for the entire 2-3 hours recharge time.
Price History
iRobot Roomba i7/i7+ Good Robot Vacuum for medium pile carpets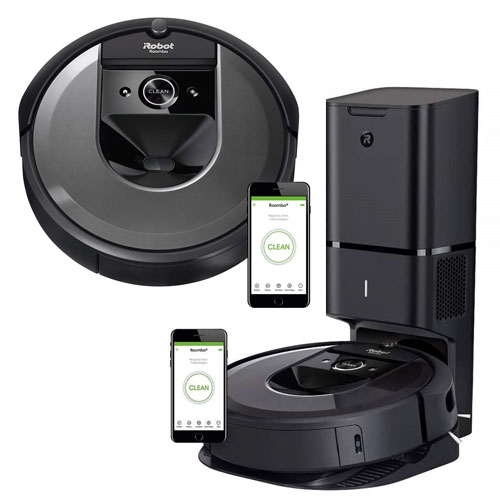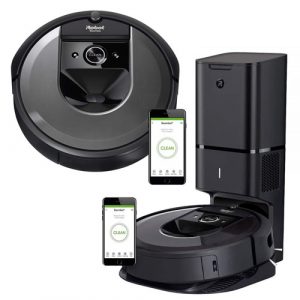 The Roomba I series was released in 2018 and is the first robot vacuum with a self-emptying bin.
Buy this model if you have bare floors and low pile carpets as it doesn't have enough suction to flush out dirt from the deepest parts of the carpet, but in picking up pet hair, dander, and kitty litter, it is an excellent choice.
Now, what's the difference between the Roomba i7 and i7+?
Well, the two are very similar only that the Roomba i7 doesn't include the CleanBase unit, but it is compatible with the self-emptying technology. The CleanBase has been designed to empty the bin when the robot docks and can hold the entire month's dirt.
Regarding cleaning performance, the i7 delivers a maximum of 1000Pa, which is not so good considering the high price of the vacuum.
The brush system is not different from the others. There is a dual multi-surface brushroll with anti-tangle technology and a single side sweeping brush as well. As for filtration, the Roomba i7 features the AeroForce filtration system, and even though they are not true HEPA, they go a long way in purifying the air.
Price History
iRobot Roomba 960 – Good for pet hair in large home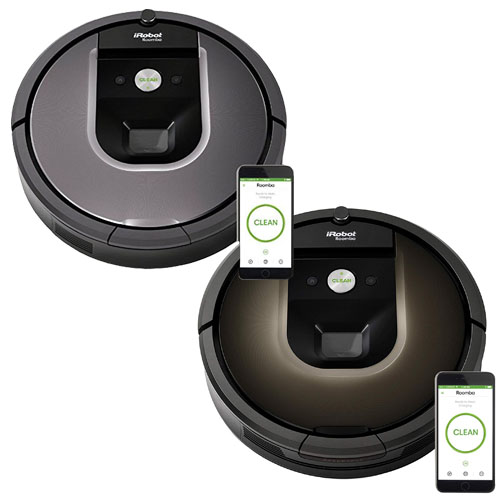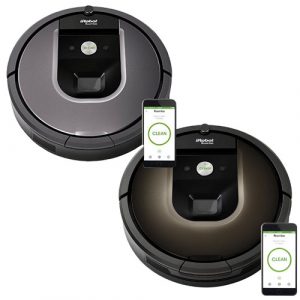 This is the base model in the Roomba 900 series.
If you want a mix of features, this is a perfect choice.
The Roomba 960 uses a 3-stage cleaning system just like other Roombas. This model has a 2nd Gen motor that delivers up to 1000Pa. If you have medium to high pile carpets, then consider the Roomba 980, which delivers 1670Pa. Though it has been discontinued, you can still find it on several retailers.
The iRobot 960 has a dual multi-surface brush with anti-tangle technology, so if you have the long-haired dog breeds, you don't have to worry about tangling.
The AeroForce filtration system, on the other hand, captures pet-related allergens ensuring your house has a fresh atmosphere always.
One of the outstanding features of the Roomba 960 is the iAdapt 2.0 VSLAM navigation that uses sensors and a real-time camera for precise navigation.
Smart home enthusiasts will also like the inclusion of Wi-Fi for mobile app operation as well as Alexa compatibility. Worth noting is the unique app features like Clean Map reports and customized cleaning.
Price History Chart
iRobot Roomba E5 (5150) – budget Robot Vacuum for pets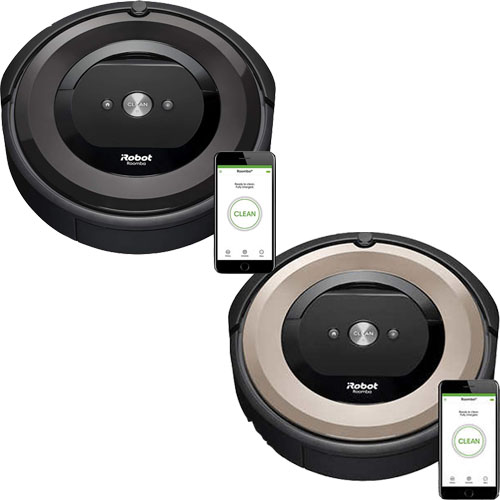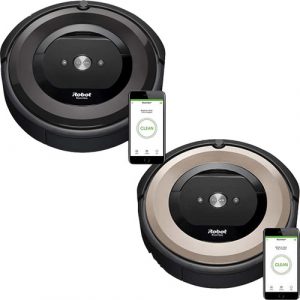 The E5 is a pretty new model released in 2018, together with the Roomba i7/i7+.
If you are on a budget, this is an excellent choice as it costs under $300, just like the 600 series. But then, the Roomba E5 has better performance, and though it isn't the best for carpets, at least it has improved suction power.
This vacuum has an improved motor that delivers 5X more air power compared to the 600 series. This is around 1000Pa, which is enough to pick up dirt and pet hair from bare floors and low pile carpets.
We also liked the dual multi-surface brushes, which adjust and flex to make sure they are in contact with the surface, whether bare floors or carpets.
When it comes to navigation and mapping, the Roomba 5150 is SLAM based (iAdapt 1.0). It doesn't create or store maps. If you have a large apartment, with high traffic, this might not be the best choice. But the obstacle detection sensors and anti-drop sensors make sure your robot stays in the safe zones.
The E5 includes a single, dual virtual walls barrier.
Regarding convenience, this vacuum comes with 2.4GHz Wi-Fi for mobile app operation as well as Alexa compatibility. While it lacks in several areas, the Roomba E5 is a worthy vacuum for pet hair considering the affordability.
Price History Chart
iRobot Roomba 675/690 – Best Robot Vacuum under $300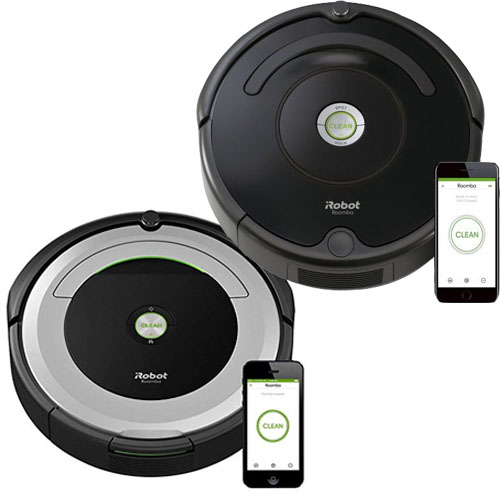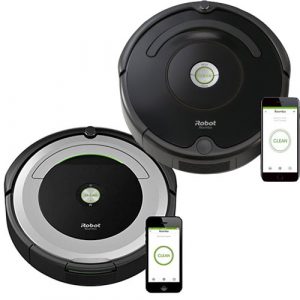 If you are on a budget, the Roomba 675 and 690 will be the best deal for you now that they cost under $300 .
The 675 is a newer model, but it shares the same features with the Roomba 690, which came to replace the iRobot 650.
The only difference between the two is the accessories supplied.
The Roomba 690 comes with one Virtual Walls node, but Roomba 675 doesn't come with any though it is compatible with this boundary marking technology. If you can sacrifice the Virtual Walls function, the 675 is the best choice as it is cheaper.
The Roomba 675 and 690 are ideal models for picking up pet hair on bare floors; hardwood, vinyl tile, you name it.
The suction and brushroll allow for easy pet hair pickup, whether you are dealing with the short pet hair or long dog hair.
On carpets, the performance is dismal, and if it is a must that you buy these models, do so only if you have a low pile carpet.
The Roomba 600 Series features a 3-stage cleaning system. It has one speed, delivering an average of 550Pa, which is enough for picking up pet hair from bare floors.
Unfortunately, the duo gets overwhelmed when it comes to the long dog hairs though the company promises that the brushroll is tangle-free.
Other features include 60 minutes runtime, though there is no resume function after recharge, SLAM navigation with no intelligent floor mapping, and Wi-Fi for smart operation via mobile app and voice assistant (Alexa and Google Home), among other smart home integration platforms.
Price History Chart
Pros and Cons
Roomba in-Home Tests – Let's find the best Roomba for pet hair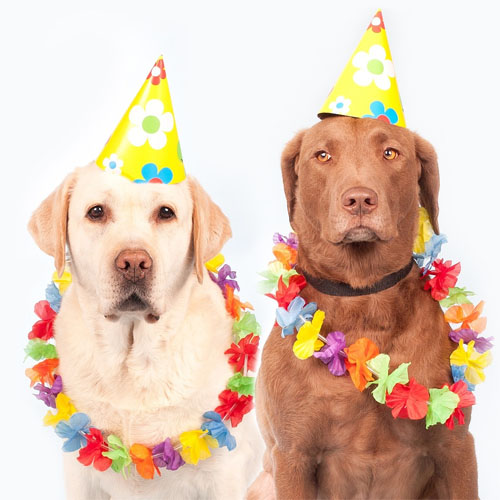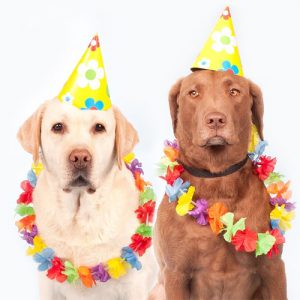 As usual, we tested these robot vacuums to find out the real performance in a household setting.
Thanks to Sarah Parkinson for allowing us to conduct the test in her two bedroom apartment with a medium-pile carpet and area rugs.
We also brought in two Labradors Retrievers which are among the heavy shedding dog breeds, and together with Sarah's cat, it was the perfect lab.
We also had dog and cat hair and kitty litter of course, which we scattered around the different surfaces we tested. While pet messes were our primary concern, we also used Cheerios, rice, sugar, and flour.
So, how did they perform?
What's the best Roomba for pet hair on Hardwood Floors?
On hardwood and bare floors, all the Roombas picked up the pet hair and kitty litter without a problem. But in terms of efficiency, some models performed better.
The Roomba S9 was exceptional courtesy of the high suction power. It picked up small and large particles with ease. As for the rest of the models, they performed good but didn't vacuum the small dirt like flour in the first pass.
What is the best Roomba for dog & cat hair on carpet?
In our test household, we had a medium pile carpet which we also scattered some dirt on. Here, we made a huge observation in that the low power models struggled to pick up the tiny dirt particles and short pet hair.
High Pile Carpet in-Home Tests
Most households have high-pile carpets, so we also found one heavy Flokati rug to test the Roombas, and the results here were not very convincing with the lower models.
Why Roomba is good for Dogs and Cats hair?
It is time we discuss several important aspects about pet hair and allergens and most importantly, how to select the best model for you. We will also be answering the pertinent questions that our customers have been asking us.
The Problem of Allergies
For many, pets are more than just animals, and it's hard to let them go regardless of the allergy triggers they bear. Worse is the constant shedding, whether it is a heavy shedding dog breed or the pet has a condition that is causing the heavy shedding.
Why Buy a Roomba?
You will agree with me that Roombas are damn expensive and the cheapest costs almost the price of an upright or canister vacuum.
But will it replace my regular vacuum or you will still need the bulky manual cleaners?
To be honest, a robot vacuum is not a substitute for your canister or upright when it comes to pet hair cleaning. You will still need your Bissell or Shark vacuum to clean heavy pet messes. For pet hairs on upholstery or the car, a handheld vacuum like the Dyson V10 will also be required.
To ensure comfortable living, free from pet hairs on the floor and allergens in the atmosphere, frequent vacuuming is recommended. However, doing the job manually with your upright or canister is such a demanding tasks, and that's why robot vacuums are becoming increasingly popular.
Unlike your traditional vacuum, these work autonomously so you don't need to be around for the house to be cleaned. More so, you can easily schedule your preferred cleaning times so you can finally keep the house clean effortlessly.
Hypoallergenic Dogs and Cats; Myths or Facts?
When it comes to pet hair and allergens, one of the most controversial topics is, are there hypoallergenic dogs or cats?
Hypoallergenic are pets that are perceived to be allergen-free. But then, this is a myth because there is no hypoallergenic dog or cat. However, we can't dispute the fact that some dog or cat breeds have lesser allergenic properties than others. But the bottom line is, all dogs and cats have allergens.
Many people assume that pet hair itself is an allergen, but this is not true. The misconception sets in when some experts refer to less shedding breeds as hypoallergenic when pet hair itself doesn't have any allergens.
FAQ