🐶 Best Roomba For Pet Hair
Pets are great companions but, managing their mess is a headache.
In this article, we will try to choose smart helpers and answer one central question: "What is the best Roomba for pet hair?".
Roomba is the pioneer company in the robot vacuums industry.
Unlike other brands that just replicate the technology, iRobot is a leader in R&D and innovation. Among the technologies, which it came up with, is a three-stage cleaning system, Dirt Detect, VSLAM navigation, recharge, and resume function, etc.
This dedication has brought the California-based scoop several awards including Red Dot Product Design Award – Roomba 980 (2017), CES 2016 Innovation Awards, and iF Product Design Award Winner.
Once again, we had to revise our review of the best Roomba for pet hair after the California based robot vacuum brand released yet again a new series of robot vacuums.
In our previous review, the battle for the top spot was between Roomba 980 and i7+.
Find out whether the duo retains the top spot, or the new S9+ displaces one of them.
Both models have pros and cons. The 980 boasts a longer runtime, and Carpet Boost, features the i7+ lacks.
On the other hand, their i7+ boasts Imprint Smart Mapping, and the self-emptying bin technology.
Without further ado, here are our top picks.

Roomba Pet Series Comparison Table
| Model | Suction Power | Filter | Noise Level | Anti-Allergen System | Smart Mapping | Control | Run/Charging Time | Price |
| --- | --- | --- | --- | --- | --- | --- | --- | --- |
| Roomba 675 | 600 Pa | Aerovac HEPA-style | 62 db | | | Wifi, Amazon Alexa, Google Assistant | 90 min/120 min | Check Price |
| Roomba 690 | 600 Pa | Aerovac HEPA-style | 68 db | | | Wifi, Amazon Alexa, Google Assistant, Virtual Wall | 90 min/120 min | Check Price |
| Roomba 890 | 1000 Pa | HEPA Filter | 68 db | | | Wifi, Amazon Alexa, Google Assistant, Virtual Wall | 90 min/120 min | Check Price |
| Roomba e5 | 1000 Pa | HEPA Filter | 65 db | | | Wifi, Amazon Alexa, Google Assistant, Virtual Wall | 90 min/120 min | Check Price |
| Roomba 960 | 1000 Pa | HEPA Filter | 68 db | | | Wifi, Amazon Alexa, Google Assistant, Virtual Wall | 60 min/120 min | Check Price |
| Roomba 980 | 1700 Pa | HEPA Filter | 70 db | | | Wifi, Amazon Alexa, Google Assistant, Virtual Wall | 120 min/120 min | Check Price |
| Roomba i7/i7+ | 1700 Pa | HEPA Filter | 68 db | | | Wifi, Amazon Alexa, Google Assistant, Virtual Wall | 90 min/120 min | Check Price |
| Roomba s9 | 2600 Pa | HEPA Filter | 68 db | | | Wifi, Amazon Alexa, Google Assistant, Virtual Wall | 120 min/NA min | Check Price |
Roomba Pet Series models Review
The iRobot 600 series offers affordable vacuums for pet hair.
The 690 is the upgrade of the older 650 model and has enhanced convenience courtesy of smart connectivity.
The 675 is a pretty new model released last year and packs the same performance as the 690 only that it doesn't come with a virtual walls barrier though it's compatible with Virtual Walls Technology.
These two offer excellent performance on bare floors and pick up dog hairs with ease. If you have cats and the short haired dog breeds, these two should be on your wish list. We like the fact that you get smart connectivity courtesy of 2.4GHz WiFi. Pair it up with your Smartphone or Alexa and enjoy the convenience of remote operation.
Price History Chart
Pros and Cons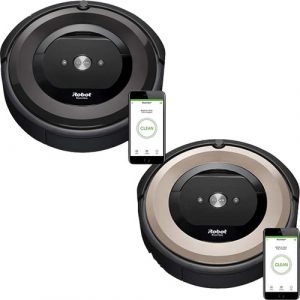 The iRobot E series consists of the E5 (5150) and E6 (6198). The two models are very similar only that the E6 comes with two virtual walls nodes, while the E5 has only one.
They are affordable vacuums that suit pet hair cleaning on hardwood, tile, and bare floors in general.
As for carpets, the E5 and E6 are not the best for picking up pet hair on carpets, unless it's a low-pile carpet. Long hairs are also a problem because of brush jamming.
But you get all the other standard features including Dirt Detect, scheduling function, and smart connectivity.
Price History Chart
There are several models in the iRobot 800 series, but only the 890 is available, and in fact, it's the only 800 series that suits pet hair cleaning.
On to the features, we're glad it comes with a revised dual multisurface brush with an anti-tangle mechanism. Unlike the 600 series, you can rely on the 890 to pick up both the short hair as well as the long hairs without worrying about tangling.
While it works exceptionally on bare floors, the 890 can also pick up pet hair from the low pile carpets courtesy of improved suction. There's also an improvement in the filtration system.
While older models used high-efficiency filters, the 890 has ultra-efficient filters making it a better choice for allergy sufferers as it filters most of the pet-related allergens.
For a long time, the 900 series refined as the best iRobot vacuum. It consists of a less powerful 960 model and the ceiling model, the 980 which features Carpet Boost.
The former is an excellent choice for picking up pet hair on bare floors and low pile carpets while the latter is the best Roomba for pet hair on carpets courtesy of the exclusive Carpet Boost mode which spikes suction to 1670Pa. It also has a tangle free brush system for long and short hair as well.
These two vacuums have a new iAdapt 2.0 navigation and mapping system which makes them best for large apartments and high-traffic rooms.
Also, expect them to clean faster. Regarding runtime, the 960 has 75 minutes runtime while the 980 offers 120 minutes runtime and both have the resume function.
As high-end iRobot vacuums, they are smart home ready and will connect to your Smartphone and other integration, including Alexa and Google Home.
Price History Chart
The Roomba I series consists of the i7 (7150) and i7+ (7550). These two are the first robot vacuums with a self-emptying bin mechanism, and that makes them perfect for those with heavy shedding breeds. You don't have to worry about a full bin for almost a month.
Just like the other high-end models, the I series features a tangle free brush and ultra-efficient filtration system.
One new addition is iAdapt 3.0, which has Imprint Smart Mapping for customized cleaning. You can now pinpoint the dirty areas you want them to vacuum instead of cleaning the entire house. That makes it perfect for pet owners as you can prioritize the areas where your dog or cat likes relaxing.
Price History
This is the latest robot vacuum from iRobot, and just like the I series, there are two variants. The S9 (9150) comes without the iRobot CleanBase unit, while the S9+ (9550) comes with the self-emptying bin system (CleanBase).
We like the new PerfectEdge Technology that cleans the wall edges thoroughly, unlike it's round shaped counterparts.
For, pet owners, this is an excellent feature as most pet hairs are swept to the wall edges. The S9 maintains much of the features the i7 has but has improved on a few of the shortcomings the i7 and i7+ have.
First, the air power is 40× more potent than the 600 series, so it's ideal for picking up pet hair on carpets.
The S9 also has improved the runtime and can do 120 minutes, so if you have a large apartment, it's a perfect choice. With iAdapt 3.0, the Imprint Smart Mapping allows you to prioritized specific dirt and pet hair hotspots instead of vacuuming the entire house.
But the highlight of the S9 is the Imprint™ Link Technology which syncs the Roomba with iRobots new Braava M6 mopping robot.
Price History
Roomba in-Home Tests – Let's find the best Roomba for pet hair
As usual, we tested these robot vacuums to find out the real performance in a household setting.
Thanks to Sarah Parkinson for allowing us to conduct the test in her two bedroom apartment with a medium-pile carpet and area rugs.
We also brought in two Labradors Retrievers which are among the heavy shedding dog breeds, and together with Sarah's cat, it was the perfect lab.
We also had dog and cat hair and kitty litter of course, which we scattered around the different surfaces we tested. While pet messes were our primary concern, we also used Cheerios, rice, sugar, and flour.
So, how did they perform?
What's the best Roomba for pet hair on Hardwood Floors?
On hardwood and bare floors, all the Roombas picked up the pet hair and kitty litter without a problem. But in terms of efficiency, some models performed better.
The Roomba 980 and S9 were exceptional courtesy of the high suction power. They picked up small and large particles with ease. As for the rest of the models, they performed better but didn't vacuum the small dirt like flour in the first pass.
What is the best Roomba for dog & cat hair on carpet?
In our test household, we had a medium pile carpet which we also scattered some dirt on. Here, we made a huge observation in that the low power models struggled to pick up the tiny dirt particles and short pet hair.
High Pile Carpet in-Home Tests
Most households have high-pile carpets, so we also found one heavy Flokati rug to test the Roombas, and the results here were not very convincing with the lower models.
Why Roomba is good for Dogs and Cats hair?
Now that we know which are the best Roombas for pet hair, and how each performs, it is time we discuss several important aspects about pet hair and allergens and most importantly, how to select the best model for you. We will also be answering the pertinent questions that our customers have been asking us.
The Problem of Pet Hair and Allergies
For many, pets are more than just animals, and it's hard to let them go regardless of the allergy triggers they bear. Worse is the constant shedding, whether it is a heavy shedding dog breed or the pet has a condition that is causing the heavy shedding.
Why Buy a Roomba?
You will agree with me that Roombas are damn expensive and the cheapest costs almost the price of an upright or canister vacuum.
But will it replace my regular vacuum or you will still need the bulky manual cleaners?
To be honest, a robot vacuum is not a substitute for your canister or upright when it comes to pet hair cleaning. You will still need your Bissell or Shark vacuum to clean heavy pet messes. For pet hairs on upholstery or the car, a handheld vacuum like the Dyson V10 will also be required.
To ensure comfortable living, free from pet hairs on the floor and allergens in the atmosphere, frequent vacuuming is recommended. However, doing the job manually with your upright or canister is such a demanding tasks, and that's why robot vacuums are becoming increasingly popular.
Unlike your traditional vacuum, these work autonomously so you don't need to be around for the house to be cleaned. More so, you can easily schedule your preferred cleaning times so you can finally keep the house clean effortlessly.
Hypoallergenic Dogs and Cats; Myths or Facts?
When it comes to pet hair and allergens, one of the most controversial topics is, are there hypoallergenic dogs or cats?
Hypoallergenic are pets that are perceived to be allergen-free. But then, this is a myth because there is no hypoallergenic dog or cat. However, we can't dispute the fact that some dog or cat breeds have lesser allergenic properties than others. But the bottom line is, all dogs and cats have allergens.
Many people assume that pet hair itself is an allergen, but this is not true. The misconception sets in when some experts refer to less shedding breeds as hypoallergenic when pet hair itself doesn't have any allergens.
Factors to Consider
We understand that many homeowners don't know how to select the right robot vacuum. The first important thing is to go for a trusted brand, and iRobot is among the best.
So, now that we are talking about the best robot brand, what are the other considerations you need to make? Let's find out in this segment.
Design
Furthermore, it is under these fittings where pets like to hide when grooming. The advantage of Roombas, and robot vacuums, in general, it that they can reach these pet hair hotspots while the canisters and uprights can't.
Besides the low profile design, also go for a tough robot vacuum that can withstand the abuse from pets. We have seen cats riding Roombas and dogs confront these little helpers. The rough paws can scratch the vacuum or even worse, damage it. The good thing is that iRobot uses premium materials, so this shouldn't be a major concern.
Pet Friendliness
Most pets will feel threatened by a new housemate with a rattling sound. Here, we don't have a favorite in terms of aesthetics though the copper finish in the S9 is something to die for.
When it comes to operation noise, we recommend the Roomba E5/E6 or the Roomba 675 and 690, which run quietly. It can be so bad if your new floor cleaning helper scares your cat or dog.
Floor surface
What kind of surface does your flooring have? As you are aware, there are robot vacuums designed for bare floors like hardwood and tile while others are for carpets.
We have models that can handle pet hair on the hardwood with ease and can't work on carpets. Such a model is only good if you don't have carpet and you have no prospects of owning one.
Suction Power
iRobot vacuums are well endowed when it comes to suction power.
Brush system
The brush is a crucial consideration for two reasons. First, it is the brush that will pick up the pet hair from the floor.
Filtration
The problem with pets is not only the hair and kitty litter; there are some pet-related allergens as well. That is to say; there is no hypoallergenic cat or dog.
The old iRobot 600 series and E series use AeroVac filtration which is less efficient compared to the new AeroForce high-efficiency filters.
So, if you suffer from allergies, your best match it the 890, 960, 980, i7 or S9.
Bin system
One of the shortcomings of robot vacuums is the small bin capacity. iRobot integrates a 0.3L bin in all the models and have a full bin indicator system.
A new technology to consider is the self-emptying system, which is ideal for households with longs of pets.
Autonomy
If you have a large apartment, you definitely need longer runtime to ensure complete coverage on every charge. You can't afford to wait for the two to three hours recharge time before the Roomba completes its task.
The good thing is that all the iRobot vacuums will recharge automatically, but a select few will resume cleaning after recharging.
Now, the next consideration is runtime, and as stated earlier, the longest runtime is the most desirable.
Navigation and Floor Mapping
This is a crucial aspect of robot vacuums as it determines how the robot will move around and most importantly, where it will reach. As for floor mapping, you need an intelligent system that will map your floor and plan for a systematic cleaning pattern for entire level coverage and efficiency.
For the small apartments with less furniture, you can settle for the iAdapt 1.0 navigation system which uses SLAM algorithm to maneuver around.
Smart Connectivity
In this smart home era, you want to add a smart appliance, and gladly, nearly all Roombas come with WiFi except for models like Roomba 650, which is the cheapest Roomba currently. Well, while the mobile app and Alexa compatibility are not involved with pet hair pick up or air filtering, it enhances usability.
Talking of usability, some Roombas are better than others. The Roomba E5/E7, 890 and 675/690 have basic WiFi for iRobot HOME app operation and Alexa compatibility. But if you want extras, the 900 series, I series and S series are the best.
Buy the 900 series if you want clean map reports while the i7 and S9 offers more. These two have Imprint Smart Mapping, which allows you to tap the areas you want to be cleaned, and at what time. This is a feature pet owners really need because they shed more often and you need vacuuming regularly.
Cost and Value
One thing about iRobot products is the high price points.
Where to buy your Roomba
Once you have identified your best Roomba, the next hurdle will be deciding where you will buy it.
There are two options; online or in your local store.
The advantage of the local store is that there are no waiting times and you can have a feel of the robot. The problem is that the prices are highly inflated and you don't get variety.
We highly recommend buying your robot vacuum online for two reasons.
FAQ
Wrapping Up
There you have it ladies and gentlemen; a review of the best Roombas for pet hair. Which is your favorite choice, and why?
Talk to us in the comments section below. And don't forget to subscribe for our price drop alerts and get notified when there is a Roomba discount or promotions!