What is the Best Vacuum for Shag Carpet?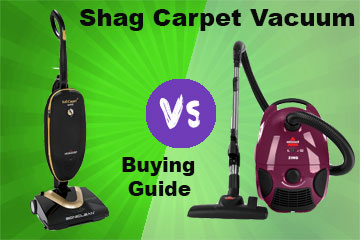 One of the things I vividly remember about grandmother stories is her furnace and shaggy carpet during the winter.
In the entire neighborhood, we were among the few families that afforded a wall to wall Flokati. At the time, it was considered a reserve for the wealthy.
Besides the perception, the comfort shag and Flokati rugs are second to none, especially during winter. But the biggest challenge was cleaning these rugs because of the deep pile, and also the fact that shag is fragile.
In no time, they started fading as people moved to light and medium pile carpets and rugs which were easier to maintain. Also, they were a little bit cheaper than shag.
But guess what? Shag is no longer a Throwback to the 70s and 80s; they are increasingly becoming popular. The reason is the fact that steam and
vacuum cleaners
are effective in maintaining these carpets. Steam cleaners are the best for cleaning long hair carpets but then, hiring a cleaning company every weekend is not sustainable. Also, it won't be long before your carpet loses its shape if you use steam cleaners on them. That leaves
vacuum cleaners
the best option for domestic carpet vacuuming.
We went out scouting for the best vacuum for shag carpet and here, we present to you the seven best models that were a cut above the rest.
Top Rated Upright vacuums for Shag Carpet
If you want the best all-round vacuuming performance, you need to get a full-size vacuum cleaner.
If you have a large shaggy carpet, then you will need an upright vacuum, for two reasons. You need more power, and also, a canister may be too light to glide on the high and dense shag pile.
If you want the best upright vacuum for shag carpets, here are the models that need to be on your wish list.
Table setup not completed.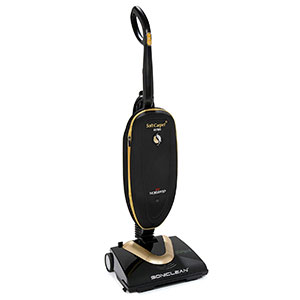 Today, our number one vacuum for shaggy carpets and rugs is the Soniclean SFC-7000.
We feel this vacuum deserves the number one spot because of the CRI-Certification from the Carpet & Rug Institute, an active organization that focuses on the carpet industry.
The Soniclean Soft Carpet is also the recommended carpet vacuum for Mohawk carpets; a top carpet brand. The vacuum is also ideal for soft plush and shag carpets courtesy of the soft bristle brush.
Attention
But one thing you need to know, it's really expensive but offers good value for money.
One of the key features that make Soniclean the best for shag and other thick carpets is the adjustable vent that is set depending on the height of the pile thus improving air flow. There is also an air freshener system that dispenses fragrance to at least cover up for the bad odor that shag harbors.
Another top class feature is the jam protection system which is a great plus for homeowners with leather shag, and other carpets with long strands that can either get untwisted or plucked out when the brush tangles on them. The new mechanism will put off the vacuum in case it is jammed to prevent damage.
We also liked the 35-foot long power cord; you don't have to keep changing the cockets when you're doing full house vacuuming.
Regarding performance, Soniclean packs a powerful digital motor that allows you to regulate the vacuuming power.
There is a high power mode for stained carpets and a low power mode for hardwood and the low pile carpets. Worth noting is the sonic bar that's activated in Deep Clean mode. It makes up to 200 vibrations per second to effectively agitate the dirt without being too hard on the fabric. You also have the option of not using the beater bar at all.
Attention
One thing we didn't like about this vacuum is that as an upright vacuum, it is too light and pushing it on a multi-textured carpet or any other thick shag like false stone is a problem. It tends to float on the pile instead of getting traction to glide over, collecting dust and dirt slowly. Also, the wheels are not as large and offroad as suggested. Shark Rotator NR96 is a canister vacuum and has larger wheels that Soniclean.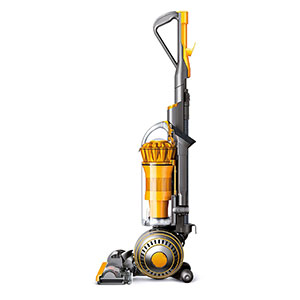 Dyson is a popular brand in the vacuum industry. This particular model is the best for shag carpets for a variety of reasons.
For us, we find it an awesome purchase for the mixed-texture shags. The uneven surface of these shags makes maneuvering quite hard. But thanks to the Dyson Ball technology and swivel mechanism, you can easily push the vacuum, make it lie flat and turn 90 degrees with minimal resistance.
Apart from the easy swivel maneuvers, this bagged vacuum has a great self-adjusting cleaning head. This feature is great for shag carpet as it will ensure there is enough space between the vacuum's head and the carpet fabric. The reason is to ensure there is enough space remaining to enable the vacuum suck up dirt.
It also boosts air flow and prevents the head from coming into contact with the carpet and making it hard to push. The vacuum has powerful suction and seals it to ensure suction applied where it's needed most.
Important
This vacuum is bagless and comes with a hygienic emptying mechanism. You just need to press a button and the bin pops out. While the bin replacement costs are high, I am glad the filters are washable and will serve you forever. Just wash and fit them back, no buying filters anymore!
The Dyson Multi Floor measures 41.93 x 15.59 x 13.39 inches and weighs 15.6 lbs which is not bad for an upright vacuum. It offers a maximum reach of 40ft considering the 31 ft. cord and the entire unit extended.
Attention
One of the shortcomings of this vacuum is the weight. 17 lbs. may be too heavy for daily vacuuming especially if you have to move the vacuum upstairs. Also, as a bagged vacuum, the maintenance is quite expensive, but of course very convenient and hygienic.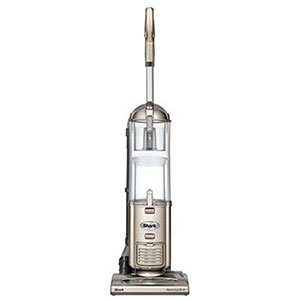 Upright vacuum cleaners have the right power to tackle all kinds of dirt on small to large carpets. Unfortunately, they are quite expensive. The maintenance costs are also cheaper now that this is a bagless model.
This vacuum has been designed for thick carpets including shaggy mats. I like its overall design as it weighs only 15 lbs. making it easy to push on heavy carpet, with minimal resistance.
If you want a vacuum cleaner that will excellently clean your shaggy carpet, then Shark Navigator Deluxe upright corded also known as NV42 should be your choice. As an upright vacuum, the NV42 packs enough vacuum power to suck up the dirt that hides inside the long shag pile.
Built with a 1200W motor, it uses the popular Never Lose Suction technology that has cyclones to spin the incoming air flow throwing the debris into the bin.
Shark NV42 comes with a motorized brushroll which is better than the old air driven brushrolls. Besides the efficiency, the brushroll is detachable, so if you have the fragile shags, you can opt to remove it. The dust cup is also larger than what we expected. It can hold up to 3 quarts so you don't have to keep emptying it now and then.
This vacuum cleaner lacks HEPA filters but fortunately, it has complete seal technology that ensures all the allergens remain in the bin. A lot of vacuums have HEPA filters but fail to contain the allergens and they are released back to the atmosphere.
Attention
The downside of this shag carpet cleaner has no swivel steering so it will be difficult to push maneuver it on shags with very close yarns like felted shag. Also, this vacuum lacks the LiftAway feature. So in case you need to vacuum shag rugs in different rooms, you will have to carry the whole vacuum which is quite bulky.
If you are a fan of Shark and you want an upright vacuum that offers enhanced maneuverability, this is a model that should also feature in your wish list.
The NV752 too will suit those with mixed texture shag rugs and other heavy shags with uneven surfaces. This is because of the easy maneuverability the vacuum offers.
Important
Even though it's expensive, the vacuum has everything you'd want in an upright vacuum.
As is the norm with Shark, this vacuum boasts the best suction for sucking up the dirt that hides deep inside the carpet pile. The super high suction could be a scare, but fortunately, you can control the power you want to work with.
If pet hair is also a concern, SharkNinja has got you covered with a pet multitool that is specially designed to pick up pet hair; especially the long hairs that stick on the carpet. The brush is motorized which makes it more efficient that air-driven brushrolls.
While you may find it heavy, at least the controls are easy and very accessible. The on/of button as well as the mode switch are all accessible with your fingertips.
This model comes with LiftAway and headlamps for added convenience. LiftAway in particular makes it easy for homeowners to move around only with the attachment they need instead of lifting the entire unit. The large wheels are also a plus, allowing the vacuum to move on high pile carpets without much resistance.
Attention
On the downside, this vacuum has a high but justifiable price tag. Another thing, it's quite rough on the soft shags like Flokati and wool shag. It's also noisy when in high power mode, something that renders the headlamps useless if you can't stand the irritating noise.
Top Rated Canister vacuums for Shag Carpet
Canister vacuums come in two main parts; the head unit and the handheld vacuuming stick. In most cases, canister vacuums require assembly.
The advantage of canister vacuums to shag carpet owners is the fact that they are lighter, with easier maneuverability. The only sacrifice would be versatility and maybe the light-duty performance.
Model
Image

Dimensions

32.7 x 14.4 x 16.3 inches

25.9 x 16.2 x 13.6 inches

18.6 x 11.1 x 11.5 inches

Weight

22.6 pounds

22.6 pounds

12.5 pounds

Power

1150 Watts

2-speed motor

10 Amp

Corded/Cordless

Corded

Corded

Corded

Suction Control/span>

Filtr

Anti-Allergen Complete
Seal Technology

HEPA

Foam Block

Power Cord

23 ft

24 ft

17 ft

LED Lights

Warranty

5-year

2 year

1 year

Check Price
So, what are the best canister vacuums for shag rugs and long hair carpets?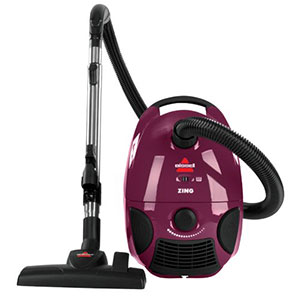 If you are looking for a vacuum for shaggy mats on a budget, we present to you the Bissell 4122 Zing Bagged Canister Vacuum.
If you have a small shaggy mat to vacuum, then this is your best match. It's also ideal for the fragile shags like Saxony and cut pile twist. While you shouldn't expect much from it, we find it a great deal considering the low price tag.
If you have a shag carpet, get the Bissell Zing canister vacuum as it doesn't come with a beater bar which damages shag and thick carpets.
Important
One of the advantages of the BISSELL Zing is the compact and lightweight design that makes it perfect for homemakers. Even though it is small, I like the performance especially the 10 amp motor; very efficient but rather noisy.
The motor has variable speed so you can regulate the vacuum power on different types of shag. Storing it is also easy as it requires minimal space.
When it comes to efficiency, the Bissell Zing offers excellent performance for its price.
The Zing is a bagged vacuum and as such, it is more efficient than its bagless counterparts. This is because the air is blown directly through the bag consequently sucking in a better fashion. This is unlike the bagless options where air is not directly blown into the bag thus losing power along the way.
Attention
On the downside, maintaining this vacuum cleaner is a little bit expensive because of the high prices of the replacements. Another thing, the head is a little bit thick so if you are opting for a canister because you want to vacuum tight spots, I don't recommend Bissell Zing. Lastly, you can't count on this vacuum to clean large carpets because of its size. It would take you unnecessarily long to finish.
Kenmore 81214 200 Series The Best Vacuum for Homes with Synthetic Shag and Pets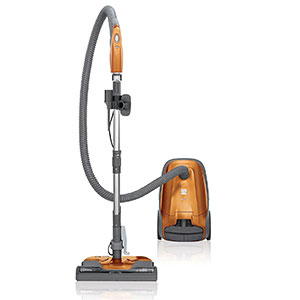 The Kenmore 200 Series makes it in this list as the best vacuum for homes with synthetic shag and pets. This canister vacuum comes with just enough suction to pick up the pet hairs that attach themselves to the carpet fabric without damaging the loose and fragile synthetic fibers. The brush is also designed for pet hair to pick up and it tangles less frequently.
Important
One of the advantages of Kenmore is that it offers great value for money. This vacuum comes with most of the features the much pricier Shark NR96 has yet it costs less.
It comes with an efficient 2-speed motor that delivers excellent suction.
Another fantastic feature is the pile height adjuster that adapts the vacuum to different types of shaggy carpet. There have been concerns regarding the quality of some parts and accessories, but I'm glad the vacuum is accompanied by a 2-year warranty.
The maintenance is very easy as you are only required to change the bag. But as you are aware, that might be draining your wallet a little bit.
There is also a full bin indicator that lets you know when the bag requires changing.
Important
Remember, this vacuum has true HEPA filtration so if you have allergies, it's a great deal.
Attention
Unfortunately for this model, you have less control over the vacuum power you intend to use. It has only two power settings. Another thing, the vacuum is quite noisy so in as much as the headlights excite you, vacuuming at night is not something you will often do.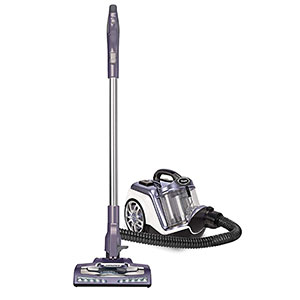 SharkNinja is a popular vacuum brand that is best known for its upright vacuums. The NR96 is the only canister vacuum from Shark and just like all Shark products; its performance is impressive, especially of shaggy mats.
One of the things that make it an excellent deal for thick carpets is the large wheels that enable it to trudge through the thick fabric. Its vacuum power is also unforgiving to dirt and gentle on the shag fabric. The NR96 also comes with a swivel steering system enabling it turn in any direction and also lie flat on the floor.
The Rotator NR96 has been designed to gently vacuum shag without pulling of the yarns, untwisting them or damaging the fabric in any way.
It comes with an 1150W motor that runs quietly and efficiently and still delivers enough vacuum power to flush out dirt from the pile. The motorized brush agitates dirt very well but may be too hard on the soft plush rugs and leather shags.
I also like the portability if offers. If you have shags in different rooms, then pick this model. It weighs around 10 lbs. and has LiftAway technology so you can clean different rooms without moving with the entire unit..
Attention
The Shark NR96 is a great vacuum, but there are a few dislikes. It's quite expensive for a canister bearing in kind Kenmore offers almost the same performance at less. Also, the fact that it is a bagged model makes a big deal considering you come into contact with the dirt when emptying. Also, the cord is quite short at 23 ft. considering the likes of Soniclean extend to 35ft.
COMPREHENSIVE SHAG CARPET BUYING GUIDE
Important
Vacuuming a long pile carpet requires more than your regular vacuum. That is why you need to be very careful when selecting a cleaner for shaggy carpets.
In this segment, we want to share with you a detailed guide on how you should choose the best vacuum for shag carpet.
Vacuuming Fundamentals: Understanding Your Carpet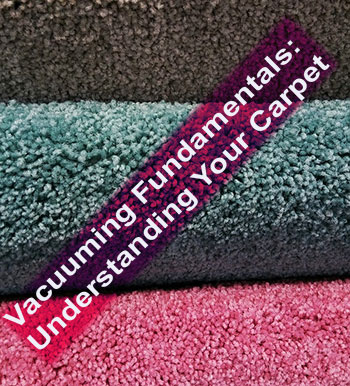 The first important thing you should do when you decide it's time to get a
carpet cleaner
is to understand your carpet. A lot of vacuum models get the sticking for the wrong reasons. Most of the times, it's a case of using the wrong vacuum for the wrong carpet pile.
That takes us to our next subtopic; what are the different types of carpet?
Low Pile vs. High Pile Carpet
There are so many types of carpets in the market. They are categorized in several subtypes depending on several factors including the material, style, use, and so on. But one of the dominant bases for categorization is the type of pile.
We have low pile, medium pile, and high pile. If you are discussing anything to do with carpet cleaning, you should think along the lines of the carpet pile. So, what brings the difference and what should you know regarding the cleaning and vacuuming of each.
Important
Before we go further, it's important to understand the term carpet pile. For starters, pile refers to the height of the interwoven layers of fabric that make up the carpet or rug.
Low Pile – Also known as light pile, low pile carpets are those fabrics with a height from ½ to ¾ inch). The fabric is light with shallow pile. If you want a cheap carpet, then you should get light pile carpet. While it may not be very cozy and warm, low pile carpet is easy to vacuum and is less fragile because the pile is tightly sewn.
High Pile – On the other hand, medium to high pile refers to carpets with a pile height maybe ¼-inch to ¾-inch. If you want a warm and snugly feel, or a carpet where you can relax on the floor without bearing the cold, you will need a high pile carpet. But one thing you will realize about these carpets is that they are tough to clean. This is because dirt has a lot of spaces to hide between the long piles. There are so many types of high pile carpets, each with specific demands.
While there is a common assumption that all high pile vacuums want only high vacuum power to clean them, shaggy carpets require more than that. Albeit the fact that suction is fundamental, you need to take care of the fragile high pile carpet.
In this article, we focused entirely on the shaggy carpet, so right away, let's see what shaggy carpet is and why it requires special care.
What is Shag Carpet?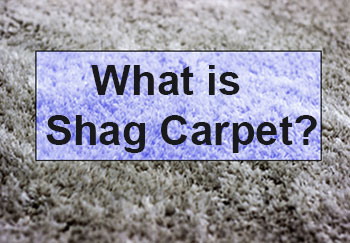 For starters, shag carpet refers to a type of carpet characterized by long individual strands of fabric, similar to shaggy hair or short dreads. But then, there are a whole lot of variations of shaggy carpet and each variation requires a specific type of vacuum cleaner. That's why it's recommended that you be extra careful when buying a vacuum cleaner for shag carpet.
So, what are the different types of shag available?
The pile in shag is usually an inch or more, and it is made of yarn strands, and it is the part of the rug that faces up from the rug backing. Along with these sections of long deep piles, the fiber of these rugs is twisted in a loose design unlike the tight design used in short pile carpets.
The carpet pattern is made of individual yarn strands and together with the loose, relaxed twist gives the carpet a shaggy appearance hence its name. These carpets came in a wide variety of colors, shapes, and materials like wool, leather among others and are super soft to the touch.
Many people confuse shag carpet for just any other high pile carpet. That explains why frieze and Flokati rug owners go
for vacuum cleaners for high pile carpet
forgetting that shag is different from any other high pile.
1. Flokati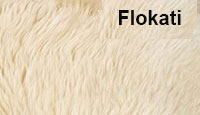 Flokati is handmade shag typically made from the softest wool making it the fluffiest shag you will find in the market.
Even though it is available in white and cream, it is dyed into different shades to suit a range of interiors. From the fact that Flokati is dyed, that should tell you that steam cleaners are a big no.
Another important thing you need to know about Flokati is that they have a high affinity for catching dirt, and to make matters worse, the fabric is very fragile. But the best hack for this shag is to clean the carpet lightly and regularly and not once, and intensively.
2. Wool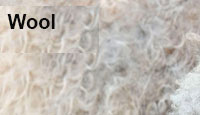 This is another popular shag carpet and is a favorite because of the warmth and snugly comfort.
But just like Flokati, it catches dirt easily and vacuuming it is a problem because it is fragile. When cleaning these rugs, be careful not to use a lot of vacuum power. This is because the turfs are loosely attached to the backing, and they can easily be pulled out.
Wool shag rugs come in two types, that is the "noodle" or the "shaggy." The "noodle" shags are made from thick wool fibers twisted into noodle shapes, and this creates a luxurious soft finish. The "shaggy" wool carpet, on the other hand, is made of thinner and more close together fibers compared to the noodle one.
3. Mixed texture shag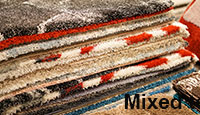 This variation of shaggy mats is not very different from the rest only that it has been crafted by combining different types of shag fabric. The result is an uneven carpet surface, but with excellent comfort and warmth. If you like relaxing on the floor, this is your best shot.
Mixed texture shag may combine two or more types of shag. Due to the uneven nature, make sure to but a vacuum with large wheels to beat the hard terrain.
When it comes to vacuuming, choose an upright if the carpet is large, but for small area mixed texture rugs, a canister vacuum will be best.
4. Leather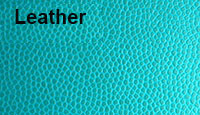 Leather is prestigious, and that's why it wasn't left out in shag rugs. Here, the long strands that make it shaggy are made from leather. The advantage of leather shag is that it doesn't catch dirt easily and also, cleaning it is not as hard.
However, it is very delicate, so you need to use a gentle vacuum cleaner. Also, avoid it if you have pets because the leather strands can easily tear when pulled.
5. Synthetic shag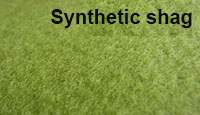 Synthetic shag rugs are of low quality compared to woolen shags, but they are ideal for high traffic areas since they are easy to clean and can stand a steam cleaner.
This easy to clean feature allows you can try out different colors and patterns in all areas. These shag rugs are less costly and also less durable.
6. Acrylic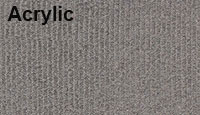 This type of shag rug is not recommended to put in your home due to its highly flammable nature. They are very cheap and also look cheap.
Attention
But if you have to use them, ensure you place them in fire free rooms like the bedroom. But it's not worth it to risk your home with cheap, unattractive shag rug!
CHOOSING THE RIGHT VACUUM FOR SHAG CARPET
When buying vacuums, it's important to note the different types available. I know the variety of names you will hear in the market will confuse you. You might hear of canister vacuums, corded vacuums, bagged vacuums and so on.
One thing about the range of vacuums in the market is that they are categorized based on different factors. Below are three of the most popular classification types of vacuums cleaners.
Canister vs. Upright Vacuum
When reviewing the models, you realize that we separated the canister models from the upright models. That alone tells you that the two types of vacuums have a lot of differences.
Before settling for any type, make sure you understand the pros and cons of each type.
Canister vacuums and upright vacuums are quite different. One of the noticeable differences is the fact that canisters have a handheld attachment with the nozzles and is connected to the main unit via a hose. On the other hand, upright vacuum cleaners have both parts combined into one design.
verdict

So, what's the best for shag carpet? Is it a canister or upright vacuum? Well, there is no clear winner here because it all depends on the size of your carpet and most importantly, the type of shag you have. There are shag carpets that are better vacuumed with canisters while others are too heavy or large for canisters.
Bagged vs. Bagless Vacuums
This is another popular classification of vacuum cleaners. The names make it pretty straightforward to tell the difference between the two. But to clear the air, we will explain the difference and the advantages and disadvantages of each model.
Bagged Vacuums: Pros & Cons
As the name suggests, bagged vacuums come with replaceable bags that capture the dirt.
The advantage of bagged vacuums is the convenience of being able to empty the vacuum without touching any dirt. This is because you dispose of the entire bag and its contents.
There's also an advantage when it comes to performance. A bagged vacuum has the air blown directly into the bag and through the filter yielding more efficiency compared to a bagless vacuum. It's also pretty easy to empty and change the bags, so the entire maintenance process is much easier than handling bagless vacuums.
But on the downside, the replacement bags will dent your wallet. Fortunately, there are lots of washable and recyclable bags if you are ready to get your hands dirty. There's also the aspect of clogging. If you don't buy a bag with anti-clog, bagged vacuums have a reputation for clogging and consequently, a drop in power.
Bagless Vacuums: Pros & Cons
Bagless vacuums have a washable dirt compartment as opposed to having a bag.
These vacuums are the most popular, and the reason is that their maintenance costs are almost zero. When the bin is full, all you have to do is wash it and put it back; absolutely zero maintenance costs!
The filter life in bagless vacuums is also extended. This is because, after every clean, at least the bin gets washed, flushing out all the dirt on the filters as well. But you will feel a pinch when replacing a bagless vacuum filter as the one-off replacement cost is higher than the price of a replacement bag.
The problem with bagless vacuums is that air is not directly blown into the dust compartment, so it's not as efficient as the bagged options. When it comes to usability, the fact that you need to empty the dirt and wash the dust cup is a real scare now that you are getting exposed to the household dirt and germs.
verdict

If you have a shag carpet, there is nothing that can solidly justify that there is a better choice between the two. Regardless of the surface, both bagged, and bagless vacuums work just the same. But here are a few takeaways when choosing between a bagged and bagless vacuum.
Besides the friendly usability, the bagged vacuum is ideal for those who don't want contact with dirt, for example, allergy sufferers. With bagless vacuums, it might be a nightmare for allergy sufferers when you open the dust cup that has all the household allergens.
Important
For those who have a lot of dirt to vacuum, there is no way buying a replacement bag will be sustainable so the bagless vacuums are the best. Just be ready to handle the mess.
Corded vs. cordless
Another basis for the classification of vacuums is the source of power. That brings us to two types of vacuum cleaners; corded and cordless vacuum cleaners.
What's the difference between the two and which one should you buy?
Corded vacuum cleaners come with a cord meaning they are powered from an electric outlet, maybe the mains. On the other hand, cordless vacuums have an inbuilt power source, most likely a rechargeable battery pack.
The advantage of a corded vacuum is that it is more powerful than a cordless vacuum. However, it limits where you can vacuum and also, tangling becomes a challenge when vacuuming high traffic households.
When it comes to the cordless vacuum, the advantage is maneuverability and the fact that cords do not restrict you. Also, you don't have to worry about the brush tangling, a common problem with corded vacuums, especially in high traffic rooms.
verdict

Regarding what the best choice is between corded vs. cordless vacuums, it all comes to your needs. If you want something lightweight for light duty vacuuming, you may pick a cordless vacuum. However, for the full vacuuming performance, you will reap from a corded vacuum.
How We Chose the Best Vacuums for Shag Carpet
Now, having reviewed the best vacuums for long hair carpets, it's time we looked at the factors we considered before writing this review.
So, factors should you consider when buying a shag rug vacuum?
1. What are the best vacuum brands?
If you look around, there are so many vacuum brands. Just like all other merchandise, you will find authentic products as well as clones and substandard imitations.
Still, some low-quality brands should also be avoided at all costs. When shopping, it's important to buy from a trusted brand.
Attention
Some of the most popular vacuum brands are Dyson, Shark, Miele, among others. One consistency in all these top brands is the high price. So, why should you buy something that's expensive when there are cheaper options?
The first thing about top brands is that they have a reputation of excellence and that's why the popularity. I haven't heard of any top brand with rampant cases of defective products or unreliable products. That's pretty obvious. Besides the quality products, you are guaranteed genuine warranty and after-sales services in general.
2. What is your budget?
Another important consideration apart from the brand is the budget. Make sure to set your budget before going out to look for a vacuum cleaner. Many homeowners forget to dictate their budget, and in the end, they end up overspending on extras that they may not need. It's important to set your budget and strictly adhere to it.
As mentioned earlier, the top brands are always expensive. But deep inside the different categories of vacuums, the prices vary.
For example, a canister vacuum is cheaper than an upright vacuum definitely because of the versatility of upright vacuums. The average price of canister vacuums ranges from $50 to $300 though there are also more expensive options. When it comes to the bagged vs. bagless vacuums, there is no much to deduce regarding the prices; it all depends on the individual features and capabilities.
3. What's your shag type?
Just like when buying any other type of cleaner, you have to consider the type of carpet you are going the vacuum on. This is because vacuums have been specially designed to suit specific cleaning and vacuuming purposes.
The first consideration should be regarding what type of carpet pile you have. You are dealing with a high pile carpet. That said, you need to get a vacuum with high vacuum power. But wait a minute, how about those with long hair shaggy carpets and rugs? The high vacuum power may not be favorable for all shag carpets.
Attention
There are different types of shag carpet each with distinct characteristics. Carefully assess the type of shag carpet you have so that you can choose whether you go for a vacuum with a beater bar or not. It's also after you have identified your type of shag that you will be able to select the right vacuum, whether a canister or upright vacuum.
4. Power output
One of the fundamental features of a vacuum is the motor. This is the part that is responsible for generating the vacuum power. As you understand, carpets require a high-performance vacuum that can deliver enough suction to suck up the dirt that hides deep inside the carpet pile. That said, the motor output is a critical consideration when buying vacuums for carpets, shag included.
But there's one thing that makes shag carpet different from the other types of carpet. This particular fabric is very fragile, and the strands can be loosened or pulled out if excess vacuum power is used. That takes us to our next aspect, motor speed.
Important
The ideal shag carpet vacuum should be able to run at different speeds to enable homeowners to regulate the amount of vacuum power they apply on the shag. Actually, before vacuuming your carpet for the first time, it's recommended you start with the corner of one side as you adjust the setting upwards or down depending on the power yield.
5. Filtration
Among the primary functions of vacuum cleaner is to filter the air, making sure that all allergens are captured. If you have pets, you understand how pet urine and skin flakes lead to accumulation of bad odor. That being the case, you want a vacuum with a clear mechanism of getting rid of all the allergens.
Today, HEPA filtration is the widely accepted filter system for vacuums. This is because HEPA filters record the best performance, capturing up to 99.97% of allergens. But capturing the allergens is not a big deal, making sure they don't escape back is the real challenge.
So, apart from the HEPA filter, what else should you look out for?
Important
If you have pets, always look out for an air seal technology that ensures that all the captured allergens are airtightly sealed in the bag. Remember, the bag acts as the primary filter where contaminated air is injected from one end, and clean air ejects from the other end. It is imperative that the bag holds all the allergens inside tightly or it will be an exercise in futility.
I understand that many homeowners may be aware of HEPA filters. Almost all the upright and canister vacuums have these filters, but not all of them can tightly hold the allergens in the bag. You will find many vacuums with the best filtration technology but still release the capture allergens to the atmosphere.
6. Brush system
Hard floors and carpets require different approaches to design. That is why you find different
Shark Rotator and Navigator models
with either dust away genie cleaning head or a Hard Floor Hero. On carpets, the idea is to get a brush system that will effectively loosen the dirt without damaging the fabric.
Shag carpets, in particular, are very sensitive to the hard bristles that may loosen the strands or even pull them off. But the biggest risk is when the brush action untwines the individual strands and yarns, especially if you have long hair carpets and area rugs.
Fortunately, some models come with detachable brushes. While some carpet dirt might require a brushroll, leather shags can be vacuumed without it thus reducing the risk of pulling the leather strands out.
7. Venting
One of the things many shag carpet owners ignore when shopping is the venting system. When cleaning hard floors, you don't really need to mind about the vent. There's usually ample space between the cleaner's base and the floor so the vacuum won't feel suffocated at any time. On low pile carpets, this is also the case. However, on the shag carpet, things are a bit different as all the carpet fibers have surrounded and sealed most of the areas where the vacuum can breathe.
So, what's the problem with such a vacuum?
One of the problems with using the wrong vacuum on shag rugs is low power. The air flow is restricted, and this leads to inconsistent vacuuming power. Another thing, the motor will be overheating very fast.
Important
Soniclean SFC-7000 is a favorite here because it has a self-adjusting vent which is perfect for just any type of pile. One thing you will notice is that it's also quieter as one of the reasons that often make vacuums irritably noisier is improper venting.
8. Head adjustment
Another important aspect shag carpet owners don't know is that a good vacuum should have a self-adjusting head.
Definitely, on the hardwood floor, you don't have to worry about the head touching the floor. But on high pile carpets like shaggy mats and rugs, you definitely need to be concerned about this.
The first reason you want a self-adjusting head is to make sure that there is some space between the carpet and the head to suck up the dirt and debris. This space is also important as it allows the vacuum to glide on the fabric with minimal resistance. If you find it too hard to push the vacuum on the carpet, maybe it's the head that is too close to the carpet.
Lastly, when the head is too close to the carpet fabric, it tends to flatten the strands in the direction the vacuum is pushed. It may also damage the fabric, especially if you have the delicate fabric like plush wool.
9. Beater bar vs. no beater bar?
Another crucial consideration you need to make is whether to buy a vacuum with a beater bar or not. For starters, beater bars are used to effectively agitating dirt on hard floors. Often, beater bars are confused for the primary brush. But the truth is that a beater brush is an extension of the brush.
So, why is it important in today's conversation? Do you need a beater brush or not?
For shag carpet owners, a beater brush is not ideal because it is very tough on the soft and delicate carpet fabric. Just like a tough brush, it may loosen the long pile fabrics or even pull them out. But then, you need it for your hard floors, and that's why most models come with it. For shag owners, it will be important to get a model that has a mechanism to detach the beater bar when vacuuming the carpet.
10. Accessories / Attachments
Even though your primary goal for buying the vacuum cleaner is to keep your shag in good condition, it doesn't hurt if you get something more out of your vacuum.
There are several attachments and accessories that vacuum cleaners come with. For example, the Shark Rotator Powered Lift-Away comes with an upholstery tool so besides vacuuming the shaggy carpets, mats, and rugs, you can also clean the sofas.
There are several other desirable attachments and tools to watch out for. But then, don't be enticed too much with these extras; you might be paying for them in some way.
Attention
So, always put value for money first lest you end up buying what you don't need.
11. Warranty and after sales
Many are times you will encounter defective products. Just suddenly, your vacuum stops working, for no apparent reason.
In such cases, a warranty covers you from the repair or replacement costs. When buying your vacuum, also weigh the warranty length and after-sales service in general.
It's not like we expect the vacuum to develop a problem but it's always good to have the warranty, it's like insurance.
Important
An extended warranty is the best but above all, check on customer reviews to see whether the brand honors warranties. Above all, make sure to read and understand the warranty lest you void it.
12. Maintenance
For many homeowners, a vacuum cleaner with the least maintenance is the best. A common denominator when it comes to shag carpet vacuums is choosing between a bagged and bagless vacuum.
Well, I won't say that there's a particular model that offers easier maintenance. The fact is that each has its pros and cons.
You'd love to have a bagless vacuum because it's cheaper to maintain. All is needed is to remove the dirt and thoroughly washing the bin. That saves you from the recurring costs of buying a replacement bag.
On the other hand, bagged vacuums are easy to maintain, but not cheap. Even after spending money on the vacuum, you will still be required to buy replacement bags. The good thing is that you won't touch the dirt when emptying.
At the end of the day, the maintenance debate here is all about a cheaper option vs. an easy option of emptying the bin.
You will also be required to replace the filters from time to time. What you need to know about filters is that the bagged vacuums are maintenance intensive because filters require frequent replacement. On the other hand, bagged vacuums are less demanding because the bin is washed regularly.
Apart from bin emptying, and the filters, there are also other maintenance aspects depending on the type of vacuum you are using.
Important
One of the essential things to note regarding maintenance is that it is dependent on the wear and tear you subject the vacuum too. The more you use your vacuum, the more demanding it will be. It's critical to keep your vacuum in good condition if you want the best service.
13. Extras
There are also some desirable extras that any homeowner would want in their vacuum.
If you vacuum in the dark, you may want a vacuum with headlights, for example, Shark Navigator.
There are also features like air freshener that helps to keep away the bad odor from a new shag or odors related to dirt like pet urine and dander.
Shag Carpet Vacuuming FAQ Guide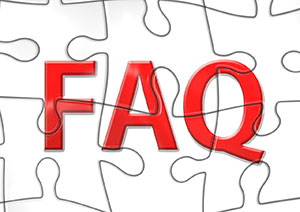 Daily, our readers have been asking several pertinent questions regarding cleaning and vacuuming of shaggy carpets and rugs.
In this section, we want to answer some of the questions that we have not touched on in the review. So, let's get to business.
1. Why is my vacuum hard to push?
This is one common problem most shag carpet owners face. When pushing the vacuum, you feel some heavy resistance dragging the vacuum.
Important
The most common culprit here is the head that is coming into closer contact with the shaggy carpet pile. Make sure you are on the correct height setting when this happens.
That's why it is recommended to buy a vacuum for shag carpet as it has a head adjustment system which lowers the head on hard floors and lifts it up on thick carpet.
It could also be that the wheels are not large enough to wade through the thick and dense shag fabric.
2. Can you vacuum your carpet too much?
The answer is yes because shag carpet has very fragile carpet fibers. The same way with your clothing, the more you wash, the more the fabrics loosen and fade. Shag carpets are the same, when you vacuum them too much, they lose shape and start becoming unattractive.
Important
The solution is to try as much as possible to prevent it from catching dirt so that you may vacuum it less. Above all, make sure to clean it with the right tools.
3. Can you put a shaggy rug in a washing machine?
This is quite an ambiguous question because there are different types of shag. Well, depending on the type of shag you have, you can put it in a washing machine and in the same token; some shag materials are not suitable for machine wash.
Important
If you have the cotton and synthetic shag rugs, you can comfortably wash them in a washing machine as long as the can fit inside. However, don't do this too often as the high powered washing may overly scrub the fibers.
4. What is the best vacuum for thick carpet?
One of the biggest questions out there is, what's the best vacuum for thick carpets?
From a general perspective, the best vacuum for thick carpet should have powerful suction and large wheels to maneuver in the thick pile. But there are several other factors that you need to consider for example, what type of thick carpet do you have.
Attention
It's worthy to note that while thick carpets are assumed to be tough, there are variations that are very fragile for example, wool shag and frieze carpets.
5. How often should you clean your shag carpet?
Important
The frequency of cleaning your carpet will depend on the amount of dirt it collects as well as the activities in your house.
For pet owners, you definitely want to vacuum the carpet as often as possible to remove the pet hair and dander that sticks on the carpet. The idea is always to vacuum it immediately it catches dirt or gets stained.
6. Why is my vacuum producing a funny noise?
Many are times your vacuum will start producing a funny noise suggestive of being overwhelmed.
Important
The problem here could be lack of enough venting on the shag.
You understand the essence of having proper venting if you are vacuuming thick pile. The heavy fabric covers all vents under the vacuum leaving no space for the vacuum to breath. In turn, there is insufficient air intake, and that's why you hear a rumbling noise.
Make sure to adjust the vents well, as well as the head to correct this.
7. Why did my vacuum go off suddenly?
There could be many reasons for this? Maybe it is something technical, but most of the times, it's because of overheating.
Important
If the vacuum goes off after producing some funny noise and smell, then the problem could be overheating.
Vacuum cleaners have a mechanism that automatically shuts them off when the motor overheats. It's important after that to find the cause of overheating, but mostly, it's because of the lack of proper air flow.
Frequently Asked Questions
What is the best vacuum for high pile carpet?
The choice of the best vacuum model fully depends on your requirements, type of your carpets, and your budget. Nowadays, there are a huge number of canister, upright, stick, corded and cordless, bagged and bagless, etc. vacuums of luxury and budget brands. That`s why we recommend you to set your needs and compare definite models. However, among all this abundance, many users distinguish Shark Rotators and Navigators, Dyson Ball and v10, Miele Complete C3, and some other vacuums.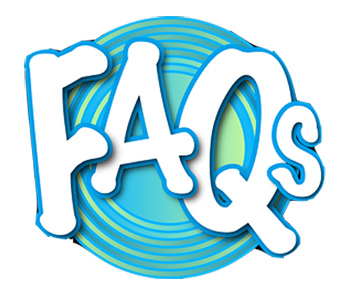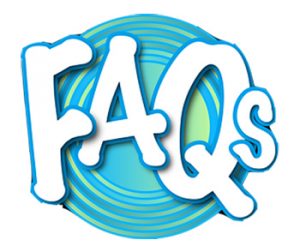 Do Shark vacuums have carpet height adjustment?
The majority of Shark vacuums doesn`t feature the function of adjustment to the pile height. But the construction of nozzles, motors, and suction power allow them to cope with different carpets without much difficulty.
Does Dyson work on thick carpet?
Yes, it does. Dyson company produces very powerful vacuums, which are suitable for all types of carpets from low-piled to high-piled and shag carpets.
How do you adjust the height of a Shark Rotator carpet?
Unfortunately, Shark Rotator vacuums do not provide carpet height adjustment. However, you can choose the most optimal cleaning mode, suction level, and a nozzle for each pile and get wonderful result.
Is Shark Rotator Powered Lift-Away canister vacuum suitable for pet owners?
"Shark Rotator Powered Lift-Away is a powerful vacuums with a 1150 Watts motor. Besides, it offers Anti-Allergen Complete
Seal Technology filtration for perfect safety of the air.
So, we highly recommend this vacuum for pet owners, families with small kids, and allergic people. "
Wrapping Up
That's the end of our shag carpet vacuum buying guide. As you have seen, shag carpet is indeed from all the other thick carpets.
Two factors make shag carpet vacuuming a big challenge.
The first is obviously the fact that shag carpet is high pile and has a lot of spaces between the thick pile where dirt hides.
Another thing, shag carpet is quite delicate, so you need to buy specific vacuums for cleaning it.
Shaggy carpets and rugs require average suction to avoid pulling of the individual strands and also a soft brush to agitate dirt from the carpet gently.
For that reason, you need to be extra vigilant when choosing a vacuum for your shaggy carpets.