Hoover PowerDash vs Bissell TurboClean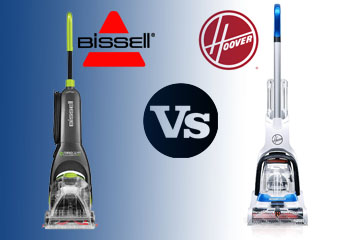 If you are looking for the best carpet cleaner, Bissell and Hoover are two household names.
In this Hoover PowerDash vs. Bissell TurboClean review, we have explored the different features of each model and how they compare.
But before going into the details, here is an overview of the two brands and their respective models that feature in this article.

Comparison Table
Dimensions
15.25 x 10.13 x 43.5 inches
Brush
4-row rotating DirtLifter® PowerBrush
TurboClean™ PowerBrush Pet
Nice Choice
Brush
4-row rotating DirtLifter® PowerBrush
Good Choice
Dimensions
15.25 x 10.13 x 43.5 inches
Brush
TurboClean™ PowerBrush Pet
Bissell
Also known as Bissell Homecare, Bissell is a renowned vacuum cleaner and floor care brand.
Important
Since the inception of the Bissell Carpet Sweeper in 1876, the company has continued to scale the heights in the floor care industry. Today, it has outranked Hoover, another household name, to become the best brand in North America's floor-care sales.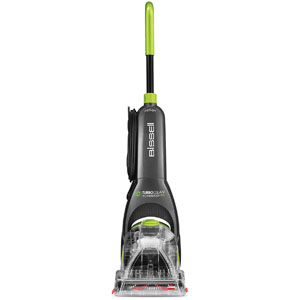 One of the best Bissell upright vacuum carpet cleaners is the Bissell TurboClean series that includes several models; 2084, 2085, 20858, 20859, and 2085Q.
All these models are similar save for a few differences in the respective accessories and the availability.
If you are buying on Amazon, the Bissell TurboClean™ PowerBrush 2085 Pet Carpet Cleaner is the available model and an Amazon bestseller in the commercial carpet steamers category.
This is the model that we'll be comparing to Hoover's best upright pet carpet cleaner.


Hoover
Important
Established in 1908, Hoover is an American vacuum cleaners brand specializing in deep cleaners, hard floor cleaners, stick vacuums, and laundry appliances, among other products.
The company was dominant in the North American floor care market for years before being overtaken by Bissell.
When it comes to upright pet carpet cleaners, the Hoover PowerDash series is the best choice.
There are several variants of the Hoover PowerDash, for example, Hoover PowerDash FH50700US, PowerDash FH50700, PowerDash FH130010.
These models are quite similar, just like the Bissell TurboClean range, save for a few differences in terms of accessories and availability.
Hoover PowerDash FH50700 vs. Bissell TurboClean 2085
Now that you know a thing or two about the Bissell TurboClean™ PowerBrush Pet Carpet Cleaner and PowerDash Pet Compact Carpet Cleaner let's get to the main details. Find out how they compare in terms of design and aesthetics, cleaning performance and features, usability, maintenance, and more.
Design and Aesthetics
There are different types of carpet vacuum cleaners, from the robotic vacuum cleaners for carpets to the canisters, stick vacuums and handheld models. So, what type of vacuums do we have in this review, and how can you tell the difference?
Bissell TurboClean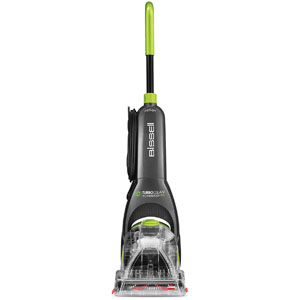 Bissell TurboClean 2085, on the other hand, is still an upright vacuum cleaner designed to vacuum carpets, especially the pet messes such as pet hair, dander, and kitty litter, urine stains, and bad odor. Regarding the dimensions, it stands at 45-inches and weighs 11.04lbs.
Bissell TurboClean has been finished in titanium with ChaCha lime accents.
Cleaning Performance
The cleaning performance of these two carpet cleaners is the most important consideration. In this section, we will first assess the cleaning orientation before explaining how the components vary from one model to another. Later on, in our cleaning test results, find out how each model performed in our exclusive cleaning test results.
Orientation
Hoover PowerDash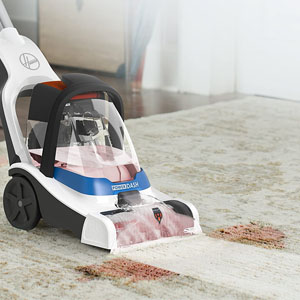 Hoover PowerDash FH50700 is not in any way different from the Bissell TurboClean in terms of cleaning orientation.
It's also ideal for vacuuming carpets and handling pet messes, from the pet hairs to the bad stench. This model, too, lacks a steamer function. For those looking for this function, the options include the Hoover SteamVac F5914900 with CleanSurge Carpet Cleaner.
Components
Hoover PowerDash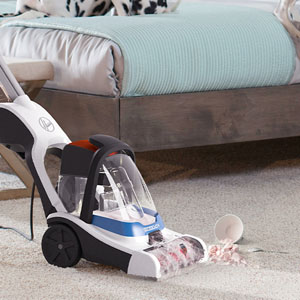 Hoover FH50700 PowerDash Pet is quite similar to TurboClean™ PowerBrush Pet. It features a powerful 7 amps motor that puts up 2X more cleaning power than your average carpet cleaner.
The 10.125″ cleaning head houses the PowerSpin Pet Brush Roll that guarantees powerful carpet cleaning and drying courtesy of HeatForce™.
For easy and effortless maintenance, this cleaner also features a removable nozzle. There is also a two-tank system: clean water (.5 gallon) and another for dirty water.
Cleaning Test Results
We tested these two carpet cleaners thoroughly using the common household dirt, and below are the observations we made.
Bissell TurboClean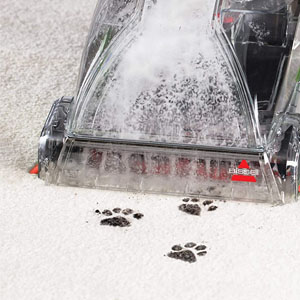 Bissell TurboClean 2085 also performed exceptionally on the three carpet types.
All the pet hair we threw on its way were picked up together with the kitty litter. The carpet cleaner was also unforgiving to the tough stains and bad odor.
We used the BISSELL Oxy Formula, and it worked like magic, clearing all the stains in a flash. The cleaning solution also got rid of the foul smell emanating from pet urine.
Important
Unfortunately, carpet drying was rather slow now that there is no feature equivalent to Hoover's HeatForce.
Usability
When buying a carpet cleaner, you definitely want a user-friendly model. In this section, find out which of the two models scores highly in terms of usability. We will assess features such as the assembly, controls, cord length, storage features, and more.
Bissell TurboClean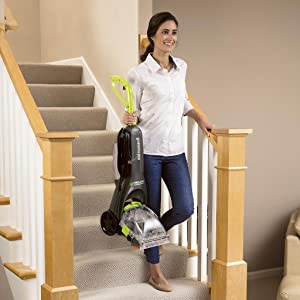 The Bissell TurboClean PowerBrush Pet is not different from Hoover in terms of assembly. The handle is ergonomic and also supports one-hand operation.
For the record, this handle is collapsible to allow for convenient storage in tight places. The TurboClean PowerBrush Pet is also a corded carpet cleaner with a 20ft cord and a carry handle for easy portability.
Hoover PowerDash vs. Bissell TurboClean
There you have it, folks, a review of Hoover PowerDash vs. Bissell TurboClean. While both models are similar in terms of cleaning orientation, the features differ slightly. So, which is the best model for you?
Well, if you are looking for a carpet cleaner for ordinary carpets and area rugs, both models are ready for the job.
Important
Both Bissell TurboClean and Hoover PowerDash are also suitable for homes with pets as they can pick up both long and short dog hair with ease and clear other pet messes such as urine stains on carpets and bad odor that emanates from the pet urine and dander.
Bissell TurboClean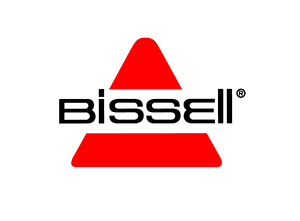 But then, if you are keen on a carpet cleaner that deep cleans the stubborn carpet stains, Bissell PowerDash is a better choice, especially when used with the company's recommended cleaning solution.
Frequently Asked Questions
Can you use any carpet cleaner in a Hoover or Bissell carpet cleaner?
Yes. You can use any carpet cleaning solution in your Hoover or Bissell carpet cleaner. But it's best if you buy the recommended cleaning solution from the respective companies.
Why is my TurboClean PowerBrush Pet not spraying?
First, make sure there is enough water in the tank, and the handle is fully extended. If these two don't work, you could have a clog in the nozzles.
How do you turn on the Bissell TurboClean PowerBrush Pet?
The carpet cleaner has a power switch that should be turned on. Then, step on the recline pedal located below the power switch and pull back the handle.