Hoover PowerDash vs Bissell TurboClean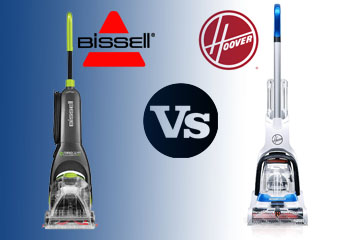 If you are looking for the best carpet cleaner, Bissell and Hoover are two household names.
In this Hoover PowerDash vs Bissell TurboClean review, we have explored the different features of each model and how they compare.
But before going into the details, here is an overview of the two brands and their respective models that feature in this article.

Comparison Table
Dimensions
15.25 x 10.13 x 43.5 inches
Brush
4-row rotating DirtLifter® PowerBrush
TurboClean™ PowerBrush Pet
Nice Choice
Brush
4-row rotating DirtLifter® PowerBrush
Good Choice
Dimensions
15.25 x 10.13 x 43.5 inches
Brush
TurboClean™ PowerBrush Pet
Last update on 2023-05-30 / Affiliate links / Images from Amazon Product Advertising API
Bissell
Also known as Bissell Homecare, Bissell is a renowned vacuum cleaner and floor care brand.
Important
Since the inception of the Bissell Carpet Sweeper in 1876, the company has continued to scale the heights in the floor care industry. Today, it has outranked Hoover, another household name, to become the best brand in North America's floor-care sales.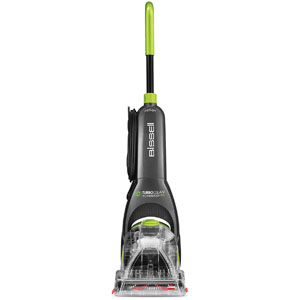 One of the best Bissell upright vacuum carpet cleaners is the Bissell TurboClean series that includes several models; 2084, 2085, 20858, 20859, and 2085Q.
All these models are similar save for a few differences in the respective accessories and the availability. During our comparison, we highlighted minor differences in colors, cleaning path width, amp rating, and location of tanks. You can get a narrower brush (like in the TurboClean 2987) or a wider brush (the 2085 model), but the set of tools and other key performance features are identical.
If you are buying on Amazon, the Bissell TurboClean™ PowerBrush 2085 Pet Carpet Cleaner is the available model and an Amazon bestseller in the commercial carpet steamers category.
This is the model that we'll be comparing to Hoover's best upright pet carpet cleaner.
Bissell TurboClean 2085 is a carpet cleaner machine developed for all pile types and rug areas. The unit performs wet cleaning and is also known as a carpet shampooer.
The main reason to love it is its pet mess elimination abilities. The cleaner uses a four-row dirt lifter power brush to gently scrub the surface, lift deep dirt, and pick up hair. Powerful suction complements the process, and special solutions deal with unpleasant odors and old spots.
Besides, there are edge sweep brushes to provide perfect cleanliness along with walls and corners.
Bissell carpet cleaners use a dual tank system to keep clean and dirty water separately. We like this design and the tanks' capaciousness.
Important
If we focus on drawbacks, they include the lack of any heating system for quicker carpet drying. For example, some Bissells use Heatwave technology. Also, there are no extra nozzles and tools for spot cleaning, various pile types, and remoted areas like upholstery, etc.
Otherwise, the Bissell TurboClean series offers us very affordable and truly efficient vacuums for wet carpet cleaning. The products will best suit pet owners and people living in multi-story houses (due to a light body).
Hoover
Established in 1908, Hoover is an American vacuum cleaners brand specializing in deep cleaners, hard floor cleaners, stick vacuums, and laundry appliances, among other products.
The company was dominant in the North American floor care market for years before being overtaken by Bissell.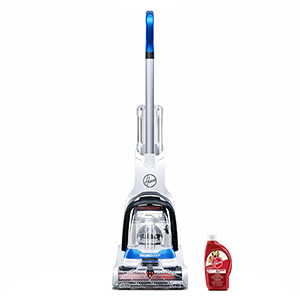 When it comes to upright pet carpet cleaners, the Hoover PowerDash series is the best choice.
There are several variants of the Hoover PowerDash, for example, Hoover PowerDash FH50700US, PowerDash FH50700, PowerDash FH130010.
These models are quite similar, just like the Bissell TurboClean range, save for a few differences in terms of availability. In general, they also differ in body design mostly.
For the following comparison, we'll take the Hoover PowerDash FH50700 model. Let us note that the product works with the same floor surface types and pollutions as the Bissell vacs. The PowerDash is perfect for all carpets, deep wet cleaning, and pet messes.
Traditionally, the system consists of a Powerspin pet brush roll, dual tanks, and included solutions.
Moreover, the price range is the same too.
The built-in Heatforce power is the main reason to get this device. The Hoover bot uses warm airflow to dry faster the processed space, which greatly cuts the cleaning time.
Twice greater power is another pro.
Attention
But please pay attention the series does not provide us with convenient cleaning along the walls and in the corners. Also, many users complain about the complicated emptying of a dirty water tank.