Roomba 890 vs. 980 Comparison Review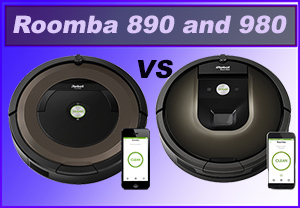 The Roomba 800 Series and 900 Series dominate the robot vacuums market. But today, the rivalry is between the Roomba 890 vs. 980.
The 980 is the latest Roomba model and arguably the best robot vacuum cleaner, but its price tag is exuberant.
On the other hand, the 890 is the crème of the 800 Series and blends performance and affordability.
While some lavish homeowners may be comfortable with the price of the Roomba 980, many have been asking if it is worth the extra $400. You want the best features, but then, imagining the 980 would be just an average vacuum makes you think twice.
To help you out of this murk, we decided to review these two Roombas to see if the 980 is a worthy upgrade or you would instead save the $400 and get a Braava to mop the floors now that Roombas only sweep and vacuum.
Priority
Floors, carpets, pet hair, allergens
Brush
Tangle free dual multisurface
Clever Choice
Priority
Floors, carpets, pet hair, allergens
Brush
Tangle free dual multisurface
1.Roomba 890 – Wi-Fi Connected Vacuuming Robot
The Roomba 890 has remained a favorite in the market because of its price as well as Gen 2 motor. Many people think of it as a cheap alternative compared to the Roomba 900 Series. But the truth of the matter is that it is quite expensive, but then, you have to realize that this is a top brand.
The Roomba 890 has the same suction power as the much expensive Roomba 960. That said, you'd want to keep the $200 change and get the 890 instead of the 960. Another thing, it comes Dirt Detect Series II and HEPA filters, just like the Roomba 960 and 980.
But in as much as the Roomba 890 has been compared to the Roomba 980, it fails the test eventually because of several things. First, it has a shorter runtime as it averages 60 minutes while some cheaper brands do over 100 minutes, for example, the DEEBOT N79s, ILIFE V5s Pro, among others. Another thing, it won't resume cleaning after recharging so just like the under $100 robots, you might find your house halfway cleaned, and the Roomba is sleeping.
Pros
5x more suction power
Tangle-free brush system
For floors carpets and pet hair
Dirt Detect Series 2
Wi‐Fi and Alexa compatable
Cons
Misses some carpet spots
Clumsy navigation system
Short battery runtime
No auto-resume
But still, it is a robot you can rely on, and the good thing is that there have been significant price drops recently. Make sure to subscribe to our price drop alerts to receive the latest Roomba 890 deals and discounts.
2.Roomba 980 – Expensive Robot Vacuum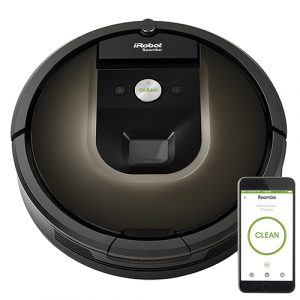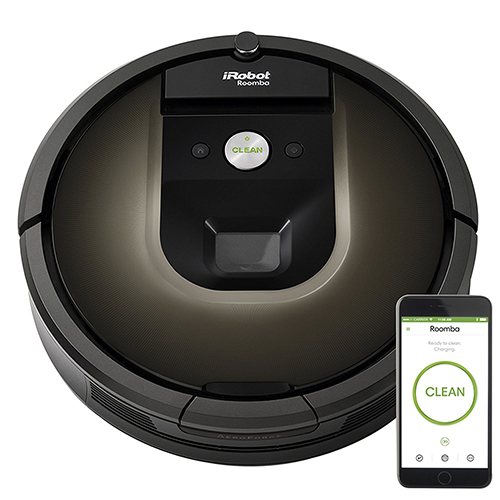 The 980 is the ceiling model of the 900 Series, and though it is expensive, its features are top notch.
The first thing you will want the Roomba 980 for is Carpet Boost. This is a dedicated cleaning mode that is activated when the Roomba detects a carpet fabric. It has 10* more power for detailed vacuuming.
It also has the industry's leading VSLAM navigation called iAdapt 2.0 so if you have a high traffic house, this is your match.
The battery performance is also commendable, and though it drains faster in Carpet Boost mode, at least it doubles what the Roomba 890's runtime. Besides, it will go back to finish cleaning after recharging so at no time will you find the house dirty because of power problems, unless because of tangling which is rare with the tangle free brush system.
But despite all the cool features, you'd want to question the price of the Roomba 980. There are avenues you'd want to challenge this, and one is because it will sweep and vacuum only. Right now, you may get robot vacuums that will also mop, and even UV sterilize floors, for example, the Infinuvo QQ 200.
Pros
10x more suction power
Longer battery life and auto resume
Carpet Boost
Ideal for high-traffic rooms
Clean Maps and advanced cleaning settings
Considering I'm paying $900, I expect the Roomba to offer something more. But despite that, it is a vacuum that everyone has acknowledged the cutting edge technology and performance.
Roomba 890 VS 980 Comparison Review
In this section, we will now compare the Roomba 980 and the 890 to see how they stack up against each other. To help you understand the difference, and make the best buying decision, we are comparing them in light of the factors you need to consider when buying robot vacuums.
So, without further ado, let's see how these two battle it out.
1. DESIGN AND AESTHETICS
How does the Roomba 980 compare to the 890 regarding the design? Can you tell the difference between the two when you look at them? These are two critical questions you should ask yourself. You want to know about their designs to know which one will be best in creeping under furniture among many other tight spots. Regarding aesthetics, you want to discern their difference by just looking at the Roomba.
When it comes to design, both Roombas have almost the same dimensions. I'd like to say that iRobot has not been keen on crafting a thin robot cleaner. Roombas stand at 3.6-inches high whereas some cheaper brands are less than 3-inches tall. The diameters are more or less the same here; there is no better cleaner between the 890 and 980.
How about aesthetics? Can you spot the Roomba 980 or the 890? The finish is quite similar; a blend of black and a shade of brown. But then, the interface is entirely different with the 980 having a D-shape control panel while the Roomba 890 retains the circular control panel. But the easiest way to differentiate them is by looking at the position of the large CLEAN button. The Roomba 980's is slightly at the top while the 890's is precisely at the center.
Regarding aesthetics, it all depends on what appeals to your eye. But then, this is not a significant factor that should inform your buying decision.
2. CLEANING PERFORMANCE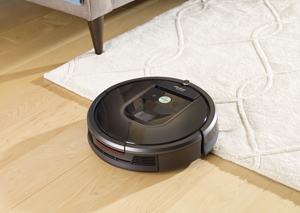 This is the fundamental factor that should guide you when shopping for a robot cleaner. Here, you'd want to know which Roomba cleans what floor types. If you have a carpet, you also want to know which one is the best between them. That's also the case for allergy sufferers and pet owners. As usual, we also ran some tests on different surfaces using a range of the typical household dirt.
Cleaning priority – The Roomba 980 and 890 have all been designed to clean all floors, carpets, allergens, and pet hair. This is what iRobot and any other seller will tell you to make that sale. But then, there is more than meets the eye and for the record, it's only the Roomba 980 that can effectively clean all these surface and dirt. This is courtesy of a number features so read along, and you will understand why.
Suction – This is the backbone of the AeroForce 3-stage cleaning system. With more suction power, better vacuuming is guaranteed, and this is an area both the Roomba 890 and 980 score highly, but the Roomba 980 is still far ahead. It comes with the Generation 3 motor that produces 10* more power than the older Generation 2 motor in the Roomba 890.
Here, there are two things I want to talk about. First, note that the Gen 3 motor in the 980 has been fixed in the dirt din. This means if you're going to replace the motor, you are also buying a tank and vice-versa.
The second thing is still connected to the motor, and here, there has been an ongoing debate on whether the Generation 3 motor can be put in the Roomba 890. This sounds a bright idea; you will have 'Carpet Boost' in the Roomba 890 courtesy of the 10* more power. I was quite interested in this to the point of almost ordering the OEM Gen 3 Motor. But first, I decided to contact iRobot's support and they promptly responded. You cannot use the Gen 3 motor in the Roomba 890. But swapping the Gen 3 motor in the Roomba 960 is one thing I will surely try one of these fine days.
Remember, they have the same parts, and the dustbin also looks exactly like the 980's so the only problem I foresee here is maybe with the
Smartphone App
programming.
Carpet Boost

This is an exclusive cleaning mode that only the Roomba 980 has. It has been engineered for use on carpet floors and is activated when the Roomba detects a carpeted floor. This is perhaps the primary feature that should make you opt for the Roomba 980 and not the 890 or even the 960.
When using Carpet Boost, you will realize that the Roomba becomes louder and the runtime is shorter.
Also, the suction power may be too hard for the fabric, and at times, it may damage your carpet. To do this, go to Cleaning Settings and select Eco-mode. But then what is it doesn't deactivate? This will mean that there is a problem with the Roomba's hardware. You will want to clean or replace the debris extractors as needed. Also, check the alignment of the extractor frame as it may also cause the bug.
Brush – This is among the features the Roomba 980 and the 890 share in common. Both Roombas have the tangle-free dual multi-surface brush system. While brushing has never been a problem for Roombas, tangling is what made me hate the 600 Series. If you have pets, this is a feature you'd want to have in your vacuum. Nothing sucks like coming home to find the Roomba jammed. Tangling will also shorten runtime as more power is consumed to push the Roomba despite the jamming.
Filter – The Roomba 890 and 980 also have the same filtration system, AeroForce high-efficiency filtration technology. It uses HEPA filters, so you are sure of 99.97% allergen filtration. So, if you have allergies and pets, any of the two vacuum cleaners will be of great help to you and your family.
Dirt detection – The Roomba detects where there is more dirt and will quickly head there and switch to Spot mode courtesy of Dirt Detect. The two vacuum cleaners, the Roomba 890 and 980 have the latest version, Dirt Detect Series II that combines acoustic and optical sensors.
Our Exclusive Cleaning Tests
We understand that many products promise what they can't deliver. For that reason, you want to know how Roombas perform on the different surfaces. You also want to know how they will handle some of the daily household dirt. That's what we thought too, so we decided to not only give you our personal experience with these Roombas but to test them and give our objective observations and conclusions – call it a scientific approach. We run the tests on different surfaces to provide you with an accurate reflection of their performance.
Hardwood/Tile/Linoleum/Vinyl
On these hard floors, robot vacuums offer quite the same performance with a few differences if any. So, as usual, we scattered some Cheerios, kitty litter, rice, flour and sugar on the floors and this is our observation.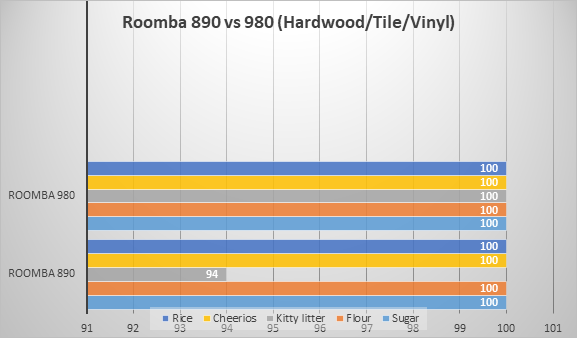 The Roomba 890 picked all the sugar, flour, rice, and Cheerios without any problem. However, kitty litter was quite a problem and managed 94% which is not very bad. On the other hand, the 980 delivered excellent performance clearing all the dirt from the floor including the kitty litter. If you are looking for the best Roomba on floors, the 980 is the best, but still, you can't put off the 890. If you are on a tight budget, it still works magic.
Thick carpet (Polypropylene fiber)
In my other review, I compared the Roomba 690 and 890 and this is an area where there were clear winners. During the review, we tested the Roomba 980 on a high pile carpet and it was just superior when Carpet Boost was activated.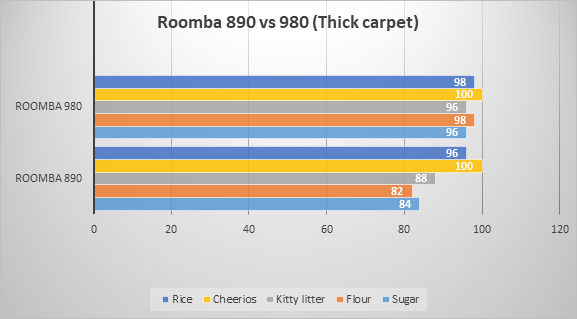 The Roomba 980 collected 96% of the sugar and kitty litter which is very impressive considering the small particles hide deep in the carpet fabric but were still vacuumed. 98% of the flour and rice was also picked, and on the other hand, Cheerios was not a problem at all the cereals were picked.
Also read: The Roomba 650 vs 880 Comparison – Pros and Cons
On the other hand, the Roomba 890 managed 84% of the sugar, 82% flour, 88% kitty litter, 96% rice and all the Cheerios cereals. One thing to note here, it is the carpet fiber that makes it hard for the dirt to be vacuumed and not vacuum power deficiency per se. But then, with the 10* more power delivered by the new Gen 3 motor in the 980, the dirt can be forcefully picked up, though the Roomba may be a little too aggressive on the fabric.
From the observation above observation, you can see that the Roomba 980 is the best vacuum cleaner for carpets. It sucks up almost every dirt on the thick carpet.
Thin carpet (nylon fiber)
When it comes to thin carpets, I have tested the Roomba 890, 960 and 980 and the performance is excellent. At least for thin carpet, the dirt doesn't hide far inside and the material doesn't disrupt picking up of debris. Here, I always remember to tell homeowners that while the Roomba 890 and 960 may be recommended for carpets, it suits thin carpets only. So, how did these two vacuum cleaners fair own on this surface?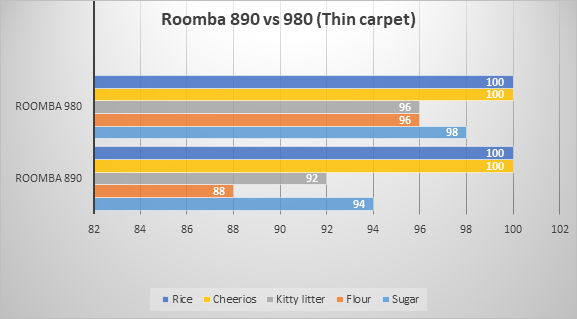 The Roomba 890 collected all the rice and Cheerios comfortably. Flour and sugar cleaning was 94% and 88% respectively while kitty hair was 92%. When it comes to the 980, we see an excellent performance. It picked all the Cheerios and rice while flour and sugar was 98%. Kitty litter is what overwhelmed it as it did 96% which is better than most pet hair vacuum cleaners.
On thin carpet too, the Roomba 980 has better performance. It will clean thoroughly picking up all the dirt including kitty litter. In fact, if you are a pet owner, this is what you should get considering it has better action on kitty litter. But you can still get the Roomba 890 if your budget is tight. It will clean thin carpets thoroughly as long as you keep most of the dirt outside.
What about pet hair and allergens?
Like I said in my previous Roomba 890 vs. Roomba 690 comparison review, it is hard to test action on pet hair because even if you collect the pet hair, you will distort its natural composition so you will not get conclusive results. But as a pet owner and allergy sufferer, there are a few things I will talk about as far as pet hair and allergens are concerned.
To start, we will try to find out what features are essential in cleaning pet hair and allergens and after that evaluate the performance of the 890 and 980.
Ordinarily, pet hair pickup is not a problem for many robots regardless of the vacuum power. The primary challenge is tangling which jams the brushes. The good thing is that the Roomba 980 and 890 have a tangle-free brush, so you won't find the Roomba stalled because of tangling.
The other notable feature is filters which ensure all pet related allergens are captured. There are two filters in the market; HEPA-style vs. true HEPA. The difference between the two is the efficiency. True HEPA is the best as it has a 99% efficiency compared to HEPA style that ranges from 85% to 90%.
Both the 890 and 980 have HEPA filters so you can be sure of fresh air always.
But how does the Roomba 890 and 980 compare when it comes to pet hair cleaning?
I will start with the Roomba 890, and I must say this is the best for cleaning pet hair of floors. I have used the 890 on hardwood and tile, and the pick-up of pet hair and dander is excellent. The only problem is when you have a carpet. Even on thin carpet, the Roomba 890 will strain a bit because the tiny hair and fur tend to stick on the carpet fabric. That said, I only recommend the Roomba 890 for pet hair if you don't have a carpeted floor.
On the other hand, the Roomba 980 is not the best for cleaning pet hair scattered on hard floors; tile, linoleum, and the rest. This is for one main reason; the high suction power blows away some of the pet hair. In as much as it has entire level cleaning, the hair that it blows away to the already cleaned areas will be left. But on carpets, it is the champion. As mentioned above, pet hair sticks to the carpet fabric; whether heavy or light pile carpet. Now, the high suction that was a menace of hard floors makes cleaning a buzz on carpets. The hair that stuck on the fabric is forcefully picked up in a better fashion.
So,
what's the best Roomba for pet hair?
Here, it will depend on the surface you are intending to clean. For hard floor owners, the Roomba 890 is an excellent choice considering the price too. But on carpets, it will offer dismal performance, and that's where the 980 comes in. If you have a rug, choose the Roomba 980 as the extra suction will forcefully grasp all the pet hair.
Regarding allergens, both vacuum cleaners have HEPA filters so they will capture all the allergens. But then, note that a Roomba won't be 100% efficient and may be overwhelmed. So, make sure to ventilate your house thoroughly. Also, empty the bin regularly to reduce the build-up of odor in your home.
3. NOISE
It would be also wise to consider the operation noise of these Roombas. If you like vacuuming at night when there is no traffic at all, you want something that has quiet operation. For the record, none of these two Roombas fit the description of quiet operation. This is bearing in mind that several other vacuum cleaners operate more quietly than them. But then, this shouldn't be a significant consideration when buying a robot vacuum, and I will tell you why. If you are going for a quiet robot vacuum, chances are high performance is compromised.
But still, when it comes to the Roomba 890 and 980, they have different levels of noise operation. The Roomba 890 is at least better at 68dB. This is equivalent to the shower when it is on. On the other hand, the Roomba 980 gives varied performance depending on the cleaning mode. When in normal mode, it produces around 70dB, but on carpets, it is much louder and may be a nuisance.
When it comes to operation noise, I will stick to the Roomba 890. But then, I don't think it's a smart idea to focus too much on noise operation; cleaning is the priority.
My Roomba is louder, any problem?
Many are times your Roomba will become notably louder and not because a carpet has been detected or something. The unusual loudness is often a sign of strain, and there could be several reasons that explain why. If the Roomba is not in your vicinity, chances are high it is stuck but what if this is not the case? Put the Roomba off and lift it to examine the wheels; they may be jammed, so the motor is struggling to supplement the required power. Another culprit is the brush especially when it is tangled. This also causes resistance which pushes the motor to the limit. The brush could also be worn out.
4. NAVIGATION & MANEUVERABILITY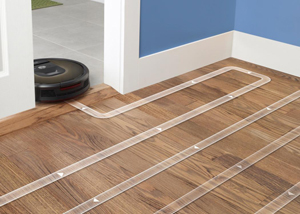 After cleaning performance, this is another aspect you should consider when shopping for a robot vacuum cleaner. It is also an interesting topic considering the two Roombas have entirely different navigation systems.
If you have a high traffic house or a large apartment, this is something you will want to be serious on because robot vacuums are not invincible; at times, they get stuck or hit obstacles. But then, what features are you looking at here?
iAdapt 1.0 vs iAdapt 2.0
A lot has been talked about the old iAdapt 1.0 navigation system that the Roomba 890 has. Compared to what the competition offers, iAdapt is just on another level. But that said, it doesn't mean that you won't find the Roomba 890 stuck; it does especially if you have a lot of furniture. Remember, this technology uses a range of sensors to help the Roomba find its location in relation to the walls. Also, there are a set of obstacle and cliff sensors that prevent it from hitting obstacles and falling off the stairs respectively.
But then, it's with no doubt that the Roomba 980 wins the battle here courtesy of the new VSLAM-based iAdapt 2.0. While the 890, and older models rely on sensors only to find their way around your house, the Roomba 980 has sensors and a real-time camera at its top inclined at 45 degrees. This camera takes the images of the major landmarks and through what John Leonard, a professor at MIT, calls ''sensor fusion'' it combines the images and data from the proximity sensors for better awareness of its position in relation to the walls and also the landmarks.
Remember, iAdapt 1.0 processes the data from proximity sensors in relation to the walls only and that's why it will hit furniture more often than the walls. If you have a lot of furniture, look no further than the 980, unless the budget is exuberant for you.
When it comes to the navigation system, the Roomba 980 wins the battle, and in fact, iAdapt 2.0 is among the
900 Series'
primary strengths.
Virtual Walls vs. Lighthouse
If you did your homework, you must have come across Virtual Walls and Lighthouses. These are unique boundary marking features that iRobot has developed. But then, it is important to know the difference so that you may not pay extra for something that you won't need.
Virtual Walls creates a wall barrier to block the Roomba from reaching specific areas. Unlike Neato Robotics that uses magnetic barriers to mark the boundaries, this technology uses invisible lasers to mark the boundaries. The Roomba 890 and 980 all have this feature the difference is only the accessories included.
On the other hand, Lighthouse is a navigation control that restricts the Roomba to cleaning one room until it finishes before moving to the next room. This kit also uses the same infrared markers just like Virtual Walls.
Here, I would go with the Roomba 980 anytime because it has been supplied with two dual-mode Virtual Walls barrier while the 890 comes with only one.
5. BATTERY PERFORMANCE
Between the two, which one will run for a longer time? Which of them best fits large apartments? And how is the traffic in your house? These three are the most critical questions to ask yourself when buying a robot vacuum cleaner.
In this Roomba 890 vs. 980 comparison review, we decided to dig deeper as far as performance tests are concerned to find out what's the best Roomba for high traffic rooms and large apartments. The reason for this is because battery features and performance is another area where the Roomba 980 beats the 890.
So, we wanted to know precisely, what are the new extras and are they worth the money or they are things you could forego?
Battery type and capacity
If you are a sharp guy, you understand that we have different kinds of batteries each with its advantages and disadvantages. iRobot has so far explored Nickel-Metal-Hydride and Lithium-Ion though the latter is the most extensively used.
The Roomba 980 and 890 have a Li-Ion battery with a capacity of 3,000mAh and 1,800mAh respectively. That said, you'd want to go with the Roomba 980 but then, is the runtime proportional to capacity?
Runtime
How long will these Roombas last on a full charge? This is perhaps the most crucial thing when addressing the battery performance and power options of these two Roombas. Here, the Roomba 890 performs dismally by averaging 60 minutes while the Roomba 980 averages 90 – 120 minutes. But are these runtimes constant or they fluctuate from time to time?
One thing many websites fail to mention is that robot vacuum cleaners will have different runtimes depending on the surface they are working on. On smooth surfaces like hardwood, tile, and vinyl, the runtime will be longer. But when it comes to hard terrain like on heavy pile carpet, the Roomba requires more thrust, and that implies more battery power.
That said, we decided to give you a clear picture of what to expect in these two Roombas.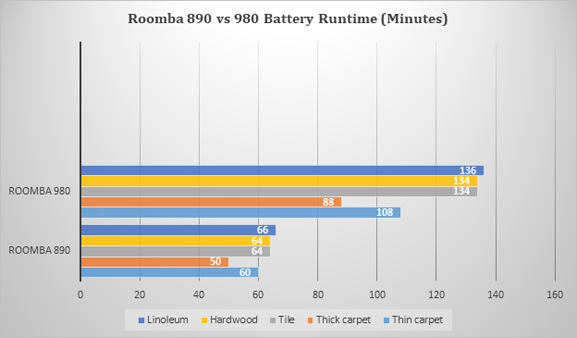 Our observation
We tested the Roomba 890, and it averaged 63 minutes on tile, hardwood, and vinyl. On thin carpet (nylon fiber), the runtime dropped to 54 minutes and a further down to 47 minutes on a heavy rug (polypropylene fiber). When it comes to the Roomba 980, the performance was much better on smooth floors averaging 133 minutes. On thin carpet, it managed 108 minutes, and on heavy mats, it did 88 minutes.
From the data above, you can see that most websites are quite misleading. The first thing I feel has been wrongly omitted is the fact that the Roomba 980 has no standard runtime because power consumption is different when in Carpet Boost mode. The motor has to step up the revolutions to supplement the extra power needed to yield more suction.
Besides the cleaning surface, several other factors can cause the battery to fluctuate.
The first one is the condition of the brush. A dirty and old brush will often overwhelm the Roomba, and consequently, the motor increases the RPM to produce more power, and that's how your Roomba ran for a shorter time.
The other thing is battery fading which is the effect of wear and tear resulting from the charging cycles. Here, I noticed that the Roomba 980's battery faded quite faster than the Roomba 890's and the explanation for this is simple.
On average, you will charge the Roomba 980 at least 30% more times than the Roomba 890 because Carpet Boost and the VSLAM navigation mean more power consumption.
How does the Roomba 980 and 890 manage their power?
Robots are so far the best when it comes to convenience, but again, not all of them are autonomous. As you all know, Roombas will all go to the recharge station for more juice when the power level goes down. But then, what happens after that?
If you don't charge your Roomba 890 very often and it starts a cleaning session with half charge, chances are high it will go back for a recharge before completing the task. Once it recharges, that's the end of it. You have to initiate a cleaning session afresh so many are times you will be finding your house half cleaned if the floor is extensive. This is such a put off considering you are paying $500 and the worst thing, the runtime is very short.
On the other hand, the Roomba 980 doesn't only give you longer runtime; it has the revolutionary auto-resume technology that sends the Roomba back to where it was cleaning after recharging. This is one of the reasons that the Roomba 900 Series beast all the others hands down. It is imperative to note that in the entire industry, a few robot vacuums have this feature, so that's a plus for the Roomba 980. If you have a large floor or carpet, this is one feature you don't want to miss out on. It is also available in the Roomba 900 base model, the 960.
Roomba 890 vs. 980; battery performance
Here, the Roomba 980 is the best option, and the 890 doesn't stand a chance at all. It has a shorter runtime and doesn't have resume capabilities. If you have a large apartment and you don't have time to charge your Roomba often, the 980 will be a good purchase. You don't have to worry about it even when it starts cleaning on low charge; it will recharge and finish the job!
6. SMART FEATURES AND CONVENIENCE
Though these features may not be in any way related to the cleaning itself, they help to make floor cleaning easier by giving users more control over their robots.
So, what exactly are these features and which Roomba is the best in this case?
Scheduling
As the name suggests, Scheduling allows homeowners to program their Roomba to initiate cleaning sessions at their preferred times.
This is an essential feature, and almost all robot vacuums have it.
Unfortunately, you can only set a single cleaning time per day, so if there's need for extra cleaning in the day, you have to do prompt the Roomba manually or via Smartphone App. But at least with the Roomba 980, you can expect upgrades that would make it possible to schedule cleaning at different times of the day.
For our two Roombas, this feature is available and they can be programmed for seven days straight.
Wi-Fi
With Smart Homes gaining popularity, you want to know which Roomba will be controlled right from your Smartphone App. Or better still, Smart Home Hubs like Wink 2 Hub or SmartThings. The good thing is that both the Roomba 890 and 980 come with Wi-Fi so you will always be in control of your Roomba from the iRobot HOME App.
But then, the Roomba 900 Series has an upper hand, but the most important thing to ask yourself is, are these extras worth the money?
Yes, the Roomba 980 has Clean Maps reports and advanced cleaning settings; features the Roomba 890 lacks. Together with the Roomba 960, homeowners can see where the Roomba cleaned, where there was more dirt and so on. The advanced cleaning settings will also come in handy on some occasions. For example, if the house is very dirty, you can choose to have more leaning passes for a thorough clean. Just to note, only the Roomba 980 has advanced cleaning settings, not even the 960.
Voice control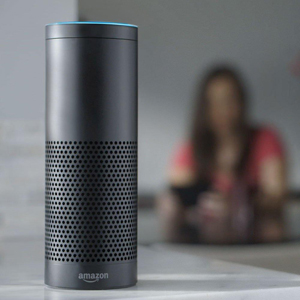 Amazon Alexa and Google Home are the latest sensation as far as voice control is concerned. The good thing is that both the 890 and 980 are compatible with Alexa and Google Assistant. But then, I had problems with the Roomba 890; it kept on dropping Wi-Fi, so you don't get the best out of voice control. But if your Wi-Fi is reliable, there should be no problems.
So, who's the winner when it comes to Smart features and convenience?
The Roomba 980 carries the day because, besides Wi-Fi and voice control, you have advanced cleaning settings and Clean Maps reports.
If Smart features is something you want to base your choice on, it will be a matter of value for money. Asking yourself, do you need these extras? If you feel they are very worthy, then get the Roomba 980, but I will tell you for free, they are not reason enough to pay more for. I hardly know Roomba 980 owners who use these extras.
That said, the Roomba 890 vs. 980 battle is hard to call here; if it is about better features, the 980 wins but regarding value for money, the 890 carries the day.
7. COST AND VALUE FOR MONEY
This has been a massive talking point where the Roomba has been on the receiving end. On a typical day, it costs $900 while the Roomba 890 costs $400 lesser. Because of the significant price difference, there has been a long conversation on whether the Roomba 980 is worth the extra $400 and I will tell you yes. But then, if it is beyond your means, then it doesn't sound like a good idea, especially if it strains your budget.
If you'd ask me, the Roomba 980 sounds like real value for money from one angle, but on another, it looks overrated.
From an objective view, and without favor, the 980 is value for money compared to other high-end vacuum cleaners like Dyson 360 Eye and SAMSUNG PowerBot. It is cheaper than Dyson and offers better performance except for suction power; Dyson is a real monster here. But if you look at all the other features, it matches Dyson and costs $100 lesser.
But then, it is also expensive compared to other top brands like Neato Robotics and ECOVACS. The two have released new products; Neato D7 Connected and DEEBOT R95 respectively and they are all in the $500 – $700 bracket. It depends on your affordability as many people become subjective just because they couldn't match the price.
What about the Roomba 890? This is a cheap but also expensive Roomba, and just like the 980, it also has two sides. At least it shares some impressive features with the Roomba 900 Series. It has the Gen 2 motor just like the Roomba 960, Dirt Detect Series II that's also in the Roomba 980 and HEPA filters just to mention a few. You get all this for around $499, but I have seen it retailing at a discount this past week. Be sure to subscribe to our price drop alerts to get the latest news on Roomba sales and discounts.
But then, $499 is still quite expensive considering the few flaws noted in the Roomba 890. First, it still has the old navigation system, the same one in the cheaper Roomba 650 and 690. Its runtime is also shorter than what you'd expect from a $500 robot vacuum. Cheaper models like ILIFE V5s Pro, DEEBOT N79s, DEEBOT M80 PRO and others average 100 minutes and above, 40 minutes higher than the Roomba 890.
Here, it is tough to call the winner because it depends on your perception and needs too. For example, if you don't have a carpet, the Roomba 890 seems an excellent value for money, but that's not the same case if you have a high traffic house. On the other hand, for a homeowner with a huge apartment, with a carpeted floor, pets and allergy. The Roomba 980 is value for money. It is hard to get an all-around robot vacuum cleaner like the 980.
8. MAINTENANCE
A lot of people keep asking, how long will my Roomba last? The question of durability is heavily dependent on maintenance. If you take proper care of your Roomba, it should last you for some years, but if you neglect it, it won't give you the best service. But then, what many people hate is a vacuum that is too costly when it comes to maintenance. This is both regarding costs and labor. But how easy or hard is it to maintain the Roomba 890 and 980?
The first thing you'd want to look at is the frequency of bin emptying. Remember, in as much as your Roomba will recharge itself, it won't empty the bin; you have to do it manually. But then, it is not about how hard or easy it is to empty the bin; it is the frequency that matters. You want a Roomba that has a larger bin so that you don't have to empty it now and then.
Remember, when the bin is full, the Roomba will stall. The Roomba 890 and 980 come with 0.3L bins that require emptying after two to three cleaning cycles.
One thing I want you to note is that a heavy dustbin will take a toll on your battery, so it is always important to empty the bin regularly. On the other hand, pet hair and dander will produce a foul smell so if possible, empty the bin after every cleaning cycle.
Besides bin emptying, you should also consider cleaning the Roomba from time to time. You can remove the main parts and clean the brushes, filters, and the entire unit in general. But a word of caution; while it may be easy opening the Roomba, it may prove hard to assemble it once again. That said, you only want to do this if you are a handy guy with the required tools.
Another critical thing to focus on is the replacement parts. You will be required to replace several parts from time to time. It is important to note the replacement intervals and most importantly, the price of the parts.
Here is a table showing the common Roomba 890 and 980 replacement parts, replacement interval and the price.
| PART | REPLACEMENT INTERVAL | ROOMBA 890 PRICE | ROOMBA 980 PRICE |
| --- | --- | --- | --- |
| HEPA filters | 4 – 6 weeks | $5 | $5 |
| Debris extractor | 6 – 8 months | $10 | $10 |
| Side brush | 6 – 8 months | $5 | $5 |
| Battery | 18 – 24 months | $45 | $60 |
When it comes to maintenance, I won't tell you that there is a better choice. Every vacuum cleaner requires maintenance and parts replacement. A word of advice, ensure you buy only genuine parts lest your vacuum becomes ineffective. So while you may be attracted to a replacement part because it is cheap, you may end up spending more at the end of the day.
OUR VERDICT- ROOMBA 890 VS 980
Now, having compared these two models, it's time we give our opinion on what's the best robot vacuum cleaner. Here, our decision will be solely based on the features though the price is also a factor considering you want to get value for your money.
Having used the Roomba 890 and 980 for quite some time, together with the rigorous and extensive tests we carried out, the Roomba 980 wins the 890 vs. 980 battle. But then, as a reader and buyer, you want concrete reasons why you should pay the $400 extra and get the Roombas 980.
That's what we will give you so without further ado, here are the advantages of the Roomba 980 over the 890.
Roomba 980 has a new Generation 3 motor that delivers 10* more power so it will provide better vacuuming
The Roomba 890 lacks Carpet Boost a superior feature that is activated when the Roomba is on carpets for deeper cleaning.
The new iAdapt 2.0 navigation system uses VSLAM technology so it will navigate even high traffic rooms without hitting obstacles or getting stuck
The 980 will run for longer, and besides that, it will resume cleaning after it has recharged while the 890 will not leave the dock after charging unless it is prompted.
Roomba 980 comes with extra accessories
But still, the Roomba 890 has put forward a spirited fight, and it will be unfair to acknowledge its brighter side. Here are reasons why the 890 is still a good choice.
It is $400 cheaper, a budget you could allocate a robot mop, maybe the iRobot Braava especially if you have a hardwood floor.
The 5* more power sill still do some good job on thin carpets, so it is still an all-around cleaner; floors, carpets, pet hair, and allergens.
It has the latest version of dirt detection; Dirt Detect Series II, just like the Roomba 890 and 980
It is suitable for pet hair cleaning as well as allergens filtration
These are among the reasons why you shouldn't feel sidelined if the Roomba 980 is way up above your budget. In as much as you wanted the best features, the Roomba 890 will fill the gap quite correctly.
Frequently Asked Questions
Do Roomba robot vacuum cleaners use virtual walls?
One should note that not all iRobot vacuums come with virtual limiters. However, Roomba 890 and Roomba 980 offer us convenient virtual wall barriers. Thus, you can set them to avoid vacuuming in some areas like pet`s bowls, zones with wires, etc.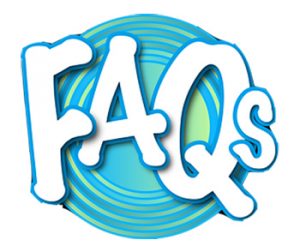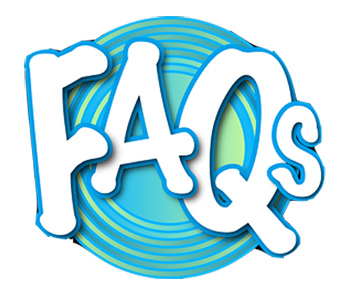 Will Roomba 980 learn my house?
Since this iRobot flagship uses Smart Mapping technology, it can scan and remember your dwellings. All information collected is saved as a map for further navigation and convenient control via the mobile app.
Can my Roomba 890 find extra dirty areas?
Thanks to the built-in Dirt Detect function, Roomba 890 can find extremely polluted zones and increase efforts for its elimination.
Roomba 890 vs Roomba 980: which robot is a more affordable choice?
We highli recommend Roomba 890 model to those who need a decent reliable robot cleaner for budget price. It costs $370 and offers enough functions for thorough cleaning. Roomba 980 for $430 will be a more expensive purchase, though it comes with several innovative features.
Our Recommendation
Finally, we have come to the end of our Roomba 890 vs. 980 comparison review.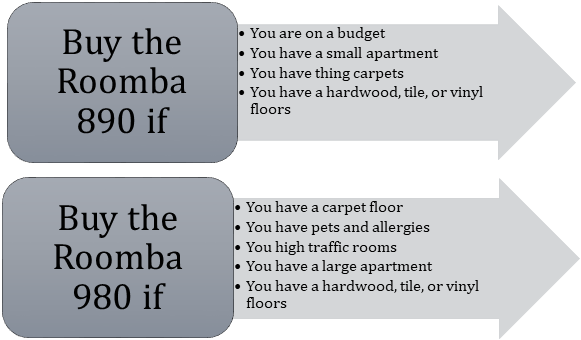 We hope you are now able to decide on which Roomba to go for. Just in case you are still stuck, here are a few resourceful tips from the editor.