Best Roomba Vacuums For Hardwood Floors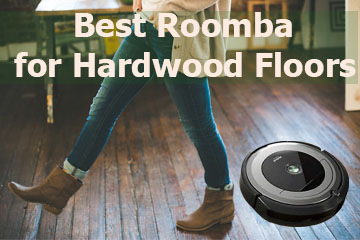 First of all, when choosing a robot vacuum cleaner, one should focus on his/her needs and the type of surface to clean.

If your house has many rugs and carpets, you'd better give your preference to a model with a turbo brush, since it allows the bot to clean the pile effectively.

However, practice shows that very often, customers are interested in choosing a smart vacuum cleaner for hard surfaces like best Roomba for hardwood floors.

Hardwood flooring is one of the most common types of cover. Laminate, parquet, board are affordable, easy to care for and clean.

However, over time, they may lose gloss and water-repellent ability, get covered with scratches and dents from furniture, dry out, and delaminate.


Some robot vacuum cleaner chosen at random can aggravate the situation and damage the floor even more, so experts advise choosing special models for hard floors.

We present to your attention the top 5 best Roomba for hardwood floors.

Our Quick Pick of Roomba

Roomba i7+

is one of the

iRobot flagship models

that uses the most advanced technologies in comparison with the other four examined vacuum cleaners. Users highlight excellent navigation, mapping, Auto-Disposal dust collector, and ease of control.

Roomba 960 ideally combines high performance at an affordable price. This robot has many sensors, a capacious dust collector, and a good battery. It also copes well with hair.

Roomba E5 compares favorably with the powerful suction of 900 Pa, Dirt Detect sensors to determine the most polluted area and vacuum it more thorough, and AeroForce cleaning system with rollers that remove fine debris and dust from hard floors.

Roomba Braava Jet M6 is the only one of all five models that is designed for mopping. The device features a special shape and design, navigates in the room thanks to a sensor system and a projecting camera, remembers the layout of rooms in an apartment/house, and supports the technology of limiting the working area through the virtual walls.

Roomba 675 is specially designed for hard floors. It uses an Auto-Adjust adaptive head to reach closer contact with the surface, consequently collecting more garbage, a double counter-rotating brush, Dirt Detection, and a good battery that covers up to 150 square meters. It's also is one of the cheapest iRobot bots.

And now, let's take a closer look at each best Roomba for wood floors to find their strong and weak points.


Navigation

iAdapt 3.0 + Imprint Smart Mapping

Brushes

Unique Dual Multi Surface Rubber
Roomba models reviews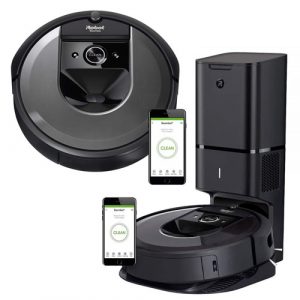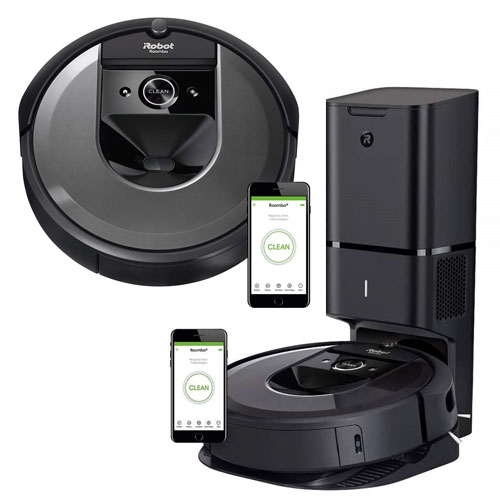 iRobot Roomba i7+ has an improved double turbo brush, an enormous 1700 Pa suction power, and a well-thought-out system of movement.
So the combination of these features helps absorb dust, garbage, and animal hair while taking care of surface safety.
The robot also has an advanced navigation system provided by iAdapt 3.0, Imprint Smart Mapping, and vSLAM technologies. They allow the robot to avoid obstacles and build a detailed map for systematical cleaning.
Roomba i7+ became the first iRobot vacuum that got an innovative Automatic Dirt Disposal system; i.e., the device does the cleaning of the house, and then independently empties its dustbin from dirt.
This model is multifunctional in every sense since it can cope not only with hard and wooden floors but also with any carpets.
However, the equipment of the cleaner allows it, first of all, to efficiently collect dirt on the floors of any complexity and reach, at the same time, carefully handling the surface and not leaving the smallest scratches or marks.
Attention
Among the minuses of the model, we note a very high cost, a weak battery, and a lack of mopping mode. Otherwise, the vacuum is perfect.
Pros
adaptation to any surfaces
well-thought-out turbo brush
several cleaning modes
high suction
Dirt Detection
HEPA filtering
thoughtful navigation
mapping
app and voice control
self-emptying function
Cons
weak battery
no mopping
very expensive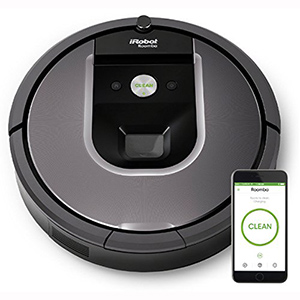 This vacuum of the 900 series features a broad set of sensors that provide effectiveness and safety.
There are cliff sensors against drops, anti-collision sensors, full bin indicator to notify the user about the fullness of the 600 ml bin, and Dirt Detect sensor to catch the smallest pollution.
The kit includes a virtual wall, iAdapt, and vSLAM technologies that help organize the operation of the vacuum cleaner. All these additions can be especially useful in high traffic rooms and areas.
Important
The robot confidently balances between the decent equipment with such necessary and favorite functions as smart navigation, remote control, recharge and resume, and an affordable price. It's innovative enough to ensure cleanliness on a large wooden surface and cover a couple of low carpets.
There is very little criticism of the 960.
We only note a small dust collector and noisy work. Also, the model lacks the function of wet cleaning, which would be very useful for dealing with hard floors.
Pros
bumper protection
double rubber brushes
good hair collection
Full Bin Indicator
high suction
HEPA filter
iAdapt 2.0 and vSLAM navigation
Dirt Detect and anti-drop sensors
virtual wall
iRobot HOME app and voice control
affordable price
Cons
no mopping
doesn't plan maps of the rooms
can be rather noisy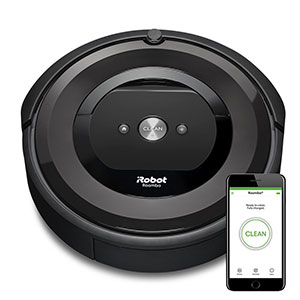 Roomba E5 can boast compact dimensions and nice passability. It crosses any barriers up to 2 cm and reaches all zones under furniture or between legs.
Keeping up with the times, this iRobot has a Wi-Fi module and voice control. Roomba e5 also uses the 1800 mAh Li-ion battery, which is enough for 90 minutes of cleaning.
As we mentioned above, the bot features high suction, Dirt Detection, and AeroForce system. The vacuum cleaner also copes well with the removal of hair as it doesn't wind them on the rollers. It greatly facilitates the cleaning of the vacuum.
Important
Summing up, we conclude that this model has sufficient characteristics. The robot is suitable for those who are looking for a budget assistant for regular dry cleaning of small and medium rooms. It copes with dust, small debris and hair and does nice air freshening.
Nevertheless, we can't use it in big rooms and houses as it doesn't have Recharge and Resume function and navigate only through the sensors, which can influence on thoroughness.
Pros
maneuverability
double rollers-extractors
three-stage AeroForce cleaning
high suction
HEPA filter
wide range of sensors
Dirt Detect sensors
virtual wall
iRobot HOME app and voice control
powerful battery
Cons
a rather small dustbin
navigation only through the sensors without mapping or vSLAM
no Recharge and Resume
no mopping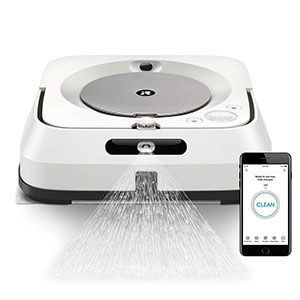 Braava Jet M6 belongs to the category of robot mops, which are designed to clean exclusively hard floors and use only wipes, not brushes.
This model is trendy as it combines the best features of both gadget types – robot vacuums and robot mops. It can carry out both dry and wet cleaning.
Cloths for mopping are made of absorbent fibers. They can even wipe off adhering and stubborn dirt, as well as grease stains.
The action of wipes for dry cleaning is based on using the strength of the electrostatic field to trap dust, debris, and pet hair.
Important
It's noteworthy that the robot is able to recognize the type of napkin used and, accordingly, select the floor cleaning technology.
We also like the updated robot navigation based on map building, the ability to work together with robot vacuum cleaners, a powerful battery, and convenient control.
Pros
compact dimensions
both mopping and dry cleaning
smart mapping
connection with other robot vacuums
mobile app and voice control
powerful battery
quiet work
Cons
high price
static mopping block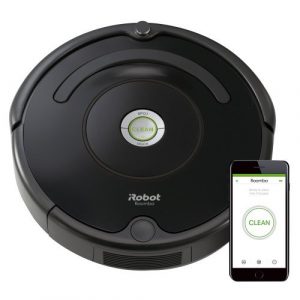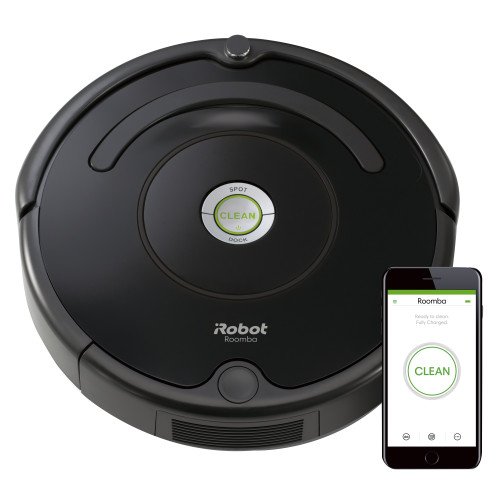 iRobot Roomba 675 is similar to the E5 model as it also features a counter-rotating brush, the Auto-Adjust adaptive head, and 90 minutes of run time.
Nevertheless, this Roomba applies more through navigation based on infrared sensors and iAdapt 1.0 technology. Thus, the robot determines its location, position of obstacles on the way, and the type of the surface.
Roomba 675 forms a cleaning route and sequentially performs it, trying not to miss a single section.
The maximum suction power on this model is 600 Pa. This model supports Wi-Fi and smart speakers.
Roomba 675 is the cheapest robot in our review, with a price of $260.
At the same time, we see that it's well equipped with reasonably advanced functions that help improve the cleaning of the hardwood floor.
Attention
Still, the set of the bot lacks virtual walls, and some users complain about unsatisfactory hair vacuuming.
Pros
compact dimensions
double counter-rotating brush
Dirt Detect function
Auto-Adjust Head
iAdapt 1.0 and sensors navigation
Wi-Fi and voice assistants
good battery capacity
affordable price
Cons
difficulties with hair vacuuming
small dustbin
no virtual walls
no mopping
Cleaning Tests
To find out the productivity of each vacuum model, we took four types of pollution from fine debris to heavy and entangling ones and put the robots through a ton of tests.
The debris used is sand, rice, cereals, and hair. Let's see the results!
Roomba i7+
In our opinion, the best upgrade of Roomba i7+ contributing to the cleaning is the Automatic Dirt Disposal system.
It is mounted into a charging dock with a bag inside. Whenever the bot docks, a suction motor kicks in and empties the dustbin into the bag.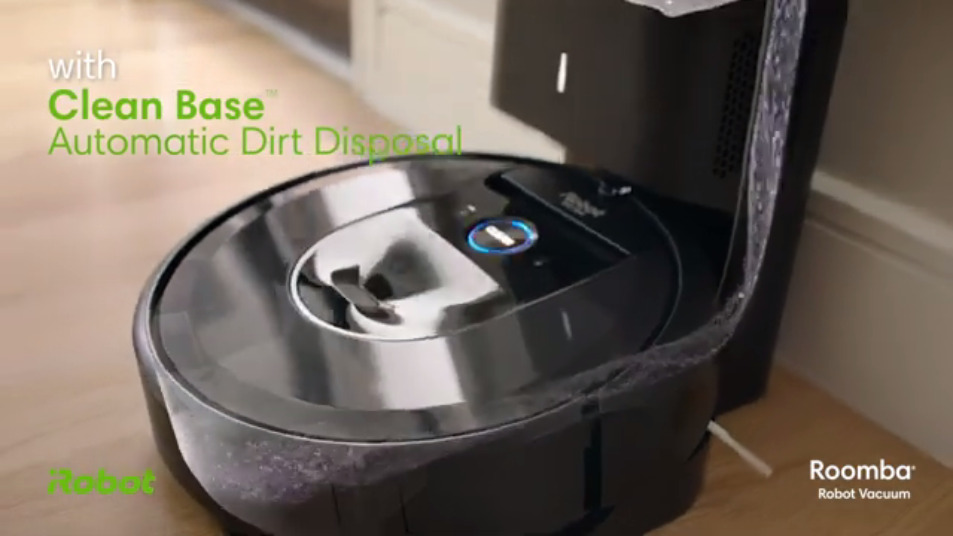 iRobot says the bag can hold up to 30 full dustbins of debris. The i7+ also has redesigned brush rolls and a new self-adjusting plate, which keeps them in contact with floors. Thus it has better pickup ability than previous generations.
We noticed that all these additions significantly improve the cleaning result, which is clearly seen in tests.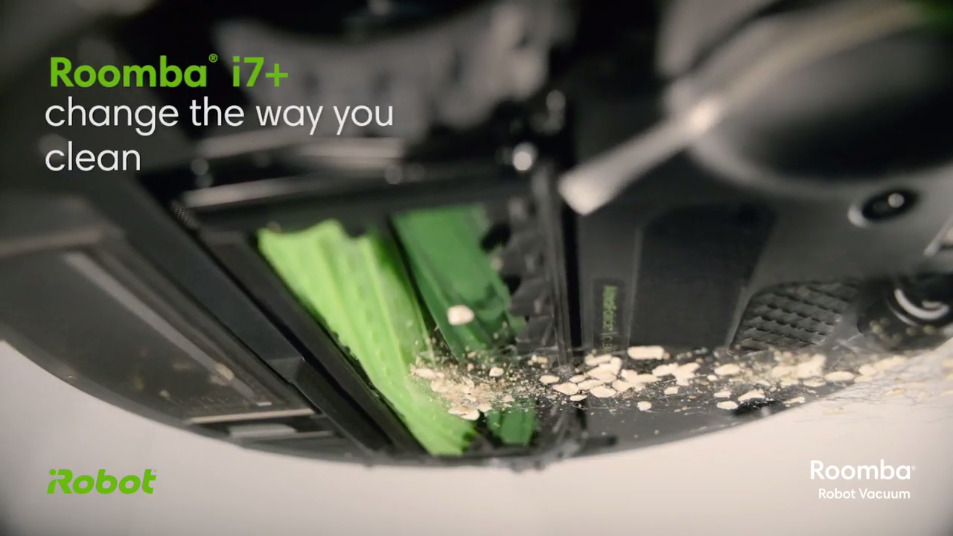 The robot picks up all the dirt from fine debris like sand to pet hair and does it 100%. Although we test hard floor vacuuming, the i7+ does it very well with carpets, too.
Roomba 960
Reviewing the iRobot Roomba 960, we found that it was way above average robots in several categories.
Though there are some drawbacks as well, the Roomba 960 is absolutely amazing with hair vacuuming. The reason is the dual brush system that iRobot has patented. It's particularly useful for picking up and avoiding pet hair tangles. This is something that most cheaper robot vacuums struggle with.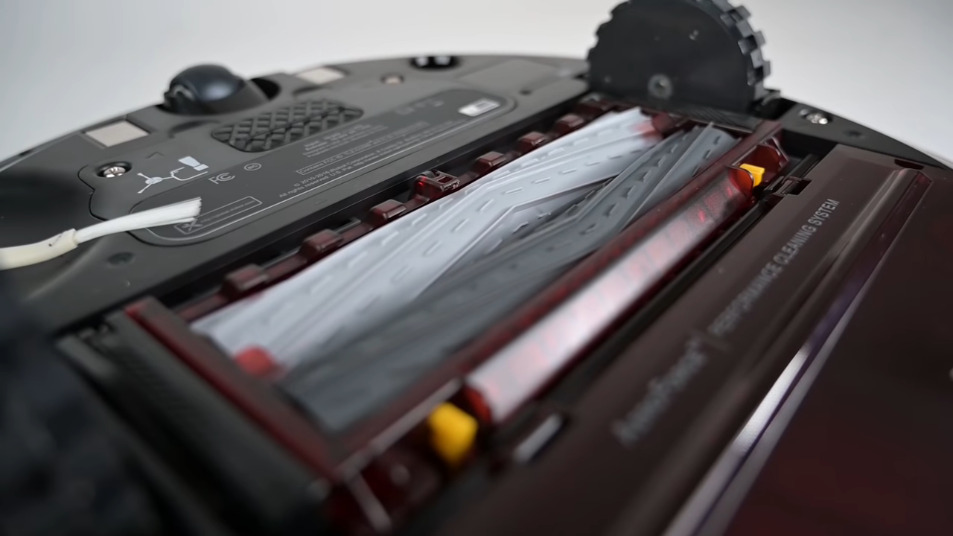 We used dyed, human hair in our tests, ran the vacuum for several minutes, and then weighed the amount of hair that got stuck on the brush. The 960 got about 90%, which is really impressive.
Important
So the 960 is good if pet hair and human hair pickup are crucial to you.
The cons the Roomba 960 is that it isn't a mighty robot vacuum. Though it copes magnificent with carpets, the lack of power shows up when cleaning hard floors.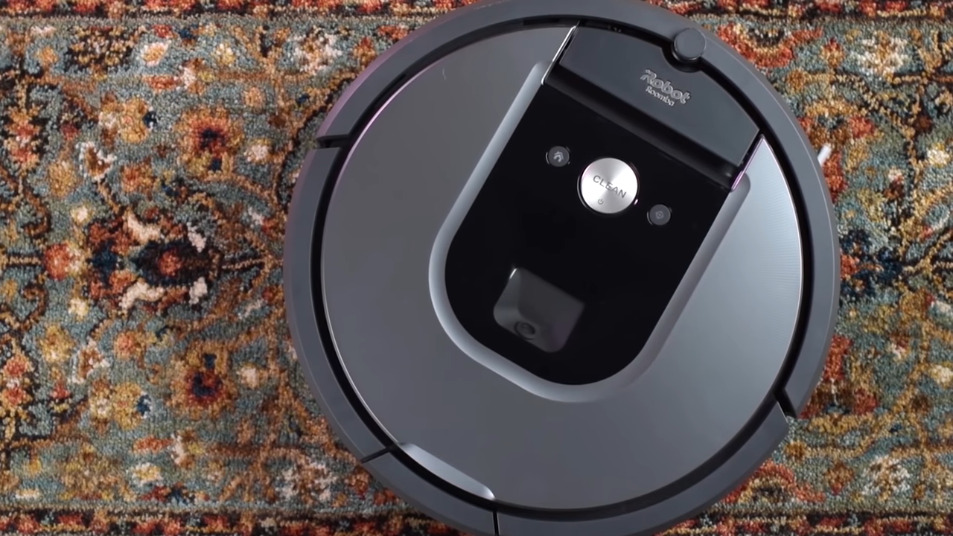 Roomba 960 was good with getting larger debris from the surface of hard floors like cereals and rice (it collected about 95% of this dirt). But here, cleaning is mostly based on the mechanical operation of the side brush and dual brush system.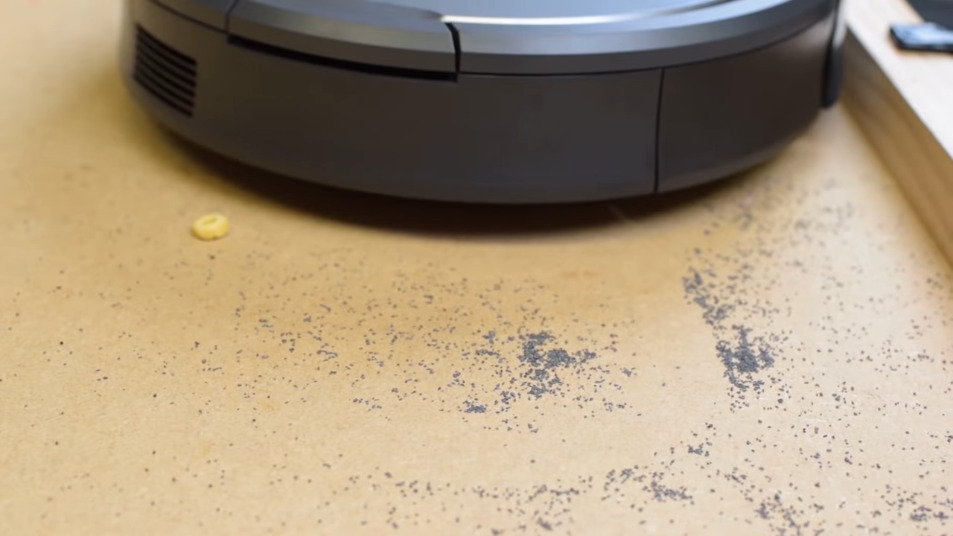 But when it comes to fine debris like sand, the lack of airflow shows a little, and the vacuum consistently left a pretty good amount of sand behind after its full run. This lack of airflow also showed up in the crevice pick up test. The robot can capture only 70% of sand.
Roomba E5
Roomba E5 is justly considered one of the best Roomba for hardwood as it also features a dual turbo brush.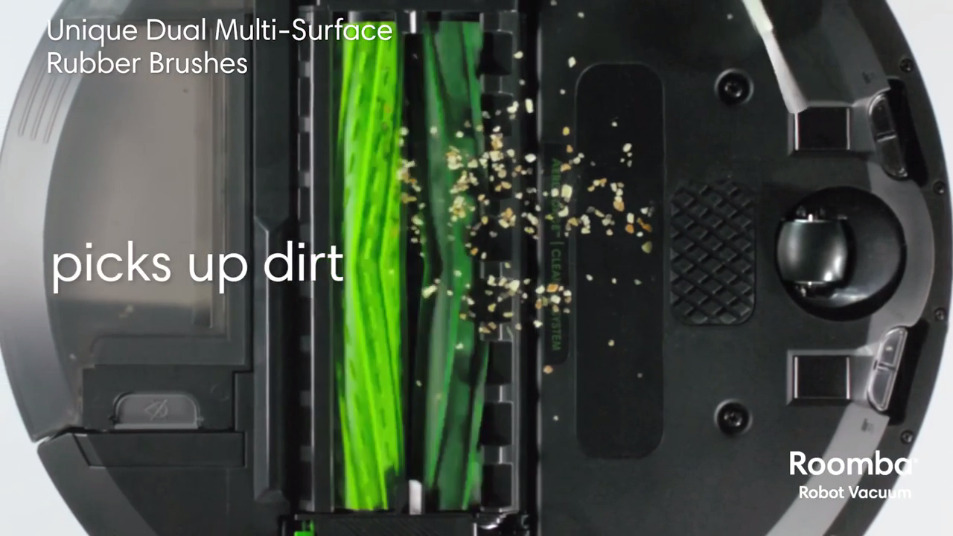 Though it has the same 900 Pa suction as the Roomba 960 has, this model copes with fine dirt much better due to the longer cleaning sessions. Tests on the hard floor with four types of debris prove the high effectiveness of the model.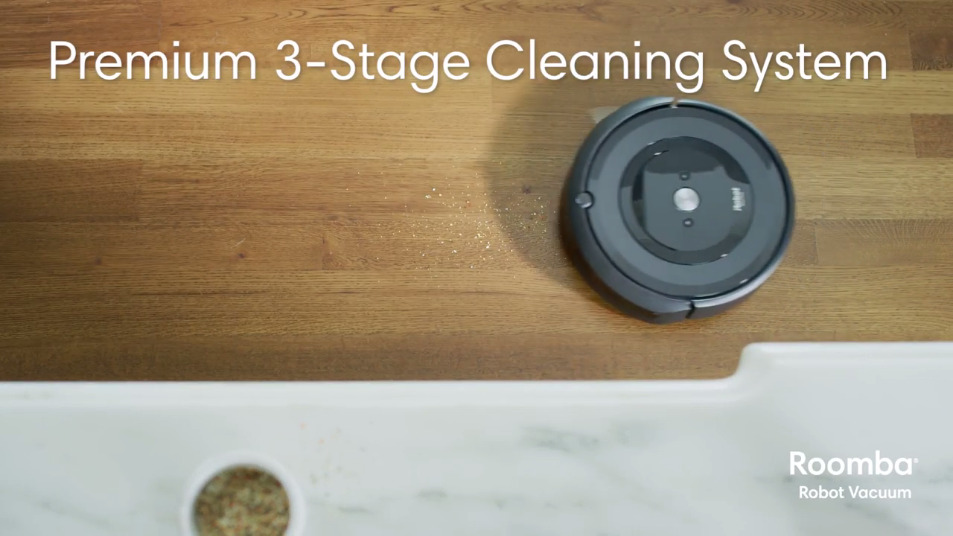 The Roomba E5 removed 100% of heavy debris on hardwoods, 99.75% of hair, and about 90% of sand and soil.
Important
The E5 cleaning performance is one of the best we've tested and can be compared with a similar level of Roombas ultra-expensive i7 and i7+.
Roomba Braava Jet M6
Speaking about the Braava Jet M6 robot, it should be noted that this model is significantly different from the other models in our review. First of all, it is the only robot that can mop the floor, and although dry cleaning is also provided, it cannot cope with all kinds of pollution alone.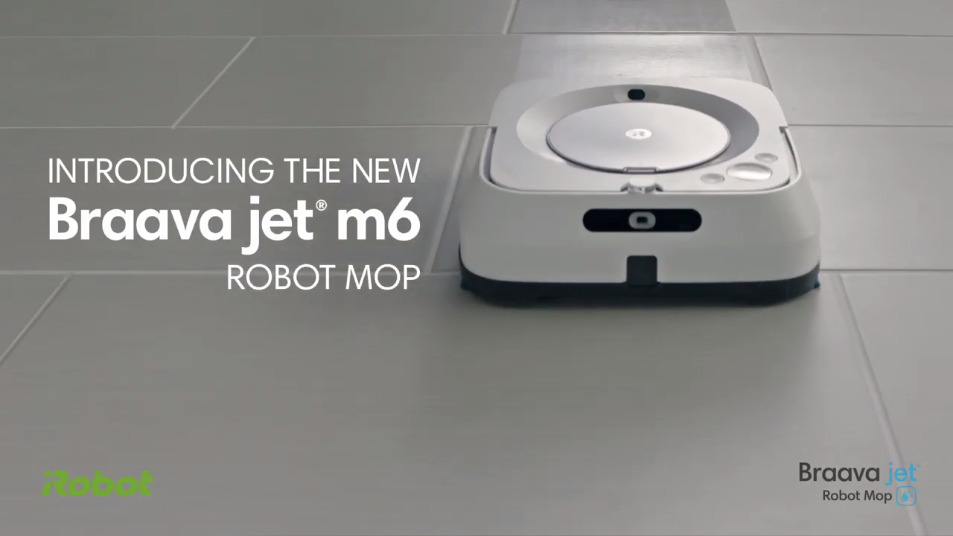 Wipes for dry cleaning allow you to collect dust, hair, or fine debris in very small quantities. If you have large litter like rice and cereal in our tests, Braava is powerless here.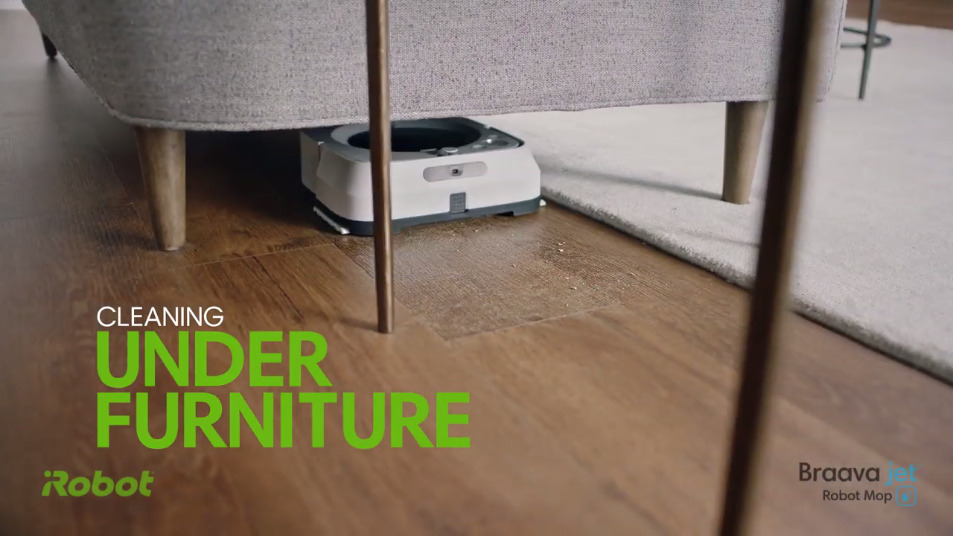 You will have to either remove this dirt yourself or run another robot vacuum cleaner before starting the Jet M6. When it finishes its job, it'll send a signal to the M6, which will then begin mopping.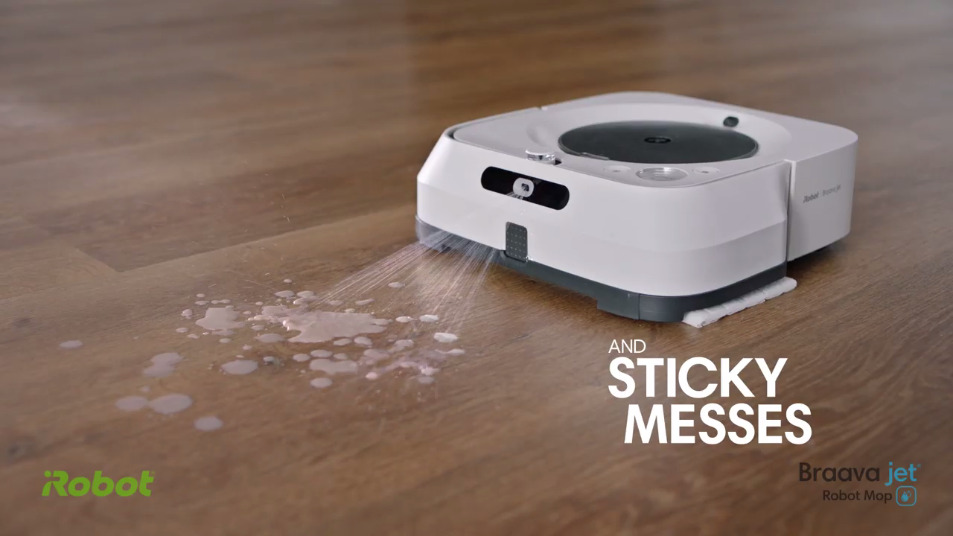 But the tests with stains and dried liquids showed Braava's impressive effectiveness. It left literally no coffee and juice stains after the very first pass!
Attention
We have to tell you Roomba Braava Jet M6 is the best iRobot mopping model that can become a great addition to your hardwood floor smart cleaning system.
Roomba 675
Just like with the previous four robots, the Roomba 675 performance on hardwood floors was excellent.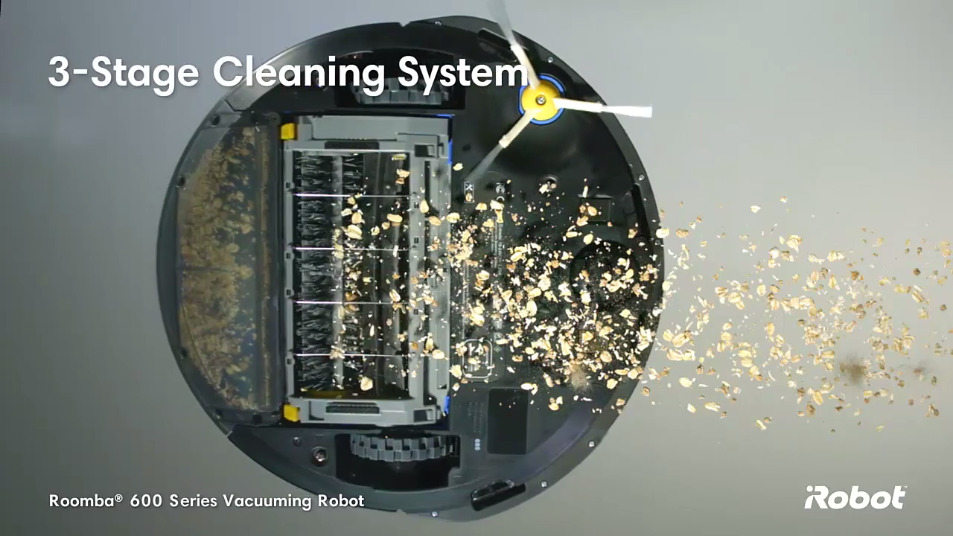 The Roomba was able to remove 100% of cereal, 99% of rice, and 95% of sand.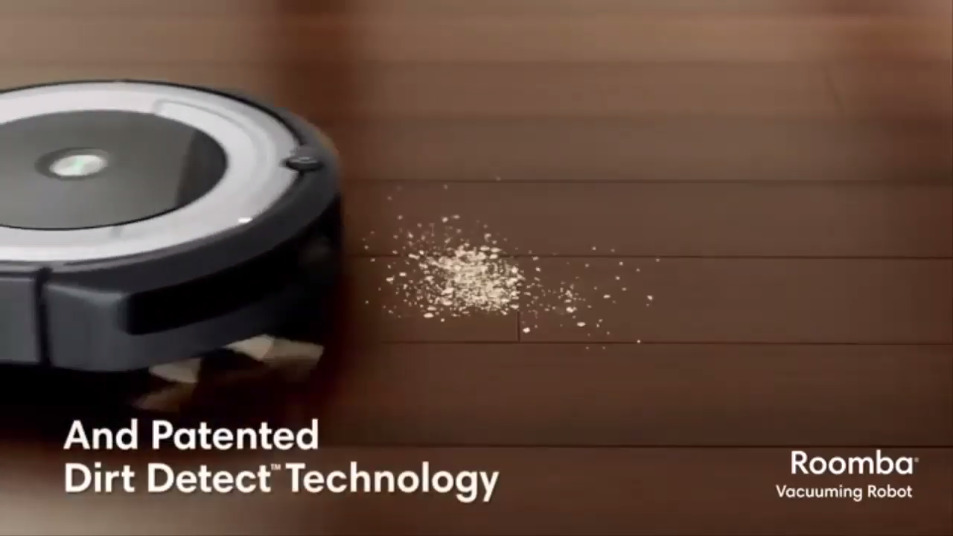 Speaking of hair collection, we found out that the central bristle brush isn't as effective as dual turbo rollers. It wound some hair but still caught about 90%.
SHOPPING GUIDE: How to choose the Best Roomba Vacuum for Hardwood Floors?
If you want to invest your money correctly and choose the perfect robot vacuum, you should pay attention to the whole rank of factors before the purchase.
Budget
When choosing a robot vacuum cleaner, first of all, you should build on your budget. Depending on the amount that you're ready to spend on a smart assistant, the manufacturer, model, and built-in functions are selected.
Budget robots from $130 to $250 provide "surface" floor cleaning and may have disadvantages in space orientation and programming.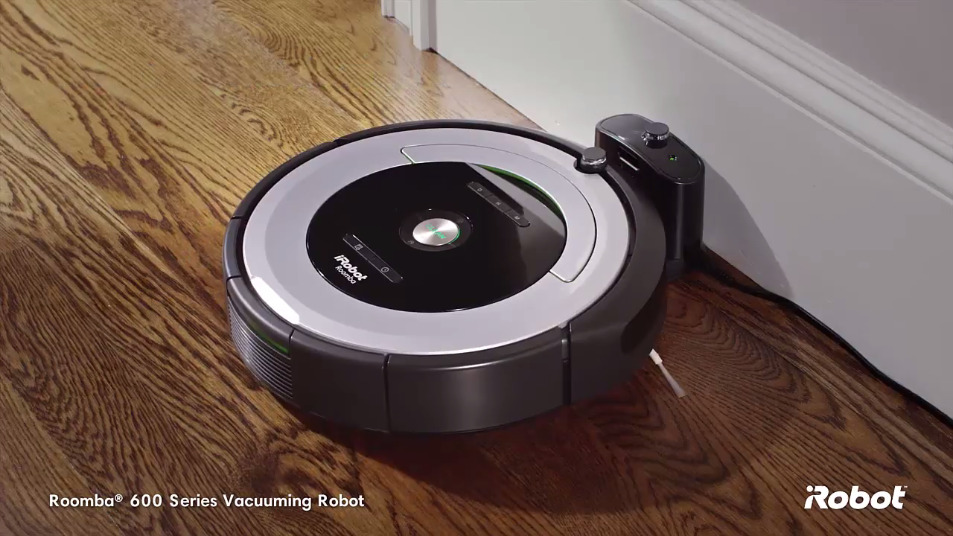 Elite models with a price of more than $600 have incomparably better characteristics, advanced functionality, and high-quality cleaning. As you can see, the difference is significant.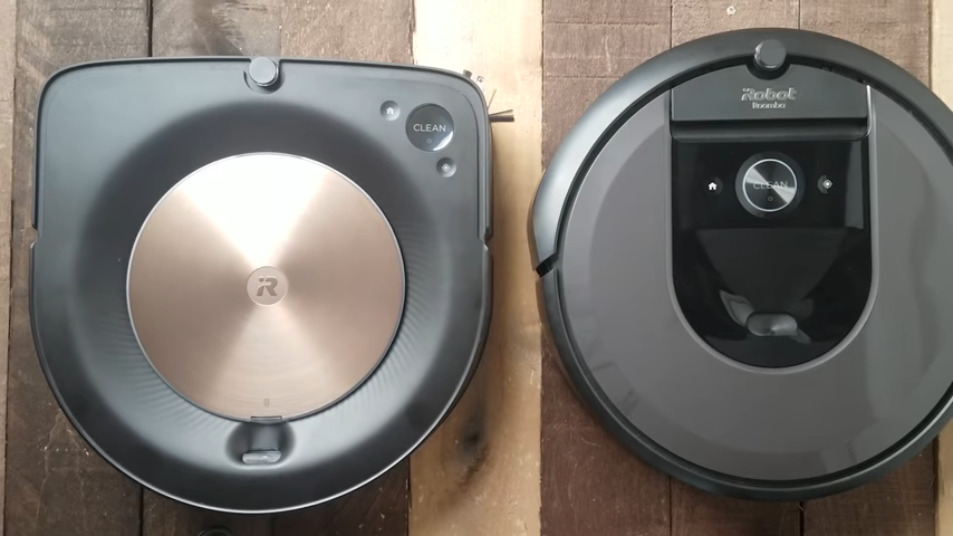 Cleaning Tasks
Decide on the tasks that the robot has to complete. It'll allow you to choose the most functional model that provides the best house cleaning and, at the same time, avoid overpaying for unnecessary and unused functions.
So if the robot should simply vacuum the hard floor in a small apartment, then you can take a cheap Roomba without super innovations.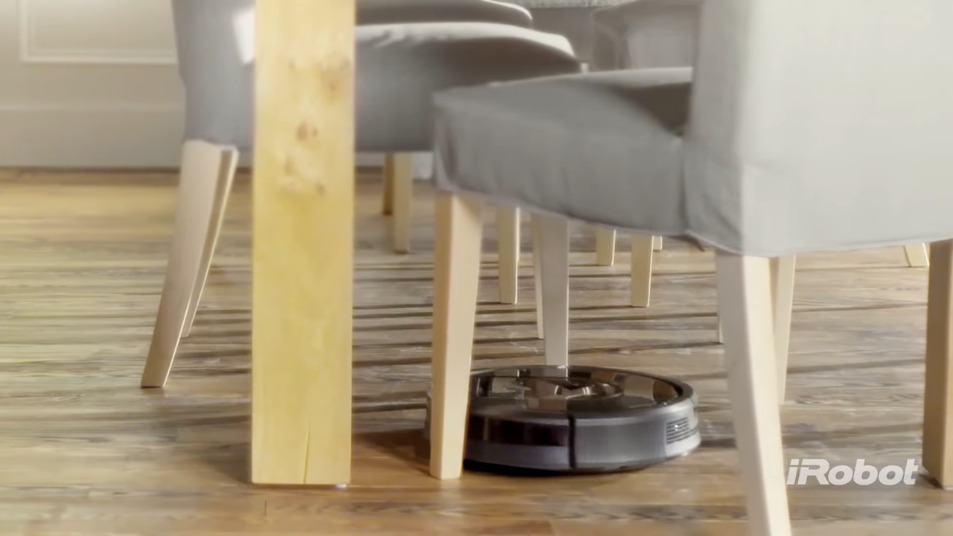 But if you need both dry cleaning and mopping on several stories, then it makes sense to invest in the purchase of a 2-in-1 robot or two connecting bots like Roomba S9 and Braava Jet M6.
Pets
Animal hair is a severe complication for cleaning. Therefore, if you have a pet, look for a model with the function of hair cleaning.
For example, a mopping or cheap model won't work for a house with animals since it does not have those functions that contribute to better fur and hair removal.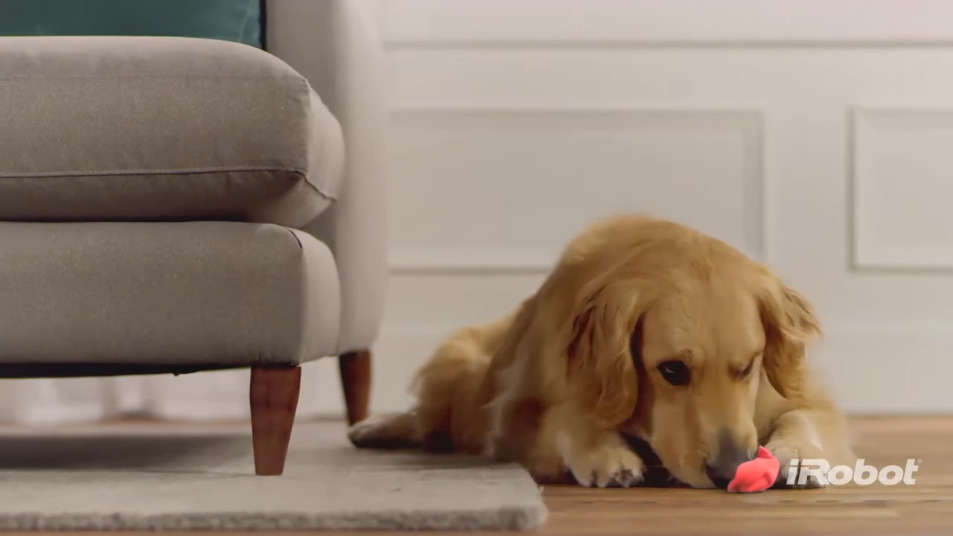 Robots with bristle brushes won't work too, as they wind and tangle hair, etc.
Carpets
Like hair, carpets significantly complicate the operation of the cleaner.
For a house with many carpets, you should choose a more expensive model with high suction power, Carpet Boost function, turbo brushes, high-quality filter.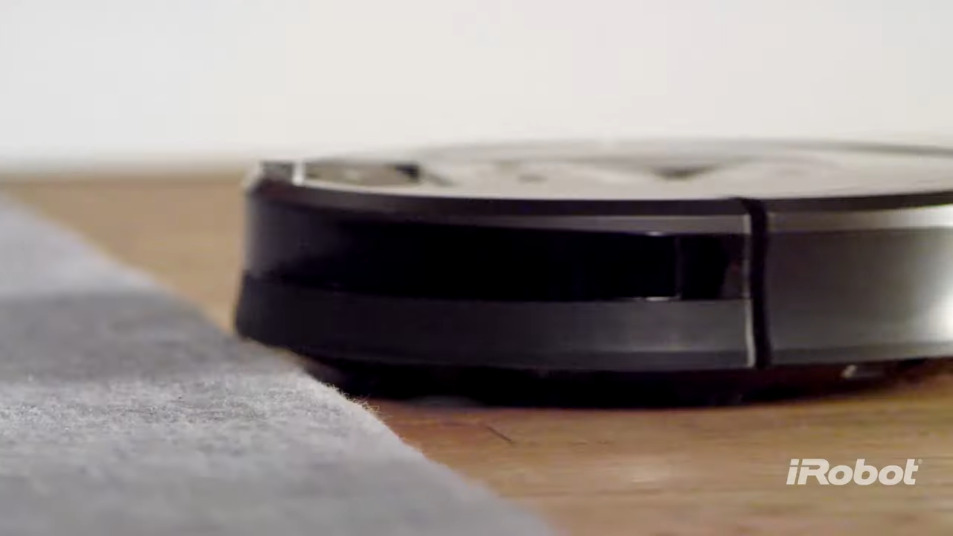 Avoid washing vacuums, as they can't bypass carpets during mopping, and you'll have to remove them all the time and keep an eye on your assistant.
Autonomy
One of the main advantages of robotic vacuums is their independence and autonomy. We buy them to think about cleaning as little as possible and spend a minimum of time on it.
Therefore, before buying, see how much your model needs your participation. The longer the battery, the larger the dust bag, and the better the mobile app, the more independent your device.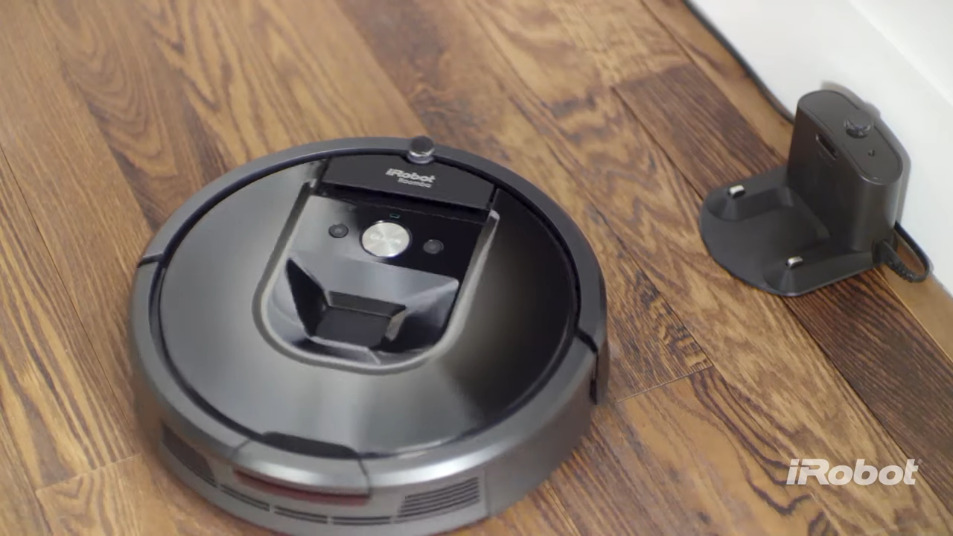 Attention
Thus, of all five robots, we consider Roomba i7+ to be the most autonomous since it's the only one that self-empties on the base.
Apartment Area
An equally important parameter when choosing a vacuum cleaner is the area that it can clean during one run.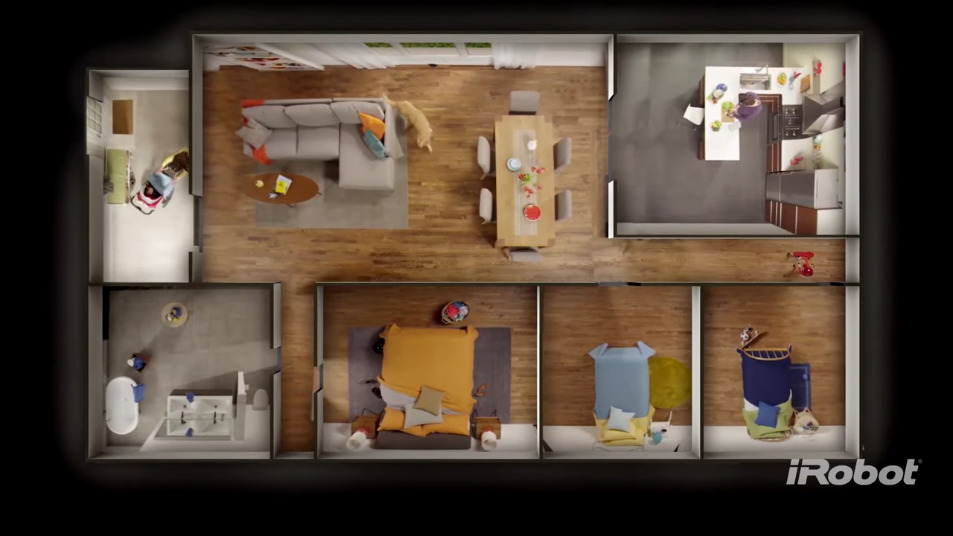 Most often, this parameter is indicated in the technical specifications, but if it's not, it's better to consult the seller so as not to make a mistake.
Important
Always choose a model that can clean a larger area on a single charge than you have in your home. So you won't find yourself in an uncomfortable position.
FAQ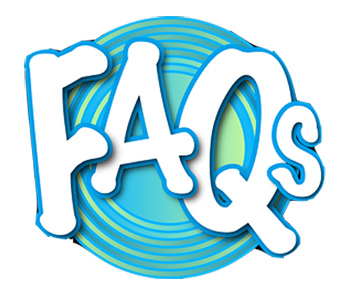 Both iRobot and Shark produce excellent vacuum cleaners that meet all modern requirements and belong to the same price category.
To answer this complicated question, it's better to compare specific models. In some cases, we see that Roomba wins, but in other examples, Shark models are more advantageous. You can find detailed reviews and comparisons of models on our website.
What are the alternatives to Roomba?
With today's high competition, Roomba is far from the only decent robot vacuum cleaner.
If you want to consider models of other manufacturers, we advise you to pay attention to Shark Ion, Neato models, Mi cleaners from Xiaomi.
Is Roomba for hardwood floors good for pet hair?
Our review and tests show that among the Roombas for hardwood floors, there are several models that also do a great job with hair cleaning. They are Roomba i7+, Roomba 960, and Roomba E5.
Will Roomba damage hardwood floors?
Each of the five models in our review carefully collects dirt, while being exceptionally delicately to the hardwood surface. Special brushes and rubberized wheels of Roomba robots leave no scratches and dents after themselves, protect polishing, and are absolutely safe for the floor.
Conclusion
As we can see, the process of choosing a robot vacuum cleaner is not as simple as it might seem from the beginning. Many believe that any robot will cope with cleaning a hardwood floor, but practice shows that there are several difficulties.
Attention
It is vital to make sure that you buy a cleaner that has been specially made for hardwood floor lest you end up with an ineffective vacuum cleaner or worse enough, a damaged floor.
verdict

As for our models, you may safely buy any of five for hard floor cleaning is their element. Still, please mind the nuances of each robot so that they could meet your requirements.