Dirt Devil vs. Bissell Upright Vacuum Comparison Review
Are you looking for the best upright vacuum that can take on the daily household dirt, including pet hair and pet messes in general?
In this Dirt Devil vs. Bissell comparison review, we have reviewed the best model from either brand to find out which brand is the best bang for the buck.
On one side, we have the Bissell CleanView® Swivel Pet Vacuum Cleaner – 2252, and on the other, we have the Dirt Devil Endura Max Upright Vacuum – UD70174.
So, which model should be on top of your wish list, and why? That's what we want to find out in this review, but just before that, here's a rundown of the critical similarities and differences.
Bissell CleanView vs. Dirt Devil Endura Max Similarities
Type – The two vacuums are all upright bagless vacuums
Filtration – Both models feature a multi-level filtration system though the approach may be different
Suction power – The two vacuums feature 8-amp motors that deliver almost the same suction power
Adjustable cleaning heads – The cleaning heads can be adjusted in both models for an appropriate contact on all surfaces
Bissell CleanView vs. Dirt Devil Endura Max Differences
Design – While they are both uprights, there are differences in the weight, dimensions, and color
Cord and hose length – Bissell tags along with a longer power cord and hose
Accessories and attachments – Bissell comes with four specialty tools, while the Endura Max comes with two
Bin capacity – While the two bins are easy to empty, Dirt Devil has a larger 2L bin while Bissell has a 1L bin
Maneuverability – Bissell comes with a Swivel steering while Dirt Devil lacks such a mechanism.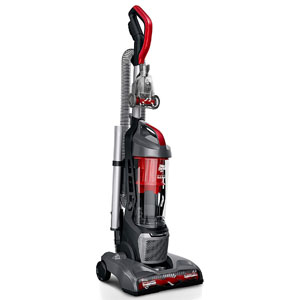 The Endura Max is a low budget upright vacuum cleaner, with a bagless design.
It boasts a 2L bin, excellent suction power, and a specialized brush for cleaning both bare floors and carpets.
It boasts a lightweight design and is very easy to operate.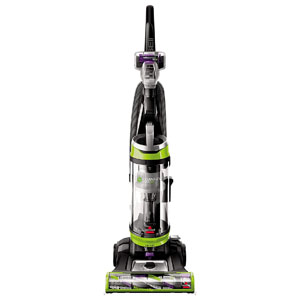 The CleanView is also a bagless vacuum cleaner with the same bagless design, but this time, a smaller bin.
It offers excellent cleaning and effortless maneuverability courtesy of the swivel design.
While it's slightly more expensive, it is the best choice as it handles pet messes effectively.

Bissell CleanView 2252 vs. Dirt Devil Endura Max UD70174
Having discussed a few things about the two vacuums, it's time we go to the finer details. Let's find out how the two vacuums compare in terms of design, performance, and usability.
Design and Aesthetics
An ideal upright vacuum should be compact and lightweight. So, which of the two models is the best, and can you tell the difference from their physical appearance? That's what we are about to discover in this segment.
Bissell CleanWave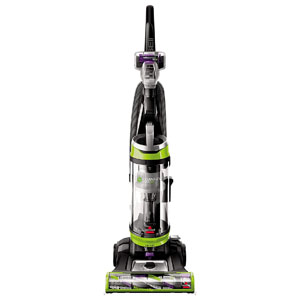 As for the Bissell CleanView® Swivel Pet Vacuum Cleaner – 2252, it boasts an assembled unit depth of 14-inches, 13.5-inches cleaning width, and stands at 44.5-inches.
When it comes to the cord length and hose, there is a slight improvement compared to what Dirt Devil offers.
The power cord measures 27ft while the foot hose + wand stretches to 6ft.
When it comes to the weight, this model is a little bit heavier at 14.5lbs, which is slightly heavier than Dirt Devil.
Regarding the finish, the Dirt Devil UD70174 is a blend of Sparkle Silver and ChaCha Lime.
Accessories and Attachments
If you have shopped around, you must have realized that there are several Bissell CleanWave variants, including the Bissell CleanWave 2316, and CleanWave 2254.
On the other hand, the Dirt Devil Endura Max also has some variants. What makes the difference in both instances is the accessories and attachments included.
So, how do the inclusions in both models compare, and which one is a better package? Let's find out.
Bissell CleanWave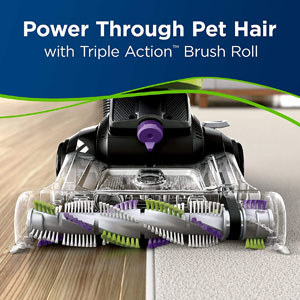 In the case of the Bissell CleanView 2252, we have four accessories in addition to the cleaning head and extension wand, so it's definitely a better choice than the Endura Max.
The vacuum comes with a versatile dusting brush for cleaning hard surfaces and an upholstery tool for cleaning fragile and delicate surfaces, talk of the upholstery, curtains, and so on.
Also included is a crevice tool for cleaning the narrow spaces and a Pet TurboEraser® Tool that vacuums the stubborn pet hair stuck in small areas where the entire cleaning head can't fit.
Cleaning Performance
This is by far the most important consideration when buying a vacuum cleaner. In this segment, we will analyze the different aspects that are involved in cleaning. We will be analyzing the suction power, cleaning head, and filtration before sharing with you our exclusive cleaning test results.

Cleaning Orientation
Dirt Devil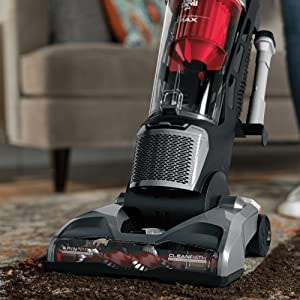 As for Dirt Devil, the vacuum is also designed to handle all types of hard floors without a problem.
You can also rely on this cleaner to pick up all kinds of pet hair, the long and short pet hairs, as well as kitty litter, among other pet messes.
On carpets, the Dirt Devil Endura Max also puts up some commendable performance.
Vacuum Power
Dirt Devil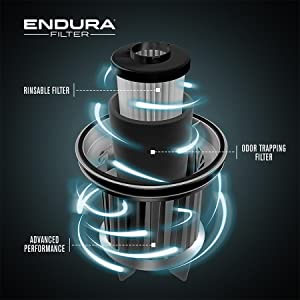 The Dirt Devil Endura Max, on the other hand, features a similar 8-amp motor.
The unit has been tested per IEC 60312-1 1st Edition specifications and also promises excellent suction power, without any loss even with extended use.
This is also a single-speed motor, so there's no variable suction control.
Cleaning Head
Dirt Devil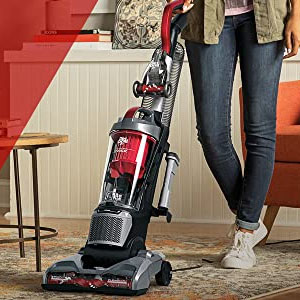 As for the Dirt Devil Endura Max, we have a motorized Spin3 Pro Brush Roll and CleanPath Technology inside the cleaning head that takes on bare floors as well as carpets.
It has been designed to effectively loosen, lift, and remove all kinds of dirt. Unfortunately, this cleaning head tends to scatter around dirt when vacuuming, and this makes the whole process hectic.
This is despite having a scatter guard. Just like Bissell, the Endura Max, this model has an adjustable cleaning head, four, to be precise. This ensures maximum contact regardless of the surface it is cleaning.
Filtration
Dirt Devil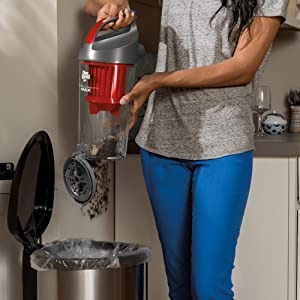 The Dirt Devil Endura Max, on the other hand, is a bagless upright vacuum, just like Bissell, but it comes with a larger 2L dust cup.
The bottom release design makes emptying a buzz. As for the filters, there is a primary and secondary filter, both of which are washable.
Cleaning Test Results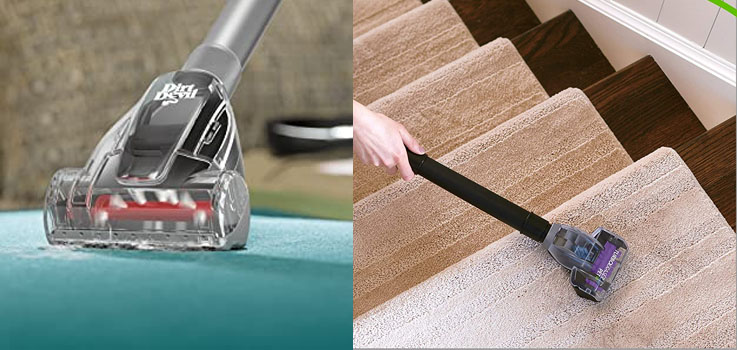 As usual, we test all the vacuums we review, and the Dirt Devil and Bissell upright bagless vacuums were no exceptions.
We tested them on different surfaces using the common household dirt, talk of sugar, flour, rice, kitty litter, long and short pet hairs, cereals, and sand pebbles. The below charts show what each model scored in our tests.
Usability
Finally, we will compare the usability of both upright vacuums, and here, we will focus on a couple of aspects, including handling and maneuverability, and maintenance.
Getting Started
The Dirt Devil and Bissell vacuum both come in parts, so you will need to assemble them.
Well, setting up the two shouldn't be a challenge as long as you identify all the parts, and know where each should go.
From our analysis, the Bissell CleanWave is easier to set up as it comes with lesser parts. This is compared to Dirt Devil that tags along with several small components, but all the same, you can have it ready in less than ten minutes.
In particular, the hose is hard to attach and detach. But we won't dwell so much on this aspect as assembly is a one-time process and doesn't affect the day to day use, or cleaning.
Handling and Maneuverability
You understand that upright vacuums are quite heavy, and pushing them can be quite hectic. In this segment, we have analyzed the handling and ergonomics of the two vacuums, as well as the maneuverability. Find out how each model ranks.
Bissell CleanWave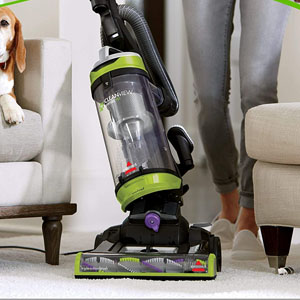 On the other hand, Bissell CleanWave tags along with an equally comfortable and ergonomic handle that makes pushing the unit a buzz.
Another great feature of this upright vacuum is the swivel steering, which makes turning effortless, with just a slight turn of the wrist. This is the same case when it comes to vacuuming around furniture.
The Edge-to-Edge cleaning capability is also commendable, especially on the wall edges and corners. When it comes to cleaning the high up places and above-floor cleaning in general, this vacuum is also user-friendly courtesy of the extension wand.
Maintenance
Both vacuums require short term as well as long term maintenance, and here, we didn't find any worthy differences. Both models require frequent bin emptying, and we are glad they have easy-empty bins.
Important
However, the Dirt Devil is a better deal as its bin is larger, and that means you will be required to empty it less often.
The filters are all washable and have a pretty impressive life cycle though you will require replacements in say, 3 – 4 months. This is the same case for the brushroll.
Talking of the brush, we like the Bissell ACleanWave because it reduces tangling while the Dirt Devil gets tangled often, especially when dealing with the long dog hairs.
Frequently Asked Questions
Bissell CleanView vs. Dirt Devil Endura Max: which vacuum is the best for pet hair?
Bissell model comes with a wide set of pet tools, including a pet hair corner tool and Pet TurboEraser tool. Dirt Devil doesn`t offer anything close to those. Also, Bissell CleanView uses Multi-Cyclonic Suction System for higher power. That`s why Bissell is the best vacuum for pet hair cleaning.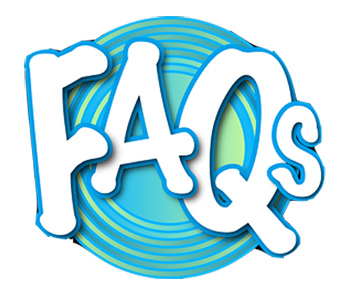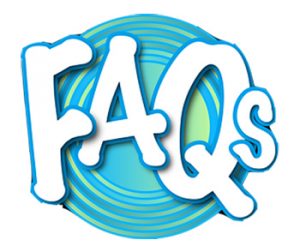 How can I empty my Dirt Devil Endura Max?
To empty the vacuum, remove its dirt cup, hold it over the bin, and press the release button. This one-push technology will open the bottom lid, and debris will fall. Mind that both the cup and filter are washable.
Bissell CleanView vs. Dirt Devil Endura Max: which vacuum is more maneuverable?
Bissell CleanView offers longer 27 ft cord compared with Dirt Devil 24 ft. Besides, CleanView is equipped with swivel steering and can reach the most awkward places. Dirt Devil model doesn`t feature one. That`s why Bissell CleanView is a more maneuverable vacuum.
How often should I change filter in my Bissell CleanView?
The manufacturer recommends users to clean filters after every few vacuum uses. Besides, every 3 months you`ll need to install a new filter.
Dirt Devil vs. Bissell: Who's the Winner?
We've now come to the end of this Dirt Devil Endura Max Upright Vacuum – UD70174 vs. Bissell CleanView® Swivel Pet Vacuum Cleaner – 2252 face to face comparison review. It's now time to find out which vacuum is the best choice, for what types of households, and why.
Bissell CleanWave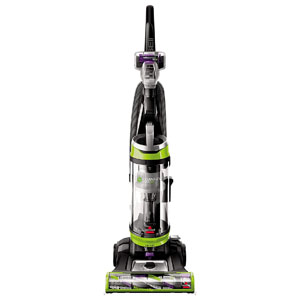 The crown goes to Bissell CleanView® Swivel Pet Vacuum Cleaner – 2252, which may be slightly heavier but boasts a swivel steering system that Dirt Devil lacks.
This vacuum comes with more accessories, including the specialized Pet TurboEraser® Tool, that makes it the perfect choice for households with pets, regardless of the type of pet hair.
It will vacuum the short cat hair as well as the long dog hairs without jamming.
verdict

In summary, both Dirt Devil and Bissell are excellent choices for anyone looking for the best bagless upright vacuum. What is important for buyers is to assess the cleaning needs and budget, and once you have this information on your fingertips, you will be able to make informed choices. That's all we had for you in this Bissell vs. Dirt Devil comparison review.