🏆 What is the Best Roomba for Pet Hair in 2019?
BY Andry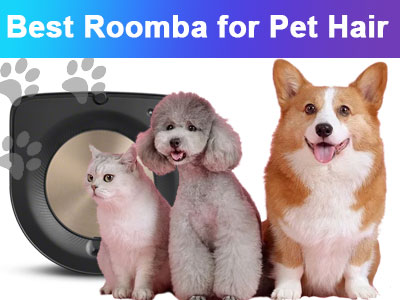 Everyone knows that Roombas are perfect robot vacuums for hard floors.
However, for many pet owners, the biggest question is, what model is the Best for Pet Hair? This is because not all models were designed for pet hair as well as pet-related allergens.
For that reason, we spent a fortnight testing several models in an average two-bedroom apartment with a hardwood floor and a polypropylene carpet.
But the real test was a Havanese and two large Bearded Collie dogs and that will be our basis for judging these Roomba vacuums.
After thorough tests and consultation, we came up with a shortlist of 5 of the best Roombas that should be on your wish list if you are a pet owner.
Roomba Pet Series Comparison Table
Brushes
Tangle-free Dual Multi-Surface Brushes, Edge-Sweeping Brush
Tangle-free Dual Multi-Surface Brushes, Edge-Sweeping Brush
Edge-Sweeping brush, tangle-free Dual Multi-Surface Brushes
Dual Multi-Surface Brushes, Edge-Sweeping Brush
Dual Multi-Surface Brushes, Edge-Sweeping Brush
Deeper Cleaning on Carpets(Carpet Boost)
Navigation
iAdapt 2.0 with Visual Localization
iAdapt 2.0 with Visual Localization
iAdapt Navigation with full suite of sensors
iAdapt with Cliff detect sensors
Cleaning System
AeroForce 3-Stage Cleaning System
AeroForce 3-Stage Cleaning System
Triple-Stage Cleaning System
Top 5 Best Roombas for Pet Hair Reviews in 2019
1. The Roomba 980 – Best Vacuum For Pet Hair on Carpet
At number one on this list is the Roomba 980, the ultimate robot vacuum cleaner in the market.
It has been taunted as the animated robot because of its advanced navigation system that uses cameras – it sees just like you do.
Though it's very expensive, the features justify the $900 price tag.
I have used this vacuum cleaner before at our home and I have lots of opinion about it.
But still, we tested it together with the others in my house just to give each Roomba a fair challenge.
Just before we dig deeper into how it performs, here are a few pros and cons on the 980.
Pros
Cleans floors, carpets and pet hair
Carpet Boost (10*) more power
HEPA filters for 99% allergen capture
Tangle-free dual multi-surface brush
Advanced Dirt Detect
Industry's leading navigation system (iAdapt 2.0)
Virtual Walls & Lighthouse
Longer battery life (up to 120 minutes)
Self-recharge and auto-resume
Wi-Fi and Alexa compatibility
Cons
Quite expensive
Quite noisy in Carpet BoostQuite noisy
I was not so impressed that it still maintained the 3.6-inches height – I hoped they would borrow from the likes of iLIFE and ECOVACS that stand at 3.1 inches.
I'm saying this because this is the industry leader and among the most expensive vacuum cleaners but it still wasn't able to go under my TV cabinet. Ideally, a low profile design is the best because it will creep under most furniture like sofas, beds, kickstands and kitchen cabinets.
Important
Remember, pets like to hide in these hidden areas, scratching and scrubbing their bodies, a leading cause of shedding. This means that these areas will have a lot of pet hair and dander including skin flakes. As a concerned homeowner, you want a robot that will reach these hotspots.
If you have carpet floors, then the 980 is the ideal Roomba for you. Remember, pets love the warmth of carpets and that's where they dump most of the fur. The Roomba 980 has the Carpet Boost mode that offers 10x the air power in normal vacs.
This will suction all the hair and fur that hides deep inside carpets but the Roomba gets a little noisy in this mode. One thing that makes it perfect for pet hair, especially long-haired breeds like Havanese and Chihuahua, the brush is tangle free so at no time will you find your robot jammed. Regarding floor priority, it has been specially engineered to suit all floors.
So regardless of your floor type, this vacuum cleaner will do the job. So far, we know it adjusts itself automatically and can clean hardwood, tile, laminate and carpet floors. But besides the excellent cleaning performance, another of the Roomba 980's exploits is in the navigation system.
Important
Remember, the 900 series use the advanced iAdapt 2,0 that combines sensors and visual imagery to navigate more precisely. While the older models would get stuck at least twice weekly, the Roomba 980 is awesome. We even tried to put it under more stress by adding clutter and still, it acted like it knew we were testing it. It planned movement intelligently and avoided obstacles and stairs cautiously.
A new and unique feature I'd like to mention about is Auto-resume. This is a feature that sends the Roomba back to cleaning after it finishes recharging. On top of this, it has a long-lasting battery, it averaged two hours in normal mode and when in Carpet Boost, it ranged from 85 minutes to 100 minutes – on light carpet it lasted longer than on heavy carpets and rugs.
verdict

The Roomba 980 is the floor workhorse, able to clean all floor types, pet hair, allergens and a dedicated mode that cleans carpets to detail. The new navigation system and self-recharge are just among the few industry-leading features that you can dream of. For me, it's a worthy vacuum cleaner that justifies its price – I would buy this robot over and over again!
2. Roomba 960 – Smart Robotic Vacuum for pets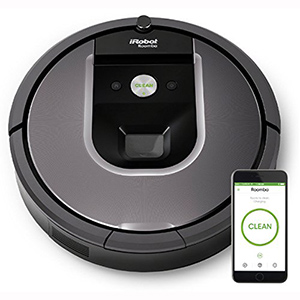 I know you must have envied the Roomba 980 but the price puts a frown on your face.
Tell you what, here's a cheaper alternative; the Roomba 960.
This vacuum cleaner is the base model of the Roomba 900 series and boasts the salient features of the top Roomba series save for a few cuts that in turn make it a cheaper choice.
The Roomba 960 is another option you should consider when shopping for a Roomba for pet hair.
I like it because it boasts almost all the same features in the Roomba 980 and costs $200 less.
But is it a good choice if you have pets?
Let's fund out but first, a few of the advantages and disadvantages.
Pros
Cleans floors, carpets and pet hair
HEPA filters for 99% allergen capture
Tangle-free dual multi-surface brush
5* more air power
Advanced Dirt Detect
Industry's leading navigation system (iAdapt 2.0)
Self-recharge and auto-resume
Virtual Walls & Lighthouse
Wi-Fi and Alexa compatibility
Cons
Short battery life
Quite expensive
Important
You see, it comes with iAdapt 2.0 which is among the highlights of the Roomba 900 series. Considering a few vacuum cleaners have this technology, (Dyson 360 Eye, ECOVACS R95, and a few others) it would be great to have this vacuum cleaner. You never notice when you add stuff to your house and soon, it might have high traffic so such a navigation system comes in handy.
Attention
Regarding cleaning performance, it works just as fine as the Roomba 980 but it lacks a dedicated cleaning mode for carpets – Carpet Boost.
So, this is one of the main differences between the Roomba 960 and Roomba 980. But to cover for this, its suction power is above average, 5* high to be precise, same as the Roomba 890.
The brush is a tangle-free multi-surface system and just like all other models, the self-adjusting head will allow maximum brush contact on all floor types. All the other standard features are intact, talk of scheduling, Wi-Fi, Alexa compatibility and the rest.
The other difference is in the battery performance. Though they are all Lithium-Ion batteries, the 60 has lower performance and did an average of 75 minutes.
So, if you have a very large apartment, you'd want something with longer battery life; perhaps the Roomba 980 and if you are on a budget, the Eufy RoboVac 11S is a great choice too. But thanks to the auto-resume function, you won't have to prompt the Roomba to resume cleaning from where it left, it does so automatically.
So, you won't get the surprises of a halfway cleaned house, a common problem with Roombas that have self-recharge only.
verdict

The Roomba 960 boasts some of the industry's leading features and costs lesser than the Roomba 980. The only advantage of the latter is Carpet Boost but all the other important features are intact. If you don't have a carpet, you don't need Carpet Boost so why don't you save the $200 – it could get you a robot mop! For that reason, it earns a slot in this review as a clever choice.
3. Roomba 890 – Best Budget Vacuum for your home
You will agree with me that Roombas are quite expensive and the more the features, the higher the price shoots.
But then, if there is a Roomba model that will guarantee you value for money is the Roomba 890.
It is rare to find a product that comes with the best features and is still available without breaking the bank.
But this one blends some of the important features of the 900 series but doesn't leave the $500 mark.
The first thing I want to mention about it is the advanced motor design that has also been used in the Roomba 960.
Here are some of its noteworthy gives and takes.
Pros
Cleans floors, carpets and pet hair
HEPA filters for 99% allergen capture
Tangle-free dual multi-surface brush
5* more air power
Advanced Dirt Detect
Virtual Walls
Wi-Fi and Alexa compatibility
Affordable price tag
Cons
Shorter battery life
No auto-resume function
Not for high traffic rooms
Just like the Roomba 960, the 890 delivers 5* more air power so when it comes to carpets and pet hair, you are guaranteed quite some good performance.
Important
Another salient feature they share with the 900 series is the Advanced Dirt Detect. If you are familiar with the first one, you understand that it used acoustic sensors to detect where there was too much debris then it switches to Spot mode. The advanced version, Dirt Detect II uses optical and acoustic sensors so it will find even the smallest dirt concentration. It quickly recognized cheerios and Spot mode ensured all the cheerios were broken down and vacuumed into the bin.
Regarding the brush system, it also has a tangle-free dual multi-surface brush so tangling should not be a concern like in the 600 series and 700 series. But one thing you should know that in as much as we have compared it to the Roomba 960, this one will still get stuck from time to time.
Particularly, it had problems climbing the carpet but then, we tested it on a thick carpet so that might too much for it. It will also miss some obstacles but on an averagely furnished house, it does a great job.
Remember, this vacuum cleaner also has Virtual Walls, but has no Lighthouse like the 960 and 980. Also, the battery life is very short – 60 minutes on average but this is a problem with most Roombas. Actually, only the Roomba 980 can be compared to some of the best models with the best battery performance.
Also, the 890 lacks auto resume so you might come back and find the house half cleaned because the Roomba didn't go back to cleaning after recharging. Retailing at around $500, the Roomba 890 brings on board several new additions to what you have in the Roomba 600 and 700 series.
Better still, it packs some of the salient features that are inherent in the 900 series. For that reason, it is a robot vacuum cleaner that gives you value for money.
In fact, if you are not so worried about navigation, i.e you have a low traffic house, it would be a money-saving idea to buy the Roomba 890 instead of the Roomba 960 and here too, you can save a cool $200.
Remember, to keep your floors sparkling clean, and in good condition, you will need a robot mop too and a good one from iRobot like the Braava 380t would cost you in excess of $200 so it would just be a matter of topping up. If you are geared towards a Smart Home, this robot will still suit you as it comes with Wi-Fi for Smartphone App operation as well as Smart Hub integration. It is also compatible with Alexa and Google Assistant.
verdict

If you are on a budget and you don't want to end up with the old models, the Roomba 890 will be a great buy. It has 5* more air power and the Advanced Dirt Detect among many other top features. The price is also affordable so if you want performance and affordability, look no further!
4. The Roomba 690 – Amazing Roomba Vacuum Cleaner for Money
I know it's everyone's dream to have a Smart Home – talk about the convenience of controlling your entire home remotely on your Smartphone.
The Roomba 690 is that entry-level Roomba that will help you keep your house clean if you have pets. It boasts the same features and raw power the Roomba 650 offers but takes a twist and brings on board Smart features.
But does the price shoot up?
No, in fact, if you want value for money, you should add the few bucks and get the Roomba 690 as they both cost under $300. But as usual, a few highlights of the strengths and weakness of the Roomba 690.
Pros
Cleans floors, carpets and pet hair
Dual multi-surface brush
Dirt Detect technology
Virtual Walls (1 supplied)
Wi-Fi & Smartphone App operation
Alexa compatibility
Value for money
Cons
No auto-resume function
Not for high traffic rooms
Like mentioned above, there is a lot of resemblance between the Roomba 690 and the earlier model the Roomba 650.
Immediately the Roomba 690 came out, I traded the Roomba 650 that I had and upgraded to the Wi-Fi model. Initially, I expected much to have changed especially in terms of performance but I was disappointed.
It packs the same AeroForce 3 stage cleaning system and a multi-surface brush system. In light of the fact that it was released together with the Roomba 890 that sports a tangle-free brush, I expected iRobot to also include a tangle-free brush in this model; hair tangling is a real headache in the 650.
The suction power is great only that the brush system fails in its agitation role so large debris like Cheerios, bread crumbs, and the likes are hard to vacuum.
Regarding navigation, the Roomba 690 will still hit walls leaving dark marks and on carpets, it will ignore dark spots just like the Roomba 650. Time and again, you will also find it stuck but then, I used to remove clutter from the floor and it would go all the way swiftly without hitting stuff.
Another thing that disappointed was the battery life. For this model, the runtime dipped from 65 minutes to 50 minutes in less than a fortnight. I thought it would die that month but it went on ahead to serve me for close to a year. At the time, I was living in a small apartment so the 50 minutes was often enough. But in the current house we tested it in, it performed poorly. First, it is not intelligent enough to plan its route so it cleans randomly often missing some spots. Second, from the random cleaning, it takes a longer time to clean large floor and especially carpets because, on carpets, the motor tries to compensate for the extra suction needed and thus uses more power.
I think this is a big flaw for iRobot, an industry-leading brand. This is considering the fact smaller brands like ILIFE and ECOVACS have a 100-minute average runtime. For the Roombas, the best is the 980, 120 minutes when in normal mode.
verdict

The Roomba 690, just like the 650 may not be the best vacuum now that technology has really advanced. But for the cheap price and considering it has Wi-Fi and Alexa compatibility, it is still robot to consider when you are on a budget.
5. The Roomba 675 – Good Vacuum cleaner for Pet Hair, Carpets, Hard Floors
The Roomba 675 is the latest Roomba model in the old 600 Series.
If you are on a budget, then look no further. This is the best affordable Roomba model available now that the Roomba 650 is outdated and lacks Wi-Fi.
On the other hand, the Roomba 690 offers some worthy competition, but this model wins because it is cheaper.
Pros
Very affordable
Dual multisurface brush
Best for hardwood floors and low pile carpets
Dirt Detect
Wi-Fi and Alexa compatible
Cons
Virtual Wall not included
Average vacuum power
Old navigation system
The Roomba 675 may not be the best choice as far as vacuum power is concerned as it manages 550 – 600 Pa.
But the dual multisurface brush design makes it unforgiving on dirt; it agitates and picks up dirt from hard floors and even carpets without a problem.
It also comes with the unique Dirt Detect feature for identifying areas with concentrated dirt. For allergy sufferers, I'm afraid the Roomba 675 still has the old AeroVac filtration system, and as you know, it doesn't have true HEPA filters.
Roomba 675 is quite autonomous now that it has schedule function just like all other robots. It has a runtime about 90 min and recharges for 2-3 hours.
Important
Unfortunately, it doesn't resume cleaning. When it comes to navigation, iAdapt 1.0 still reigns; it is not the best, but at least in low traffic rooms, it doesn't get stuck quite often. Roomba 675 also comes with Wi-Fi and Alexa compatibility.
verdict

The Roomba 675 is an excellent addition to the Roomba product line. It is cheaper, and far much better than the older Roomba 650 that costs almost the same. It also offers the same performance as the Roomba 690 with the only difference being the Virtual Walls. If you don't have many rooms or limits, the 675 is a clever choice.
NEW! Roomba i7+ – Smartest Robot Vacuum Cleaner for everyday cleaning!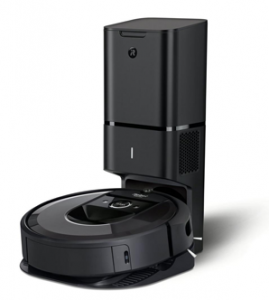 Even though Roomba 980 has remained the best robot vacuum cleaner for quite a long time, the new i7+ will snatch the crown from Roomba.
One advantage of the Roomba i7+ is that it comes with an integrated self-emptying bin called CleanBase.
Literally, this unit will empty the Roomba's bin thus eliminating the need for human intervention. This new technology has turned the semi-robotic cleaner into a fully robotic robot vacuum.
Important
Remember, even with a pricey Roomba like the 980; you still have to empty the bin regularly. If you have pets, you understand how fast the bin gets full, especially if yours are the heavy-shedders. That said, the Roomba i7+ should top your wish list if you are looking for a robot vacuum for pet hair.
Apart from the integrated self-emptying bin, Roomba i7+ comes with the latest navigation technology called Imprint Smart Mapping.
If you have rooms that need special cleaning attention, maybe because pets like sitting there, this technology will come in handy. It can recognize the different rooms in your house; from the kitchen to bedroom and beyond. This robot vacuum also comes with true-HEPA filters for maximum efficiency as well as a Generation 3 motor for boosted suction.
Buying Guide: What You Need to Know before Buying a Roomba for Pet Hair
Though you may be quite informed about the best Roombas for pet hair, we understand it may still a hassle choosing the perfect model for your pets. It is in our best interest that you buy the best vacuum cleaner that will suit your needs without squeezing your wallet.
For that reason, we will discuss several important things you need to know regarding Roombas and pet hair in general. But first, let's understand the problem of pet hair and pet allergy.
The problem of pet hair and pet messes
In as much as you love your pets, you will agree with me that their hair and fur is a nightmare, and at times it brings a lot of embarrassment. Think of the time your guests will stand up to leave only to find a handful of your cat or dog's hair on their clothes. Or worse, you find patches of hair on your suit in the elevator when going for an interview. But what constitute pet hair and pet messes? That's what we are going to discuss in this section.
The first problem you will encounter is the physical pet hair and fur. Though pet hair may not be an allergen by itself, it harbors allergens. The other mess you will encounter is saliva and urine which may be occasional if your dog has manners. But the worst is cat urine – you wouldn't want to be in a room with cat urine on a hot summer day.
Pets and allergies – is there any relationship?
On many pets and robot vacuum forums, I see a lot of people asking, are there hypoallergenic dogs and cats? This is a matter that has raised too much controversy and debate and today, we want to put the matter to rest. But for the record, there is a direct relationship between pets and allergy. But how deep is the problem of pet allergy?
Statistics show that over 50 million Americans suffer from allergies and the condition affects 40% of kids and 30% of adults.
Now, is there a hypoallergenic dog or cat? The truth of the matter is that there is no such thing as a hypoallergenic dog. The truth of the matter is that our bodies just react to the proteins in the dog's saliva or urine. Also, note that the level of reaction varies from one allergy sufferer to the other; while one may not be allergic to a certain dog breed, there are some that will trigger the allergy very fast.
Important
With this in mind, you want to have a pet cleaner that can clear allergens too and not just the physical pet hair, fur, and dirt. The Asthma & Allergy Foundation of America recommends the use of vacuum cleaners with HEPA filters. As you all know, HEPA filters are efficient and will capture 99% of allergens.
What is the Best Vacuum Cleaner for Pet Hair?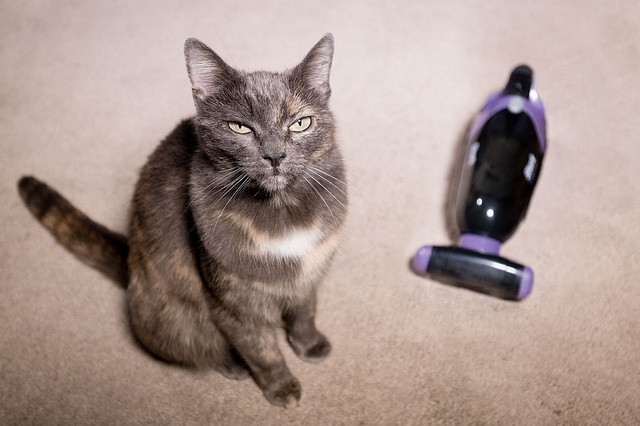 First, a good vacuum cleaner for pet hair should definitely be able to clean all your pet's hair, fur, and dander. The effectiveness of a pet hair vacuum cleaner varies depending on its cleaning system and the features necessary for comprehensive vacuuming of pet hair.
Second, a good pet hair vacuum cleaner should be friendly to your pets. There are many cases of customers complaining that their cleaners frighten their pets. Worse enough, these pets feel intimidated and try to fight the cleaners. This might end up on a sad note especially when you are not around.
Other aspects like convenience features, maintenance, durability and ease of use also count. Having said that, let's now discuss the factors that you need to consider before purchasing a vacuum cleaner for pet hair.
Factors to consider when buying a Roomba for pet hair
I know, even after deciding that you want to buy a Roomba, narrowing on one may still be a problem because you don't know exactly what you should look for. For that reason, we have compiled a list of several important things to consider before paying for any vacuum cleaner
So, without further ado, let's get down to business.
1. Price
Price is very important when purchasing anything, leave alone vacuum cleaners. This is the cornerstone of the purchasing process and greatly impacts on all the other factors. If you are keen on the vacuum cleaners market, you must have realized that there's something for everyone. You will find low-budget vacuum cleaners to high-end vacuum cleaners.
Important
The most important thing in price is setting your budget range. This is important as it narrows you down to vacs that meet your budget.
For example, if your budget is around $300, there will be no need for you to waste time on high-end vacs that cost $800 and above. By narrowing down to your budget, you will have ample time to make the best decision of your preferred robot.
Important
The next issue in pricing is ascertaining whether you are getting value for your money. Many brands sell their vacs at very high prices that are not justifiable.
For this reason, do some window shopping comparing the features available for different prices. This will guide your expectations on the features to expect for every price range. Ultimately, you will be able to settle down on a robot that will give you value for your money.
Attention
However, it is always important to note that the higher the price, the better the features and consequently, performance. This is the general assumption in the entire retail industry. Also, remember that cheap is expensive. So, don't be the type that always gets attracted to cheap stuff!
2. Floor Type and Size
The type of your floor and its size is also important when shopping for vacuum cleaners for pet hair. This is because different homes have different floor types and sizes. There are hardwood floors, tile, linoleum and carpet floors. Also, different houses have varying sizes.
In terms of floor type, make sure you buy a vacuum cleaner that works best on all floor types. Assuming you move out of your apartment to another one with a different floor, are you ready to buy another cleaner?
For many vacuum cleaners, it is always an easy task on tile and linoleum floors. On hardwood, the task is quite hard because pet hair and fur tend to tangle between the wood planks.
Important
With carpet floors, a vacuum cleaner with special features for carpets like Carpet Boost will be the best!
When it comes to size, make sure you buy a cleaner that suits your floor size in terms of cleaning area. Here, the most important consideration is battery life.
If you live in an average-sized house, that's no problem. However, if your house is big, get a vacuum cleaner that has extended runtime to ensure it completes cleaning faster without interruptions because of low battery.
3. Action on Pet Hair
Even though the price is important, the purpose of the item you are buying is paramount. In our context, we are buying a vacuum cleaner for pet hair. For this reason, it is vital to ensure that the Vacuum cleaner you are buying suits the primary role; pet hair cleaning.
Even though all vacuum cleaners can at least clean pet hair, the big question is how effective are they. Pet hair can be really stressing, so what about having an ineffective vacuum cleaner.
In today's market, there are specially designed vacuum cleaners that are meant for pet hair cleaning. These vacs have been engineered with unique features to facilitate the picking and suctioning of pet hair.
Among the features that help in picking up of pet hair include rotating and counter-rotating brushes, anti-tangling systems, powerful suction power and large bins.
Important
Perhaps the most important feature is the filter type. The filter should be very efficient in filtering even the smallest particles like pet hair, fur, allergens, and dander. Make sure that the vacuum cleaner you have settled for is recommended for pet hair cleaning and has these features among others.
4. Maintenance
Important
The maintenance of equipment is very important, pet hair vacuum cleaners are no exception. In as much as general vacuum cleaners may require little or no maintenance at all, pet hair vacuum cleaners are maintenance intensive.
With many pet hair cleaners, hair tangling is a major concern. You find that such vacs get stuck when pet hair tangles the brushes or even the wheels.
Fortunately, there are several vacs that come with anti-tangle extractors and large wheels. This reduces the need for you to come and free the cleaner when it gets stuck.
Also, factors like bin size really matter. Get a cleaner with a big bin to reduce the frequency of emptying, especially when you are not around.
5. Navigation and Maneuverability
Navigation and maneuverability is all about how the cleaner moves and its ability to get to hard to reach areas. In as much as a cleaner may be effective in cleaning pet hair, navigation and maneuverability is also important as it has to go to look for dirt and pet hair.
When it comes to navigation, it is important that you choose a vacuum cleaner with a precise and elaborate navigation system. This helps it move seamlessly and most importantly, plan its cleaning pattern for a comprehensive and methodical cleaning.
On the other hand, maneuverability is majorly concerned with the design. A good vacuum cleaner for pet hair should have a low-profile design to ensure it maneuvers its way in hard to reach areas.
These are areas where pets like to relax. In such areas, they shed more fur and hair and so it is necessary that the vac cleans these areas. Also, fur and pet hair being light, they are swept under furniture, beds, kickstands and other furniture.
Even though these are the main considerations for pet hair, other factors considered when choosing vacuum cleaners in general also count. Other factors include; scheduling, boundary marking, docking, Wi-Fi among others.
Now that you have an idea on what to look for in the best vacuum cleaner for pets, it's time you make the right decision that will not compromise on your budget and most importantly, cleaning needs.
Comparing Top Roomba Technologies
You will agree with me that one of the factors that have greatly contributed to iRobot's success is their innovation. The California-based company has invested heavily and the results are now paying off.
It is safe to say that Roomba's are the most advanced robot vacuum cleaners as far as technology is concerned. In fact, other brands only imitate whatever iRobot has achieved.
In this section, we want to look at the major technologies that Roombas boast.
3-Stage Cleaning System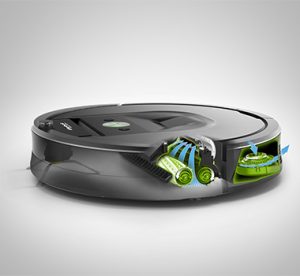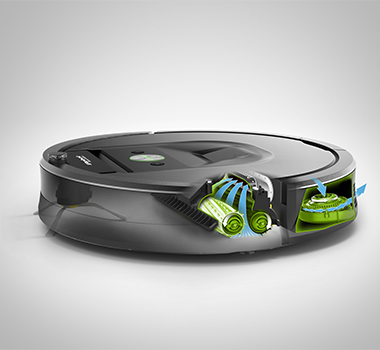 Among the revolutionary technologies that came to change the robot vacuums landscape is the 3-stage cleaning system developed by iRobot. Even though almost all the other robot vacuums use this principle, Roomba's AeroForce is just the best.
Important
This technology emphasizes on three aspects, sweeping, agitation and vacuuming. The first stage blends a set of side brushes to sweep the sides of the Roomba while in the second stage, the primary brush agitates the dirt and picks it up ready for the last stage, vacuuming.
Attention
But note that not all Roombas come with the AeroForce 3-stage cleaning system, the older models have the 3-stage AeroVac cleaning system.
The difference is that AeroForce has a dual multisurface brush system with anti-tangle technology whereas AeroVac has a dual multisurface bristle brush. Another difference, while AeroVac Roombas, for example Roomba 690, use HEPA style filters, AeroForce has true-HEPA filters.
Super high vacuum power
The vacuum power is a fundamental in all vacuum cleaners, iRobot models are no exception.
If you are looking for robot vacuum for carpet, you need to settle for the latest motors only because they deliver excellent vacuum power. We have 1st Generation motors that deliver 500-600 Pa while 2nd Generation motors deliver up to 1000 Pa.
Important
But if you want the best performance on carpets and pet hair, go for the latest 3rd Generation motor that does 1000 – 1700 Pa.
iAdapt Navigation & Mapping
This is among the areas where Roombas are best known for. iRobot engineered their revolutionary iAdapt navigation system that has undergone great changes making it one of the best robot vacuum technologies.
We all understand that Roombas, as well as robot vacuums in general are robotic. They move around independently without you having to push them around.
So, what's under the hood that makes navigation possible?
Well here, the conversation is around iAdapt vs iAdapt 2.0 vs iAdapt 3.0.
The old models use iAdapt 1.0 navigation which use sensors for localization. This technology is i9n the Roomba 600, 700 and 800 Series.
When it comes to the 900 Series, there are major changes in the iAdapt 2.0 navigation and mapping used.
Here, the Roomba combines sensors as well as a real-time camera for more precise navigation.
Lastly, we have the latest Roomba models that come with iAdapt 3.0 which also uses sensors and a camera. But the newest addition here is the mapping system. While iAdapt 2.0 uses the same iAdapt 2.0 system, the new navigation system has a separate technology for floor mapping called Imprint Smart Mapping that knows your bedroom, kitchen or living room.
Dirt Sensors
Among the unique offerings of Roomba is a technology known as Dirt Detect. As the name suggests, this technology helps the Roomba know where there is concentration of dirt. It will then head there and switch to Spot mode.
But then, it is imperative to note that there are two variations of Dirt Detect; Series I and II. Dirt Detect Series I uses acoustic sensors to detect the dirt while Dirt Detect Series II combines acoustic and optic sensors.
Self-emptying bin
Even though Roombas are called robot vacuums, they are not entirely robotic. Time and again, you will be required to empty the bin or carry out maintenance.
But then, iRobot is always endeavored to make every homeowners life easier and in their latest addition, the Roomba i7+, they have managed to create a self-emptying robot vacuum. You won't need to worry about emptying your bin every now and then.
Roomba Pet Hair Cleaning Tips
While a Roomba may do a great job as far as pet hair cleaning is concerned, they are not invincible. They won't guarantee you total cleanliness all the time. But fortunately, there are a few things you can do to help it accomplish its tasks and also, to keep your floors clean, free from pet hair and bad odor.
1. Remove too much clutter on the floor – Though the Roomba 960 and Roomba 980 have an improved navigation system, the older models might get trapped quite often in high traffic rooms. To help them navigate better, try to put the small stuff on floors elsewhere. Actually, one of the worst clutter is wires – the sensors may miss them and the side brushes will get into contact with them easily.
Also remember, most pet hair and fur find solace around this clutter so removing them will ensure most of it is cleaner. This is in light of the fact that when they are on the floor, they might derail the Roomba from reaching the dirty corners and edges where most dirt hides.
2. Set a cleaning schedule – When cleaning manually, homeowners find it hard to do the job daily. But from experience, you will agree with me that cleaning daily is better because the house is always clean and also, it is less strenuous than doing a whole week's cleaning. So, make sure you use your Roomba optimally by scheduling it to clean daily. This way, dirt won't pile up in your house and remember, there's always a small percentage of dirt that remains after every clean – it will be bad if this percentage is from a week's shedding.
3. Ensure the house is properly ventilated – You will agree with me that with pets, it's not just about the scattered pet hair, cheerios, and occasional grime, they also bring bad odor and worse enough, skin flakes, saliva and urine and dangerous allergens. Even though the filter system should ensure these allergens are filtered out, you should also facilitate air circulation. Remember, though models like the 890 and 980 have true HEPA filters, they may not be able to handle the whole house.
4. Empty the bin regularly – I know most homeowners who keep pets find large bins very convenient. They may go up to a week before they get full. This means that when you schedule the cleaner on Sunday, you might go the entire week without worrying anything about cleaning. But with pet hair and pet messes, this is different. The heat generated in the bin plus the allergens in the pet messes stink and if you leave the bin with such dirt for three days, you might come to a smelly house, especially in the hot summer. For that reason, it will be important to empty the bin daily. Remember, while pet hair itself may not be an allergen, it harbors them.
5. Groom your pets – At times, you might be blaming your Roomba but the problem is your pets grooming. Remember, a healthy pet should shed hair averagely and excess shedding is a sign of a skin condition or lack of some nutrients. But in most cases, it is caused by lack of grooming. Make sure your pet's skin is not infected and all lice, fleas and other parasites are removed. Clean the dog or cat regularly and brush the fur. This helps to keep the dog's skin in good health, something that will; reduce excess hair and fur shedding.
6. Replace the filters and side brushes regularly – Many are times I hear Roomba owners complaining of sudden loss of power and general ineffectiveness. In most of these cases, it's normally the filters that are worn out and that's why cleaning your house as it does on a normal day is not possible. Depending on the amount of dirt it cleans, you should change the filters regularly. Open the filter box and check the condition of the filter and make this a habit at least once a month.
There are also times when you find a lot of dirt remaining on the path of the Roomba. This is a clear indication that the side brushes are worn out. Side brushes need to be replaced more often but the good thing is that Roombas come with extra side brushes.
7. Clean the Roomba often – In as much as this is a cleaner, it needs to be kept clean too for optimal performance. After around 8 uses, find time to thoroughly clean the Roomba. Check for any tangling on the brushes and remove any debris of it. Wipe it around, especially on the bumper and sensors. You may choose to open it and clean inside but then remember, while you may get a comprehensive clean by opening it, assembling it may be quite a hassle.
Most popular questions from our users
What is Roomba Pet Series?
As the name suggests, Roomba Pet Series is a term that is used to refer to all the Roomba models that are designed for cleaning pet messes. In other words, these are Roombas designed for households with pets.
How long will Roomba clean?
The battery is the primary component that determines how long the Roomba will clean. The more the battery's capacity (mAh), the longer it will clean.
One thing you realize about Roomba's is that different models have different battery types and capacity. We have the Li-ion batteries as the standard battery technology, but some models have NiMH batteries. The capacity also varies; from 1800mAh battery packs that last an hour to the 3300mAh that lasts for two hours.
Which robot vacuum has the strongest suction?
The motor is the component that determines the suction yield of Roombas and robot vacuums in general. There are different classes of motors. 1st Gen delivers around 500-800Pa. 2nd Gen does 900-1300Pa. 3rd Gen motors do 1300Pa and beyond and have two power settings (high and low power).
Roomba 980 has the best suction power and is actually the most powerful robot vacuum we have tested. It comes with the Generation 3 brushless motor that delivers 1700Pa. The other robot vacuum that can rival Roomba 980 is Botvac D7 Connected (1500Pa) and Eufy RoboVac 30c (1500Pa).
Will Roomba clean multiple rooms?
An average American house plan has several rooms. So will Roombas clean all rooms autonomously or you have to carry them to specific rooms where they are supposed to clean?
Roombas can clean multiple rooms depending on the Virtual Walls device you have. Remember we have Virtual Walls, Virtual Walls Lighthouse and Dual Mode Virtual Walls Lighthouse. Understating the difference between these three is the important thing.
Virtual Walls is the basic, and it creates an invisible boundary.
Virtual Walls Lighthouse is the same as Virtual Walls, but the Lighthouse mode ensures the Roomba cleans a specific area more efficiently.
Dual mode Virtual Walls Lighthouse has one difference in that it can zone in on a smaller area just like Neato's 'Zone Cleaning.'
Regarding cleaning multiple rooms, you only need Virtual Walls, and that means all the Roombas in the market can clean multiple rooms except for two; Roomba 650 and 675. The 675 works with Virtual Walls, but it doesn't come with any, so you need to bug Virtual Walls. The 650 doesn't work with Virtual Walls totally.
What is the best Roomba for the money?
Your cleaning needs should inform the choice of Roomba model.
But Roombas are damn expensive, so you don't necessarily have to buy the high-end models that cost around $1000.
Regarding the question of the best value Roomba, we front the Roomba 960 that costs around $600. It is the base model in Roomba 900 series and packs all the vital features the expensive Roomba 980 boasts.
It only lacks Carpet Boost but maintains the iAdapt 2.0 VSLAM navigation, resume function, CleanMaps, etc.
The bottom line is that it navigates more precisely in large apartments and high traffic rooms and will resume cleaning after recharging.
How many years does a Roomba last?
iRobot is among the trusted brands and one that has excelled as far as durability is concerned.
But then, the longevity of your robot vacuum is dependent on the usage (wear and tear). Maintenance is also a vital issue.
Assuming you use your Roomba well, it should last you up to 5 years. But you will have to change several components to maintain peak performance. The filters should last for 2-3 months while the brush should last 6-8 months.
These two are the parts that need frequent replacement. In case your wheels fail or any other part, you can also replace them.
Do Roombas pick up sand?
Roombas will pick sand, but then, it depends on which Roomba you are talking about and the size of the sand pebbles as well.
The small sand pebbles will be vacuumed by all Roombas because they don't require much lift (suction).
When it comes to the medium-sized sand pebbles, it becomes a bother to Roombas with 1st Gen motors because of the average suction. For the large sand pebbles only Roomba 980, in Carpet Boost will do the job.
As far as sand vacuuming goes, robot vacuums get overwhelmed to some extent. To ensure you don't stress the robot vacuum, develop a culture of leaving shoes outside to keep sand pebbles out of your house.
Is the Roomba 690 good for pet hair?
Roomba 690 has been marketed as 'best for pet hair,' but it isn't the very best. It does well in households with cats and dog breeds with short hair.
However, the long-haired dog breeds may trouble the Roomba 690. This is because the bristle brush tangles often when cleaning long dog hair. The Roomba 690 lacks an anti-tangle system to prevent the brush from getting jammed.
Another thing, the Roomba 690 lacks a true-HEPA filtration system.
Consequently, it won't capture allergens, especially the pet-related allergens like Fel D1 protein in cat saliva.
Wrap Up
Now that you know the best Roomba vacuum cleaners for pet hair, it's time to make your decision on which one to go for.
There are a lot of things you will need to consider though pet hair cleaning should be the primary focus. Also, remember that pets harbor allergens; whether on the pet hair or their excretions. That said, you want a vacuum cleaner that will get rid of pet hair and also, one that will clean the air and capture all allergens.
That said, we have come to the end of our review. At least I know, if you were on the breaking point, overwhelmed by pet hair messes, you now found a solution – Roombas, the little helpers!