What is the best Roomba for pet hair?
(Last Updated On: January 28, 2018)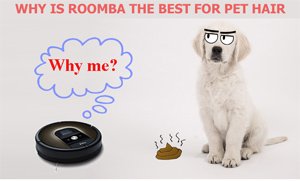 In as much as you love your pets, you probably hate their hair and fur.
Cleaning this dirt can be quite a hassle as most vacuum cleaners are specially designed for vacuuming dirt and other debris.
Navigate of our review
However, iRobot has made the life of pet owners easy with their Roomba Pet Series. These are Roomba vacuum cleaners that are specially designed for pet hair cleaning.
Why is Roomba?
By now, you must be wondering why we decided to narrow down on Roomba only and not other brands…
The answer is pretty simple;
Popularity of Roomba models in 2015-2017
Top 5 Best Roomba Robot Vacuums for Pet Owners
Today, we are going to review the top 5 best Roombas for pet owners.
We will discuss some few notable features of each and then in detail, discuss why they are best for pet hair cleaning. We will start from the low-end Roombas for pet hair to the high-end Roombas.

Find the Roomba that works for you
1. The Roomba 980 – An Expensive but All-Round
At number one in this list is the Roomba 980 which is the latest and most sophisticated robotic vacuum cleaner in the Roomba Series.
It comes with a super-efficient cleaning system and a precise navigation system. Above all, it has been optimized for pet hair cleaning as well as deep carpet cleaning.
This vac is best for general household cleaning as well as pet hair cleaning and that's why it found its way in this top 5 list of the best Roombas for pet owners. Here are a few pros and cons on the 980.
What Makes the Roomba 980 the Best?
Now, let us see why this vacuum cleaner is considered a great purchase for pet owners.
First, it has been crafted is a low profile design to ensure easy and smooth vulnerability. If you've ever owned a pet, you will agree with me that most pet fur hides in areas beyond your reach like under sofas and deep corners. The 980's design enables it get to these hard-to-reach areas for comprehensive vacuuming. So, if your cat or dog likes to idle under furniture, don't worry, the 980 will get there.
Besides, it has been specially engineered to suit all floors. So regardless of your floor type, this vacuum cleaner will do the job. So far, we know it adjusts itself automatically and can clean hardwood, tiled, laminate and carpet floors.
When it comes to cleaning, the 980 has the AeroForce 3-stage cleaning system that is super efficient in general household cleaning. The multiple cleaning modes also serve different cleaning needs. Besides offering comprehensive cleaning of dirt and debris, the AeroForce High Efficiency Filters has the ability of filtering out 99% of allergens and pollen that come with pet hair.
In terms of navigation, this vac comes with a superb navigation system that ensures entire level cleaning. It has the advanced iAdapt 2.0 Navigation with Visual Localization. This helps it plan its cleaning pattern for a methodical cleaning to make sure no area is left untouched, especially along wall edges and deep corners.
Another reason why we think the Roomba 980 is best for pet hair cleaning is the extended run time. It has a powerful Li-Ion battery that can power the vac for a cool 120 minutes. This ensures that for every scheduled cleaning, it will vacuum your entire house without necessarily needing charging.
Last but not least, it offers exceptional convenience. First, you can schedule it to start cleaning on your preferred time. This means you don't need to be around for it to clean your house. It is recommended that you schedule it after your pets' common play time bearing in mind that during this time, they shed a lot of hair and fur.
Other features that make the 980 a cut above the rest is Virtual Walls, Wi-Fi connectivity and Voice-Activated Control.
Our Verdict
2. Roomba 890 – the best Roomba in the 800 series
If you want a more advanced and latest Roomba, then the Roomba 890 – the best Roomba in the 800 series is what you want.
Retailing at around $500, the Roomba 890 brings on board several new additions to what you have in the Roomba 600 and 700 series. It has a more reliable navigation system, a new brush system, advanced Dirt Detection, and 5x more air power. Even though it lacks Wi-Fi and several other innovative features, it is still a worthy Roomba to check out.

By design, the Roomba 890 sports a sleek and more intuitive design. This machine has an intuitive interface that makes operation very easy. Worthy to mention, it is friendly to pets and operates on low noise.
When it comes to navigation, it is more advanced and we notably realized that when it comes to obstacle avoidance, it is more advanced in that it hardly gets stuck like the rest of the Roombas in the lower series.
When it comes to cleaning performance, the Roomba 890 maintains the 3-stage cleaning system. The performance remains at the top especially when it comes to carpets and pet hair. The 5x more air power makes it best for suctioning all pet hair, fur, and dander whether it is a dog or a cat.
In terms of convenience, the 890 is just as packed as any other Roomba. It has scheduling and self-charging features. Besides, it has Wi-Fi and is Smart Home Connected to allow you the best user experience and remote operation.
Our Verdict
It is quite similar to the Roomba 650 but this one has a few more extras and upgrades that make it better especially for cleaning pet hair.
This is the primary reason why it has featured in our review of the best robot vacuum cleaners for pet hair. Besides its great features, its price is very affordable. If you love your pet but the mess is overwhelming, this is a great Roomba for you.
By design, the Roomba 690 boasts a simple yet elegant design with an equally cool finish. Everything about it is friendly and won't intimidate your cat or dog thus making it your pet's playmate besides being your floor cleaning helper. It stands at 3.6-inches, a feature that helps it creep under most furniture like sofas, beds, kickstands, cupboards and so on. Remember, these areas with settled surroundings are where most hair and fur are.
When it comes to cleaning performance, the Roomba 690 boasts the native patented 3-Stage Cleaning system by iRobot. This system has 3 distinct stages; loosening, lifting and finally, suctioning.
In the first stage, iRobot brought on board a unique brush system with two main brushes. First, there is a dual multi-surface system. This system has one small brush for agitation so that the loosened dirt, including pet hair, is picked up for suctioning. The auto-adjusting head cleverly adjusts itself depending on the floor surface for a close brush contact.
To ensure all the dirt along wall edges are vacuumed, there is a side brush that has been positioned at an angle of 27 degrees that reaches all the wall edges as well as deep corners. Thereafter, the high power motor delivers enough suction to vacuum all the dirt, debris and most importantly, pet hair, fur, and dander. The icing on the cake is the Dirt Detection technology that is very precise in detecting where there is more dirt. It tells the Roomba where to focus on careful cleaning.
Our Verdict
If you are on a budget and you want a vacuum cleaner for general house cleaning as well a pet hair removal, the Roomba 650 is a great choice.
This vacuum cleaner has a superb cleaning system that guarantees detailed cleaning of dirt, dust and pet hair.
Besides, it cleans all floors making it such a versatile vacuum cleaner. Here are the pros and cons of this Roomba Pet Series vacuum cleaner.
What Makes Roomba 650 the Best?
First, it sports a low profile design. Like we all know, most pets like relaxing under furniture and other hard to reach places. For this reason, a good vac should be able to maneuver to these areas smoothly. Standing at only 3.6-inches high, that's exactly what the Roomba 650 does.
When it comes to versatility, this Roomba is among the best there is. During my stint with it, I used it on many floors including hardwood, linoleum and both thin and thick carpet floors. Its performance on all these surfaces was impressive. This is an assurance that it will be able to catch all pet hair on your floors.
Another great thing about the Roomba 650 is the efficient 3-stage cleaning system that agitates, brushes and suctions dirt, debris and pet hair. AeroVac filters, on the other hand, ensure the tiniest debris, including pet hair, are filtered into the dirt bin. The sides brush sweeps all pet hair in front of the cleaner so that they may be suctioned in the bin. It also has dirt sensors for a comprehensive cleaning. The dirt bin is very spacious. With a capacity of 0.48L, it requires less emptying.
In general, however, it is still able to move around your house picking up pet hair. One thing I liked about its movement though is that it is swift and less scary when compared to many other vacs that cause disturbance and discomfort to pets. The Roomba 650 is a friendly vac.
For user convenience, the Roomba 650 has a powerful NiMh battery that lasted for approximately 72 minutes. Even though charging time is slightly above 3 hours, its overall performance is impressive. Once the vac detects low charge, it goes straight to the Home base for charging. Thereafter, it will resume cleaning from where it left.
Other features in this vacuum cleaner include; Virtual Wall barriers, Schedule cleaning, Cliff detection sensors and a 1-year warranty.
Our Verdict
5. The Roomba 870 – Reliable and Less Costly
Another great Roomba vacuum cleaner for pets is the Roomba 870. Even though it is considered pricey like the 980, it offers great value for money, especially for pet owners. It offers exceptional household cleaning and sucks pet hair like nobody's business. First, let us look at an overview of its pros and cons.

Why is the Roomba 870 Ideal for Pet Hair?
The Roomba 870 is known for its reliable pet hair as well as allergens. Here is why we consider the 870 a great choice for pet owners.
First, the Roomba 870 is ideal for cleaning any floor type. We have in the past tried it on hardwood, linoleum, tile and carpet floors and the results were impressive. Unfortunately, its performance on carpets was not that good, especially thick carpet floors. However, if you have thin carpet floors, it is still a great purchase.
This vacuum cleaner has the patented AeroForce 3-stage cleaning system that cleans dust, dirt, and debris. It does this through agitation, brushing and suctioning. Furthermore, it is capable of cleaning pet hair and fur as well as allergens and pollen. All this is enabled by its motor's ability to produce 5x more air power which effectively sucks pet hair and allergens. This 870 can clean 98% of dirt and dust and that is why it is also a great vac for general household cleaning. The counter-rotating extractors sport a rubber tread design which grabs dirt and pet hair from floors while reducing tangling which is a major problem with many vacuum cleaners for pet hair.
The Dual HEPA filter system is the icing on the cake. These filters make the Roomba 870 great for pet hair cleaning. It ensures even the smallest particles are filtered out, pet hair is no exception. These filters also filter allergens and pollen leaving your house with fresh air.
Another great feature that makes it an exceptional vacuum cleaner is the Dirt Detection Series II. This system uses acoustic and to detect where there is more dirt including hairs and animal fur. Once such an area detected, it focuses it intensifies cleaning in the area and thus allowing
When it comes to navigation, the Roomba 870 uses the popular iAdapt Navigation that ensures smooth movement within your house. Most importantly, it cleans in a methodical pattern ensuring that all areas of your house are cleaned. Most importantly, it guides the Roomba to areas where pets like to hide like under furniture, kickstands and under sofas.
To make sure that once it starts cleaning, it finishes, the Roomba 870 is equipped with a high-performance iRobot XLife Extended Life Battery which offers twice as many cleaning cycles than normal Roombas. In the event that its charge goes down before finishing cleaning, it will automatically go to Home Base for recharging. Thereafter, it will resume cleaning autonomously.
In terms of convenience, the Roomba 870 is unrivaled. Even though it is not Wi-Fi enabled, it comes with a remote control for easy operation. With this remote, you can issue commands to the Roomba from a distance of up to 13-feet. Another convenience feature is the Virtual Walls. With Virtual Walls, you can restrict the 870 from accessing specific areas within your house.
Our Verdict
6. The Roomba 770 – Greatest Enemy of Pet Hair
The Roomba 770is the greatest enemy of pet hair and allergens. In fact, most review websites hype it as the best vacuum cleaner for pet owners and those with allergies. It can effectively get rid of fur, hair, dander and even allergens like pollen. Let us first look at its [pros and cons before embarking on why it is considered as a top contender in the battle of the best vacuum cleaners for pet hair.
Why the Roomba 770 is the Best
The Roomba 770 is my favorite vacuum cleaner for pet hair. I bought it when I had my German shepherd that used to shed lots of furs. Before, I had tried several other vacs, but in the long run, I was disappointed and decided to buy the 770, and it paid off, and that's why it remains my best Roomba for pet hair and allergies.
First, it is great for a range of floors. Unlike many vacs that present a varying performance on different floors, the 770 works perfectly on hardwood floors, tile, and carpet floors. On hardwood and carpets, it was able to remove stuck hair courtesy of its high suction power. On tiled floors, it had some very good time.
Another reason why the Roomba 770 is my best vac for pet hair is the AeroForce 3-stage cleaning system backed up by AeroVAc Series 2 Technology. On the other hand, the DUAL HEPA filters ensure that even the smallest debris and dirt are filtered into the bean leaving your house sparkling clean by not allowing recirculation in the room. This system guarantees effective removal of all pet hair, pet dander, dust, allergens, and pollen. This makes it not only a good choice for pet owners but also for allergy patients.
In terms of navigation, its performance is satisfactory. The iAdapt Navigation system has been fully optimized to guide the Roomba when at work. It cleans in an elaborate pattern thus ensuring no place is left untouched. Furthermore, the methodical approach helps the vacuum cleaner complete cleaning very fast because the cleaning is properly planned in line with your room's layout.
If you want all rooms cleaned at a go, it is possible with the 770. It offers both single and multi-room cleaning. For single room cleaning, you can set up Virtual Walls and block the door. Once it finishes, you now take it to the next room. If you want multi-room cleaning, just leave the doors open and it will do the job.
For pet owners and allergy sufferers with tight schedules, the Roomba 770 is the best purchase. First, it can be easily scheduled to clean at specific times throughout the week. Second, it has self-charging and auto-resume capabilities so you don't have to mind about power management. Besides, it is very simple to operate. You only need to press CLEAN and voila, it springs to action!
Our Verdict
Buying Guide; What You Need to know?
Now that you are enlightened about the best Roombas for pet hair cleaning, we understand it is still a hassle choosing the Roomba you will purchase for your pets. It is in our best interest that you buy the best vacuum cleaner that will suit your needs without squeezing your wallet. Here is a buying guide for pet hair vacuum cleaners. We have listed out clearly important factors that you need to consider before purchasing any vacuum cleaner for pet hair. But first, let's look at what makes a good vacuum cleaner for pet hair.
What is the Best Vacuum Cleaner for Pet Hair?
First, a good vacuum cleaner for pet hair should definitely be able to clean all your pet's hair, fur and dander. The effectiveness of a pet hair vacuum cleaner varies depending on its cleaning system and the features necessary for comprehensive vacuuming of pet hair.
Second, a good pet hair vacuum cleaner should be friendly to your pets. There are many cases of customers complaining that their cleaners frighten their pets. Worse enough, these pets feel intimidated and try to fight the cleaners. This might end up on a sad note especially when you are not around.
Other aspects like convenience features, maintenance, durability and ease of use also count. Having said that, let's now discuss the factors that you need to consider before purchasing a vacuum cleaner for pet hair.
1. Price
Price is very important when purchasing anything, leave alone vacuum cleaners. This is the cornerstone of the purchasing process and greatly impacts on all the other factors. If you are keen with the vacuum cleaners market, you must have realized that there's something for everyone. You will find low-budget vacuum cleaners to high-end vacuum cleaners.
The most important thing in price is setting your budget range. This is important as it narrows you down to vacs that meet your budget. For example, if your budget is around $300, there will be no need for you to waste time on high end vacs that cost $800 and above. By narrowing down to your budget, you will have ample time to make the best decision of your preferred robot.
The next issue in pricing is ascertaining whether you are getting value for your money. Many brands sell their vacs at very high prices that are not justifiable. For this reason, do some window shopping comparing the features available for different prices. This will guide your expectations on the features to expect for every price range. Ultimately, you will be able to settle down on a robot that will give you value for your money.
However, it is always important to note that the higher the price, the better the features and consequently, performance. This is the general assumption in the entire retail industry. Also remember that cheap is expensive. So, don't be the type that always gets attracted to cheap stuff!
2. Floor Type and Size
The type of your floor and its size is also important when shopping for vacuum cleaners for pet hair. This is because different homes have different floor types and sizes. There are hardwood floors, tile, linoleum and carpet floors. Also, different house have varying sizes.
In terms of floor type, make sure you buy a vacuum cleaner that works best on all floor types. Assuming you move out of your apartment to another one with a different floor, are you ready to buy another cleaner? For many vacuum cleaners, it is always an easy task on tile and linoleum floors. On hardwood, the task is quite hard because pet hair and fur tends to tangle between the wood planks. With carpet floors, a vacuum cleaner with special features for carpets like Carpet Boost will be the best!
When it comes to size, make sure you buy a cleaner that suits your floor size in terms of cleaning area. Here, the most important consideration is battery life. If you live in an average-sized house, that's no problem. However, if your house is big, get a vacuum cleaner that has extended run time to ensure it completes cleaning faster without interruptions because of low battery.
3. Action on Pet Hair
Even though price is important, the purpose of the item you are buying is paramount. In our context, we are buying a vacuum cleaner for pet hair. For this reason, it is vital to ensure that the Vacuum cleaner you are buying suits the primary role; pet hair cleaning.
Even though all vacuum cleaners can at least clean pet hair, the big question is how effective are they. Pet hair can be really stressing, so what about having an ineffective vacuum cleaner.
In today's market, there are specially designed vacuum cleaners that are meant for pet hair cleaning. These vacs have been engineered with unique features to facilitate the picking and suctioning of pet hair.
Among the features that help in picking up of pet hair include rotating and counter-rotating brushes, anti-tangling systems, powerful suction power and large bins. Perhaps the most important feature is the filter type. The filter should be very efficient in filtering even the smallest particles like pet hair, fur, allergens and dander. Make sure that the vacuum cleaner you have settled for is recommended for pet hair cleaning and has these features among others.
4. Maintenance
The maintenance of equipment is very important, pet hair vacuum cleaners are no exception. In as much as general vacuum cleaners may require little or no maintenance at all, pet hair vacuum cleaners are maintenance intensive.
With many pet hair cleaners, hair tangling is a major concern. You find that such vacs get stuck when pet hair tangles the brushes or even the wheels. Fortunately, there are several vacs that come with anti-tangle extractors and large wheels. This reduces the need of you to come and free the cleaner when it gets stuck. Also, factors like bin size really matters. Get a cleaner with a big bin to reduce the frequency of emptying, especially when you are not around.
5. Navigation and Maneuverability
Navigation and maneuverability is all about how the cleaner moves and its ability to get to hard to reach areas. In as much as a cleaner may be effective in cleaning pet hair, navigation and maneuverability is also important as it has to go to look for dirt and pet hair.
When it comes to navigation, it is important that you choose a vacuum cleaner with a precise and elaborate navigation system. This helps it move seamlessly and most importantly, plan its cleaning pattern for a comprehensive and methodical cleaning.
On the other hand, maneuverability is majorly concerned with the design. A good vacuum cleaner for pet hair should have a low-profile design to ensure it maneuvers its way in hard to reach areas. These are areas where pets like to relax. In such areas, they shed more fur and hair and so it is necessary that the vac cleans these areas. Also, fur and pet hair being light, they are swept under furniture, beds, kickstands and other furniture. With a low profile design, a pet hair vacuum.
Even though these are the main considerations for pet hair, other factors considered when choosing vacuum cleaners in general also count. Other factors include; scheduling, boundary marking, docking, Wi-Fi among others.
Now that you have an idea on what to look for in the best vacuum cleaner for pets, it's time you make the right decision that will not compromise on your budget and most importantly, cleaning needs.
Wrap Up
If you like this article, please rate it.