The Ecovacs Deebot N78 vs. N79 vs. M80 Pro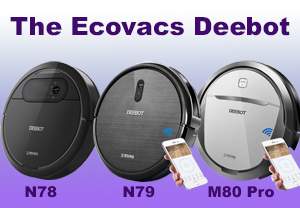 With over 5 million units sold so far, Deebot is the other brand that will give iRobot a run for its money. We have seen it steadily expanding their product portfolio incorporating some of the top technologies in the industry.
The Deebot N79S released in February 2018 is among their latest robots. But then, several earlier models are already household names in the market. These are the N series; the Deebot N78 and Deebot N79 and the M series; Deebot M80, Deebot M81, Deebot M88 and Deebot M82.
In this article, we are going to compare all these models and see what each offers. If you have settled on Deebot, probably because of their affordability, this is a review you will want to read to the end.
In the first section, we will shortly review each model and thereafter compare two of the best Deebots in each series. That said, let's get down to business.

Best Use
Floors, carpets, pet hair
Best Choice
Best Use
Floors, carpets, pet hair
1.ECOVACS Deebot N78 – Removes Pet Hair From Hard Floor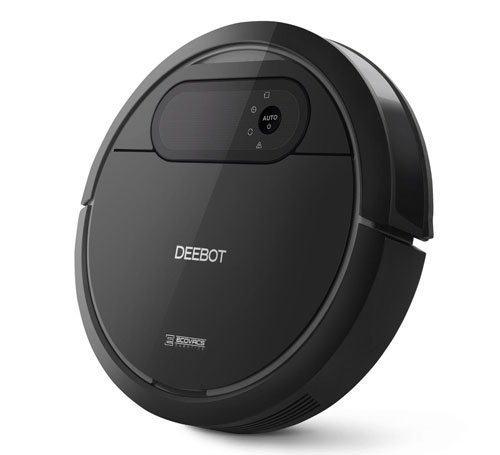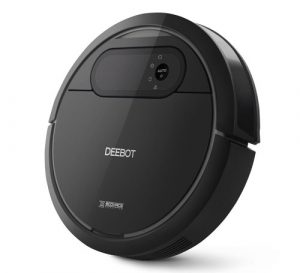 If you are not so new, you know very well that the N78 is an entry-level robot that challenges the likes of the Roomba 650 and even Roomba 690. It offers raw power just like the two low-budget Roombas and outrightly beats the Roomba 650 because it has a mop.
If you have a hardwood floor, this would be a great purchase as it will sweep, vacuum and mop your floor.
That means your hardwood floor will have less exposure to water and moisture which is a leading cause of hardwood floor damage.
But unfortunately, if you are eying a Smart Home, Deebot N78 doesn't have Wi-Fi. But then, if you are on a budget and you want a multipurpose cleaner, this would be a great buy bearing in mind you won't need another robot for mopping.
One of the things I want to highlight is its runtime. If you have large floors and you don't want high-end bots like Deebot R95, Roomba 960 and Roomba 980 that have auto-resume, the N78 outshines even the Roomba 890. On a full charge, it will run for around 110 minutes while the Roomba 890 will do around 60 minutes.
Regarding its cleaning, I would recommend in on bare floors only but for specialized cleanings like deep carpets and allergens, it is not very effective.
One thing to note, the Deebot N78, unlike most of the other models, uses direct suction which also makes it great for catching all pet hair. But then, it won't be a good purchase if you have long haired breeds and even heavy shedding breeds like Bearded Collie, Havanese, American Eskimo and the likes.
The navigation also is not the best and it will get stuck more often in high traffic rooms. It also makes some dumb decisions and generally, it is not that intelligent.
But considering the low price, it is not a bad place to start if you have an apartment with a large floor. At least that means there will be lesser clutter and more space for it to move; remember its navigation is not the best.
2.ECOVACS Deebot N79 Robotic Vacuum Cleaner With Strong Suction
For some reason, I tend to compare the N series to the Roomba 600 series and the M series to the 800 series, I'll tell you why. The N78, just like the Roomba 650 lacks Smart features; it only packs raw cleaning power. The next models in the series are Deebot N79 and Roomba 650 which were updated with Wi-Fi.
In the Deebot N79, Wi-Fi is the main feature and in fact, one that makes it among the best cheapest Wi-Fi robot vacuums. But then, this one doesn't have a mop as we would have expected.
But then, it uses suction and a brush approach, unlike the N78 that applies direct suction only. The brush and improved suction make it best for carpets so if you have carpets too, it should be on your wish list.
Regarding navigation and intelligence, I wouldn't say there's much improvement. In a room with less traffic it will surely work well but on the downside, it detects dark carpet spots as obstacles. Transitioning on heavy carpets and rugs may also be a problem; severally, I found it stuck when climbing.
I hope all these are issues ECOVACS addressed in the new model, the Deebot N79S that was released in February 2018. One thing I know for a fact is that it is
Alexa
enabled, unlike the N79 that notably lacks a voice assistant. Also, you would want to buy the ECOVACS N79S because it has 5 cleaning modes, and extra Max Cleaning function that boosts motor speed and consequently, it increases suction.
Remember, the Deebot N78 has only 4 cleaning modes (Auto, Spot, Edge, Single Room) which is better compared to the 3 in the N78 (Auto, Spot, and Edge). The N79 is equally good for large floors courtesy of the extended battery runtime. Though it averaged 10 minutes lesser than the N78, 100 minutes is still some good runtime and considering it's Smart, the 10 minutes difference is even justifiable.
That closes our discussion for the N series and now, let's look at the M series.
But just before that, one thing I will have to remind you regarding the Deebot N78 and Deebot N79. These are cheap models and in line with the mantra of 'what you get is what you pay for' it would be over-ambitious to expect stellar performance from these two. They won't give you textbook performance like some of the best vacuum cleaners we know of.
If you want bigger performance, then the M series is somewhere you'd want to look at.
This is the base model of the M series and what it does, it combines the salient features of the N78 and N79. Basically, it has mopping function that the N79 lacks and Wi-Fi that the N78 lacks. So, if you liked either of the two but the lack of Wi-Fi or mopping was a put-off, here's a superb alternative.
The Deebot M80 Pro is in the league of the Roomba 690 and even the 890 in terms of features. Though Roomba obviously has better technology, the M80 is a symbol of Deebot's excellence.
What sets it apart from the N series is the best in class performance.
ECOVACS went back to the drawing board and came up with new technologies including a new helix design brush-roll for deeper cleaning on carpets. But the main player in this cleaning system is the high-performance motor. In the Max Mode, it delivers 36% extra suction than what your normal vacs produce.
Apart from that, it is a little bit clever compared to the N78 and N79. One thing you will realize, it gets stuck less often and takes a shorter time to clean. Regarding pet hair, it passed the litmus test. I have a Havanese and Komondor and it ensured no pet hair remained around.
One thing I discredit the N79 for pet hair is that it can handle only short hair breeds but these long-haired and heavy shedder, it gets overwhelmed.
The tank is quite large and the mopping function comes through when there are paw marks, stains and grimes all over.
All the other standard features are present; Wi-Fi, Smart MOTION, 100 minutes + runtime and a low profile design.
For me, it's a clever purchase considering it's cheap and offers 2-in-1 cleaning. Also worth mentioning, it is Alexa compatible. But how I wish the battery was a Lithium-Ion; this is new technology and has a longer life cycle.
ECOVACS Deebot N78 vs. N79 vs. M80 – How they Compare
In this segment, we will try to see how they compare in terms of usability. We will discuss in them with regards to the important aspects you would have on your checklist for the best robot vacuum cleaner.
Cleaning performance
You will agree with me that cleaning performance is the most important aspect to consider when shopping for any cleaner. In our context, it will be important to see how each of these robot vacuum cleaners rank when it comes to
cleaning performance
. A good approach to this would be looking at their suitability for different cleaning needs.
Hardwood floors – For those with hardwood floors, I would highly recommend a robot vacuum with mopping function. I say this because when mopping the traditional way, we use a lot of water which will damage your hardwood floor. The N78 is a decent entry-level robot vacuum with a mop but the problem is that its general cleaning performance is wanting. On the other hand, the M80 Pro packs a better cleaning system and in fact uses a brush which will scrub off all the grime and stains. If you have a hardwood floor, I would recommend the Deebot M80 Pro.
Carpets – When it comes to carpets, I recommend the M80 Pro also courtesy of the high suction power. Remember, it has Max Mode that delivers 36% boost when on carpets. The brush also helps in scrubbing the grimes and stains on your floor.
Pet hair – For those who keep pets, I would still recommend the M80 Pro. It can vacuum all the pet hair, and mop the paw marks and other pet messes. Besides, it has a large dust tank so if you have three or four dogs, it won't get overwhelmed.
But what exactly brings the difference?
As we have seen, there is a specific model that has been designed for a specific cleaning need. So, what cleaning features make the difference?
The first thing I want us to consider is the brush system. The N78 would be a great vacuum cleaner for hardwood floors considering it doesn't have a brush. Brushing a hardwood floor is not a great idea; it scratches it and makes its appeal fade away. On the other hand, the N79 and M80/M81 have the main brush and that's why I recommended them for carpets. The M80 is particularly great for stains and grimes as it has a brush and a mop which the N79 lacks. Just to mention, they all have two side brushes.
Perhaps the biggest factor and actually, the primary dynamic of vacuuming is the suction power. The higher the suction power, the better the performance. If you have carpets, this is one thing you need to know; a high suction vacuum is what will reach all the deepest parts of your carpet.
In fact, it's only suction power that makes the R95 the best Deebot model for carpet. But how do the N78, N79, and M80 Pro fair as far as suction is concerned? The N78 and N79 boast of high suction power but that's on book. I don't think these two are anywhere near what the competition is at. That's why the N79 won't give you a detailed clean on your carpet and will still miss some pet hair and dander. But then, with the M80, the performance is improved courtesy of a new motor that delivers 36% extra performance than what the N series generates. Actually, it still collects a considerable amount of dust on a carpet that the N79 had just cleaned. This is among the aspects that make the M80 superior at the end of the day.
Regarding filtration, they all come with high-efficiency filters. For allergy sufferers, I won't guarantee you the same fresh air as is with true HEPA filters.
Navigation
Which Deebot is the best for high traffic rooms? As earlier mentioned in one of my reviews, robot vacuum cleaners are not invincible. While a human may not get stuck anywhere, they at times get stuck and lose their way. But then this differs depending on the technology used.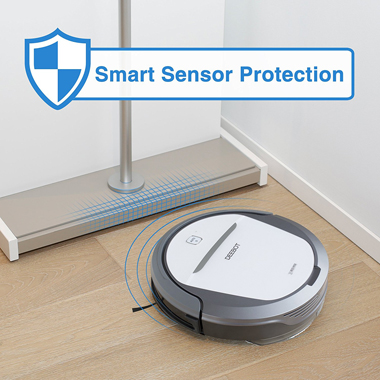 I know for a fact, the N78 and N79 have the same precision when it comes to navigation. Remember they all have Smart MOTION that uses a range of sensors to locate the unit's position in your house. In a rating of 1 – 5, I would give them 3.
If you have a high traffic room, I would recommend the M80 as it comes with an updated software that makes data processing faster. A good manifestation of this is when you put an obstacle in the path of the vacuum on short notice when it's moving.
The N79 will hit the obstacle but you will notice that the M80 won't hit the obstacle under the same conditions. The cleaning pattern of the M80 is also more elaborate and methodical. In fact, it takes a shorter time to clean the house.
But then, if you want the ultimate Deebot with the best navigation, check out the ECOVACS Deebot R95 that combines sensors and VSLAM technology just like the
Roomba 980 and Dyson 360 Eye.
| Feature | ECOVACS Deebot N78 | ECOVACS DEEBOT N79 | ECOVACS DEEBOT M80 Pro |
| --- | --- | --- | --- |
| Anti-Collision | | | |
| Anti-Stairs | | | |
| Obstactle Detection | | | |
Smart features and convenience
One thing robot vacuums are favorites compared to regular vacuum cleaners is their convenience. For our purposes, we will be looking at scheduling and control.
All these vacuum cleaners come with a 7-day scheduling feature. This means you can program the Deebot to start cleaning at specific times.
Another convenience feature would be remote control. Though Smartphone operation is the best, a physical remote still comes in handy especially for models that don't have Wi-Fi. All these models come with a physical remote control.
With Smart Homes gaining popularity, it would be important to help you make the best decision as far as Smart connectivity is concerned in these Deebot models.
When it comes to Smart features, there are two aspects to look at; Wi-Fi & App control as well as voice assistant compatibility.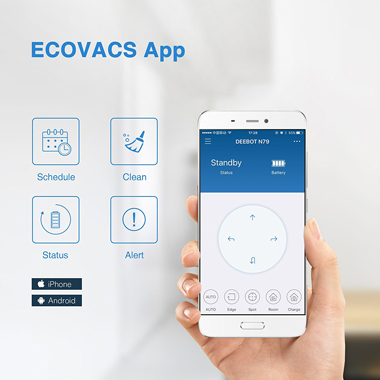 The N79, N79S, and M80/M81 come with Wi-Fi. Once you connect your robot to the home Wi-Fi, you can control it remotely from the ECOVACS Smartphone App. This is a great feature that the N78 and the M82 largely miss out on. Also, note that the M82 lacks Wi-Fi too.
Regarding voice assistant compatibility, the N79 again greatly misses out here. It comes with Wi-Fi but is not compatible with Alexa. The good thing is that the updated N79S comes with Alexa compatibility which is among its main highlights. The M80 and M81 also are Alexa compatible.
| Feature | ECOVACS Deebot N78 | ECOVACS DEEBOT N79 | ECOVACS DEEBOT M80 Pro |
| --- | --- | --- | --- |
| Sheduling | | | |
| Remote | | | |
| Wi-Fi | | | |
| Voice Assistant | | | Alexa |
Battery performance
How long can the Deebot run? This greatly varies from model to model and from what I know, the biggest difference is the technology.
ECOVACS has both Nickel Meta-Hydride battery and Lithium-Ion batteries. They also differ in performance but they are just in the same range.
The N78 and M80 come with a NiMH battery which I agree it has better capacity handling compared to Li-Ion batteries. To put it into perspective, NiMH batteries are more powerful and it's evident here; the N78 can run for 110 minutes on average while the Li-Ion battery in the N79 can push it for 100 minutes on average.
Another thing worth mentioning is entire level cleaning.
Please note, unlike what many reviewers suggest, none of these models will resume cleaning after recharging. Only the R95 has this feature together with other prime models like the
Roomba 960 and Roomba 980
.
| Feature | ECOVACS Deebot N78 | ECOVACS DEEBOT N79 | ECOVACS DEEBOT M80 Pro |
| --- | --- | --- | --- |
| Technology | NiMH | Li-Ion | NiMH |
| Runtime | 110 Minutes | 100 Minutes | 110 Minutes |
| Self Docking | | | |
| Auto Resume | | | |
What's the Best Robot – Deebot N78/79 or M80?
It goes without saying, the Deebot M80 is the best vacuum cleaner here. It combines the salient features of the N78 and N79. But then, its price is what will amaze you. It is selling at around $230, cheaper than the updated N79S.
If you are keen on getting a cheap Deebot that will handle all floor types, pet hair, and carpets, this is what you should go for.
But that's not to say it is the best model. We have superior models like the Botvac Connected, Deebot R95, among others.
Frequently Asked Questions
Deebot N79 vs Deebot M80: which robot is better for carpets and pet hair?
In this Deebot N79 vs M80 battle for perfect carpet and pet hair cleaning, we give our preference to Deebot N79 model. Both vacs have central brush rolls and 100-110 minutes of run time. However, the N79 features medium 900 Pa, while the M80 provides the maximum of 500 Pa.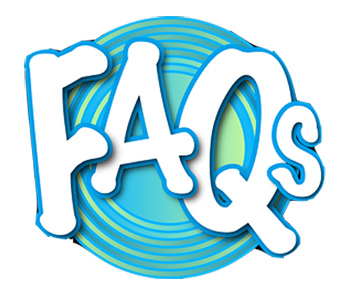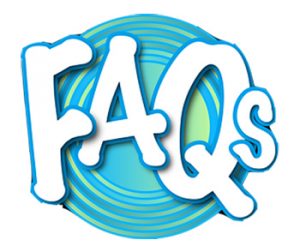 How can I schedule my Deebot N78 robot cleaner?
Deebot N78 provides manual buttons and a remote control. You can either set the scheduling manually by pressing its case buttons or use your remote control.
Can I use cleaning solutions with my Deebot M80?
The manufacturer does not recommend adding any special formulas and solutions in the water since they may damage the water tank and the robot itself. Still, it is allowed to spray a small amount of solution on the pad directly.
What is the most affordable Deebot robot vacuum cleaner?
If you`re looking for the best budget robotic cleaner by Ecovacs Deebot brand, try Deebot N78 model. The device costs only $129 and offers nice cleaning on hardfloors and low-piled carpets, 110 minutes of runtime, and scheduling. Deebot N79 and M80 will cost you a bit more – $199 and $212, respectively. But for these decent sum, you`ll get higher suction, better carpet cleaning, and ap control.