Full Deebot Models Comparison review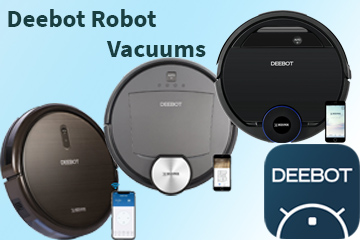 In this Deebot comparison review, we want to look at some of the most significant achievements of ECOVACS as far as their Dee bot models are concerned.
At least for Roomba, we know them in Series, and you can tell the best Roomba by the series. The higher the Series, the better the performance. However, that is entirely different from Roomba because there are so many new models.
You will find cheap robot mops like Deebot N78 and Deebot M80 to high end and latest models like Deebot OZMO 610 and OZMO 930.
For Smart home enthusiasts, there are cheap models like Deebot N79s that can also handle pet hair and carpets to the performance beasts like Deebot R95 and Deebot R98 that in fact comes with a hand vacuum included.
In this Deebot comparison review, we want to make shopping easier by reviewing and comparing the popular models.
But just before we get to the central part of the article, let's look at the overview of the brand ECOVACS.

ECOVACS Robotics is a Chinese brand that manufactures and sells home robotic vacuum cleaners.
The company was established in 1998, and though it took quite some time for the company to pick up, today it is one of the best robot vacuum brands. This is courtesy of one of their favorite products; floor robot vacuum cleaners that are marketed under the brand name Deebot.
But notably, the success of the company came with its entry into the United States, Germany and Japan markets where there was more demand for robot vacuuming solutions.
Apart from Deebot, (robot vacuum floor cleaners) ECOVACS has ventured into other automated home cleaning solutions. One of their other favorite product lines is the WINBOT series of window cleaners. There is also the line of air purifiers under the brand name ATMOBOT.
These are some of the products they offer, but still, there are other robotics solutions it provides including BENEBOT, a shopping robot, and UNIBOT which is a Deebot Smart hub.
Now, having had a little chit-chat on the brand history, it's time we review some of the popular models and Series.
So without further ado, here are the popular ECOVACS Deebot models in the market.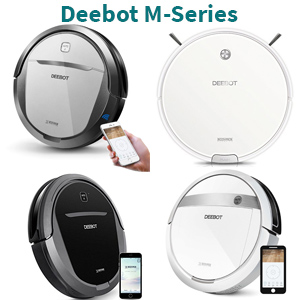 The M-Series is another favorite Deebot line that replicates the N-Series in that there is also a robot vacuum with a mop as well as Smart robot vacuums. Regarding price, they are not as expensive and are the best substitute for the high-end Deebot models like ECOVACS R95.
The only problem is the availability of stock now that these are pretty old vacuums and Deebot has very many newer options so a few guys will stock them in favor of the latest models.
The Deebot M80, M81, and M88 are more powerful blends of the N78 and N79s. They are 2-in-1 cleaners that can sweep, vacuum and also mop. There are a lot of features that make these three vacuums similar besides the 2-in-1 function. They all have the Smart Motion SLAM navigation system backed up by anti-drop and obstacle detection sensors.
Perhaps the only difference between these three vacuums is regarding the number of cleaning modes, battery runtime, and the brush system.
The Deebot M80 and M81 come with 4 cleaning modes while the M88 has 5 cleaning modes just like the M82. Another difference is between the M80 vs. M81 and M88 whereby the M80 uses suction with the main brush only while the M81 and M88 have two interchangeable suction options. The duo, together with the M82 can offer direct suction with the brush and also without the main brush.
How about the Deebot M82? What makes it unique from the Deebot M80 M81 and M88?
The underlying factor is that the Deebot M82 is a robot vacuum and doesn't offer mopping like the rest. This one packs only raw power, and as far as convenience is concerned, it is not the best. It only provides a physical remote for control and lacks Wi-Fi or voice control compatibility. The Deebot M82 also has a Li-Ion battery unlike the rest of the M-Series powered by NiMH batteries. It's noteworthy to mention that the M82 has a long runtime and can do a crisp 150 minutes.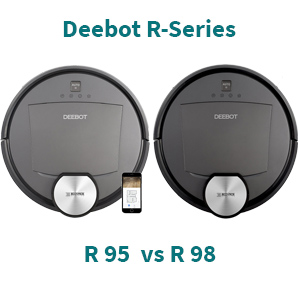 This is a top of the range category that house two vacuums; R95 and the somewhat new R98 that comes with a handheld vacuum included.
These two vacuums are by far the best models with the R95 taking center stage because it is a little bit cheaper because it doesn't come with a handheld vacuum brush like its counterpart the Deebot R98.
The ECOVACS R95/98 has enjoyed a good time in the market as Deebot's best robot vacuum cleaner. It has however been dethroned with the later models; the likes of Deebot 900 Series and the OZMO Series. But still, you can't ignore the raw power this robot vacuum packs.
Another thing the Deebot R95 made a name in is the auto-resumption. Many robot vacuums would only go to the charging base but won't resume cleaning.
The only robots at the time that had auto-resume were the Roomba 960 and 980 only and cost well close to $1000. Other features include E-Maps, as well as motion control.
Regarding Smart connectivity and intelligence, it is an excellent robot vacuum that you can program and control right from your Smartphone. It is also compatible with Alexa and Assistant. The Smart Navi is just okay, but now that we have Smart Navi 3.0, I would be more inclined to go for a Deebot with the latter. It also comes with Virtual Walls for containment, another feature that contributed to its success.

3. Deebot 600 Series (Deebot 600 vs. 601)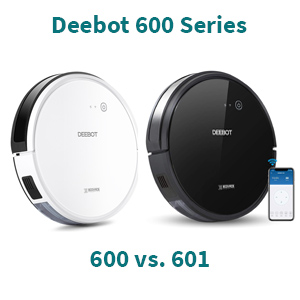 This is a midrange robot vacuum cleaner that I would compare to either the Roomba 690 or Roomba 890. But one thing I can tell you for a fact is that Deebot 600 Series is far much better than the Roomba 890, leave alone Roomba 690 or the 700 Series.
What's more? It is super cheap; cheaper than the old Roomba models.
The Deebot 600/601 is a very sleek robot vacuum that looks like the Roomba 890 only that this one brings in a touch of elegance with the glossy finish. It is important to note that the Deebot 601 model has been finished in black. There is also the 600 model that has been finished in pearl white. This is the difference between Deebot 600 and 601; color only.
With the Deebot 600/601, you are guaranteed excellent all-around cleaning. This robot has been designed to handle hard floors, pet hair, allergens and even has a dedicated high power mode that will suit carpets. However, note that these models will work on light pile carpets maybe.
But when it comes to heavy pile, you might want to consider something more powerful like the OZMO 930. The Deebot 600/601 delivers around 500Pa while the best robot vacuum cleaners for carpets like Roomba 980 do well over 1500Pa when the high power mode is activated.
Regarding Smart connectivity, it comes with 2.4 GHz Wi-Fi and supports Alexa and Assistant.

However, it still has quite a primary navigation system, and though it won't get stuck very often, its cleaning pattern is very random and is bound to miss some spots if you have a large apartment. But all the same, it is an excellent value for money!
4.Deebot 900 Series (Deebot 900 vs. 901)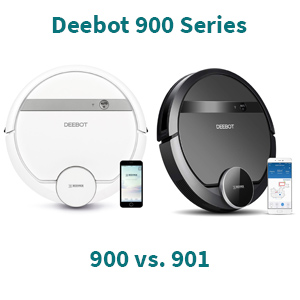 It is no coincidence that ECOVACS Robotics also has a 900 Series like iRobot's Roomba 960 and Roomba 980. There is so much resemblance between Deebot 900 Series and Roomba 900 Series.
But has ECOVACS finally cloned the Roomba 980, arguably, the best robot vacuum in the market?
The Deebot 900 is the white version while the black version is the Deebot 901. Both models are available in the market and offer some high-end models a run for their money.
The first thing you will like about the Deebot 900 is the new Smart Navi 3.0 navigation system. This one is more precise and most importantly, intelligent. You will notice this in the pattern it moves, and the matter is conclusive from the shorter cleaning time.
The other aspect is on boundary marking and E-Maps. The Deebot 900/901 also has Virtual boundaries to mark out of bounds areas. There are also E-Maps that work in the same fashion as Roomba's Clean Maps reports.
Lastly, this model supports Wireless updates so in as much as it may not have all the latest features from ECOVACS, be sure it may be covered up for in the updates.

5.Deebot OZMO Series (Deebot OZMO 610 vs. 930)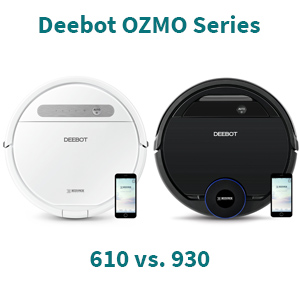 Deebot OZMO is the perfect range for those who are looking for an all-round vacuum cleaner. They blend the latest technologies; from cleaning performance to convenience.
In my opinion, the OZMO Series, especially the latest model is the answer for those who criticized the Roomba 980 for not having a mop. The most exciting part of the story is that the OZMO 930 costs $500 only; that's almost half of what Roomba 980 goes for. This is one reason ECOVACS will take over the market soon – they give more than is expected!
The Deebot OZMO 610 is the base model in the OZMO Series but is far much better than most of the other Deebot models.
You will be amazed how the Deebot OZMO 610 will quickly wipe pet paw marks from the floor, using very little water. I won't guarantee you thorough cleaning on heavy carpets, but on light pile, it does a great job. However, this model is not as intelligent and has been replaced by the much-hyped OZMO 930.
The first thing you will like about this Deebot is the versatility.
First, it offers vacuuming and mopping (dry and wet). Second, while the OZMO 610 may not be suitable for heavy carpets, this one is the ultimate robot vacuum that is ready for all types of carpets.
Notably, it has the new Carpet ID function that detects carpets and increases suction power. It also has a more intelligent system with the new Smart Navi 3.0 that uses the patented Laser Displacement Sensor technology in navigation. It also supports E-Maps and Virtual boundary marking features the OZMO 610 lacks.
Lastly, the OZMO 930 supports auto-resume function, so it resumes cleaning after recharging.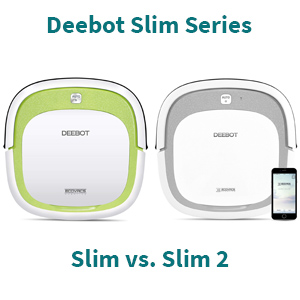 This is a line of very thin robot vacuum cleaners; thinner than anything I've met before.
Most of the thin robot vacuums we know of average 3-inches, but these are around 2-inches tall making them perfect for homes with furniture that have low ground clearance.
They are also very affordable, but the problem is that they are designed for bare floors only.
There are two Deebot Slim models; Deebot Slim and Slim2.
The first Deebot Slim is very thin just like the second version. They are both not ideal for carpets but will do a great job on bare floors. I like the slim design, and compared to the latest models like Roomba 980 and D7 Connected, this robot vacuum is impressive.
Regarding the difference between Deebot Slim and Slim2, all I can say that the latter is a pretty new model with the latest software and system.
It is much more efficient than the first model, but when it comes to cleaning, the performance is just the same.
Deebot Buying Guide
In this section, we are going to give our recommendations for the best Deebot models for the variety of cleaning needs.
What's the best affordable Deebot robot vacuum?
I know there are many other cheaper options in the market than these two robot vacuums. It's just last month that my sister got a generic robot vacuum for $75 and I was confident it wouldn't last for three months. It went quiet on the third use, and there seems to be no light at the end of the tunnel regarding the warranty.
The Deebot N78 retails at around $120 while the N79s is in the region of $200. But what's the catch yet there are cheaper options like ILIFE V5s Pro? Candidly speaking, the N78 is an excellent value for money now that it is also a robot mop. On the other hand, the Deebot N79s has been built to follow in the steps of the Roomba 980. It has a dedicated mode for carpets called Max mode though it is not as powerful as Carpet Boost in Roomba 980. Also, it is Smart and supports Alexa and Assistant.
verdict

DISCLAIMER – The Deebot N78 and N79 are our BEST affordable choices, and this should not be mistaken for the CHEAPEST robot vacuum. If you want the cheapest robot vacuum, there are several robot vacuums under $100 from these little-known brands. But then, there's one thing you need to remember; cheap is always expensive!
What's the best Deebot for hardwood floors?
The Deebot N78 is the best Deebot for hardwood floors if you are on a budget. It offers 2-in-1 cleaning whereby it can vacuum and dry mop the floor.
Another option is the Deebot OZMO 610 that blends the features of the Deebot N78 and N79s.
Remember, the N78 has a mop but lacks Smart connectivity whereas Deebot N79s is packed with Smart features, but unfortunately, it doesn't have a mop.
The Deebot OZMO combines these two features and in fact, offers wet mopping making it the best value for money if you have a hardwood floor.
verdict

Our best Deebot overall for hardwood floors is the Deebot OZMO 930. This is a high-end model that packs all the latest features including an enhanced navigation system, boundary marking, Smart connectivity and most importantly, dry and wet mopping.
What's the best Deebot for carpets?
This is an exciting topic because many of the Deebots are recommended for carpets, yet they perform dismally.
Their robot vacuum has been specially designed to clean carpets, and it's to say that it directly challenges the Roomba 980.
One of the unique features Roomba 980 boasts is the self-adjusting head that adjusts the brush contact depending on the surface. But its best function is the detection of carpets to enable the vacuum to automatically switch to the carpet mode – in this case, Carpet Boos.
The Deebot OZMO 930 also has this feature, and here, it is called Carpet ID. It will also detect carpet fabric and switch to the carpet mode. The reason I didn't nominate the OZMO 610 is that it lacks this feature.
I also have no problem with the Deebot 900/901 Series when it comes to carpets. The two also come with Carpet ID but then, when it comes to suction, that's where the difference comes in. The OZMO has more suction power, but still, the 900 Series is not that bad.
verdict

For the cheaper models like Deebot N79s, they are recommended for carpets yes. But what they don't tell you is the type of carpets they can vacuum. For light carpet pile, they can do a good job but anything heavier, they get overwhelmed. Just to put it into perspective, the Deebot 900 will still vacuum dust from a carpet that a Deebot N79s has just vacuumed. That's the same case when it comes to the OZMO 930; it will still vacuum a little dust and dirt that the Deebot 900 Series has left.
What's the best Deebot for pet hair?
So, what are the features that define an excellent robot vacuum for pet hair?
Typically, the most recognized feature when buying a robot vacuum for pet hair cleaning is the brush system. A lot of homeowners end up buying just any other robot vacuum that ends up tangling now and then. Nothing sucks like coming to a halfway cleaned house only to find the Deebot jammed. If you have these long-haired dog breed, this should be a significant concern.
However, you need to also look for the extra cleaning feature; mopping. Pets will step on dirt and dirty water and leave paw marks all over.
With a Deebot that can mop, life will be easier with pets.
verdict

I really would love to front the Deebot N78 because it is cheap but then, it lacks Smart connectivity. For the N79S, it is Smart and intelligent but doesn't offer mopping. A good place to start is the Deebot M80 that blends the Smart connectivity and mopping. This is bearing in mind they all have High-efficiency filters that do quite a good job. However, HEPA filters are the best because they have an impressive 99.97%.
What's the best Deebot for large apartments?
This is a primary concern when buying robot vacuums. I know a lot of people who complain that their robot vacuum doesn't complete cleaning in one full charge.
Now, considering the charging time of robot vacuums is between two and three hours, it is such an inconvenience when you buy a robot vacuum with the short runtime.
Well, anything above 100 minutes is very commendable considering expensive models like Roomba 890 and Roomba 960 do 60 minutes and 75 minutes respectively. But there's one model I really like because of the long runtime. This is the Deebot M82 that does well over 150 minutes which is enough to clean a huge apartment.
But hey, there's one new and essential feature that solves everything – the auto-resume feature. Many robot vacuum cleaners will find the charging base when they need more juice. However, they are not intelligent enough to resume cleaning thereafter.
But a few models in the market will resume cleaning. These include Roomba 960 and Roomba 980. The Deebot R95 also resumes cleaning, and so does the OZMO 930.
verdict

That said, the OZMO 930 and Deebot R95 win our contest of the best robot vacuum for large apartments.
Editor's Choice
Now, it's time for me to give my recommendation for the best Deebot robot vacuum cleaner. Here, I am going for what I think is best both regarding the features and value for money.
This is a high-end model and in fact, the most expensive Deebot model at the time of writing this review. But is it worth the $500 price tag? The Deebot OZMO is an excellent 2-in-1 cleaner that will handle all hard floors, hardwood, carpets, pet hair and allergens. It is the best all-in-one robot vacuum cleaner from ECOVACS.
The first thing that makes the OZMO 930 an excellent purchase is the vacuum/mop function. This is something even the pricey Roomba 980 doesn't offer. On top of that, it has the new Smart Navi 3.0 navigation system which is more accurate and efficient when you look at the turnaround time. The reason is that it takes a methodical approach to clean the house.
Lastly, it combines all the unique features that Deebot has innovated so far. It comes with Wi-Fi, auto-resume, Carpet ID, E-Maps, Virtual Walls and so on. There's no feature you will miss in the OZMO 930.
Deebot Model Comparisons
In this section, we want to put several popular Deebot models head on to see how they compare.
In the comparison, we are not only going to consider the features and the performance, value for money is also going to be a significant area of focus.
To start this comparison review, we will first try to understand the two most confused models; Deebot N79 and the upgraded model, Deebot N79s.
What's the difference between the two, and are there any similarities?
The Deebot N79 and N79s share quite a lot in common. When it comes to cleaning performance, they share all the features save for the dedicated Max mode that increases suction power on carpets. Another difference is when it comes to the Smart connectivity. Yes, the Deebot N79 has Wi-Fi, but then, it lacks Alexa support. This is something that was improved in the Deebot N79s – it now supports Alexa.

verdict

The Deebot N79s is the ultimate winner here. The extra features are a must-have in the modern home. The most significant advantage is that Deebot N79s is cheaper.
Honestly speaking, I have mixed feelings over these two robots.
Regarding cleaning performance, I won't say that there's anything the Deebot 900/901 brings on the table. But then, it allows homeowners to customize their cleaning needs. For example, with the 900 Series, you can prioritize areas where you want intensive cleaning. Lastly, it will resume cleaning after recharging; something Deebot N79s can't do.
On the side of the N79s, it is cheaper and offers everything you'd want from a basic robot vacuum. It has an efficient 3-stage cleaning system, high-efficiency filters, and Smart Motion technology. It is also Smart now that it supports Smartphone operation and Alexa several other 3rd party integrations.

verdict

In the Deebot N79s vs. 900/901 comparison, the 900 Series wins the crown because of the extras it has. If you have a large apartment with a lot of furniture, the Deebot 900 Series is your perfect match. However, if you are on a tight budget and you want a simple robot vacuum, the Deebot N79s is still a smart choice.
Personally, I don't find much difference between these two vacuums but then, the OZMO 930 being a new model, it has some few extras.
So, it will be all about deciding whether you want these extras or not. So, what are some of the features the Deebot OZMO 930 boast?
If you have carpets, you will probably like the OZMO 930 because it has the new Carpet ID feature. Also, the OZMO has a slightly longer runtime, so if you have a large apartment, it's the best choice, though they all resume cleaning after recharging.

verdict

Here, I would go for the OZMO 930 because of the few extras it brings on board. However, the R95 is still a great option because of the raw power it boasts. If you are on a budget, you can still grab it, and the good thing is that it just has all the primary features the OZMO has. As a matter of fact, they are all robot vacuums with mopping function.
The first significant difference between the OZMO 930 and Deebot 900 is the fact that OZMO is a robot vacuum with mop while Deebot 900/901 is just a robot vacuum.
Another difference is that OZMO has an interchangeable brush system while 900 Series has a main brush suction system only. For carpet owners, the OZMO will also be the best because of the Carpet ID feature; 900 Series lacks this feature.
These three are the major differences that set the two Deebots apart.

verdict

When it comes to a battle between OZMO 930 vs. 900 Series, the latter doesn't stand a chance because of the mopping function the OZMO offers. That alone makes OZMO 930 the best robot vacuum cleaner from ECOVACS. But that is not to say the 900 Series is not a worthy purchase. It is the best Smart robot vacuum if you are not interested in the moping function.
Deebot Robot Vacuum Buying Guide
Now, we are almost coming to the end of this Deebot comparison review. But just before we finalize, let's have a short discussion on how to shop for the best Deebot robot vacuum.
In this segment, we want to analyze the critical factors that you should consider when buying a Deebot robot vacuum. We will then see how the top models fair on each aspect and thereafter give our winner.
This is a great checklist when scouting for your next Deebot purchase.
1. Design and aesthetics
Here, there is only one crucial aspect to consider – the height of the robot vacuum. You want the thinnest robot vacuum that will be able to creep under the furniture. I really like the Deebot Slim 2 because it is the thinnest. At 2.2 inches, it can creep under most of the furniture.
However, their use is restricted to bare floors, so you need something more versatile. That leaves the Deebot N79s or the M80 the best deal as they are only 3.1 inches high.
Regarding aesthetics, it mostly depends on your taste, but the OZMO looks more appealing to me.
2. Cleaning performance
Here, you want to buy a Deebot model that will suit your cleaning needs. We have robot vacuums for bare floors, carpets, pet hair, allergens and so on.
But I like the OZMO because they offer comprehensive cleaning. They will sweep, vacuum and mop the floors without you having to lift a finger. But still, you can choose Deebot R9as it also offers mopping and will also handle pet messes.
3. Battery runtime
Robot vacuum cleaners are very intelligent and know exactly when to go to the charging base, and how. When buying a Deebot robot vacuum, opt for something that has a longer runtime.
Here, I will front the Deebot M82 that runs for well over 150 minutes. Unfortunately, it won't resume cleaning after recharging. That leaves us with no option but to go with the Deebot OZMO 930 or ECOVACS Deebot R95.
4. Convenience
One of the advantages of robot vacuums over regular vacuums is their convenience. I'm glad Deebot models have the most critical convenience feature; scheduling. But I think it's the higher models that take the crown for allowing homeowners to schedule a cleaning cycle more than once in a single day.
Here again, the crown goes to the OZMO 930.
5. Smart connectivity
With the proliferation of Smart home technology, you want a robot vacuum that you can connect with other devices. Here, I would recommend the Deebot N79s is all you want is Smart connectivity. It comes with 2.4 GHz Wi-Fi for Smartphone operation and supports Alexa and other integrations.
I understand that other models have Smart connectivity, but I chose Deebot N79s because it is the cheapest model that you will find with all the Smart features.
6. Navigation & maneuverability
As you are all aware, robot vacuums navigate independently courtesy of a set of wheels and a navigation system. There are also sensors for detecting obstacles and stairs.
ECOVACS has slowly improved its navigation system from the old Smart Motion navigation to the all-new Smart NAVI 3.0. If you have a large apartment with high-traffic rooms, choose Smart NAVI 3.0. Here, you have several options; Deebot R95, Deebot OZMO 930 and Deebot 900/901 have Smart Navi 3.0
Regarding wheels, The OZMO again carries the day for the large offroad wheels that seamlessly transitions from the floor to carpets and vice versa.
7. Extras
There are several extras that you should also look out for when buying Deebot robot vacuums. For the entry-level models, there are no noteworthy extras. However, from the R-Series onwards, there are a few things to die for.
The OZMO wins this category for having most of the unique extras. It comes with E-Maps, Virtual boundary, Carpet ID.
8. Price
– This is the most critical aspect when shopping for a robot vacuum cleaner/. It is important to note that though Deebots are cheaper compared to Roombas, there are both entry-level Deebots that are cheap and high-end expensive models too.
But I am more interested in the OZMO 930. It is the most expensive ECOVACS robot vacuum but worth every penny. It has almost the same features as the Roomba 980 or D7 Connected which are very expensive. For this one, you will get it at only $500 which is $300 cheaper than Neato D7 Connected and $400 less expensive than Roomba 980. But this one offer 2-in-1 cleaning while the Roomba and Neato only vacuum.
For that reason, the OZMO 930 is an excellent value for money!
What are some of the Deebot's competitors?
As I mentioned in this review, Deebot is a budding brand that's trying to assert its position in the market. This means that it faces very stiff competition from the other brands.
In this segment, we want to see how ECOVACS Deebot squares it out with the other brands in the market.
ECOVACS vs. iRobot
Here, the war is waged between the popular models of the two brands, Deebot vs. Roomba. iRobot is still ahead of ECOVACS when you factor in the brand trust, and most importantly, vacuuming performance and reliability.
So far so good, Roombas have passed the test of time, something ECOVACS is yet to do. One of the reasons for this is definitely because Roombas have been around for longer. Their latest models, Roomba 960 and 980 have the revolutionary VSLAM navigation that uses a real-time camera.
This is an area ECOVACS has not yet ventured in. There's also Dirt Detect, a unique feature that tells the vacuum where there is more dirt.
If you want a reputable brand, with the best in class raw power, I strongly recommend the Roombas. Something like the Roomba 980 uses the latest Gen 3 motors that deliver massive suction power, up to 1700Pa when Carpet Boost is activated. But know that it will drain your wallet; the most expensive Deebot model is almost half the price of the Roomba 980.
On the other hand, if you are on a budget, the ECOVACS Deebot is a great alternative. Though it is downplayed as a cheap Chinese brand, it offers quite some excellent features at a reduced price. I feel Deebot deserves the spot for the best robot vacuum brand now that it offers very powerful robot vacuums that will do the entire job; vacuuming and mopping. The OZMO 930 is a good example; at $500, it offers better cleaning productivity than Roomba 980 courtesy of the extra mopping function.
ECOVACS vs. ILIFE
If you are on a tight budget, these two Chinese models are the best. They offer very cheap and reliable robot vacuums. One thing that makes them similar is that they both have mopping function. Choosing the best brand between ILIFE and ECOVACS is a real dilemma because they are all cheap and offer quite some excellent performance for their price.
ILIFE is quite a popular model in the market and has several product lines available. I don't find anything unique about their models save for the new ILIFE A8 that has been built to match the standards of the Roomba 980 and Dyson 360 Eye in that it also has a VSLAM navigation.
Otherwise, the rest of the models are just the regular stuff you expect to find. Perhaps the only notable feature is i-Dropping technology that ensures efficiency when wet mopping.
For ECOVACS, this is a more innovative brand with an all-around vacuum cleaner, the OZMO 930. I don't think ILIFE has any model that can match the performance of the OZMO Series.
verdict

When it comes to the ILIFE vs. ECOVACS debate, I give credit to Deebot for one reason. They have an all-round cleaner in the OZMO 930 whereas getting a combination of mopping, and carpet cleaning in ILIFE models is impossible for now. Another thing, ECOVACS has a very wide variety to choose from. However, ILIFE is a little bit cheaper compared to ECOVACS, so if you are on a budget, that's your brand.
Deebot vs. Botvac
Deebot looks like the underdog when compared to Botvac which today is the second biggest robot vacuum brand after iRobot.
When it comes to Deebot, it might be lacking regarding suction power, but hey, there's a lot it boasts. Without getting into the details, the fact that Deebot models come with mopping function makes ECOVACS the winner. In addition to that, Deebot models offer greater value for money.
For example, the D7 Connected goes for $800 whereas the OZMO 930 retails at around $500. That makes you wonder, does the Gen 3 motor and 5 GHz Wi-Fi band (which you rarely use) justify the $300 price difference?
verdict

Here, our choice is Deebot because Neato is not a better brand regarding reputation; together with ECOVACS, they are growing brands. When it comes to performance, I will choose something that offers more productivity, in this case, mopping function that ECOVACS offers at no extra cost.
Wrapping Up
We have finally come to the end of this Deebot comparison review. I am sure you are now conversant with the different models offered.
A clear distinction should be made between Deebot models with vacuuming only and Deebot models that provide 2-in-1 cleaning.
So, we have come to the end of this review. What models do you think is the best, and why? Talk to us in the comments section below.