Roborock H6 vs. Dyson V11 Review
While Dyson has been a dominant force in the stick vacuums category with their Dyson V series models, Roborock could have caught up with the UK brand with their new Roborock H6 handheld vacuum.
In this article, we have compared the Roborock H6 vs. Dyson V11 to see how the two fare as far as cleaning performance and features are concerned. But just before that, here is a summary of the key similarities and differences that buyers need to focus on.
Dyson V11 vs. Roborock H6 Similarities
Design – The two models are both stick vacuums that can transform into handhelds
Display – Roborock H6 and Dyson V11 feature displays though the panel technology is different
HEPA filtration – The two vacuums use HEPA grade filters, making them ideal for allergy sufferers.
Dyson V11 vs. Roborock H6 Differences
Suction power – Dyson V11 has higher suction power compared to Roborock
Dust bin – The V11 holds more dirt than Roborock
Battery – Roborock H6 has a more powerful battery than Dyson.
| | | |
| --- | --- | --- |
| Name | Roborock H6 | Dyson V11 |
| Carpet cleaning | | |
| Accessories | | |
| Motor | 25000 Pa | 125000 rpm |
| Display | OLED screen | LSD digital |
| Run Time | up to 86 mins | 60 minutes |
| Power suction | 140 AW | 185 AW |
| Cleaning Modes | Eco, Max, Auto Carpet Boost | Eco, Auto, and Boost |
| Dustbin Capacity | 400 ml | 750 ml |
| Wi-Fi Support | | |
| HEPA Filter | | |
| Battery Capacity | 3,610mAH | 3,600mAH |
| Charging Time | 300 min | 240 min |
| Noise | 78 decibels | 72 decibels |
| Dimensions | 8.4 x 4.3 x 43.3 inches | 49.6 x 9.8 x 10.3 inches |
| Weight | 3 pounds | 6.68 pounds |
| Check Price | | |
Roborock H6 vs. Dyson V11 Face to Face Comparison Review
Now, it's time for the detailed review of these two cordless vacuums. To make sure readers get the most out of it, we have compared all the important aspects that are considered when buying stick vacuums.
Without further ado, here is the Dyson V11 vs. Roborock H6 comparison review.
Design and Aesthetics
Roborock H6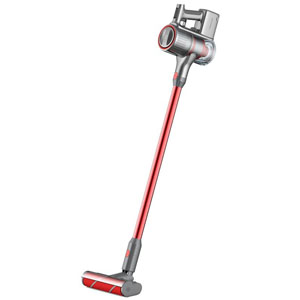 As for Roborock H6, we still see the 2-in-1 design where the vacuum is primarily a stick vacuum but transforms into a handheld as well.
The unit stands at 43-inches, and the cleaning head is 8.46-inches while the weight is 3.08lbs.
This vacuum is available in a single color option; charcoal grey and red.
Cleaning Performance
In this section, we want to find out how the two compare when it comes to cleaning performance. Remember, they are both ideal for cleaning bare floors, carpets, pet hair, and other daily household dirt.
Suction Power
Dyson V11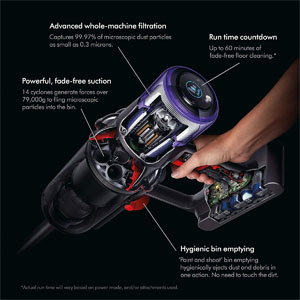 Dyson still has the lead when it comes to suction power. It puts up an impressive 185AW courtesy of the three-speed motor that has Eco, Auto, and Boos modes.
While it boasts the highest suction power, it also has high operation noise.
Cleaning Head
Roborock H6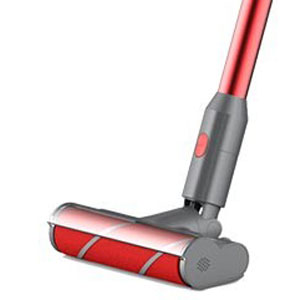 As for the Riborock H6, there are two variants.
There's a model with a soft roller brush and another with a standard brushroll.
The former is ideal when cleaning the fragile bare floors like hardwood while the other one is for cleaning the stubborn stains and grime on ordinary hard floors.
Filtration
Roborock H6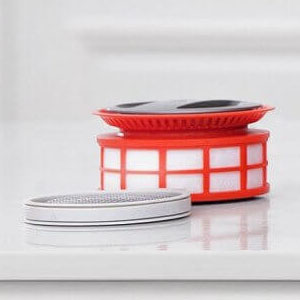 We are also glad Roborock has used a full HEPA filtration. There is a five-stage system in place coupled with two HEPA grade filters, which ensure even the smallest particles in the atmosphere are captured.
It's also worth mentioning that the entire unit is fully dressed, so no allergens will escape from the 0.4L bin.
Cleaning Tests
To give trades a glimpse of how these vacuums performed, we did thorough tests on different surfaces, using the common household dirt. Below are the results.


Battery and Runtime
Roborock H6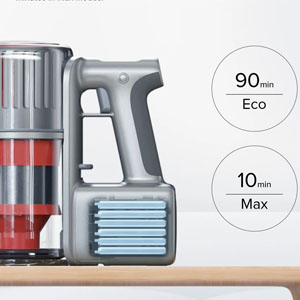 When it comes to the H6, Roborock incorporated a lithium polymer battery, a technology we've never seen in cordless vacuums. The 3,610mAh battery offers an impressive 90 minutes runtime in low power mode and 10 minutes when Carpet Boost is activated.
This one too is inbuilt, so there are no options for using an extra battery. The recharge time is around four hours as well. One thing this battery guarantees is a longer life cycle – up to 600 cycles.
Usability
Roborock H6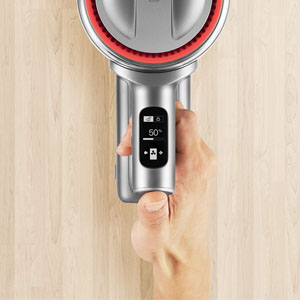 Roborock H6 is also a great choice when it comes to usability.
It's much lighter than Dyson, so reaching those awkward heights is effortless. This model also has a display, but an OLED, unlike Dyson's LCD. The display shows a countdown of the remaining cleaning time, just like Dyson.
Accessories
Roborock H6

As for Roborock H6, there are also two models, with the difference being the primary brushes.
One has a soft roller brush while the other has a standard brushroll.
Important
Overall, this is the best choice as it has the most number of tools, including the carpet brush, motorized mini brush, dusting brush, crevice tool, and a wall mounting holder.
Roborock H6 vs. Dyson V11
Now we have come to the end of this comparison review. As you have seen, both models have advantages and disadvantages.
So which is the best choice? Well, there is no ultimate winner as it all depends on your cleaning needs, as well as the budget. Below are some recommendations from our experts.
Who should buy Roborock H6?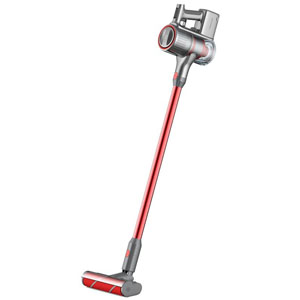 This Chinese brand is a great purchase for buyers on a budget as it's slightly cheaper compared to Dyson V11.
It's also appealing because of the longer runtime offered, so it's best for handling larger floor areas.
The H6 also tags along with more tools and attachments, so it's more versatile.
Finally, this model is ideal for those looking for the best handling as its lightweight.