Samsung SmartThings vs Wink Hub 2
(Last Updated On: February 5, 2018)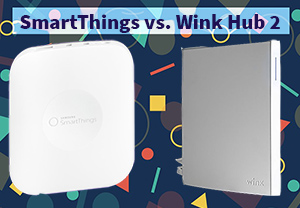 Managing all your Smart appliances each on a different platform is a big issue for Smart Home owners. However, a Smart Hub makes things easier as you can control your lights, thermostat, alarm and other Smart installations on one App.
The only problem is that everyone is asking, what's the best Smart Hub system?
We have tried to answer this burning question by comparing two of the most popular products; Samsung SmartThings and Wink Hub 2. But before we go deeper, a few words about each model.
Device Support
Bluetooth LE, Kidde, Clear Connect, Z-Wave, ZigBee
ZigBee, Z-Wave, Wi-Fi, Bluetooth, IFTTT
Setup
Auto-discovery + guided setup
Voice Control
Amazon Alexa and Google Home
Connectivity
2.4GHz (Wi-Fi), 5GHz (Wi-Fi), Ethernet port
# of the number of devices they can support
Good Choice
Device Support
Bluetooth LE, Kidde, Clear Connect, Z-Wave, ZigBee
Setup
Auto-discovery + guided setup
Connectivity
2.4GHz (Wi-Fi), 5GHz (Wi-Fi), Ethernet port
# of the number of devices they can support
Best Choice
Device Support
ZigBee, Z-Wave, Wi-Fi, Bluetooth, IFTTT
Voice Control
Amazon Alexa and Google Home
# of the number of devices they can support
Wink Hub 2 – latest addition to the Wink Smart Hubs
This is the latest addition to the Wink Smart Hubs and features several additions that were not present in the earlier series, the original Wink Hub. It is slimmer than the original version and offers better performance. It competes favorably with the SmartThings v2 and has actually been labeled as a stab to SmartThings. Even though the original model was discontinued by the manufacturer, you can still get it on Amazon.
If you have the older version of Wink, then there are a dozen of reasons why you should consider upgrading to new generation Wink. Perhaps the best thing about this Hub is its device support and connectivity. Even though they all support S-Wave and Zigbee protocols as well as Clear Connect, Kidde and Lutron, Wink 2 is more advanced. It has been equipped with Bluetooth LE radio even though it is not of any practical use right now. Wi-Fi radio is also enhanced to work on 5 GHz networks when the older model supports up to 2.4 GHz.
One more thing, the original Wink, there is no Ethernet port so internet connection is only via Wi-Fi.
The good thing with Wink 2 is that it comes with an Ethernet port that makes internet connection fast for a more responsive and seamless connection. The Ethernet cable is included.
The other thing I noted is with the performance and set up. The new Wink has a larger memory, 128 MB, actually twice what the older version has. This makes data processing very fast and that is why it remains a top choice for anyone who has over 5 Smart devices; instant response with no lags. Set up is also improved bearing in mind it has auto-discover and an easy guide. Unlike the original Wink that you had to 'discover' manually, Wink 2 only required you to launch the App and that's it; the 'auto-discover' function gets at work. The set up is also guided in detail; you will get it right on the first try.
Wink focused on security too. Lately, there have been concerns about how safe is the information your Smart home gadgets collect and the entire Internet of Things in general. The major culprit has been Roomba that is facing allegations of sharing the map of your home. Wink Hub 2 has high encryption cred courtesy of a dedicated cryptographic verification hardware that guarantees zero possibility of attacks and ensures you run only trusted and verified software. I can only compare it to VeraSecure but then it costs $300 which is quite expensive for a Smart Hub.
Unfortunately, there is one thing that I didn't like and Wink should have improved on. The Wink 2 doesn't come with a power back up. So, if you live in areas with frequent power outages, SmartThings v2 would be the best. Also, it lacks USB ports like in SmartThings so future connectivity with other USB devices is limited and is not supported by Google Home.
Is it Worth Upgrading to the Wink 2?
This is a common question that many homeowners have been asking since the new generation of Wink was released. It's no doubt that Wink 2 offers a lot of more superior features that you will envy. If you have the older model, the Ethernet port, and Bluetooth LE among many other extra features should move you. The good news is that transitioning between the two is very easy!
Samsung is among the most valuable and most popular brands in the world and they have definitely left a mark when it comes to Smart Hubs. Personally, I am a fan of SmartThings because I have several other Smart appliances from Samsung so, in terms of syncing, I'm always ahead. There are two versions of SmartThings; the 1st version STH-ETH-001 and the 2nd version F-H-ETH-001. If you have SmartThings V1, maybe it's time you upgrade to the latest version. Personally, I had the SmartThings V1 and immediately I saw the 2 during the launch, I shifted immediately to V2.
Just like Wink 2, the 2nd version of SmartThings boasts several additions that make it a worthy purchase when buying SmartThings.
First, it has Local Processing that makes it fast when using some ZigBee and Z-Wave devices. Everything in the SmartThings V2 is fast and seamless; from App launch to its responsiveness. With the V2, automation won't have to do the long way, from the device to Hub and then Cloud and back.
The best thing that attracted me to the V2 is its video capabilities. You get live feeds of your home through video recording. However, this service had a short life. It just suddenly ceased working but I later learned that it is now a paid service called Smart Home Monitor. Besides video recording, you can arm or disarm all your appliances with this feature. It also comes with two USB ports and Bluetooth that are currently not functional just like in Wink 2 Hub. This model also brings on board power back up to keep it going during power outages. There are 4 AA batteries just like in Wink 2 that last it for 8 – 10 hours. I'm saying 8 – 10 because, during the tests, it lasted for around 7 hours 48 minutes. However, during the San Francisco power outage in April last year, my estate lacked power 6 hours after normalcy had resumed. I monitored it and it ran for a record 9 hours 37 minutes.
In as much as I like SmartThings, there are a few things Samsung could have improved. First, I must mention the occasional glitches. There are times it just switches on the lights on. Considering these bugs, I won't dare use it on my security system. Also, it kind of loses contact with some devices like Belkin, NetGear Arlo, and ADT Plus.
Is it Worth Upgrading to the SmartThings V2?
Definitely yes, SmartThings V2 is a worthy purchase as it brings on board several additional and very key features of your Smart home. It is faster and has battery backup so you remain connected even during power outages. Besides, the extras like Smart Home Monitor, USB ports and Bluetooth are irresistible.
Samsung SmartThings vs. Wink Hub 2 – How they Compare
These two Smart Hubs are the household names when it comes to Smart Hubs. Many customers find it hard to make a choice between the two. They retail at almost the same price but their features are quite different. In this segment, we are going to look into details how these two Smart Hubs compare. We will first discuss the similarities they have and later on, see what sets them apart. Thereafter, we will give our recommendation on what's the best choice between the two.
Similarities – What's similar between the two?
From the fact that they serve the similar purpose, these two products will have to bear some similar features or function. Here is what we found similar in these two Smart Hubs.
Connectivity
This is a major issue when shopping for Smart Hubs. The good thing is that these two hubs are compatible with ZigBee, Z-Wave, Wi-Fi, Bluetooth, IFTTT and several other top protocols. This makes them very versatile options compared to lesser brands that can be quite selective.
However, note that you may encounter problems with several devices. For example, while Wink Hub works with Nest, you will need a workaround to use it with SmartThings. The advantage is the large SmartThings Developer Community that will always offer wider integration in future.
Voice Control
These two products are Smart enabled and just like most Smart enabled devices, they can work with Alexa. This is among the few features that they share. If you already have Alexa, you can now control your entire hub with just your voice. Tell Alexa whatever you want and it will gladly oblige.
However note that in as much as they all have Alexa, Wink Hub 2 doesn't support Google Home so SmartThings remains a great option in light of voice control.
Difference – What sets them apart?
Surprisingly, these two Smart Hubs are quite different even though one can assume they will just have the same features with little tweaks here and there.
Battery Backup
These two Smart Hubs are also different when it comes to battery backup. While Wink Hub 2 is only wired, SmartThings comes with a backup battery that comes in handy during power outages. Together with Nest Learning, this Smart Hub is best for those who live in areas that experience frequent power outages. However, there has been a slight confusion regarding how long the battery can last SmartThings. I have used this device and I can confirm that the 4 AA batteries can last it for 10 hours and not 2 hours as most review websites point out.
Please note that only the SmartThings V2 has this feature; the earlier version has no battery backup.
Video Capability and USB
SmartThings has a camera that gives homeowners access to live feeds of their homes. This feature comes in handy as a great security feature but is only available with the paid service. Wink lacks this feature thus making SmartThings a superior choice if you love extras. Besides video, SmartThings also comes with two USB ports that can support cellular modems. This can be an easier way to connect to the internet.
Number of Connected Devices
These are different in terms of the number of devices they can support. If you have tons of different Smart devices you want to use, I would highly recommend SmartThings. Right now, we are sure that Wink Hub 2 supports a maximum of 530 devices. For a normal home, this seems quite enough but again, the Smart world is evolving so later on, you might need additional devices. On the other hand, SmartThings has unlimited options meaning you can connect with as many devices as you wish. This is one of the reasons I will always keep SmartThings. Besides this, the Samsung community grows bigger day by day so new additions are added as time goes by. Support is also more readily available on forums and other SmartThings forums compared to Wink Hub.
Design & Aesthetics
One major difference that you can't miss out on these two Smart Hubs is the design and aesthetics. While SmartThings sports a common design that takes the shape of a TV box, Wink has a sleek and stylish tower design that can be mistaken for a book.
Personally, I prefer SmartThings because it is compact and can be easily installed anywhere unlike Wink that requires a large space and worse enough, it can't stand with stability. It can fall several times if just placed on the table or shelf. At the back you will find two USB ports on SmartThings, a feature you won't find in Wink 2 Hub.
Verdict – SmartThings V2 vs. Wink Hub 2
I would go for SmartThings anytime because there are a lot of Samsung Smart devices that sync with it well. Besides using Samsung Smart appliances, SmartThings has several of its flagship devices like SmartThings water leak sensors, motion sensors, Smart locks and so on. On the other hand, Wink depends on third-party products only. I also like it because of its unlimited connectivity; you can connect all the devices you want and more so, there's battery backup.
That said, Wink Hub 2 also remains a great choice especially if you want an easy to use Smart Hub. Its UI is not as complicated as SmartThings' and set up has also been made easier courtesy of the new 'auto-discover'.
If you like this article, please rate it.