🥇 Deebot vs Roomba – What is the Best Robot Vacuum Brand?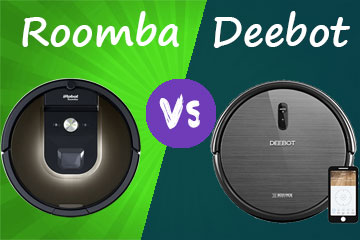 You will agree with me that even though iRobot is the most popular robot vacuum brand, Deebot is also a force to reckon for two reasons; versatility (vacuum and mop), and affordability.
Yes, Roomba offers everything you will ever want when it comes to floor, carpet, and pet hair vacuuming.
But again, even their most envied model, the 980 doesn't have mopping function yet it retails at almost $1,000.
On the other hand, Roomba remains a trusted brand when it comes to reliability. Right now, iRobot is the leader when it comes to innovation. Some of their industry-leading technologies have helped build an intelligent and reliable home helper.
All these factors put together to make it hard for many people to settle on one brand. For this reason, we decided to review these two brands to see who the winner is, all factors considered.
Why Roomba?
If you ask any Tom, Dick, and Harry, they will tell you that Roomba is a trusted brand so we have to look at what makes brands?
First, iRobot has years of experience and invests heavily in R&D. This gives an edge when it comes to the best cleaning technologies.
For example, Roomba is the best vacuum cleaner for carpets courtesy of iRobot's Carpet Boost mode. It also has the best navigation system compared to the rest of the crowd. When it comes to boundary marking, it uses invisible lasers while the other competitor, Neato Robotics uses bulky physical magnetic tapes. These are only a few of the areas where it has been unanimously agreed that Roomba is the best vacuum cleaner.
On the downside, Roomba is pricey; their best selling model retails at $899, while other top brands can offer something that almost equals the Roomba 900 series at half that price.
Popular Roomba Models
In this section, we will now discuss a few of the most popular Roomba models in the market.
We will look at both low-budget Roombas and high-end masterpieces.
Roomba 690 – Entry Level Wi-Fi Roomba
This is an upgrade to the previous model, the Roomba 650. One of the major additions to this robot is the Smart features; Wi-Fi and voice control.
It offers quite some commendable cleaning performance considering it's an old model and the price is cheap too. You can have it as your little helper regardless of the floor type or carpet that you have.
This cleaner has a 3-stage AeroVac cleaning system that combines a dual multi-surface brush system and AeroVac filters. Even though it is not advanced as that of the Roomba 960 and 980, I would go for it anytime compared to what you get with other brands like ILIFE, Neato, Pyle, and so on.
It also allows you to set boundaries; areas where the Roomba should not reach. This technology uses invisible barrier technology which is a plus considering high-end vacs like Dyson lack boundary marking and the next brand that can give Roomba a run for its money uses magnetic tapes.
Roomba 890 – Great Value for Money
The 890 was released together with the Roomba 690. While the 690 was meant for those who liked the 650 but wanted Wi-Fi, the Roomba 890 targeted homeowners who wanted all features combined at a reduced cost.
I have this robot and I still keep it for a reason. It offers almost the same performance you get with the 900 series but at a very affordable price. First, the AeroForce cleaning system comes with a tangle-free brush system and has 5x more air power than your ordinary Roomba.
Also, while the 690 packs Dirt Detect series I, this one comes with Advanced Dirt Detect which is also in the 960 and 980. The only difference between this Roomba and the 960 is the navigation system whereby it has been equipped with iAdapt 1.0 and the later Roombas have iAdapt 2.0. Also, it lacks recharge and resume function just like all the other Roombas save for the 900 series.
If these additions are a no bother for you, I'd recommend you stick to the 890 and save around $400 if you were to go for the 980. It also comes with Wi-Fi and voice control which are among the most coveted features in this Smart Home era.
Personally, I think of the 960 as a clever choice if you don't have a carpet. This Roomba is the little brother of the Roomba 980 and shares a lot on common with the latter. It comes with a new navigation system, iAdapt 2.0 that uses regular sensors and combines that data with real-time imaging to create an intelligent map of your home. Even though there have been concerns that iRobot is using these images to sell house floor plans to 3rd party companies, the company came out and cleared the air; it doesn't store or share this data.
This model also delivers 5x more air power and uses High-efficiency AeroForce filters just like the 890 and 980.
Another thing I liked about this Roomba is the fact that it delivers great action on pet hair and carpets. Regarding Smart features, it packs Wi-Fi and voice control and a new feature called a Clean Map report that lets you see the areas the Roomba cleaned right from your Smartphone App. It has a runtime of around 75 minutes and is one of the only two Roombas with recharge and resume function. Even though it is not ultimately the best for this, the cleaning it offers is second to the 980's only.
Roomba 980 – The Ultimate All Round Robot Vacuum Cleaner
Everyone will tell you that the980 is the best Roomba and there is no doubt about this. It cleans all floor types and picks up all manner of pet messes; whether fur or dander that causes allergies.
One of the most talked about feature of this model is Carpet Boost mode that has been specially designed for carpets.
The motor delivers 10x more air power to vacuum the deepest parts of any type of carpet. During one of my tests, I vacuumed my carpets with the 890 and after it had finished, the 980 cleaned it again and the results were amazing. I still found dirt in the 980's bin.
Besides Carpet Boost, Roomba 980 also has a longer runtime. It averages 120 minutes when in normal mode and around 90 minutes in Carpet Boost.
This is very impressive and together with auto-resume function, it is ideal for those with large apartments. You won't have to worry about power or getting stuck as the iAdapt 2.0 is more accurate and precise.
Ecovacs Deebot
The Deebot is the most popular series in the ECOVACS product portfolio. Some of the popular robots in this series include Deebot N78, N79, M80, R95, among others. For ECOVACS, they entered the market just the other day and most of their technologies are just replicas of the existing robot vacuum technologies.
Why Deebot?
Though not a very popular brand, Deebot has taken center stage in the market. The company said that it aims at putting a robot cleaner in every household and one thing that proves their commitment is their prices. This is among the strengths of this robot cleaner. You can get a cheap Deebot robot cleaner like the Slim 2 for just $160. On average, a good Deebot with Wi-Fi, voice control like the N79 will cost you around $250 while a similar robot from Roomba will cost you an upwards of $350 when there is no sale.
Another top reason why you should choose Deebot is the versatility. While Roomba homeowners will require a Roomba for vacuuming floors and Braava for mopping, you can get a Deebot robot with both vacuum and mop functions. So, if mopping is your priority too, Deebot will be a clever buy.
On the downside, Deebot is a lesser known brand. Apart from this, it still has a lot to work on regarding cleaning performance and navigation.
Popular Deebot Models
Now that we know a few things about ECOVACS Deebot, it's time we look at some of the popular models that have left a mark in the market.
I tend to equate this model to the Roomba 650; they only offer raw cleaning power – no Smart features whatsoever.
Deebot N78 is among the popular robot vacuum cleaners around and perhaps what gives it mileage is the cheap price and cleaning versatility. You can get it for just $250 and comes with an optional mop.
So, if you are on a budget and you want something that will vacuum and mop, this is a great option. The mop feature makes it quite similar to the iLIFE V5s but then it beats it from the fact that it has wet mopping. This is also a feature that should overturn your decision on any Roomba bearing in mind none of the Roombas will mop, leave alone wet mopping. Another thing that beats Roomba is the design. I once had problems with my TV stand. My 890, at 3.6-inches high, would not go under it. However, with Deebot, the 3-inches difference allows it to fit under most house fittings including sofas, beds, and kickstands.
Another thing we liked about the N78 is its runtime which is actually better than that of Roomba 960, Dyson 360 Eye and several other top models. It can run for a record 110 minutes, just 10 minutes short of what the 980 does.
The Deebot N79 is a great robot vacuum cleaner that rivals some of the biggest names in the market including Roomba, iLIFE, Neato, Samsung and the rest. In fact, it is among Amazon's choice for the best robot vacuum. Even though we expected it to have many similarities to the predecessor, the N78, the two are quite different when it comes to features. Generally, while Deebot N78 is targeted for those looking for a 2-in-1 cleaner with raw power, Deebot N79 lacks mopping but works well on carpets and has Wi-Fi.
So, if you are torn between what to go for between the two, just know it's a matter of compromise; mopping function or Wi-Fi. One important feature of this model is its boosted suction power of up to 1000 Pa. It ensures the deepest parts of your carpet are vacuumed thoroughly.
One problem with the N78 was that on carpets, it delivered average performance and more so, it damaged the fabric. These are issues ECOVACS and that's why it is among the best cheap robot vacuum cleaners for carpets. There's also a remote control provided, and together with the Smartphone App, you have more ways to control your robot.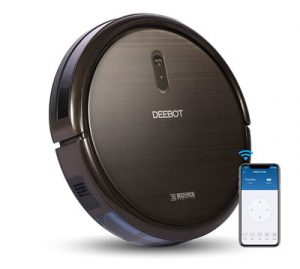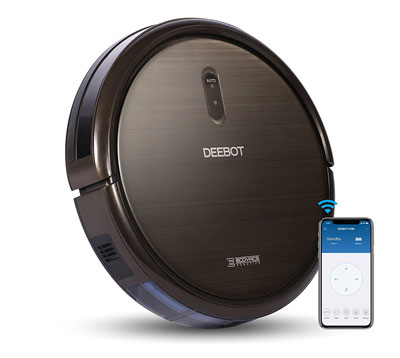 The old Deebot N79 was such a great vacuum and became the cheapest ECOVACS smart robot vacuum.
But there was one major flaw; it wasn't compatible with voice assistants. This made it less popular, and the Deebot N79s came on board to save the face of the Chinese brand.
Now, the new Deebot N79s works with Alexa and Google Assistant as well as a host of other 3rd party integration. If you have hard floors, low to medium pile carpets, pets and allergies.
It handles low to medium pile carpets very well but is not suitable for high pile carpets and rugs. Deebot N79s comes with a powerful lithium-ion battery that can last it for 120 minutes in normal mode and 100 minutes in Max mode. No resume function is available for the Deebot N79s, just like the previous models.
One of the shortcomings of the Deebot N79s, however, is the not so smart navigation system. It uses a SLAM (Simultaneous Localization and Mapping) system that will miss obstacles and stairs occasionally. Its floor mapping and routes are also not so efficient in high traffic rooms.

Deebot M80 Pro – Smart with Mopping Function
This model combines the key features that make both the N78 and N79 stand out; Wi-Fi and Mopping. The price is also amazing considering you will get all these features at a price in the region of $300. One thing I disliked in the N79 is the fact that it doesn't support Alexa but the M80 Pro does. It allows for Smartphone App operation and a remote controller is included too.
Regarding cleaning, I must commend it as a versatile floor cleaner; from hardwood floors to tile and carpet, and even pet hair. Its carpet cleaning is excellent and I would have compared it to the Roomba 980 but then that's a beast when it comes to suction power.
This model has a unique helix design brush-roll that lifts and separates fiber for a deeper clean. So, if you have a Polypropylene fiber carpet, cut carpet pile or Saxony cut pile, this is the perfect helper.
For pet owners, it is still a cleaner you have to consider; the 36% increased suction in Max Power and high-performance filters will pick all pet hair and dander and filter out all allergens. We had two dogs; Havanese and Komondor. With all the activity, it did exceptionally and even though there's a large 0.5L bin, we had to be emptying it immediately because of the foul smell.
The M80 Pro notably has better navigation compared to the earlier two models. Together with the R95, these are the two Deebot models that I can recommend for those with high-traffic floors. The runtime is also excellent considering it does over 100 minutes even in Max Power mode while the Roomba 980 will average 90 minutes in Carpet Boost. The only Roomba that can match these features is the Roomba 890 but it is not as cheap as the M80 Pro.
Roomba Models vs. Deebot Models: How they Stack Up
In this segment, we are going to do a head-to-head analysis of some of the top models from these two brands. So, without further ado, let's get straight to business.
Roomba 650 vs Deebot N78
These two robot vacuums are the most popular cheap models for each brand. Their price points are almost the same and are clustered together because they lack Wi-Fi; they only have raw cleaning power. Both vacuum cleaners can clean all floor types, pet hair and carpets even though they may not be offering the industry's best cleaning results.
The Roomba is considered a top choice over N78 because it is a top brand and has some unique features like Virtual Walls, Dirt Detect, among others. Also, its navigation system is better than what you get in Deebot. However, Deebot has been able to rise up the ranks courtesy of the mop function. While a Roomba's owner will have to get a Braava or any other robot mop for mopping floors, the Deebot N78 will do all that. So, besides being a little bit cheaper than the Roomba, it offers value for money!
Roomba 690 vs. Deebot N79
This is another interesting battle that pits two entry-level Smart robots. It is a battle that also raises adrenaline considering Deebot doesn't have the obvious advantage – the mop function. What makes them similar is the fact that they all have Wi-Fi.
Roomba 690 was released together with the 890 and the only new feature it brings on board is Wi-Fi. Considering its efficient and proven cleaning system, it is a top choice for homeowners. It offers great action for all floor types, pet hair and even carpets. Besides, features like Dirt Detect, Virtual Walls, and a dual multi-surface brush system obviously makes it a big deal compared to Deebot. On the other hand, Deebot N9 offers nothing new. Its only advantage is affordability – it is cheaper than Roomba by around $100. However, note that it doesn't support voice-control so if you have a Smart Home, the cheap price should not mislead you.
Roomba 890 vs. Deebot R95
These two models are well known in the market and surprisingly, they retail in the $400 region. The Roomba 890 is considered a great value Roomba while Deebot, in its ranks, is among the best robot vacuum cleaners from ECOVACS.

Deebot R95 is a serious deal if you are looking for an all-round robot cleaner on a budget. While the 890 is majorly concerned with offering a cheaper alternative to the Roomba 900 series, Deebot is all about conquering the world. It has an innovative Laser Scanning & Mapping navigation technology. We tested it together with the 890 in the same room and surprisingly, it performed fairly well even though iAdapt is still ahead. The cornerstone of the R95 is its cleaning performance. It can sweep, vacuum, mop and dry simultaneously. Even the Roomba 980 can't do all these and considering it costs half the price, I dare you to go for this robot cleaner if you don't want something that is in every other house like Roomba.

The only advantage of the Roomba over Deebot R95 is the navigation system. Deebot does fairly well but still, it gets stuck and misses some spots especially in high-traffic rooms. Otherwise, some of the features like Virtual Walls have been replicated in Deebot too.
Deebot R95 vs. Roomba 980
I know you must be wondering why we are comparing the R95 with the 980 and not the Deebot R98. The answer is pretty simple. The R98's only unique feature that would make a difference is the handheld vacuum that has been bundled with it. This doesn't really add much value to a homeowner looking for a robot vacuum cleaner that will work without human intervention. And most probably, they already have handheld vacuum cleaners. For this reason, Deebot R95 remains a worthy competitor considering it's cheaper too.
The Roomba 980 is known for its unique and exclusive features. It shares quite a lot with the Roomba 960 but for it, Carpet Boost and a longer runtime make it superior. Compared to what the market offers, its navigation system is what everyone would want to have. It combines sensor imaging and local visualization for a more accurate and precise navigation. If you have high-traffic rooms, then this is what you should get. It also has the auto-resume function which is only in the 900 series. Regarding cleaning, it is suitable for all floor types; hardwood, ceramic, tile, vinyl and so on. It also offers exceptional performance on carpets and pet messes. The only problem with this robot is the price; $899 is quite expensive for a robot vacuum with no mopping.
On the other hand, Deebot R95 tries as much as possible to match the Roomba 980. First, the navigation system is quite commendable. It makes quite some reasonable turns and generally, it uses a more methodical cleaning pattern compared to its earlier models. Even though this can't match the intelligence of the 980, it is a great leap. In terms of cleaning, the 980 is ahead when it comes to carpets and pet hair but on other floor types, it is hard to call. Deebot, however, has an edge here with its mop function. iRobot has also excelled in robot mops with the Braava series but you see, the advantage here is Deebot will give you an All-in-One cleaner for half the price of Roomba 980.
Roomba vs. Deebot – Our Recommendation
If you have pets, I suggest you get the Roomba. The 690 will be a top choice if you are on a budget as it retails just under $300. If you can step up your budget a little bit, I would recommend the Roomba 890 which offer just the same performance as the pricey 960. The 5x more air power and HEPA filters will pick up all the pet hairs, dander, and even allergens.
On the other hand, if you have carpet floors, the Roomba 980 is the ultimate vac for the job but then it costs very high. This makes the Deebot M80 Pro a great alternative as it retails for much lesser. It has been built to handle different types of fabric so unlike the Roomba 690, it won't disregard some carpet fabrics.
For large apartments, the Roomba 960 and 980 will be a great deal only that they are expensive. If you can manage the budget without feeling a pinch, this is what you should go for. These two vacuum cleaners, besides the longer runtimes, have resume function that sends the ac back to cleaning immediately after recharging. The R95 is also another alternative, a cheaper one for that matter. It averages over 100 minutes and resumes after recharging so even if your apartment is very large, it will surely finish cleaning.
If you have a hardwood floor, I strongly recommend any of the Deebot models with mopping function. One of the major problems with hardwood floors is cleaning them. You may vacuum it with the best Roomba but the grimes and stains will still remain. In as much as you can mop this dirt with your rug and water, hardwood floors get damaged by water so a Deebot with mopping function will clean this floor with a little water and dry it immediately.
Wrap Up
It is clear that the mop function in Deebot and most importantly, the cheap price is a serious concern for Roomba. In as much as iRobot has been dominant, more Americans are now being inclined more to the affordability of Deebot than the reliability of Roomba. How things will shape up, it's time that will tell but so far so good, we are likely to see ECOVACS taking a share of Roomba's market.