Linskys Velop vs Netgear Orbi
(Last Updated On: February 24, 2018)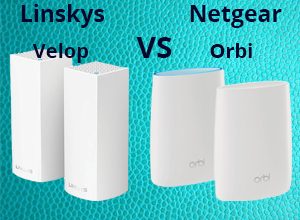 Do you have the best home internet subscription but your house is still full of dead spots? Are you tired of slow internet caused by the numerous Wi-Fi extenders you have installed?
If yes, then it's time you invest in a Wi-Fi mesh network system. Unlike regular Wi-Fi extenders, these systems are more reliable and cover wider areas. Most importantly, they are easy to install.
However, shopping for the best Wi-Fi mesh network system is the elephant in the room. You'll find split opinion; some will say the Linksys Velop is the best while another bunch will pick the Netgear Orbi. To settle the debate, we have reviewed these two Wi-Fi systems to see how they compare and consequently see which one is best, and why?
Wireless Compatibility
2.4 GHz Radio Frequency, 802.11bgn, 5 GHz Radio Frequency, 802.11 b/n/ac
802.11bgn, 2.4 GHz Radio Frequency, 802.11 a/g/n/ac
Good choice
Wireless Compatibility
2.4 GHz Radio Frequency, 802.11bgn, 5 GHz Radio Frequency, 802.11 b/n/ac
Best choice
Wireless Compatibility
802.11bgn, 2.4 GHz Radio Frequency, 802.11 a/g/n/ac
Linksys Velop Tri-band Whole Home WiFi Mesh System
The Velop is a great choice if you have an expansive home as it has remote nodes. The icing on the cake is the fact that each of these nodes can work as the main router and as well as a satellite access point. My only problem is the lack of a USB port which means you will only rely on a cable network, no modem!
Pros
Wide coverage, (up to 12,000 sq. ft.)
Use single or multiple Wi-Fi names
Any node can be used as the main router or satellite
Allows device prioritization
3-Year warranty and reliable support
Cons
Very expensive
Slow speed compared to Orbi
No USB port for modem
I had struggled with my Wi-Fi for quite some time until I got the Linksys Velop. Even though it is quite expensive, it remains among the few gadgets that I consider being value for money.
It is available in a pack of one, two, and three but I chose the 3-pack to cover both floors as well as the courtyard. The best thing about this Wi-Fi mesh kit is that any node can be the main router or satellite. This is unlike the other systems like Orbi that have a dedicated main router. One thing I like about Linksys is innovation.
They have an industry-leading technology called BeamForming. While other Wi-Fi mesh systems broadcast everywhere, BeamForming scans the house and focuses signal towards connected devices. Also, device prioritization ensures your preferred devices, for example, TV and PC have the best connection compared to the rest of the connected devices. You can choose up to 3 priority devices.
Another great thing about Velop is that your device will automatically switch to the nearest node's signal without requiring you to sign in again. This is among the areas where Wi-Fi mesh kits beat routers badly.
Remember, to simulate a mesh system with routers, you will need extra routers to serve as nodes and when you move from one router to the other, you will still be logged on to it and not the nearest one; unless you sign in manually.
As a triband stream (2×2) router, Belkin engineered it with a 5GHz band (867 Mbps) and 2.4GHz (400 Mbps) band.
Please note that the 5GHz radio is specifically for linking the nodes to reduce overload.
However, I still experience slightly slower connections when I connect the third node that's in the basement. It thought it was because the node was in the basement something I debunked when I attested all the three on the same floor; one in the attic, another in the living room and the other one in the kitchen. When two are connected, I received 100Mbps and when the third is added, it drops to 85Mbps. The worst thing is that it drops the speeds of all the nodes and not the third only.
At 10 feet away from the nearest node, I get 100% coverage at full speeds (100Mbps). By the time I am at 20 feet, the speed is around 93Mbps. This is quite impressive considering the likes of TP-Link Deco M5 starts fading at around 5 feet.
Remember, this may not be the case always as factors like wall width and sheetrock really matter.
Now with the 3 nodes, you can strategically place them to ensure every part of the home is covered. From the specifications, it should cover 6,000 sq. ft. (2,000 sq. ft. per node). Of importance is the Spot Finder that guides you to the best place to install your second node for better communication so if you want something that's easy to install, this is your match.
After complete setup, I did a comparison between my D-LINK router and Velop and the results were astounding. At peak performance, I was getting 65Mbps on my devices but using the Velop Speed Test feature, the speeds hit an incredible 100Mbps. On an ordinary day, I get an average of 92Mbps when connected to the router's Wi-Fi while on the other two, it averages 70 Mbps.
Not only is this router ideal for residential homes and apartments. I know an office and a gas station with a busy eatery that has this kit installed too. The good thing is that you can always expand the infrastructure by buying additional nodes to a maximum of 6 if need be.
However, the lack of a USB port means you can't have an internet back up using a modem. Also, you can't connect to other devices like printers and cameras among others.
For those with Smart Homes, the Linksys Velop will be a great purchase as it is compatible with Alexa, has Bluetooth and is supported by the Linksys Smartphone App. It also features Parental Control, Guest Access, Speed Test and so many other great features for easy management.
My only problem with this kit is its high price. The 3 pack costs almost $500 and considering Orbi costs $200 less and has better performance, I find this kit very expensive but lucky are we who got it at $429.
Netgear Orbi Triband Whole Home WI-Fi Mesh System
If you are on a budget and you don't have a big home, then get Orbi, a revolutionary mesh system with dedicated backhaul and a USB port to connect your modem directly or even other devices like office printers, scanners, and other office equipment. However, getting the perfect positioning is quite a hassle considering it has a dedicated main router.
Pros
Easy set up – no accounts required
Dedicated backhaul
Easy wall-plug satellites
Smartphone App and Alexa integration
100% signal and speed strength
LED signal strength indicator
Device prioritization
Guest network and Parental Control
4 LAN ports and 2 USB ports
Cons
Large main router design
There's one dedicated main router
Dubbed the 'Orbi the Wi-Fi Blanket', it will ensure there's Wi-Fi coverage in every area of your home.
The unit comes with the main router, larger than the two satellite nodes. I didn't like the bulky design of the main router; everyone likes something compact and this is where Orbi failed considering the likes of Eero, Luma and Google Wi-Fi have very compact designs. The complete pack; 1 main router and 2 nodes will cost you around $300 and covers 5,000 sq. ft. So, if you have a larger home, consider getting Velop because the Netgear combo that can match its coverage will cost you an upwards of $600.
Better still, you can opt for a cheaper add-on satellite. This mesh kit also works on the same principle of BeamForming and will even prioritize devices just like Velop.
Unfortunately, you can only set one Wi-Fi name, unlike Velop that allows you to set several names. With Orbi, I was not able to differentiate what node's signal I'm using so here, credit goes to Velop with which you can always see on which connection you are on.
Regarding connectivity, I like the fact that Netgear included a USB port. Even though most American homes have cable internet, at times you might need some back up with your modem and Orbi allows you to connect your modem directly. There are also ISPs like Comcast that want you to use their modem and not cable. This USB port can also be used to connect other devices that might need internet for example printers, cameras, and other peripherals.
Just like Velop, the Orbi is also a triband stream (2×2) router with dedicated backhaul. Dedicated backhaul is a feature that brings on board a separate 5GHz band apart from the primary 2.4Ghz and 5GHz.
What this additional band offers is communication between the routers. This means that the primary band is left for transmitting data to and for your devices. The result is fast and strong Wi-Fi signal because the bands are not overloaded. We put it under the same testing conditions with Velop to confirm this and the results were amazing.
At 10 feet, the signal is very strong and you can easily tell this from the LED signal strength indicator. When I moved to 20 feet, I still got 100% signal strength with varying losses so, from the 100 Mbps, it ranged from 95- 98 Mbps which is very commendable.
The only problem is that the satellites are weaker and won't give you these results when you go far from a satellite node but from the main router, I can't complain. After the entire set up, I got 96 Mbps in my living room where the main router is. Upstairs, I received around 75Mbps and in the basement, 60 Mbps. Unfortunately, with the latest firmware, iOS users complain a lot because of bugs that slow down the connection and even drops connections. I really hope this is something Netgear will treat with urgency bearing in mind the high number of IOS users in America.
On the downside, Orbi has a dedicated main router and getting the perfect placement is quite a problem. Also, the bugs in the new firmware update make it useless for iOS user; nothing sucks like inconsistent Wi-Fi connection.
Router vs. Mesh Networking
You will agree with me, there's a big misconception when it comes to Wi-Fi extenders and mesh systems. Many people think they are one and the same thing but the truth is that they are very different. There is a clear line between how mesh network systems and range extenders work.
Briefly, range extenders, for example, routers amplify existing Wi-Fi signals. They may cover the entire house but you see, you don't get the same speeds that the router has.
Their advantage is affordability. You can get a good router from D-LINK at $20 but a Wi-Fi mesh system will cost you an upwards of $150. In terms of performance, routers are old-fashion and can't match the performance and convenience of Wi-Fi mesh kits. Also, routers are hard to set up and may require some networking skills.
On the other hand, Wi-Fi mesh systems blanket your home with new Wi-Fi signals broadcasted around by remote nodes placed around the home.
The main advantage of a mesh system is a better signal strength because of the heavy Wi-Fi cover courtesy of the remote nodes. They also allow device prioritization meaning you can program it to offer better Wi-Fi signal to select devices for example PCs, Amazon Echo, or even your Smart TV for fast streaming. It is also intelligent such that you use the Wi-Fi that's near so you don't have to be near the main router to stream your videos from anywhere; the attics and even basement. The only problem is that they are expensive compared to routers.
From this, you can clearly see that a mesh system is the best even though they are expensive. With the influx of Smart Home devices, sooner or later, these traditional Wi-Fi extenders and routers will be inefficient; mesh networking is taking over!
Velop vs Orbi Comparison Review
In this segment, we are going to compare Velop and Orbi to see what makes them similar. We will also discuss the differences to see whether the $200 price difference is justifiable. So, without further ado, let's get down to business.
Design & Aesthetics
These two mesh systems are quite different in shape and aesthetics. Velop is a tower-like structure while Orbi takes a flat bottom shape.
Orbi stands at 3.1 and weighs 3.9 lbs. while Velop stands at 7.3 inches and weighs much lesser. If you have a wide space to put Orbi, then go ahead and get it. Otherwise, if you want a small footprint, get Velop. But also note that Velop has a higher chance of toppling over and falling down than Orbi. Mine already has a crack!
LED Indicator
Both Velop and Orbi have LED indicators at the top. But there's a difference in how they manifest the status of the mesh system.
In Velop for example, blue means the signal is strong and everything is running fine. The light also guides installation – it turns purple when the node has been detected by the App and when it changes to solid purple, you can now start the setup. In the event it turns red, there's something wrong with your connection. Yellow is when the node has been placed too far.
When it comes to Orbi, the LED is off when everything is running fine, something I find really strange. When the connection is good, the LED is blue and when the signal strength is average, it turns amber. When it changes to magenta, then it can't connect to the internet and further. It also shows the same color when it fails to sync with the primary router.
Personally, I find Velops system more resourceful and convenient. You see, it's very hard for Orbi users now that when it is On and Off, there's no difference.
Device Prioritization
This is a really cool feature and one of the advantages of mesh Wi-Fi systems. There are those devices that require the best Wi-Fi strengths to operate optimally and this is where Device Prioritization comes in.
Device Prioritization is a function that lets you set a number of devices as priority in that at any given time, their signals are up to the mark. So, the software does the calculation and allocates signal by giving a number of devices better access all through.
Both Velop and Orbi have this feature but from my experience, I love Velop's. First, it is easy to set up unlike Orbi's and more so, you can set up to 3 devices. For Smart Homeowners, Alexa is priority number one. For me, I have set my TV, Alexa and Wink Hub 2 as priority devices; it surely works!
Performance
Like earlier said, Orbi is better in performance than Velop.
However, it is quite hard to compare their performance because conditions are different from one home to another. But, we can compare their theoretical performance. However, note that these numbers may not be accurate so don't be surprised when you find different results. For the purposes of this comparison, we will use the data given in the manufacturer's specifications.
In Velop, data transfer may reach 400Mbps when it's operation optimally using the 2.4GHz band. Regarding the two 5GHz bands, the maximum transfer rate is 867Mbps. The 3-pack unit can cover an area of 7,500 sq. ft. and this is what makes Velop best for large homes.
On the other hand, Orbi has the same numbers but the secondary backhaul band brings the difference. Because of the reduced load, it can hit theoretical speeds of up to 1,733Mbps. The standard Netgear Orbi can cover up to 5,000 sq. ft.
The hardware properties also bring some difference between the two Wi-Fi mesh systems. Even though they all have
Regarding performance, it is very hard to call as each of the two kits has their pros. For me, I think it's a matter of compromise, between signal strength and coverage. If you want strong signals, the Orbi's dedicated backhaul band will make this possible. On the other hand, if you have a large home, Linksys Velop will be the best courtesy of the powerful nodes.
Connectivity
This is a very crucial area considering connectivity is among the major factors to consider when buying a mesh system. Connectivity can be looked from two angles; hardware and software.
Linksys Velop comes with two Ethernet ports – there's one for WAN and the other for LAN. It hugely misses out on a USB and that's why Orbi has earned a spot in the business world with Netgera Orbi for Business. While the main input for Velop is the LAN, you can connect a modem directly to Orbi courtesy of the USB port. There are also 4 Ethernet ports – 1 that plugs into an existing internet connection and the rest for connecting to LAN-enabled devices like printers, consoles, TVs and so on. Regarding hardware input/output, Orbi carries the day.
The data link protocols are also the same. You can connect using Ethernet, Gigabit Ethernet IEEE 802.11a, IEEE 802.11b, IEEE 802.11ac, IEEE 802.11g and also IEEE 802.11n. Notably, Velop also has Bluetooth, a feature that Orbi misses out on.
When it comes to Intelligent Assistants, these gadgets also feature. Both kits are Alexa compatible and in fact, managing it is easier. You just tell Alexa what you want and it's executed.
Here, it is also hard to say what's the best between the two but I'd go for Orbi anytime. The USB and 4 Ethernet ports give you the freedom to do more. But on the other hand, Bluetooth is a feature everyone desires so again, it is a matter of compromise.
Extras
There is a range of extras that Wi-Fi mesh systems offer. We will look at some of the most popular extras to see what's worth and what's not worthy.
We will first start with Guest Access. As the name suggests, this is a feature that lets your guests. In this function, a separate network is temporarily created for your guests. This is a great feature considering when you have guests, the primary network may be overloaded.
There's also Parental Control which helps parents monitor their children's activity online. There's a lot you can do with this feature; from seeing what sites your kid's visitor even limit their usage.
Another top feature is BeamForming; a technology that scans the entire home and focuses signal on the devices that are connected as opposed to just broadcasting wide. BeamForming is a technology that has become popular and is available in both models.
We also have MU-MIMO, a revolutionary wireless communication technology which allows a router to communicate with multiple devices simultaneously. This tech boosts network by reducing the time a device has to wait for signal reception.
Netgear Orbi vs. Linksys Velop: Who's the Winner?
Each and every day, I hear a lot of people asking, what's the best mesh system between Velop and Orbi. The truth of the matter is that there's no good or bad kit between them Velop has its pros and cons and also, Orbi has its. But from my experience with Velop in my home and the tests, we conducted on Orbi, here are my few cents.
First, Orbi delivers the strongest Wi-Fi signals because it has a dedicated backhaul band that reduces overload. This means that communication between the routers and devices will be faster.
Another thing, Orbi has better connectivity hardware; 4 Ethernet ports and USB for modems.
Also, Orbi is cheaper compared to Velop. On the downside, this mesh kit covers lesser area and getting the exact positioning may be quite a hassle.
On the other hand, Velop is easy to install and covers a wider area than Orbi. Even though its signal loss is a bit higher, at least positioning is easier and more so, any of the nodes can be the main router. Unfortunately, it is quite expensive compared to the same Orbi combo.
Velop vs. Orbi: What's the Best Choice?

Embed this infographic(copy code and add to your's site):
Our Recommendation
There is a lot we can talk about regarding why you should buy Orbi and not Velop and vice versa. The narrative can be unending. But in a nutshell, here is my recommendation. If you have a larger home, a multi-story house for that matter, buy Linksys Velop mesh system because the individual nodes broadcast a wider area. On the other hand, if you want stable and strong connection, buy Netgear Orbi mesh system considering it has dedicated backhaul and more so, it is cheaper.
If you like this article, please rate it.