Linskys Velop vs Netgear Orbi
(Last Updated On: January 14, 2018)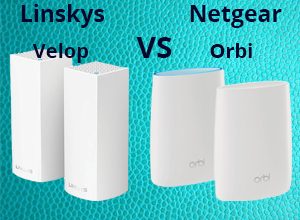 Do you have the best home internet subscription but your house is still full of dead spots? Are you tired of slow internet caused by the numerous Wi-Fi extenders you have installed?
If yes, then it's time you invest in a Wi-Fi mesh network system. Unlike regular Wi-Fi extenders, these systems are more reliable and cover wider areas. Most importantly, they are easy to install.
However, shopping for the best Wi-Fi mesh network system is the elephant in the room. You'll find split opinion; some will say the Linksys Velop is the best while another bunch will pick the Netgear Orbi. To settle the debate, we have reviewed these two Wi-Fi systems to see how they compare and consequently see which one is best, and why?

Wireless Compatibility
2.4 GHz Radio Frequency, 802.11bgn, 5 GHz Radio Frequency, 802.11 b/n/ac
802.11bgn, 2.4 GHz Radio Frequency, 802.11 a/g/n/ac
Good choice
Wireless Compatibility
2.4 GHz Radio Frequency, 802.11bgn, 5 GHz Radio Frequency, 802.11 b/n/ac
Best choice
Wireless Compatibility
802.11bgn, 2.4 GHz Radio Frequency, 802.11 a/g/n/ac
Linksys Velop Tri-band Whole Home WiFi Mesh System
Pros
Very small footprint design
Impressive working range (90 feet)
Covers an extensive area (2,000 sq. ft./node)
Use a maximum of 6 nodes (12,000 sq. ft.)
Good ventilation
Use single or multiple Wi-Fi names
Any node can be used as the main router or satellite
Allows device prioritization
3-Year warranty and reliable support
Cons
Very expensive
Slow speed compared to Orbi
No USB port for modem
Only dual band – no dedicated backhaul
I had struggled with my Wi-Fi for quite some time until I got the
Linksys Velop
. Even though it is quite expensive – considering it is only a Wi-Fi extender, it remains among the few gadgets that I consider being value for money. Even though there is a 1-pack and 2-pack, I chose the 3-pack to cover my entire wing in my
expansive home
, especially the backyard. As a
triband stream (2×2) router
, Belkin engineered it with a
5GHz band (867 Mbps) and 2.4GHz (400 Mbps) band
. The 5GHz radio is specifically for linking the nodes to reduce overload.
At 25 feet away from the nearest node, I get 100% coverage at full speeds
. By the time I am at 50 feet, the speed is half. This is quite impressive considering the likes of TP-Link Deco M5 starts fading at around 20 feet. Now with the 3 nodes, you can strategically place them to ensure every part of the compound is covered. From the specifications, it should
cover 6,000 sq. ft. (2,000 sq. ft. per node)
.
Not only is this router ideal for residential homes and apartments. I know an office and a gas station with a busy eatery that has this kit installed too. The good thing is that you can always expand the infrastructure by buying additional nodes to a maximum of 6 if need be. For those with Smart Homes, the Linksys Velop will be a great purchase as it is compatible with Alexa, has Bluetooth and is supported by the Linksys Smartphone App. It also features Parental Control, Guest Access, Speed Test and so many other great features for easy management.
However, what I feel uncomfortable with is the price. The 3 pack costs $429 when already discounted by 14%. In addition to this, you can't connect your modem; internet source is LAN.
Netgear Orbi Triband Whole Home WI-Fi Mesh System
Pros
Easy set up – no accounts required
Dedicated backhaul
Easy wall-plug satellites
Smartphone App and Alexa integration
100% signal and speed strength
LED signal strength indicator
Device prioritization
Guest network and Parental Control
4 LAN ports and 2 USB ports
Cons
Large main router design
Uses a single Wi-Fi name
There's one dedicated main router
If you are on a budget but you still want a top and reliable brand
to cover your home with fast Wi-Fi
, then
Orbi is your best bargain
. Even though I haven't used it for long, I find it a gamechanger during the two weeks I was using it for the purposes of writing this review Dubbed the Wi-Fi blanket, it costs almost $150 lesser than the Velop though it covers 1,000 sq. ft. lesser. Just like Velop, the Orbi is also
a triband stream (2×2) router
with dedicated backhaul and can
hit speeds of up to 1,733 Mbps
. So, even when there's slow connection, you are still guaranteed high speeds because there's no overload. I actually liked its reliability and I would have bought it instead of the Velop; that is if I knew this before. Unlike the Velop,
it is very easy to install the Orbi
. You only require the App – no accounts required thereafter. This particular package comes with 3 nodes just like the Velop and
can cover 5,000 sq. ft
. In our reliability test, we put the main router on the ground floors then placed one on the first floor and the other satellite in the basement. I must commend it because, in all these areas, there was reliable Wi-Fi coverage with no blind spots, especially in the basement. Even though I love my Velop, I must say that
Orbi is a better Wi-Fi system
.
Unfortunately, Orbi's main router is very big and might pose some challenges placing it in an undisturbed location. This is unlike the competition; Luma and Google Wi-Fi which are compact. Besides, unlike Velop, Orbi has a dedicated main router so you just can't use any node. Besides, you can only use a single Wi-Fi name.
What Sets Orbi apart from Velop?
These two gadgets are known to be the best Wi-Fi mesh network systems. They share a lot in common including Alexa integration, Smartphone App compatibility, 2×2 triband stream, 6 antennas, device prioritization and so much more. However, there are also some differences which in fact are instrumental in making a decision on which is the best Wi-Fi coverage solution that will clear dead spots regardless of your type of house;
1. Design
It is so obvious that these two kits must have different designs. First, with Velop, any of the nodes can serve as the main router or as a satellite. They all have the same size and specifications. On the other hand, Orbi has a specially designed main router that is quite large and two small wall-plug satellites.
2. Connectivity
Definitely, as a router, these network systems have ports; whether for LAN or modem. The Velop is lacking in this area as it only has LAN ports – two. It lacks a USB to directly connect your modem. When it comes to Orbi, Netgear equipped it with 4 LAN ports and 2 for USB.
3. Wi-Fi Name
Netgear was so rigid when it comes to how the Wi-Fi was named. Unlike the Velop which allows you to use single or multiple Wi-Fi names, Orbi uses only one name. It would have been better at least to help make sure that devices connect to the nearest node for better performance and also to prevent overload.
4. Installation
Installation is very similar to these two gadgets. You first have to download the respective Apps. It's here that their difference sets in; the Velop will require you to set up an account but with Orbi, no account is required.
Our Recommendation
If you want a reliable mesh network system for larger homes, then the Orbi will be a great purchase for you. Its triband stream (2×2) router with dedicated backhaul guarantees excellent Wi-Fi signal strength. On the other hand, Velop is ideal for those with larger homes too but with no placement issues because every node can be the main router. It is also ideal for those with multi-storey buildings and basements!
Velop vs. Orbi: What's the Best Choice?

Embed this infographic(copy code and add to your's site):
I would go for Orbi anytime for two simple reasons: First, it delivers full strength and ultra-fast signal in multi-story homes, ranch-style homes, Brownstone homes, apartments, and even modern homes. Second, it is $150 cheaper than the Velop.
Do you have either of these Wi-Fi mesh network systems? What's your experience? Tell us in the comments section below!
If you like this article, please rate it.