🥇 Best Robotic Pool Cleaners & Buying Guide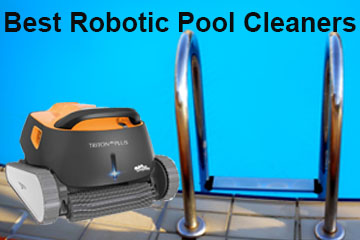 Are you looking for the smartest way to keep your pool clean the entire summer without straining your schedule? Look no further than the best robotic pool cleaners.
Unlike the other automatic cleaners (suction side and pressure side) these require minimal human intervention, and that's the catch. You don't have to be around for the pool to be vacuumed courtesy of the elaborate navigation systems and in advanced models, you can even program the cleaner to work at specific times when you know your pool is dirty.
In the market, we have so many pool robot vacuums. In the same token, there are hundreds of models so settling for that absolute bargain may be a challenge for many pool owners.
That's why we came up with this review to help would-be buyers get value for their money.

In this buying guide, we will first look at the ten models that made it in the list. We will also discuss the important aspects that should inform your choice of robotic pool cleaner.
So, without further ado, let's get to business.
Comparison Table
| Model | Weight of Robot | Pool Size | Cleaning Coverage | Scrubbing Brushes | Check Price |
| --- | --- | --- | --- | --- | --- |
| Dolphin Triton PS Plus | 16.5 lbs. | Up to 50 ft. | Floor, Walls, Waterline | 1 Active, 1 Standard | Check Price |
| Pentair Kreepy Krauley 830 | 45-pounds | Up to 50 ft. | Walls, floor, waterline | Dual brushes | Check Price |
| Polaris 9550 Sport | 43.6 pounds | Up to 60ft. | Walls, floor, waterline | Oscillating brushes | Check Price |
| Dolphin Nautilus CC Plus | 19 lbs. | Up to 50 ft. | Floor, Walls | 2 Standard | Check Price |
| Aquabot ABTURT2R1 T2 Plus | 46 lbs | Up to 50 ft. | Walls, floor, waterline | Scrubbing action brush | Check Price |
| Dolphin Nautilus CC | 14 pounds | Up to 33 ft. | Floor, Walls | Active brush system | Check Price |
| Aquabot Pool Rover Jr | 10 pounds | Up to 27 ft. | Floor | | Check Price |
| Dolphin Premier 2018 | 37.2 pounds | Up to 50 feet | Scrubs Floor, Wall, & Tile/Waterline | Powerful, dual scrubbing brushes | Check Price |
| Hayward TigerShark RC9950GR | 40 pounds | Up to 20' x 40' | Full floor, walls, coves and waterline | | Check Price |
| Aquabot X4 | 35.3 pounds | Up to 60 feet | Surfaces and walls | Micro-brushes | Check Price |
Best Robotic Pool Cleaners Review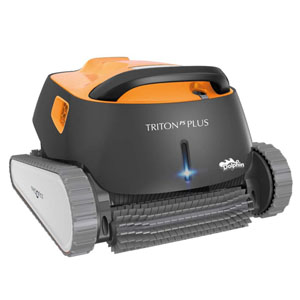 If you are looking for an intelligent cleaner for inground pools up to 50ft, this is an excellent choice.
It packs several new additions that make it Superior to the older Triton PS. This one is lighter at 16.5 lbs compared to the older 19 lbs. cleaner.
The most prominent feature is the Bluetooth connectivity which enables mobile app operation.
There is also a quick clean feature which can do intensive cleaning for an hour instead of the full two-hour cycle.
In addition, you get to enjoy the convenience of a 60 ft swivel cable that doesn't twist.
As a multisurface pool cleaner, the Triton Plus cleans concrete, gunite, plaster, pebble, vinyl, tile, and fiberglass thoroughly.
Important
A unique feature is the Dolphin Powerstream technology is an excellent asset for efficient mobility on vertical surfaces like pool walls. The software knows precisely when to use the multidirectional water jets and how.
In terms of cleaning performance, the Triton PS Plus comes with an active brushing system and powerful suction for thorough cleaning. You get four filters under the hood; two ultra-fine filters for the small dirt and a broad filter for large debris and a fine filter for the large particles. All these end up in the extra large top loading filter bag.
Attention
While the Triton PS Plus might sound like the best deal around, two things ought to have been improved.
First, Bluetooth technology is being phased out in favor of WIFI.
There are several connectivity issues when you are within the specified range.
Also, the quick clean one-hour cycle slips the waterline, but this shouldn't be a bother.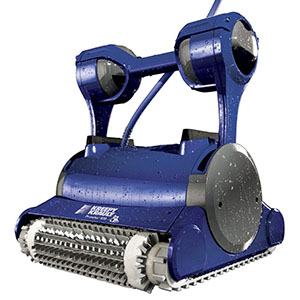 Kreepy Krauley scores highly both in terms of performance and convenience.
A versatile helper, it cleans all types of pools from the tough concrete to fragile vinyl.
With a 60ft cord so it can comfortably handle pools up to 50 ft.
The robot has adhesive tracks that maneuver around efficiently and climb vertical walls enabling it to clean the floor, wall up to the waterline.
As part of the Eco Select product range, the Kreepy Krauley 830 is very efficient and costs around 20 cents to run in one day.
Under the hood is a powerful motor that generates powerful suction and together with the dual brushes, dirt won't hide.
The 830 also comes with two cleaning modes; a one-hour quick clean and the full 3-hour cycle.
When it comes to convenience, you get a 2.4ghz remote control and the biggest benefit is targeted cleaning on specific spots.
The cleaner also incorporates a convenient weekly timer that saves time considering you can schedule the entire week's pool cleaning.
The biggest problem with the Pentair 830 is the bulkiness; 45 lbs is too heavy to pull out and empty, but at least, there is a caddy supplied for transport.
It's also quite expensive but all the same, it offers value for money.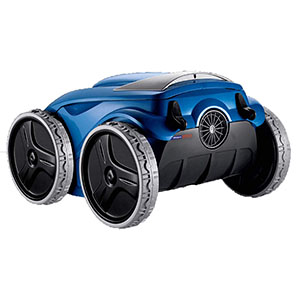 Polaris is a household name when it comes to pressure side cleaners but also features some reliable robotic models.
The 9550 boasts an intelligent system and superior maneuverability that makes it great for large in-ground pools. A 70ft swivel cable accompanies it for pools up to 60ft.
The Polaris 9550 boasts the Vortex Vacuuming Technology. It produces powerful suction for sucking up all kinds of debris from the leaves and twigs to small sand pebbles. Oscillating brushes agitate stuck on dirt and stains.
The filter is efficient, and instead of a bag, we have an easy to empty canister with full indicator light.
Pool owners get so much control over the cleaning. Choose either the intensive mode or high intensive mode depending on the condition of the pool.
Also, there is a surface selector where you can set it to clean the floor only, floor and pool wall or waterline only.
Regarding navigation, the Polaris Sport uses ActivMotion Sensor Technology accompanied by a 4WD System with WideTrax Tires for traction. On the user interface, you can select the shape of your pool, whether rectangle or irregular.
The Polaris Sport also offers great convenience with a remote for target cleaning. You also get the benefits of a 7-day programmable timer.
An Easy Lift System also makes it easy to empty and pull out the unit at the touch of a button. A caddy is also supplied.
On the downside, the remote controller is sluggish a little bit.
Also, for a $1000 cleaner, we expected better connectivity like Wi-Fi which the new Polaris 9650IQ comes with.
4. Dolphin Nautilus CC Plus Ideal for In-ground Swimming Pools up to 50 Ft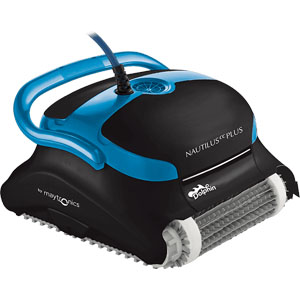 The Nautilus CC Plus is an upgrade of the previous Nautilus CC. It maintains much of the features the older model including the new top load design. However, the Plus model comes at a higher cost.
But is it worth the extra bucks? I would say yes considering it is much bigger and serves a much larger pool than Nautilus CC courtesy of a longer 50ft power cable with Anti-Tangle Swivel Technology.
In terms of cleaning performance, the Nautilus CC Plus has no better advantage apart from the bigger size, and bigger filter size (fine and ultra fine) and canister capacity.
The combination makes it the best robotic pool cleaner for leaves. It is still as efficient as the predecessor and is eight times more potent than typical automatic pool cleaners.
Under the hood is a powerful motor an Active brush system for effective scrubbing. The Nautilus CC Plus has a turnaround of two hours.
It also has three cleaning settings; every day cleaning, every other day cleaning or third day cleaning.
CleverClean Technology has been maintained in this cleaner. It still uses tracks for maneuverability making it best for floors with sunken debris and walls as well.
Even though it is an upgraded model, we still lack mobile app operation just like the older Nautilus CC.
Another thing, it cleans floors and pool walls only yet for such an expensive cleaner, you expect it to do the waterline as well.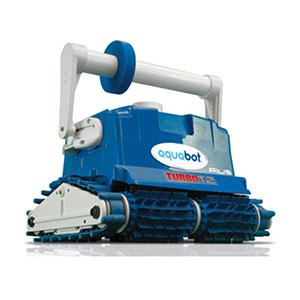 The T2 Plus is among the best robotic pool cleaners for sand and features a power washing function besides the primary scrubbing.
The cleaner has been intended for in-ground pools only measuring up to 50ft as it has a 60ft swivel cord.
Important
Buy this affordable pool cleaner if you have gunite, vinyl, concrete and fiberglass pools.
Unlike the smaller Pool Rover, this one is more powerful and can clean from the floor to the walls and waterline. This is regardless of the pool's shape; regular, irregular, round shaped and the ovals are all covered. It has powerful suction and scrubbing action.
Under the unit, we have a bottom loading bin which filters small debris down to 2 microns and large debris as well.
This model has a 1-7-hour timer for convenience if you have a tight schedule.
The Aquabot ABTURT2R1 is an intelligent robotic pool cleaner which scans the floor and plans it's journey in advance. It will hardly miss spots like older models and can finish a cycle in an hour.
Neither will it get stuck in the corners courtesy of a self-reversing mechanism called NeverStuck. Under it, it comes with tank tracks that firmly stick on whatever surface it is on including on 90° walls.
On the downside, no form of remote control has been offered.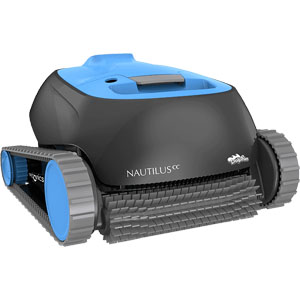 If you are looking for the best affordable Dolphin Nautilus for mid-sized pools, this is the best choice.
It boasts several new additions that make it ultimately better than the original Dolphin Nautilus.
The first new feature is the Active brush system that is twice as effective as the older model.
Of importance is the programmable timer which can be set to clean every day, all seven days or on the third day.
The cleaning performance is exceptional. It boasts powerful suction, and alongside the new Active brush, no stains and grimes will be left untouched.
Also worth noting is the ultrafine filter for sand and a fine filter for the large debris. Unlike the predecessors, Nautilus CC has been designed with a top load filtration which makes maintenance a buzz compared to bottom load units.
The Nautilus CC comes with Dolphin's CleverClean Technology which maps the pool and plans a systematic pattern to follow. This ensures complete floor cleaning and most importantly, fast turnaround. Under the belly, we have tracks that stick on the surface including walls.
On the downside, this cleaner is not suitable for large pools above 33ft.
Also, no remote control or mobile app operation is available.
7. Aquabot Pool Rover Jr a Basic Robotic Pool Cleaner for Above Ground Pools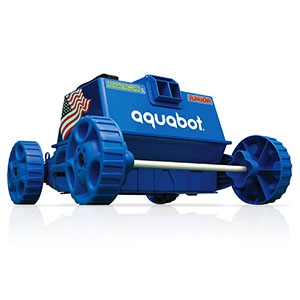 The Aquabot Pool Rover Jr is a basic robotic pool cleaner and an affordable one too.
It has been designed for above ground pools, but there is no harm in using it in small to medium size in-ground pools as long as it can run optimally.
The cleaner tags along a 41ft cable allowing it to work in pools of up to 27 ft.
The design is straightforward, with non-marring wheels. The unit is powered by the Hydro-Robotic Technology which uses the water forces for propulsion.
This might not be a great idea in large in-ground pools, but it saves a lot of energy compared to having two extra motors for propulsion.
The maneuvering is excellent but the pattern lets it down doesn't as it moves randomly for some time and shuts off.
Inside the unit, you will find a motor that produces adequate suction to suck up the common pool dirt.
It is assisted by an efficient filtration system that can filter the large debris and even the smallest particles down to 2 microns.
There are several shortcomings with the Aquabot Pool Rover.

First, anti-tangle is unfriendly. It comes with a mechanism that requires manual locking lest the cable twists.
Another thing, the navigation is not intelligent so expect it to miss some spots and take longer to finish cleaning.
This cleaner will also offer average cleaning and notably missed out on the pool walls.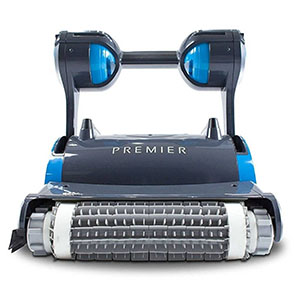 There several versions of the Dolphin Premier and in this review we chose the latest model, the 2018 version as it comes with the latest features and functionality. Let's find out if it is a worthy purchase.
The first reason you want this cleaner is that it has the best in class efficiency with proven savings of up to 87% not forgetting the quiet operation.
The motor has an impressive 3000RPM speed. The Advanced PowerClean Brush will agitate all dirt and stains.
The 4-media filtration ensures all small and large debris end up in the bin and when it is full, a light indicator will alert you.
The Dolphin Premier is first in every aspect including navigation courtesy of SmartNav Technology. The cleaner maps the floor area and sketches the easiest routes to cover the pool in the shortest time possible.
The Patented Swivel Technology prevents tangling, but you still need to do away with the twists and kinks.
Under it, we have the HyperGrip tank tracks for maximum traction even on slippery algae walls.
On the downside, this cleaner lacks any form of remote control or smart connectivity which is a turn off for a $1000 purchase.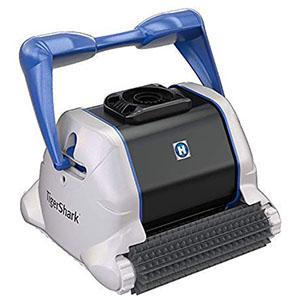 The TigerShark is among the most popular robotic pool cleaners from Hayward.
It tags along with a 55ft floating cable with anti-tangle technology.
Hayward RC995GR offers all-around cleaning, from the floors to the walls and coves including the waterline and steps.
With an inbuilt pump, the Hayward TigerShark boasts high suction and powerful scrubbing action removing the stains and stuck on dirt on pools like algae.
The average cleaning cycle is three hours after which the unit shuts down automatically. However, there is a quick 90-minutes schedule.
The cleaner comes with contact adhesive thank tracks for seamless maneuvering even in sloped pools. The tracks also boost traction when cleaning the walls.
All the movement is controlled by an intelligent system which maps the pool and calculates the most efficient path to follow.
On the downside, the filter cartridges are not so efficient when it comes to small dirt particles. It filters down to 5 microns only when Aquabot does 2 microns. But at least the dirt chamber is easily accessible.
This unit also lacks a wireless controller. If you badly want this feature buy the Hayward TigerShark Plus.
10. Aquabot X4 the Great Value for Money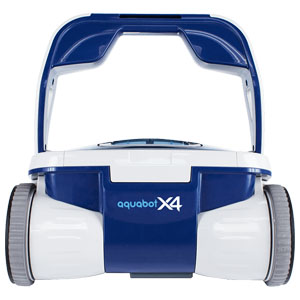 This is perhaps the best models from the American brand and offers great value for money too.
It boasts most of the features in the high-end models and comes at a fraction of the price. If you are looking for an all-rounder on a budget, Aquabot X4 won't let you down. But if you have a large in-ground pool, otherwise it has been designed for medium to large inground pools.
This Aquabot model offers more control over your cleaning preference. Choose the 1-hour cycle, 1.5 hours or 2 hours. In addition, you get the convenience of a 2-day, 3-day or 4-day timer.
It boasts high suction power and micro-brushes that oscillate as the unit moves scrubbing the hard stuck on dirt, stains, and grime.
The filter, on the other hand, has been designed to capture small particles down to 2 microns and large dirt as well.
The X4 comes with a 4WD system like Polaris 9550. The navigation system is smart and is powered by the latest software and a microchip that processes data very fast.
The cable comes with a swivel for reduced tangling and twisting. Even though it's not heavy, we really likes the inclusion of a transportation caddy.
Important
Our concern is the constant struggles on pools with sloppy surfaces and walls infected with algae which are typically slippery.
Robotic Pool Cleaner Buying Guide
Now that you know about the best robotic pool cleaners in the market, it's time we learn a few things regarding these important pool accessories.
This section is key as it points out all the important things we considered when testing these cleaners. You will also learn several other aspects regarding robotic pool cleaners and pool hygiene.
What is a robotic pool cleaner?
As the name suggests, a robotic pool cleaner is a type of automatic cleaner that works with minimal human intervention. Importantly, these are independent, standalone cleaning that operates off your existing pool plumbing system.
Under the hood is a microchip processor that gives it the intelligence of robotic operation. Some advanced models pack memories with extras like programming, and even smart connectivity for mobile app and remote operation.
But how is it different from the rest of the automatic pool cleaners? And what are the advantages of robotic pool cleaners over the suction and pressure side models?
Suction side vs. pressure side vs. robotic pool cleaners
Generally, we have two types of pool cleaners; the manual and automatic cleaners. The manual cleaners include the pool skimmers and pool brushes.
Of course, you don't want a manual cleaner because they can't do anything on their own.
In the next category, we have automatic pool cleaners, and these at least can clean the pool as you watch from a distance. There are three automatic pool cleaners. Here are the highlights of each.
Suction side
This cleaner is connected to the suction line of the pool's filter system via a hosepipe. In this setting, the cleaning unit is positioned on the longer side, and as the cleaning head moves rapidly, it scrubs and sucks dirt to the filter system.
Pros
The advantage of suction side pool cleaners is the affordability. It is the cheapest of the three automatic cleaners.
Its brush action is also superior and does best in pools infested with algae, and other pool stains and grime.
Maintenance is minimal because of the few moving parts.
Cons
On the downside, these cleaners are the noisiest.
They also overwhelm your filtration system as they lack their filter bags.
The energy consumption is also not efficient.
Pressure side
Unlike suction side cleaners that don't require additional accessories, pressure side cleaners run off a booster pump installed separately.
The exception perhaps is the Polaris 380 which doesn't require a separate pump – it can work off your existing installation. The pump creates the pressure for propulsion and suction.
Pros
The benefit of pressure side pool cleaners is the lesser stress on the filtration system because of the filter bag they put the dirt and debris in.
They are also ideal for busy pools with a lot of debris and offer better cleaning because of the efficiency of running on a separate pump.
Cons
Unfortunately, the effective agitation and scrubbing action are not the same as in suction side cleaners or the robotic.
Again, there is the cost of installing a separate booster pump if you don't have the Polaris 380. Without a separate pump, it won't run efficiently.
Robotic cleaners
These cleaners are standalone or sometimes referred to as 'self-contained.' This is because they don't require any other accessory to do the job.
Like said earlier, they have intelligent software that guides the robotic movements and cleaning.
Important
Robot pool cleaners are the best because of their excellent and convenient cleaning approach – the unit works alone and can even be programmed remotely.
Pros
Besides the convenience of robotic operation, they offer better coverage and are ideal for large and irregularly shaped pools.
These cleaners are also efficient compared to suction and pressure side cleaners.
Cons
The benefits are several, but all these come at a substantial cost.
How do robotic pool cleaners work?
Well, superficially, pool robot vacuums work independently and autonomously. But what exactly happens? That's what we want to find out.
To start, let's discuss how the move. Just like the pressure side and suction side cleaners, they have wheels while others have tracks.
Now, there are two approaches for movement. There are robot cleaners that have a motor that powers the wheels or tracks and these are ideal for large pools.
On the other hand, some models use a jet propulsion system which pushes the cleaner forward while ejecting water backward.
Advanced models combine the two approaches in that the motor drives the wheel or tracks system forward while jet propulsion is for downward thrust ensuring the cleaner has a tight grip when cleaning the pool floor or climbing walls.
Next, and most important is how the robotic pool cleaner knows where to clean. Here again, there are two approaches.
The cheap robot vacuums move randomly in the pool, and after a certain period, it assumes every part of the pool is covered.
On the other hand, the new and advanced models have an intelligent scanning and mapping system. It plans the cleaning routes and knows where it has been and where it has not cleaned. This ensures entire pool coverage, unlike the older pool robot vacuums.
When it comes to how pool robots clean, they combine scrubbing brushes plus suction power.
The brush is for agitating the dirt that has stuck on the floor and walls while suction power sucks any debris and dirt into the bag.
7 benefits of robotic pool cleaners
Here are reasons why you shouldn't think of robotic pool cleaners as an unnecessary upgrade.
No pump or major installation requirement
Great convenience courtesy of the robotic operation
Top notch efficiency and consequently, huge savings on energy bills
Quiet operation compared to the likes of Barracuda G3
Reduced chemical usage because of regular and timely cleaning
Easy operation – just put it in the pool, and it will handle the rest
Minimum maintenance requirements because of the electric operation
Robot Pool Cleaner Technologies
There has been a stiff competition in innovation amongst the vast robotic pool cleaner brands. In this section, we explore the noteworthy technological innovations that have solved the ever-changing needs of pool owners.
Vacuuming Technology
The suction power is the fundamental dynamic when it comes to sucking up the pool dirt and debris. With high suction power, these little helpers do a better job, so it is important to focus on vacuuming technology.
Various brands have different approaches to boosting their cleaners' suction power. While they may be branded differently, they all point to the same thing – boosted suction.
Examples of the technologies we are talking about here include Vortex Vacuum Technology in the Polaris Sport.
Intelligent pool scanning
As discussed earlier, there are two cleaning patterns; random and systematic.
For large and irregularly shaped pools, the random cleaners skipped some spots untouched and took longer time to finish cleaning. Again, the results are not satisfactory.
The advanced models, however, come with intelligent pool scanning systems and gyroscopes which enable them to move methodically and precisely. There is a software that uses an algorithm first to find out the entire size of the pool and then plans the most efficient route to take.
Examples of the individual technologies include Dolphin's CleverClean Technology which also senses obstacles like the ladder.
There's also the Polaris ActivMotion Sensor Technology which builds maps as time goes by thereby creating efficient pathways for effective and fast cleaning.
Others include SmartNav 2.0, ActivMotion Technology, among others.
Maneuvering technology
As far as maneuvering is concerned, two technologies have been exploited.
The first is the use of wheesls and the second is track.
If you choose a wheeled system, make sure to go for the wide tires to give the unit more traction. Also, consider an all-wheel-drive system for the best performance and seamless maneuvering even on large sunken debris that may block the cleaner.
Some of the best robot cleaner technologies here include Polaris 4WD with WideTrax Wheels and Dolphin's HyperGrip Tank Tracks.
While AWD wheel systems are the best, they are not as perfect as tracks. The advantage of tracks is the wider adhesive contact with the floor and walls. They are also the best for the vinyl and fiberglass pools as they can't damage the fragile surfaces.
360° Anti-Tangle Swivel
Attention
Cable tangling and twisting is a major problem associated with the use of robot pool cleaners, especially in large pools.
A typical pool cord rotates over 300 times a day, and that means tangling. The problem here is that the cord may get damaged when tangled, so pool cleaner brands developed the swivel technology.
A 360° Anti-Tangle Swivel reduces tangling by a great deal. The 360° rotation of the cord means that no matter how the cleaner turns, the cord will remain straight. This ensures the cleaner reaches every nook and cranny of your pool and the power is supplied seamlessly.
This is a popular technology and a basic necessity if you have large pools and long cables/cords.
Programmable Timers
The suction side and pressure side cleaners are great, but you need to set them to clean. For pool owners with tight schedules, there was a need for a convenient timer feature for preset cleaning times.
The biggest feature these cleaners have is the programmable timers. They have been engineered with a memory feature which allows pool owners to set the preferred cleaning schedule for seven days straight.
Machines with these timers are definitely expensive, but with the ability to set a weekly cleaning schedule, you can forget the worries of a dirty pool. You also get more time to concentrate on other cleaning chores.
Smart connectivity
The advancements in Smart home technology have extended to the pool cleaning industry. Today, we have several smart robotic pool cleaners. They work with remote controllers and can also be operated via Smartphones as well.
There are two connectivity protocols available with these cleaners.
The first is Bluetooth Connectivity, and unfortunately, it is less popular because of the limitations, and again, it's not secure.
The other protocol is Wi-Fi, and at least this is a popular connectivity protocol. It allows you to remotely control your robot cleaner from anywhere as long as you have a reliable internet connection.
Maytronics is a great brand to buy. It has the MyDolphin App, an intuitive mobile interface where you can virtually control your robotic cleaner and even spot clean specific areas of the pool.
Factors to consider when buying robotic pool cleaners
In this section, we have some checklist that should guide you before settling for any robotic pool vacuum. Use it to create the perfect wish list.
1. Brand
There are so many brands that have dominated the industry. Some are trusted brands while others are just cheap knockoffs that won't give you value for your money.
Important
Always deal with the household names, for example, Pentair, Hayward, Dolphin Zodiac, Aquabot and the likes. Cleaners from this brand offer better cleaning, efficiency, safety, and durability. The warranty is genuine and after sales service beats the cheap brands.
While these top brands attract high price tags, they are worth every penny. It is a market that affirms the saying, cheap is expensive.
2. Budget
How much money have you set aside for a pool cleaner? The kind of robotic pool cleaner you buy will be determined by your budget.
They cost anything from $100 to $1500 depending on the features and performance.
If you want a basic robot pool cleaner, set a budget of $100 to $300 but be ready to forego the advanced features like intelligent scanning, smart connectivity as well as a host of other new features.
From $500 to $800, you're sure of getting a good and reliable model from any of the mid-tier brands.
Lastly, for $900 and above, we have the crème de la crème of the industry's best models with the latest innovations.
3. Inground or above ground
Just like other types of pool cleaners, the robotic models are designed for either in-ground pools or the above ground. Some fee models can suit two kinds of pools.
Important
It is very important to buy the right cleaner for the job. Failure to do this, you might end up with a cleaner that is too tough for the above ground pool walls and floors and may end up damaging your pool.
Attention
Not forgetting the fact that using the wrong pool cleaner may void your pool's warranty.
4. Pool size, shape, and surface
What's the size of your pool? The small pools are not hard to clean and any entry level robotic pool cleaner will be up to the task.
Just make sure that the hose provided can freely stretch from one end of the pool to the other leaving some few feet of allowance.
In the case of large pools, also make sure that the hose floats freely and also leaves some allowances.
Next up is the coverage and here, consider whether the cleaner has what it takes to cover your entire pool.
A good model should have a smart scanning system which enables methodical cleaning as opposed to random cleaning.
An intelligent pool cleaner knows where it has cleaned, where it is and where it needs to go next. Above all, it plans it's movement in advance using the most efficient route thus guaranteeing not only effective pool cleaning but a fast turnaround as well.
There are different kinds of pool surfaces the popular ones being fiberglass, concrete, and vinyl.
While all pool cleaners are suitable for concrete pools, you need to get specially designed robot cleaners for vinyl walls and fiberglass. The tough concrete walls may withstand the brush action, but vinyl and fiberglass may get damaged. Rubber tracks are also ideal because they have better traction compared to solid wheels.
5. Weight
Even though this is not connected to the cleaning performance of the cleaner, it is a worthy consideration.
Important
Remember, it is not recommended to leave the unit in the water. You need to remove it and store it safely after use.
That means there is some lifting required daily. You will also need to be emptying the cleaner before pulling it out.
Go for a lightweight cleaner is you are not ready for heavy lifting. Also, look for any usability features like Auto-Lift System and Easy Lift System which make it easier to pull out the cleaner.
A transport caddy may also come in handy during transportation.
Attention
Please note that while you may be looking for an operator-friendly cleaner, the weight usually is proportional to the size of the cleaner.
Pool cleaners for large inground pools are heavier compared to those for small above ground pools.
6. Type of debris
There are different types of pool dirt and debris depending on your pool's location and also, the users. Not all the models offer the same performance so it will be important to dig deeper and find out what each model is best for.
In the market, you will find pool cleaners for small debris while others handle the large debris.
In the same token, there are specially designed models for picking up extra large and irregular debris like leaves, twigs, and acorns.
Important
An ideal robotic pool cleaner should have adequate suction, and large enough vacuum opening to handle even the large debris.
The filter should also be efficient to capture the small debris like sand pebbles and even small microorganisms. Preferably, go for a dual filtration system or an adjustable filter system.
7. Cleaning orientation
Different cleaners have been designed with specific cleaning abilities.
There are those meant for floors only while others can handle walls too as well as the waterline. More often, this will be highlighted in the product description.
The best choice is an all-in-one cleaner that can handle the pool's floor, walls, and even the water line.
Attention
The maneuverability of the cleaner is what matters most here. The thrust should be adequate to push the cleaner forward. Equally, there should be sufficient traction to enable the cleaner climb walls without toppling over.
8. Cleaning performance
This is the most critical discussion, and it involves three main subjects; vacuum power, agitation, and filtration.
So, what exactly are we talking about here?
The suction power and vacuum opening should be high and wide respectively. This way, the cleaner can quickly suck up the dirt and debris regardless of their size. For large pools, a cleaner with three motors is the best to allow maximum power for suction instead of relying on one motor for propulsion and suction.
A powerful brush system is also a consideration. If your pool has algae and other stains, get a cleaner with a powerful oscillating bristle or rotating rubber brushes to agitate the dirt. For the hard pool surfaces, go for bristle brush but in vinyl and fiberglass, choose the softer rubber.
Last is filtration, and here, a larger filter bags is the priority. Adjustable filters are also a significant addition to any worthy cleaner because it allows you to filter both large and small debris.
9. Efficiency
One of the essential benefits of robot pool vacuums is their efficiency. Make sure you get the best cleaner which will save you a few bucks at the end of the month.
Attention
The intelligence of robot vacuums together with the latest motors makes them much efficient compared to pressure and suction side cleaners. Some advanced models save up to 90%.
These cleaners manage such savings courtesy of the low voltage motor and faster cleaning turnaround.
10. Safety
Robotic pool cleaners use electricity from the mains, and when submerged in the pool, it becomes a hazard. However, some key features can guide you on picking the safest electric pool cleaner.
The first thing you should check out for is a sturdy and robust cable that has been well insulated to withstand the adverse conditions like cold and the scorching sun. The cable should be swivel to reduce chances of tangling which is also a hazard if small kids are playing on the deck or around the pool.
The next important aspect is checking the voltage. Ideally, electrical equipment that runs on low voltage bears a lesser risk. Above all, it should have a Ground Fault Circuit Interrupter (GFCI) for family safety.
11. Warranty & after sales
The warranty is an essential consideration because it covers you in case your pool cleaner develops a problem that is more likely related to manufacturing and artistry defects.
It's common to hear customers saying their cleaner worked for a few days before going silent while others had some parts broken.
A long warranty is the most desirable. You can also go for the 'Extended Warranty' packages if you feel what is offered is short.
Attention
But still, there are a few brands and sellers that are notorious for duping buyers. But then, it's not only the brands that are to be blamed. As a customer, you should read and understand the terms and conditions of the warranty and follow them strictly.
Once you have purchased your cleaner, you may need help a few times here and there – whether it is troubleshooting or parts replacement. Avoid these cheap brands if you want proper after sales service including affordable and readily available maintenance parts and accessories.
How to maintain a robotic pool cleaner
Indeed, top brands guarantee durability, but without proper maintenance, they don't last long.
In this section, we have discussed the important maintenance tips that will help you get .longer service.
Important
To start, make sure all power is cut out from the unit.
1. Rinse the cleaner's exterior and if need be, wash of stains, and other stuck-on dirt like greenish algae.
2. Ensure you clean the filter and cartridge after each cleaning session to increase filter life. Remove the large debris and blow off the tiny dirt using high-pressure water. Replace them after six months or so or when they show signs of wear.
3. Inspect the brush and remove any dirt that might have been embedded. Do this while rotating it slowly to cover the entire brush surfaces. Replace also when they show signs of wear.
4. Dirt on the impeller may also be a concern. Carefully inspect the internal components and if you find dirt, try to blow it out using air pressure. If it doesn't come out, you might have to unscrew the unit and manually remove any dirt.
5. When it comes to storage, always remove it from the pool, empty the water and wind the cord. Then store it in a cool, dry place away from sunlight and heat.
Attention
Adhering to these tips might give your cleaner longer life. The most important thing to remember is using the right cleaner for the right job.
Frequently Asked Questions
1. Do I need to install or invest in any extra plumbing or wiring to operate my robotic pool cleaner?
No. robot pool cleaners work independently of your pool plumbing system and have filter bags. This is unlike the suction and pressure side cleaners. In terms of electrical wiring, no extra installation is needed as well. These cleaners simply plug directly into a standard grounded power outlet equipped with an approved GFCI safety.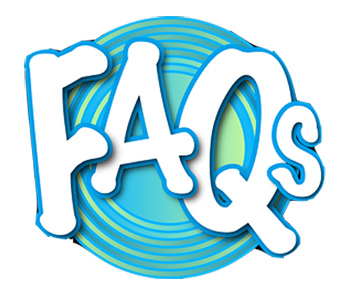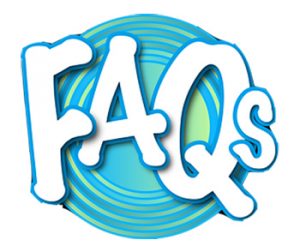 2. Can I swim while the robot cleaner is in the pool?
These cleaners are built with safety features, so the risk of electric shock is eliminated. However, we don't recommend swimmers with families to make it a habit. Accidents do happen especially with the little guys.
3. Can I use an extension cord if my electrical mains is far from the farthest end of the pool?
It is possible to use extension cords, but We don't recommend. We always emphasize on buying a robot cleaner with a long enough cord.
4. Is a GFCI outlet a necessity in electric/robotic pool cleaners?
For the safety of the swimmers and even those around the pool, you need to run pool equipment with GFCI outlets. Their essence is stopping electricity flow immediately a ground fault is detected.
5. Can I Use an aboveground pool cleaner for an inground pool?
Yes, you can use an above ground pool in an inground pool without worrying about damage. However, you need to be concerned about aspects like cable length and power.
6. Can I store my robotic pool cleaner in the pool?
It is safe to keep your robot pool cleaner in the pool even when it`s turned off. You can leave it and schedule for weekly cleaning. Only mind that excessive chlorine may demage your device.
Wrapping Up
That's it for today folks. If you've been looking for the best robotic pool cleaner, we hope our review has helped.
Now, weigh your budget and carefully assess your needs and you'll be set to shifting to convenient pool cleaning.
Above all, sign up for our price drop alerts, and we'll send you the latest robotic pool cleaner deals and discounts.