Top 5 Best Robot Vacuum Cleaners Under $200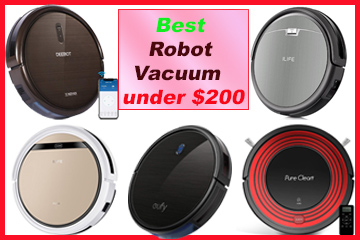 Robot vacuums are taking over housecleaning because of their convenience and also, versatility.

Unfortunately, most of the household brands are very expensive; you will need a budget of around $500 – $900. These are the latest models that come with some of the industry's leading technologies, the likes of Roomba 960, Roomba 980, D7 Connected and the rest.

However, many people don't know that still, with a very tight budget, several options can offer excellent service and most importantly, value for money. But which are these robot vacuums now that the market is filled with a lot of cheap knockoffs?


Today, we took it upon ourselves to review some of the best robot vacuums you can get with a budget of around $200. Some of them cost much less than $200 while some are slightly higher than $200.

Navigation

Intelligent navigation, anti-drop & anti-collision sensors

Advanced Navigation Sensors

Random navigation, Anti-drop and Cliff Sensor

Infrared-sensor and drop-sensing

Smart features

Smart App & Voice Controls

Cleaning Modes

Auto, Single room, Spot, Edge, Max Mode

Auto, Spot, Edge, Max Mode and Damp Mopping

Auto, Max, Edge, Spot, Mini room

Auto, Spiral, Edge, Zig-zag, Wet Mopping

We are going to review the best models first before looking at how to choose the right robot vacuum.
1.Deebot N79s – Cheap but Good Smart Robot Vacuum Cleaner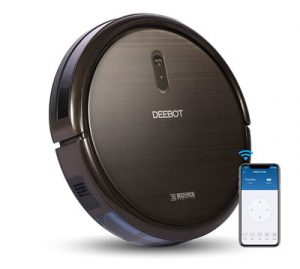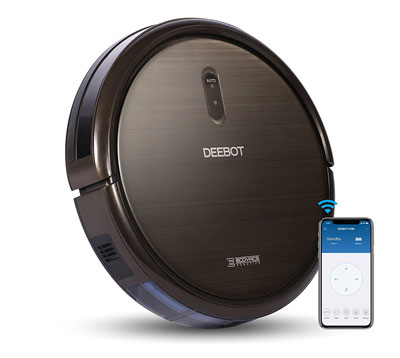 This is one of the hottest products right now in the robot vacuums market.
It is the new upgrade of the Deebot N79 that lacked a few things here and there.
But the most exciting bit is the fact that it is even cheaper than the Deebot N79 itself.
Since its release, it has retailed at around $200 while the older model's price is stuck at $250.
That is enough reason why the Deebot N79s is the hottest topic as far as ECOVACS is concerned.
Important
If you are looking for a versatile cleaner, you have one in the Deebot N79s. This robot vacuum has been designed to handle all hard floors; tile, linoleum, vinyl and the rest.
Also, it does quite well on light to medium pile carpets but on heavy pile, don't expect much from it. But for its price, it's quite commendable. Pet owners also have something to smile about; high-efficiency filters, and a tangle-free brush.
The older Deebot N79 was a superb robot vacuum as far as hardwood floor vacuuming is concerned. But when it came to carpets, even light pile carpet, it was greatly overwhelmed.
But the Deebot N79s can still vacuum a good amount of dirt and dust from a carpet that the N79 has just cleaned. This is courtesy of an extra cleaning mode called Max mode that boosts suction power.
The Deebot N79s is also smarter, and this time around, ECOVACS brought on board voice assistant compatibility. This feature allows you to control the robot vacuum using Alexa or Google Assistant. With the Deebot N79, you only get the Wi-Fi for Smartphone operation; no voice control is supported.
One thing I like about some of these cheap Chinese brands is their runtime. The entry-level to mid-level Roombas have a 60 minutes runtime on average. Only the two new Roombas, 960 and 980 have a longer runtime.
Important
The Deebot N79s has quite a long runtime. It can do 100 minutes when on hard floors and around 80 minutes when Max mode is active.
Attention
But there is significant room for improvement especially around the navigation and also autonomy. This robot vacuum uses a random approach in cleaning floors. This means there are areas it will clean twice, thrice or even more times and still, there is a chance that it will skip some areas.
Regarding autonomy, we would have loved to see it go back to cleaning after recharging.
Pros
Very affordable
Cleans hard floors, carpets, and pets
Max mode for carpets
Wi-Fi and Alexa
Long runtime
Cons
Random navigation
No resume function
verdict

The Deebot N79s may not offer everything you may want in a robot vacuum cleaner. But at least, it has quite a lot to offer including some really sophisticated features like Wi-Fi and Alexa support and the price is really affordable. Much of the sacrifice here is on performance, but if you program it to be cleaning daily, it should handle your floor vacuuming pretty well, especially if you have hard floors and pets.
2.iLIFE V5s Pro Robot Vacuum Mop Cleaner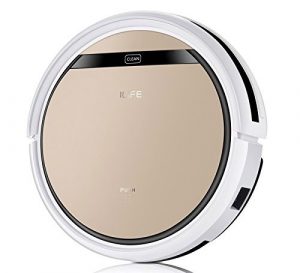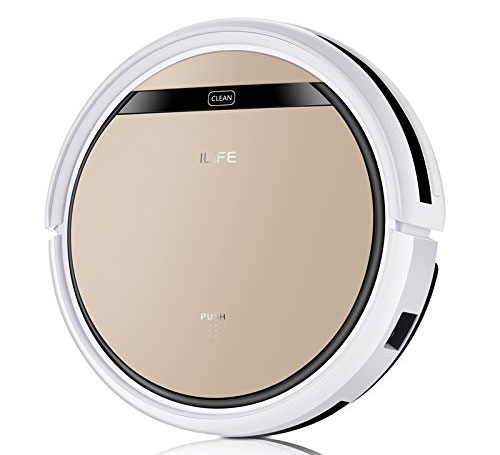 I really like the influence of the Chinese brands in today's robot vacuums market.
Another awesome Chinese robot vacuum cleaner you can get for less than $200 is the iLIFE V5s Pro.
Important
This one is excellent value for money if you have no prospects of buying a robot mop. Just like the rest of the ILIFE V Series models, it offers 2-in-1 cleaning.
This robot will sweep, vacuum and mop simultaneously. If you have a hardwood floor, then this should be on your wish list.
You get all that for less than $200 – that's the catch!
A good robot vacuum should have a low profile design, and that's precisely what ILIFE V5s Pro is all about. It is round and has an 11.8-inches diameter.
But the best part is that it is very thin. At 3-inches, it can slide under most of the furniture. This is very noteworthy considering the lies of Roomba are 3.6-inches high. The maneuverability is also improved courtesy of large 65mm diameter RoadRover wheels.
The V5s Pro has been designed for hardwood floors, as well as tile and linoleum. It also cleans pet hair and allergens as well. But the highlight is the dry and wet mopping function. While the latest Roombas don't have even dry mopping, the V5s Pro offers both dry and wet mopping.
Important
The most interesting bit is the i-Dropping technology that ensures efficient water usage. For large apartment owners, the longer runtime is also fantastic.
Attention
The ILIFE V5s Pro is such a great vacuum cleaner but offers dismal performance on carpets.
The reason is that it has average suction power and also, the brush is not designed to pick up dirt on carpets properly. In fact, they are quite rough and would damage delicate carpet fabrics. Well, if you had not known, the iLIFE V-Series sacrifices carpet cleaning for mopping. So, if you have carpets, I strongly discourage you from buying this model.
Attention
Another shortcoming of the ILIFE V5s Pro is the lack of Smart connectivity. Unlike Deebot N79s and other cheap models with Wi-Fi, the V5s Pro comes with a remote only. So, while the thought of having a vacuum that will mop is very exciting, there are limitations too.
Pros
Low profile design
2-in-1 cleaning
Cleans hard floors and carpets
Longer runtime
Cons
Not suitable for carpets
No Wi-Fi / Alexa
verdict

If you want value for money, then you can never go wrong with the V5s Pro. The 2-in-1 function is just fantastic. Unlike the base model, this one offers both dry and wet mopping. If you have hardwood floors and pets, the V5s Pro is precisely what you need. It will sweep, pick up and vacuum dirt as well as pet messes and mop urine also from the floor. With this vacuum, you don't need to spend more on a robot mop.
3.iLIFE A4s is Budget-Friendly Robot Vacuum Cleaner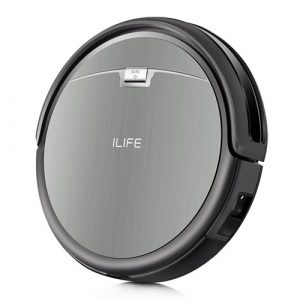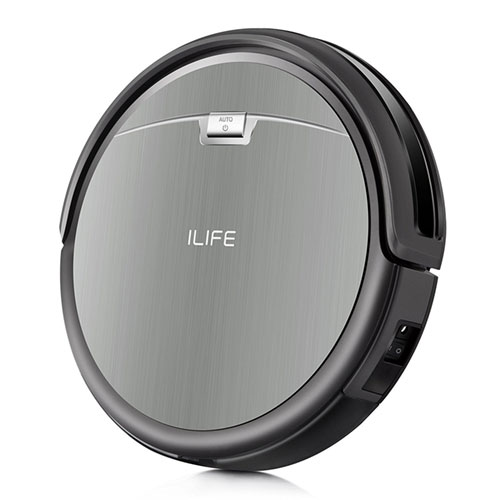 You can't downplay the popularity of ILIFE as yet again, another model from the Chinese powerhouse finds its way into our list of the best robot vacuums under $200.
This model is designed to offer vacuuming only and even though it lacks Wi-Fi and Alexa it is an excellent value for money. If you have carpets, hardwood, tile, linoleum or pets, the A4s has got you covered.
If you have a large apartment, we strongly recommend this robot vacuum because of the long runtime. As you are all aware, it's not possible to find a robot vacuum with resume function at this budget; unless during Black Friday, maybe. That means runtime is very vital and that's an area ILIFE A4s excels in. It can do a cool 140 minutes when in Eco mode and 120 minutes in Max mode.
Important
Even though it lacks resume function, the long runtime is enough compensation.
The iLIFE robot vacuum cleaner has been designed to offer the best carpet cleaning. If you look at ILIFE model comparisons, you realize that the V-Series have integrated mops and perform poorly on carpets.
On the other hand, the A-Series models don't have integrated mops but are ideal for carpets. One of the dominant features of the A4s is the Max mode that produces higher suction for vacuuming carpets.
But as a word of caution, don't expect the best deep cleaning in heavy carpets.
Important
Another thing that makes the ILIFE A4s an excellent purchase is the bristle brush system with anti-tangle technology. If you have pets, you understand how tangling can be a problem.
The A4s will pick up all types of dog hair regardless of their length. So, at no time will you come to find a halfway cleaned house because the vacuum jammed. The ultra-efficiency also come in handy in filtering the small particles in the air.
Important
When it comes to design, this is among the thinnest robot vacuums on the market. It stands at 3-inches only and can creep under furniture easily without getting stuck. Regarding aesthetics, ILIFE has kept it simple, and I am glad this model looks tough and hard to scratch like the V5s Pro.
Attention
Unfortunately for this model, you have to sacrifice on the Smart features. ILIFE has been able to craft a solid robot vacuum that delivers excellent raw power but is not Smart home ready. One of the biggest sacrifices with the A4s is Wi-Fi and Alexa control. Instead, a remote controller is provided which is still fine but then, you can't control the vacuum remotely
Pros
Longest runtime
Max mode for carpets
Low profile design
Best for pets
verdict

The ILIFE A4s is an awesome robot vacuum cleaner that you can snap when on a budget. Even though it lacks Smart features, it has been built for raw power. It comes with remote control, so if you fancy one, then that's another reason you need to buy the A4s.
4.Pyle PureClean PUCRC95 Automatic Programmable Robot Vacuum Cleaner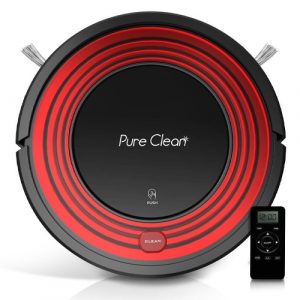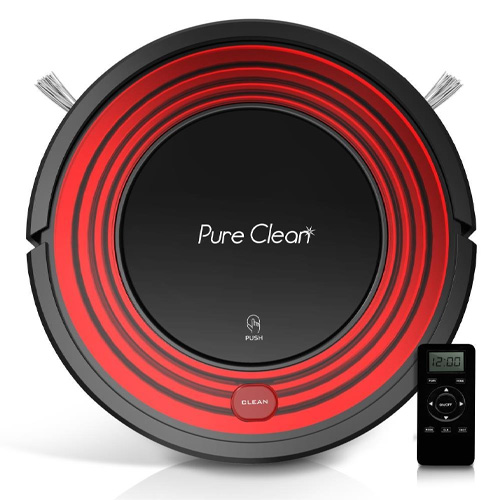 This is a less-known brand that packs quite some fantastic features, and the budget won't shake your wallet.
Today in our list, it is the cheapest robot vacuum. But two things put Pyle to a test; it is an unknown brand, and very cheap than the rest. That makes everyone skeptical, but hey, this robot vacuum has proved its worth.
It retails for around $150 making it a great purchase for starters, college students and anyone looking for a really cheap robot vacuum cleaner.
Important
One thing I like about Pyle is the raw power it packs. We once compared it to the Roomba 650, and it performed quite well. This robot vacuum has been designed for carpets, hardwood floors, hard floors as well as pets.
But then, expect the best performance on hardwood and hard floors only. On carpets, it will work on light pile only, but on medium, to heavy pile, the suction is just not enough to remove the dirt that hides deep inside.
When it comes to pets, the long-haired breeds will overwhelm it because of tangling. Also, the filters are not true HEPA, so air filtration is not 100%.
Important
Besides the raw power, this models offers 2-in-1 cleaning meaning it will sweep and vacuum as well as mop simultaneously. This is really awesome considering even high-end models like Roomba 960 and Roomba 980 lack even the primary mopping function. But for $150, you have a robot vacuum that will complete the job; no more bending with a bucket and mop.
But note, the detachable mop offers dry mopping only. It is further backed up by a Li-Ion battery that can push it for 90 minutes when vacuuming and around 75 minutes when mopping.
But on the downside, Pyle PureClean PUCRC95 has quite a random navigation. Besides hitting obstacles and getting stuck on area rugs frequently, its cleaning pattern is not methodical. It just dashes everywhere randomly without following a particular pattern. The result is longer cleaning time and worse enough, missing some spots.
Attention
Another thing, it lacks Smart connectivity, a feature everyone is looking for now that Smartphone Home Apps and Alexa are the order of the day.
But fortunately, a remote controller is provided which makes operation much easier even though you have to be near. If you have mobility issues or you are looking for a robot vacuum gift for the senior citizens, this is a great choice; they are more comfortable with remote controllers than Smart devices.
Pros
Cheapest deal
2-in-1 cleaning
Long runtime
Physical remote
Cons
No Wi-Fi / Alexa
Random navigation
verdict

I wouldn't say that Pyle PureClean is such an awesome robot vacuum cleaner, but for anyone on a budget, it is the perfect choice. Yes, there are a lot of things it needs to improve on, but it's not every day you get such a reliable robot vacuum for $150. If you have a small apartment, with a few furniture and no carpets, this will be excellent value for money.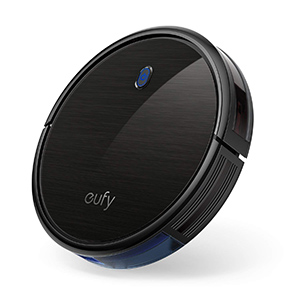 One of the hardest things to clean is carpets, but that is a buzz for the Eufy Robovac 11s. This is a new robot vacuum that has been built with the latest efficient motor.
It is capable of delivering a 1300Pa suction which is higher than what Roomba 890 and Roomba 960 offer. The BoostIQ technology basically works in the same fashion as Carpet Boost. When carpets and rugs are detected, the vacuum power is stepped up.
Important
So, if cleaning the carpet is your priority when looking for a budget robot vacuum, get the Robovac 11s.
The Robovac 11s is among the series of Eufy Robovac vacuums with very quiet operation. As mentioned in the introduction, it has a very efficient motor, and besides, it offers very quiet operation because of the brushless design.
Important
So, if you like vacuuming at night or you just hate the irritating noise, a robot vacuum makes, get the Robovac 11s. It produces 55dB only when the average sound of robot vacuums is 65dB.
The other thing about this robot vacuum is the beautiful design. First, it is very thin, and that's why it's also called Eufy Slim. It stands at 2.85-inches making it among the slimmest robot vacuums I've come across. It can slide under furniture easily thus guaranteeing that it will clean the entire house including the tight corners where most dirt hides. The tempered glass anti-scratch cover also adds a touch of elegance and the mirror effect on the top will amuse pets, but then, it's quite fragile.
Now that it has a slim design, you don't expect it to have a large dustbin, but then, that's exactly what this model surprises us with. It comes with a 0.6 L dustbin which is twice the standard dustbin of robot vacuums.
But why should you be concerned about the bin size? Well, the essence of a robot vacuum is the convenience, so you want a robot that has a large bin to reduce the frequency of emptying. Remember, robot vacuums don't have a self-emptying function, and besides, they stall when the bin is full.
Attention
Unfortunately, the Eufy disappointed the Smart home enthusiast as this model doesn't have Wi-Fi or Alexa support. That's also what put me off but then for the price and fantastic performance I wouldn't mind having it on my wish list. For remote operation, there is a remote controller provided for the essential functions like selecting cleaning modes and scheduling.
Pros
Superb suction (1300Pa)
Quiet operation
Low profile design
Large dustbin
verdict

The Robovac 11s is an excellent robot vacuum for carpet owners. The suction is just incredible and gives the likes of Roomba 960 and 890 a run for their money. Even though it is not Smart and intelligent, it is a floor vacuuming workhorse. The budget is also friendly and would be a superb purchase for a homeowner looking for the best cleaning performance only.
Robot Vacuum Buying Guide: How to Buy a Cheap Robot Vacuum Cleaner
In this section, we want to go deeper and discuss some of the most important aspects you need to look at when buying robot vacuums.
It is commonly agreed that the best robot vacuums are expensive. I totally agree with this, but then, that doesn't mean that a cheap robot vacuum cleaner isn't worth the money.
Attention
Unfortunately, there has been this wrong notion that all cheap robot vacuums are a waste of money. Yes, there are a lot of knockoffs, but as we have seen above, there are also some outstanding models at a cheap price.
In this segment, we want to get more profound insights on how to shop for the best cheap robot vacuum cleaner.
To start off, we will look at what makes a good robot vacuum cleaner.
Factors to consider when buying a robot vacuum cleaner
Even though we have already suggested for you some of the best robot vacuum cleaners under $200, tomorrow things might change. It is better to learn how to choose the best robot vacuum instead of relying on recommendations only.
That said, we want to focus our attention on the critical factors to consider when buying cheap robot vacuums.
Without further ado, let's get to business.
1. Design and aesthetics
While the design is not in any way related to the performance of a robot vacuum cleaner, it affects its overall performance.
There are two main robot vacuum shapes; round vs. D-shape robot vacuums.
D-shape robot vacuums are the best, but unfortunately, only Neato Robotics offers this kind of vacuums and the cheapest is in the $300 region.
Apart from the shape, you should also consider the thickness of the vacuum.
Typically, a thin vacuum cleaner, 3-inches or less, is the best because it can go under most furniture including those with low ground clearance.
One of the trends I have noticed is that the cheap models are really keen on this, but the high-end models are really thick with something like the D7 Connected standing at 3.9-inches while Roomba is 3.6-inches tall.
2. Cleaning performance
Important
The most important aspect to consider when buying vacuums is the cleaning performance. When it comes to robot vacuums, you need to be very selective because robot vacuums are highly specialized.
For example, if you want the best vacuum for carpets, you need one that has the highest suction power.
When it comes to hardwood floors, gentle bristles are preferred, and a mopping function would complement it by wiping stains and grime using minimal water.
On the other hand, if you have pets, look out for models with a tangle free brush and HEPA filters because tangling and allergens are pet owners' biggest headache.
Unfortunately, it is very hard to find a cheap robot vacuum with all these features combined. That is a reserve for the elite robot vacuum cleaners like Roomba 980 and Botvac D7 Connected. From that, it is clear that there is no cheap all round vacuum cleaner; you have to compromise some cleaning properties but most importantly, get a vacuum that suits your needs.
3. Autonomy
Important
The advantage of robot vacuums is the automatic operation and autonomy. They come with rechargeable batteries, and most have the self-recharge function. This feature enables the vacuum to find go to the charging base.
There are also some that will resume cleaning after recharging, but that's a feature reserved for the high-end models. When it comes to cheap root vacuums, you should be contented with the self-recharge function. But make sure you look for the longest runtime, and that's why we included the ILIFE A4s in our list today.
Still, on autonomy, we have a feature called Scheduling that enables homeowners to program the robot vacuum to start cleaning at specific times. All robot vacuums, cheap and expensive, have this feature and it helps to relieve them from the worries of cleaning the floor for the entire week.
In simple terms, you can set the vacuum to start cleaning at 8:00 am daily, and it will do so for the whole of the week. If you have a robot vacuum with Wi-Fi, it is much easier to program the robot because you have access to it remotely. For non-Smart robots, the remote control works only when you are near the vacuum.
4. Navigation and maneuverability
Besides cleaning performance, the navigation and maneuverability of the robot vacuum is the next big debate. Robot vacuums navigate autonomously, but that is not to say that they are invincible. From time to time, you will find your robot vacuum stuck, or it will hit obstacles.
Important
The accuracy and reliability of robot vacuums greatly depend on the navigation system used. Typically, robot vacuums rely on sensors for navigation, but the best models add visual data by utilizing a real-time camera.
For the cheap robot vacuums, you have to settle for the SLAM navigation that uses sensors only for localization. There are also a set of obstacle and cliff sensors to prevent it from hitting obstacles and falling off the stairs.
The maneuverability of the vacuum also matters especially in terms of the wheel size and design. If you have hardwood floors with dents of heavy carpets and area rugs, you want to buy a robot vacuum with large offroad wheels. The good thing is that there are several cheap robot vacuums with the best maneuverability courtesy of large wheels.
A model like ILIFE V5s Pro has large RoadRover wheels that will climb and transition from carpets and areas rugs easily.
Attention
There is also the aspect of boundary marking and containment. Unfortunately, for this budget, I won't guarantee that you will find a robot vacuum with boundary marking. However, if you step up your budget just a little bit, you can get offers like Roomba 690 from $300.
5. Smart features and connectivity
In this modern age, you want a robot vacuum cleaner that gives you the power to do more.
While in the past the Smart features were reserved for the high-end models, we now have some cheap models that are fully loaded with Wi-Fi, Alexa compatibility as well as 3rd party integrations.
The Deebot N79s is a good example. Even though it has connectivity lags from time to time, it allows homeowners to control it via Alexa, Assistant and other 3rd party integrations like IFTTT and Smart hubs like
Vera, Wink, and SmartThings
. But the most practical feature is the remote Smartphone operation courtesy of the 2.4 GHz WI-Fi.
What are the best cheap robot vacuum brands?
When shopping for anything, the brand is the number one factor people consider. There has been a perception that cheap robot vacuums are always from lesser known brands. But this is not still the case because we have some really nice vacuums you can get for $200.
Attention
But I must admit that the cheapest robot vacuums under $100 are from generic brands.
When shopping for a cheap robot vacuum, there are several brands that I will recommend.
First, check out ILIFE as it has more than 5 robot vacuums retailing at under $200. In fact, their most expensive robot vacuum cleaner, the ILIFE A8 which retails at $300 which is third the price of Roomba 980.
Another great area to shop is ECOVACS which also has several vacuums in the $200 price range. The cheapest models are Deebot SLIM and Slim 2 though these are for bare floors only.
Important
However, the Deebot N79s is the highlight of ECOVACS as it comes with all the features you'd want in a robot vacuum. Interestingly, it retails at a lower price than the predecessor, Deebot N79 which has fewer features.
verdict

Clearly, ECOVACS and ILIFE win the crown for the best cheap robot vacuums in the market. Neato also ought to be here but then, their most affordable model, the D3 Connected goes for $300 which in my opinion is not worth it.
Are cheap robot vacuums durable?
One of the greatest fears of homeowners is buying a cheap robot vacuum that will die after a short time of use. Because of that, a lot of people have been asking, will a cheap robot vacuum last?
Attention
Just before I continue, I want to acknowledge the fact that most cheap robot vacuums have been built using cheap low-quality materials and technology. That said, they have relatively poor durability compared to their high-end counterparts.
But then, not all the cheap robot vacuums are poorly built. Most of the popular brands manufacture some excellent robot vacuum cleaners.
So, what's the durability of such robot vacuums?
Well, the truth of the matter is that the maintenance of a robot vacuum is what dramatically determines the durability. If you take good care of your robot vacuum, it will last just as long as the expensive counterparts. On the other hand, a poorly maintained robot vacuum will last a very short time.
So, what exactly does maintenance entail?
The first thing you need to consider is replacing the main parts after they are worn out. The filters are the first and need to be replaced after two weeks to one month depending on the usage.
Second, you need to change the brush roll once you start seeing the bristles falling off or when you note a decline in performance.
Another significant replacement part is the battery that will require replacement may be after 18 – 24 months subject to the usage.
There are also some models that need wheel replacement but this is rare.
Important
Apart from the replacement parts, there are a few things you need to do to keep the vacuum in great shape. First, empty the bin more often as a heavy bin wears the battery. Also, find time to clean the brush system as well as the other components. But note that while it may be easy to disassemble the robot vacuum, assembling it can be a hassle, so take care.
Frequently Asked Questions
What is the best inexpensive robot vacuum?
Among the robot vacuum cleaners under $200, Deebot N79S offers the widest set of functions. Having such an affordable price as $199 per item, it provides 1000 Pa suction, a rubber roller with blades and bristles for hardfloors, carpets, and hair, high-efficiency filter, up to 110 minutes of run time, app and voice control, and scheduling. These are the functions, which are presented in the robots over $400. So, Deebot N79S is a great budget choice.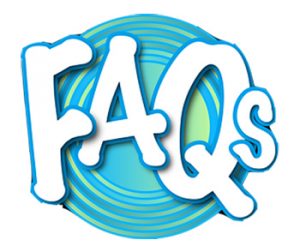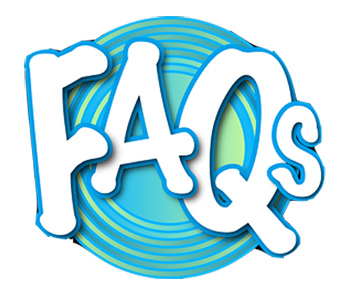 Why is ILIFE V5s Pro so affordable?
ILIFE V5s Pro costs only $179 because this vacuum is suitable only for hardfloors. The ILIFE is a modest model that has only two side brushes, no central brush, 850 Pa suction, sensor navigation, and no WiFi connectivity. Unfortunately, it`s inefficient on carpets and against pet hair, but these two abilities are highly demanded at the moment. Still, if you`re looking for a budget robot for hardfloors, the V5s Pro is for you, as it has mopping function.
Does Pure Clean cope with room cleaning?
Pure Clean PUCRC95 robot vacuum can cope with floor cleaning in several rooms. Though it has weak suction, random navigation, no central brush, app, and voice control, it features some basic functions, which are necessary for standard room cleaning. Thus, we see a rather good 90 min. run time, two side brushes for sweeping, several cleaning modes for various types of pollution, HEPA style air filtration, scheduling, and even mopping. This Pure Clean is suitable for hardfloors; carpet cleaning is not desirable.
Which robot vacuum cleaner under $200 is the most powerful?
Though usually budget robot vacs don`t provide high suction, Eufy 11S can produce up to 1300 Pa power. It is the most powerful robot among all under $200.
Wrapping up
Indeed, there are some good robot vacuums under $200. Even though the mantra of you get what you pay for is against these cheap brands, some have proven their worth.
So, the next time somebody tells you that cheap robot vacuums are not worth the money, remind them of the likes of Deebot N79s and
ILIFE V5s Pro
and the rest. However, that is not to say that all cheap robot vacuums are value for money.
Attention
You should be very selective when shopping because there are also a bunch of cheap knockoffs, especially generic models.
That said, you want to stick to the household names, ECOVACS, ILIFE, Eufy and the rest. Lastly, don't be too rigid with your budget, if need be, you can add a few bucks, say $30 to get a model with a feature you really like.