Thermostats Ecobee – comparison of models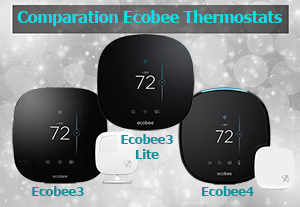 It's no doubt Ecobee is a top player in the Smart thermostats market. Today, everyone will recommend to you Ecobee. This may not as be helpful because we have several Smart thermostats from Ecobee, each with a different approach in features.
There's the first bee, Ecobee3, then Ecobee3 Lite and the latest model, Ecobee4. If you are not sure which one of them to go for, this will be a good read for you. We have reviewed them in this article by comparing their features. But just before we go deep, a short introduction on the models won't hurt.
Table could not be displayed.
Ecobee3 – 2nd Gen. Thermostat with Room Sensors
This is the flagship model of Ecobee Smart thermostats that was released in June 2015. The best thing about it is the fact that it is indeed value for money. Retailing at around $180, it has all the features you would need if you only want to save energy bills. First, it comes with a room sensor and can still be connected to 31 more sensors for those with many rooms. This guarantees accurate room temperature for a more accurate adjustment.
Besides, the Smart Home/Away technology makes sure no energy is wasted on HVAC systems that are not in use. This is a good idea considering you will save like $70 if you had the budget of the Ecobee. You could use this extra cash to buy extra remote sensors. What I liked about the Ecobee3 is its accuracy. With the remote sensors, you can get the exact temperature readings and consequently, precise adjustments. This saves a lot of energy and is the reason why we have the Nest vs. Ecobee battle.
From research, Ecobee saves 23% of energy costs while Nest saves 20%. This unit comes with one remote sensor but you can always buy extra remote sensors if you have many rooms. I have used Honeywell and Nest and I can firmly say that Ecobee offers high accuracy and this is the reason why it is the most efficient Smart thermostat in the market.
On the downside, this thermostat is quite hard to install. Even though you don't need the C wire, you will still need some adjustments to the furnace's wires.
Lite is the lesser model in the series and this translates to the price; it's the cheapest of the 3. If you are on a very tight budget, then this will be your perfect match.
You will notice that it is a little bit slimmer compared to the Ecobee3 and Ecobee 4. After its release in the market back in October 2016, it received quite some heavy criticism, for lacking room sensors compatibility. This was a major blow and Ecobee had to do something; right now they are compatible with room sensors. However, none is included in the package like in the other two thermostats.
Even though the price is attractive, I find it an average performer. It just lacks a lot of key features; features that have made Ecobee3 and Ecobee4 a real success. The worst of all, it doesn't come with any room sensor included, at least Ecobee3 and Ecobee4 come with one.
Ecobee4 – Wi-Fi Thermostat with Room Sensor
This is the prime Ecobee thermostat. that has been around for just 9 months and the reception has been overwhelming. I have used it before and I must confess that this is quite a masterpiece; Smart technology at its best. The Nest Learning is the only Smart thermostat that is in the league of Ecobee4. What I envy most in this thermostat is the inbuilt Alexa. This means you can use it as a Smart thermostat and as Alexa as well.
Unfortunately, I was disappointed Ecobee didn't try to match Nest's 'Learning' intelligence. Considering they retail at almost the same price, I would be more inclined to Nest Learning; AI is the way to go! However, Ecobee remains a top choice if you have many rooms as it has room sensors, a feature Nest lacks. Nowadays, I see a lot of compatible wall plates to keep it away from the cold of the wall. Besides, it makes installation easier.
I really liked the Ecobee4 save for the few shortcomings I found. First, its price is quite high, a cool $250. This is why I chose to stick with Honeywell which offers a superb alternative to Nest and Ecobee4 at around $170.
Ecobee3 vs. Ecovee3 Lite vs. Ecobee4; Similarities

There are some few features that Ecobee has maintained in all these thermostats. So, when shopping for an Ecobee thermostat, you don't have to worry about the following aspects as they are all standard features in Ecobee thermostats.
Display Features
In as much as there is some slight difference in terms of design, especially size, these 3 thermostats pack the same display features. The 3.5-inch diameter display touchscreen used in 2015 is what you will find in the 2017 model. I find this quite a concern considering the advancements in display technology that have taken place in those 2 years. The proximity sensors are also available in all the models. Whenever you step near the thermostat, the display turns on.
Displayed Information and Notifications
These 3 thermostats have the same reporting. First, it displays the set temperature on a better part of the display. Besides this, it can display a week-long weather forecast. The only issue is that they don't display the outside temperature. On the other hand, there are Push notifications that you receive while on the go regarding your HVAC system and in case there is a serious alert like unusual temperature fluctuation. You also get frequent energy reports based on your usage and savings. These reports help you to know where you saved enough and where you need to improve.
Compatibility and Installation
Regarding compatibility, all the 3 thermostats have the same compatibility. I have personally tested them on 24V systems and they all work. A lot of reviews will give you conflicting information on the ease of installation. Some suggest it is easier on some models but the fact remains, the installation procedure is quite hard and will require some basic skills. This is because they all come with the 24V C Wire. The advantage is that they are all equipped with a Power Extender Kit (PEK), a quick workaround for those who don't know much about C wires and HVAC systems.
Home Automation and Remote Control
Most Smart appliances work with several home automation platforms and so do these thermostats. I tested these 3 Smart thermostats with several home automation platforms and I was impressed. They all work with IFTTT, SmartThings, HomeKit, Wink and so on.
Besides home automation, they are also compatible with several remote operation platforms. You can connect it to your Smartphone on Android and iOS.
HVAC System Compatibility
If you are trading extra carefully because of HVAC compatibility, no need to worry. These thermostats are all compatible with most US HVAC installations. You can use Ecobee if you have a gas, electric, oil or even dual fuel HVAC system. Unfortunately, for those with electric baseboards and millivolt systems, this is not your match. If you have an electric baseboard system, the Honeywell Lyric T5 might come in handy.
Energy Savings
This is the most important part of this conversation on thermostats. Everyone wants to save a few bucks in their energy costs and thermostats have surely made this possible. All these thermostats can save 23% of your total energy costs. On average, this is around $10; you will need only 2 years to recover the cost of the Ecobee4.
Ecobee3 vs Ecovee3 Lite vs Ecobee4; Differences
In this segment, we will try to see how these 3 thermostats compare. You will notice that Ecobee3 Lite will come out as the underdog as it lacks many features that Ecobee3 and Ecobee4 have. Here are the areas that these thermostats offer different features and performance.
Voice Control
To keep up with Nest, voice-control is one feature Ecobee had to include in their thermostats. This is also an area where these thermostats have some easily noticeable difference. It is not much of a difference but an upgrade to the Ecobee4. While Ecobee3 and Ecobee3 Lite are compatible with Alexa and Google Assistant, Ecobeee4 has inbuilt Alexa. Literally, it doubles up as a thermostat and as Alexa as well. You can ask it about the weather or even tell it to switch the bedroom lights when you are in the living. In this regard, you will need Amazon Echo for the Ecobee3 and Ecobe3 Lite. Another difference, still under this category is the audio input and output. Ecobee4 has Alexa so it definitely needs a speaker and microphone.
Geofencing
These thermostats also differ a little bit in their sensors. First, the Ecobee3 and Ecobee4 have Geofencing. This is a really cool feature that detects when you are around or not. Basically, you set an invisible boundary such that when you cross in, it knows you are in and quickly, the HVAC system is turned on. On the other hand, when you cross out of the boundary, the system goes off automatically. This is a great feature for those who often forget to turn their systems off. The only problem with this feature is the fact that it uses your Smartphone as the focal point. If you forget the Smartphone at home, the system remains on. Please note that the Ecobee3 Lite lacks this feature.
Room Sensors
Another thing, in as much as they are all compatible with room sensors, Ecobee3 Lite doesn't come with any room sensor included. This means that you will need to buy it separately. The good thing is that you can always find a used one at a cheaper price if you are on a tight budget. Remember, you can use up to 32 room sensors. This is among the reasons that make Ecobee an industry leader; it is ideal for buildings with many rooms. Consequently, from the fact that every room has a sensor, you will be able to operate on peak saving settings. Comfort is also improved because you get the perfect temperature balance.
Just to clear the air, Ecobee3 Lite, by the time of its release didn't support room sensor but now, it does. Also, now that Ecobee3 Lite has room sensors, it thus has room occupancy sensing abilities.
Compatibility with other Heating Appliances
This is an area where the Ecobee3 Lite is really lacking. While the E3 and E4 are compatible with humidifiers, dehumidifiers, ventilators, HRVs and ERVs. This connectivity enhances accuracy and helps in making the right temperature adjustments. The E3 Lite lacks this feature, something that makes it less superior to the E3 and E4.
Editors Choice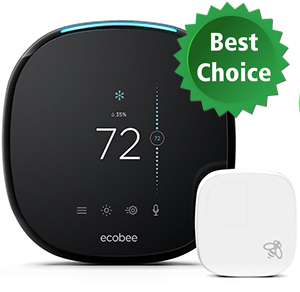 By all means, the Ecobee4 is the best Ecobee thermostat. In as much as it is expensive, it is worth every penny of the $250 price tag. A lot of people may argue that the Ecobee is better but considering Ecobee4 has inbuilt Alexa, it remains the best value for money; it works as a thermostat and as well as Alexa.
Wrap Up
Ecobee has been on the forefront in Smart thermostats innovation. It competes favorably with Nest and Honeywell, the only other two top contenders in the industry. Even though there is a myth out there that they are damn expensive, you still have options when you are on a budget. The E3 and E3 Lite cost much lesser than the E4. What I liked about Ecobee is that all their thermostats save almost the same amount of energy. Just do the math, if you save $10 a month, it will take you less than two years to fully recover your initial investment, sounds good, right?

If you are tired of paying high energy bills, go Smart; replace your traditional thermostat with an Ecobee Smart thermostat today and see your energy bills drop drastically.