Roborock Prime Day Vacuum Deals 2022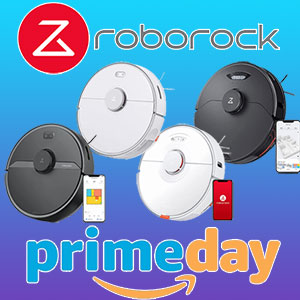 What are the best Roborock Prime Day Deals? In this round-up, we have listed all the best deals from Roborock that will feature in the upcoming sale. Also, find out more about Amazon Prime Day, Amazon Prime, and more.
The Memorial Day 2022 sale was a success, but it will surely not match the upcoming Amazon Prime Day 2022 sale. If you were shopping for a Roborock vacuum, but you missed a deal in the Memorial Day sale, wait for Prime Day. There will definitely be loads of Roborock deals just like in last year's sale.
One of the best robot vacuum brands today is Roborock. The Chinese company is known for innovative products at affordable prices. It is also known for offering jaw-dropping discounts and price drops during annual sale events, including Amazon Prime Day.
What is Amazon Prime Day
For starters, Amazon Prime Day is an annual sale event organized by eCommerce conglomerate Amazon. It is the equivalent of Walmart+ Weekend. While from a commercial perspective, the event is to increase sales, the main aim of Prime Day was to appreciate its Prime service members. Amazon Prime subscribers get treated to crazy discounts plus loads of other perks during the two-day event.
The history of Amazon Prime Day goes back to 2015, when it was held first. It was held during Amazon's 20th anniversary and has been hosted yearly though at different times. For example, the first two Prime Day events were one-day events held on July 15, 2015, and July 12, 2016. The subsequent events have been two-day events but held on different months and dates.
When is Amazon Prime Day 2022?
Right now, the focus is on the 2022 Prime Day. At the moment, there is no clear date on when the event will start but what we know for sure is that it will be held in July. Of course, it's hard to predict the exact dates, but from all indications, the 8th Prime Day could come on July 11-12, 2022.
How to Strike Prime Day Deals
Now, one thing about Prime Day, unlike Black Friday, not every Amazon shopper can get a piece of the cake. Prime Day deals and discounts are set aside for Amazon Prime members only. That said, if you are not a Prime subscriber, you could be on the losing end. So, the big question is, What is Amazon Prime?
Amazon Prime is a subscription service that gives members premium services and, of course, access to Prime deals. The perks include same-day or two-day shipping so you can get your Roborock in a record 2 hours. There are several other benefits.
Membership costs $14.99 a month or $139 annually. Fortunately, there's a 30-day free trial, so don't fret. You can join the over 200 million Prime subscribers in this year's sale. Students are also eligible for a 6-months free trial and subsidized subscriptions.
Best Roborock Prime Day Deals 2022
Now, onto the day's main business, what are some of the best Roborock robot vacuums that will feature in the upcoming sale? Our editors are busy compiling a list of the products that will undoubtedly attract huge discounts. Here are the highlights.
Available in black or white, the Roborock E5 Mop is among the cheapest Roborock vacuums. Despite its affordability, expect prices to come further down as it struggles to outshine cheap models from other brands. This robot vacuum is best suited for budget buyers with a small apartment with bare floors and maybe a kitten or two.
One of the standout features of this cleaner is that it can mop and vacuum, so you won't have to spend more on a separate robot mop. The E5 Mop comes with the SnapMop system. However, for the Roborock E5, you will have to purchase the mopping kit separately.
Regarding power management, the E5 Mop features a large capacity battery that offers 200 minutes runtime. The E5 Mop is a smart robot vacuum that works with the mobile app and can sync with Alexa and other popular voice assistants.
However, the mopping performance is not satisfactory as the robot can wet carpets. Besides, the navigation and mapping system is not anywhere near what you get with the modern vacuum cleaners, and the app features are limited. But for its price, it's still a worthy robot vacuum cleaner.
Roborock S5
The Roborock S5 remains a favorite despite being the first Roborock vacuum to include a mopping function. It is the successor of the Roborock S4, which was a vacuum-only robot cleaner. The S5 is suitable for all bare floors, from tile and ceramic to hardwood and vinyl, among others. It can also handle pets and carpets satisfactorily.
The Roborock S5 packs a powerful multi-speed motor that puts up a whopping 2000pa. With the primary brushroll and side sweeping brush system, nothing is left unturned; from the fine dirt to the large debris and stuck-on stains. The S5 is indeed a workhorse. When it comes to power management, it comes with a large battery with a decent runtime of 150 minutes in low power mode. This robot has recharge and resume capabilities though there is no quick charge. Other features include E-11 washable HEPA filters, smartphone app operation, and voice assistant compatibility.
But unfortunately, the S5 has an old mopping system that doesn't detect carpets. The navigation and mapping are also not as accurate so expect the robot to get stuck in high traffic rooms and miss some spots. All the same, it is a great robot vacuum mop, especially if you get it as a Roborock S5 Prime Day deal, as it will be much cheaper.
As the name suggests, the Roborock S5 Max is an upgraded version of the S5. It is also among the most popular robot vacuums from the Chinese brand. It's quite similar to the S5 in terms of vacuuming performance, but when it comes to mopping, the S5 Max has several extras that take mopping to the next level.
The S5 Max is suitable for all types of bare floors and pet messes. It comes with high suction and an upgraded brush that agitates dirt in a better fashion. As for carpets, it's best for low to medium pile carpets, but the performance is dismal on high pile carpets.
Regarding mopping performance, it adds several features, including a larger tank, adjustable water levels, and No Mop Zones. It also comes with several mapping features, including Adaptive Route Planning, room cleaning, and multi-mapping. Other features are longer battery life and intelligent recharging.
Perhaps one of the areas that need improvement is the suction power. It doesn't have enough power to deep clean thick carpets and area rugs. It may also get stuck a few times here and there in high-traffic rooms. But, while it has flaws, a Roborock S5 Max Amazon Prime Day deal is worth the wait.
Let's face it; the Roborock S4 is not a worthy bargain now that it doesn't mop, but then its successor, the Roborock S4 Max, is worth checking out. It's a cheaper model and features several extras the S4 lacks. In the upcoming sale, expect a huge discount on this entry-level Roborock.
It tags along with a 3-stage cleaning system that consists of a powerful multi-speed motor that delivers a maximum of 2000pa, a robust brush system for agitation, and E11 washable filters. The S4 Max also comes with a 5200mAh lithium-ion battery that offers 180 minutes runtime enabling it to clean up to 3230 sq ft. You can rely on the S4 Max to vacuum bare floors and low to medium pile carpets. It is also suitable for homes with pets.
The S4 Max is an upgrade compared to the S4, but there are a few shortcomings to be aware of. First, it doesn't guarantee entire level cleaning as it can miss some spots or get stuck. Another aspect, the S4 Max is not the best for deep cleaning high pile carpets and thick area rugs. But for its Prime Day price, it's a worthy purchase.
The S6 Pure is the immediate successor of the Roborock S6. It has similar features to the S6 plus a few extras, making it a better choice. There will be plenty of Roborock S6 Pure Prime Day deals and discounts. At the moment, the S6 retails at a 13% discount. To make it more competitive on the market, expect the discount to be pushed up to 20% or even higher.
The S6 Pure has been designed for homes with hard floors, including tile, hardwood, ceramic, vinyl marble, and the rest. It's also suitable for low to medium pile carpets and can vacuum pet messes too.
The S6 Pure is a 2-in-1 vacuum cleaner that vacuums and mops just like the S6. However, it comes with a larger water tank, 180 ml to be precise. But then, the dustbin is 460ml, which is smaller compared to the S6's 480ml. It's also quieter.
The S6 Pure has all the bells and whistles, and for its price, we can't complain much. The only shortcoming is that its suction power, 2000pa, in Max mode, can't thoroughly vacuum thick carpets. It's also available in a single color, so you don't have many options if you are into aesthetics. But all the same, it's a great deal.
The RoboVac S6 MaxV Prime Day deals will be among the highlights when it comes to Roborock vacuum deals. This is the ceiling model in the S6 series, with plenty of extras that make it a cut above the rest. So, what makes it special, and why should it be on your wishlist?
The Roborock S6 MaxV is a great deal for homeowners with all bare floors, carpets, and pets. It relies on a 3-stage cleaning system that consists of a high-performance motor that delivers a whopping 2500pa making it ideal for all carpets, from the low pile carpets to high pile carpets, area rugs, Flokati, and so on.
Another advantage of the S6 MaxV is the larger water tank. It has been designed with a 297ml water tank which means it can cover a larger area on one fill. It's also quieter, just like the S6 Pure. The S6 MaxV retains all the other bells and whistles.
Attention
Unfortunately, the S6 MaxV, being one of the top-of-the-range models, is expensive but worry not as its price will come down during Prime Day. Another shortcoming, the S6 is available in just one color, black.
The Roborock S7 is among the latest models in the Roborock lineup. It's an expensive model, but definitely, Roborock S7 Prime Day deals will attract huge discounts. The S7 is an all-round robot vacuum that can handle bare floors, carpets, and all kinds of pet messes, from pet hair to urine stains and paw marks. It can also empty itself automatically.
Under the hood, the S7 comes with a 3-stage cleaning system where dirt is agitated, lifted, and sucked into the 470ml dustbin. It also includes a robot mop with high-speed sonic mopping that eliminates stains, grime, and stuck-on dirt. A unique feature of the S7 is a large water tank with a 300ml capacity. This is among the robots with the largest water tank that we have tested, so it's best for large apartments.
Attention
It's hard to pinpoint any shortcomings of the Roborock S7. Perhaps, the only thing we can say is that it's expensive, but it's worth every penny at the end of the day. The good thing is that it will attract a huge discount during the upcoming sale to rival the S7 MaxV.
This is the latest robot vacuum from the Chinese brand and, of course, the most expensive. It is similar to the S7 but comes with several extras that make it superior. First, it's a robot mop best for bare floors, carpets, and pet messes. Moreso, the S7 MaxV is a self-emptying robot vacuum. So, what are the unique features that this robot vacuum comes with?
The first unique feature is a high-performance motor that puts up a cool 5100pa making it the most powerful robot vacuum we have tested. It picks up all kinds of debris and dust, even on thick carpets. This is the real deal if none of the recommended robot vacuums for carpets work for you. The S7 MaxV also features ReactiveAI Obstacle Avoidance, enabling it to avoid the common household obstacles, so it's hard to find it stuck.
The S7 MaxV is the best Roborock today, but it has some flaws. First, it comes with a smaller water tank and dustbin. It's also expensive, but that's no issue as there will be Roborock S7 MaxV deals in the upcoming sale.
Wrapping Up
There you have it, folks, all the best Roborock Amazon Prime Day deals to be on the lookout for. Remember, Prime Day deals are exclusively for shoppers who have subscribed to the Amazon Prime service. So, if you are not a member, sign up today for the service or give the free trial a shot.