Roomba i3 vs. i4 Comparison Review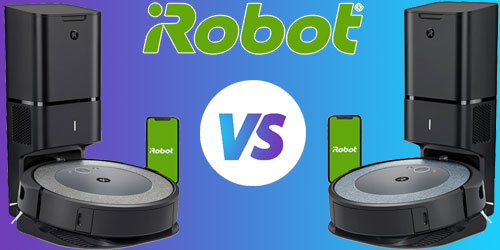 If you are looking for the best affordable Roomba with automatic self-emptying, the Roomba i3 and Roomba i4 are two great options.
These two are entry-level robot vacuums that have been engineered to empty themselves automatically when they dock after vacuuming.
But which one is the best option for you? Is the Roomba i3 better than i4? Find out everything you need to know about the two iRobot vacuums.

Around the same time the Roomba i3 was released, a new model surfaced online. This was the Roomba i4, also an entry-level Roomba that empties itself automatically. The Roomba i4 shares many features with the Roomba i3, but there are clear-cut differences, as we will see later on. The Roomba i4 has been designed for homes with bare floors, thin carpets, and pets.
Just like in the i3 series, there are two variants in the i4 lineup. The base model is the Roomba i4 (4150) and doesn't include the iRobot Clean Base Automatic Dirt Disposal unit. The Roomba i4+ (4552/4550), on the other hand, includes the iRobot Clean Base Automatic Dirt Disposal unit.
Comparison table
Runtime
100-110 minutes (20% longer compared to the i3 series)
Runtime
100-110 minutes (20% longer compared to the i3 series)
Last update on 2023-05-28 / Affiliate links / Images from Amazon Product Advertising API
Which one to choose Roomba i3 or Roomba i4?
3 reasons to choose Roomba i4
Extended runtime for 20%: 2210 mAh battery of the Roomba i4 provides an opportunity to work for up to 100 minutes with automatic recharge and resume function.
Auto dirt disposal: i4 Roomba series is compatible with Automatic Dirt Disposal unit keeping dirt for up to 60 days in addition to a built-in 0.5 L dustbin. i4+ includes this unit in the package.
Intelligent mapping: Multiple sensors of this robot creates temporary maps for cleaning houses in neat rows for full coverage. You can also create virtual walls to create boundaries of areas that do not require cleaning.
Roomba i3 vs. i4 Face to Face Comparison Review
Now, onto the main business of the day, how does the Roomba i3 compare to the i4? Are there any differences between the two Roombas? That's what we want to find out in this section.
To help you make the right purchase decision, we will assess the two robot vacuums based on the critical factors buyers should consider when buying robot vacuums.
1. Design and Aesthetics

A good robot vacuum should have a low-profile design to allow it to go under most of the household furniture. Besides the low profile design, you need to know how each robot vacuum looks from the physical appearance.
How Does the Roomba i3 Look Like?
The Roomba i3 and i3+ both come with a low-profile round-shaped design. The i3 might not be the best when it comes to having a low-profile design, but at 13.34 x 13.26 x 3.63, it will still go under most household furniture. When it comes to aesthetics, the two robot vacuums are black, with a grey woven-like ring around the top interface.
How Does the Roomba i4 Look Like?
The Roomba i4 and i4+ are also round-shaped and come with a low-profile design. It measures 13.34 x 13.34 x 3.63 inches, so it will also go under most low-profile furniture. As for aesthetics, the I4 maintains the same finish as the Roomba i3 but this time the woven ring is black.
2. Vacuuming Performance
The Roomba i3 and Roomba i4 are robot vacuums, unlike Roborock and Deebot that offer both vacuuming and mopping functions. The two use a 3-stage cleaning system where dirt is agitated, lifted, and, lastly, sucked into the bin.
Roomba i4 Vacuuming Performance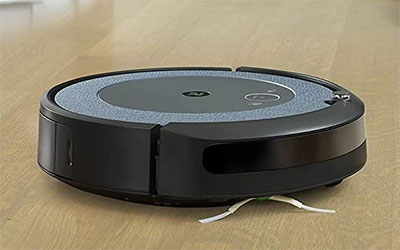 The Roomba i4 also uses a 3-stage cleaning system. There is a dual multisurface main brush for agitation and dirt pick up. A side sweeping brush complements it.
Regarding suction power, the Roomba i4 maintains the 2nd Gen motor that puts up 900pa. While it does a great job on bare floors, it struggles on medium and high pile carpets.
3. Filtration and Bin System
Robot vacuums come with onboard bins where the dirt goes. Advanced models also have an external bin that simplifies the somewhat tedious task of manually emptying the bin daily.
Roomba i4 Filtration and Bin System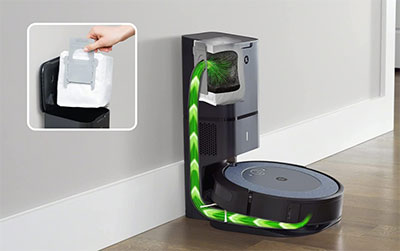 The Roomba i4 is the same as the Roomba i3 in terms of filtration and bin system. Here again, iRobot included high-efficiency filters that capture 99% of allergens and other impurities that cause bad odor, or make your home stuffy. In addition, two extra filters are supplied. Onboard, there's also a 0.5L bin with a full bin indicator to alert you when it's time to empty it.
Lastly, the Roomba i4 series works with the iRobot Clean Base Automatic Dirt Disposal unit, but only the Plus model comes with the unit.
4. Dirt Detect Technology
One of the unique features of Roombas is Dirt Detect Technology, a revolutionary system that enables the robot vacuum to detect spots that have a high dirt concentration.
Does Roomba i4 Detect Dirt?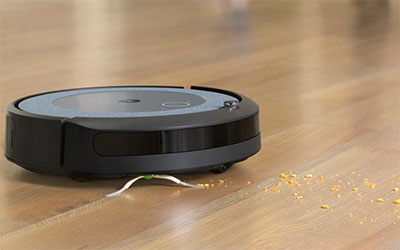 The Roomba i4 also detects dirt, just like the i3. This model comes with iRobot's patented Dirt Detect Technology and works in the same fashion as the Roomba i3.
Once such an area is detected, the Roomba heads there, and Dirt Detect is activated. The Roomba then switches to Spot mode and vacuums all the dirt until none is left behind.
5. Mopping Function

As you may be aware, the latest robot vacuums offer 2-in-1 cleaning. They can vacuum and mop simultaneously. So, how does the Roomba i3 compare to the i4?
Does the Roomba i3 Have a Mopping Function?
No. The Roomba i3 doesn't have a mopping function. Just like all the other Roombas, this one vacuums only. But the good thing is that the Roomba i3 can work with the
Braava M6 robot mop
. This is courtesy of Imprint® Link Technology, a mechanism that enables the i3 and Braava to vacuum and mop, respectively, in perfect sequence.
Does the Roomba i4 Have a Mopping Function?
The Roomba i4 doesn't have a mopping feature, but just like the i3, it features Imprint® Link Technology. That means it can sync with the
Braava
to vacuum and mop floors simultaneously.
6. Battery and Runtime
As you may be aware, robot vacuums come with rechargeable batteries. In this segment, we will analyze how the Roomba i3's battery compares to that of the i4.
Roomba i4 Battery and Runtime
One of the differences between Roomba i3 vs. i4 is the battery and runtime. The Roomba i4 and i4+ come with a 20% larger battery that offers up to 100 minutes of runtime.
Most review websites list the battery as a 1800mAh lithium-ion battery, but it's a 2210mAh lithium-ion battery. The Roomba i4 will dock to recharge by itself and resume cleaning automatically.
| DESCRIPTION | ROOMBA I3 | ROOMBA I4 |
| --- | --- | --- |
| Battery Technology | Lithium Ion | Lithium Ion |
| Capacity | 1800mAh | 2210mAh |
| Runtime | 75 Minutes | 100 Minutes |
| Recharge Mechanism | Recharge + Resume | Recharge + Resume |
| Recharge Time | 3 hours | 3 hours |
7. Navigation and Mapping


Besides cleaning performance and autonomy, it's important to assess the navigation and mapping system of the robot vacuum you want to buy. The navigation and mapping system enables your robot to vacuum, avoid obstacles, and, importantly, clean efficiently.
So, how does the Roomba i4 compare to the i3? Let's find out.
(a) Navigation
The Roomba i3 and i4 may not have the best-in-class navigation system, but still, they get the job done.

Roomba i3 Navigation System
Being an entry-level Roomba, the i3 doesn't have a sophisticated navigation system. It still uses iAdapt 1.0, a SLAM-based navigation system that relies on sensors for obstacle detection. There are also anti-cliff sensors that prevent the robot from toppling off the stairs. As it leaves the docking station, it seeks a physical landmark, for example, the wall, and uses it as a reference point for proper localization. If you have a high-traffic home, the i3 may not be the best, but thanks to Reactive Sensor Technology, at least it can avoid accidents witnessed with the older Roombas with iAdapt 1.0.
Roomba i4 Navigation System
The Roomba i4 is also an entry-level robot vacuum, so don't expect it to be any better than the Roomba i3. It also relies on iAdapt 1.0 SLAM navigation for obstacle detection and avoiding falling off the stairs. To prevent accidents, the Roomba i4 also has Reactive Sensor Technology, which tells the Roomba where it cannot reach.
(b) Mapping and Boundary Marking
Mapping is all about how the robot vacuum understands the floor layout of your home and, importantly, the pattern it uses. On the other hand, boundary marking, as the name suggests, is a feature that allows for containment.
Does Roomba i4 Map Your Home?
The Roomba i4 is very similar to the i3 in terms of mapping and boundary marking. The robot also relies on sensors to create temporary maps of your home and move around in neat patterns, thus guaranteeing entire level cleaning. When it comes to containment, it is unfortunate that the i4 doesn't have the digital boundary marking technology from iRobot, Keep Out Zones. But then, you can use Virtual Walls to create boundaries – a single node is supplied.
8. Smart Features and Convenience
In this smart home age, a smart robot vacuum that syncs with other smart home devices is desirable. In the last segment of this Roomba i4 vs. i3 comparison review, find out how the two Roombas compare in terms of smart features and convenience.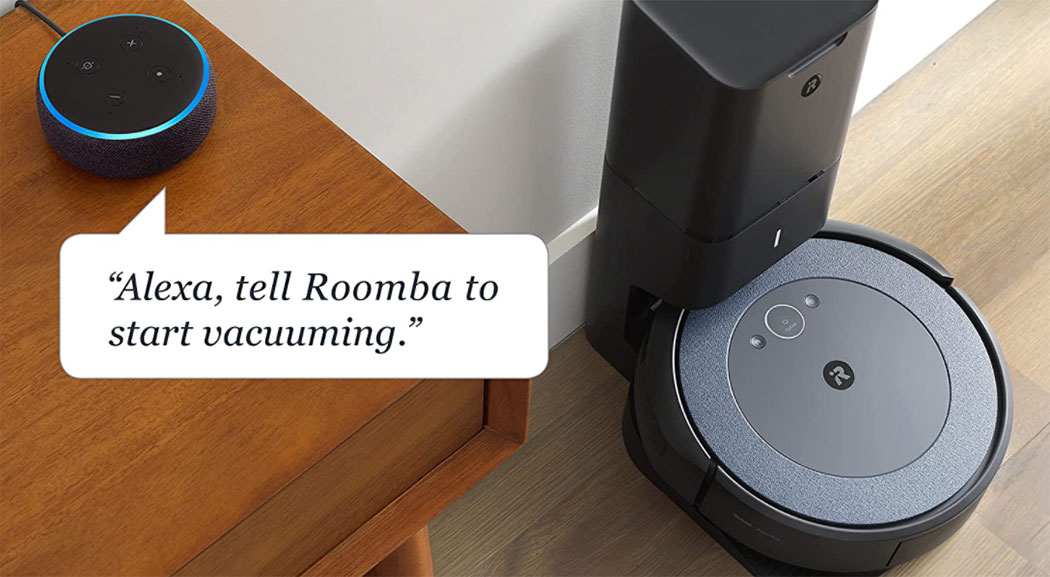 Is Roomba i3 a Smart Robot Vacuum?

Yes. The Roomba i3 and i3+ are both smart robot vacuums powered by 2.4GHz WiFi. You can operate the robots remotely from your smartphone, courtesy of the iRobot Home app. One great feature that the Roomba i3 comes with is the state-of-the-art iRobot Genius Home Intelligence helps you unlock a whole new level of cleaning experience designed around you. This new platform gives you a personalized home cleaning command center where you get custom-tailored home cleaning schedules, cleaning preferences and smart home integration. What's more? The Roomba i3 supports voice assistants, so you can sync it with Alexa and Google Assistant.

Is Roomba i4 a Smart Robot Vacuum?
The Roomba i4 and i4+ are smart robot vacuums compatible with 2.4GHz WiFi for smartphone app operation and voice assistant compatibility. The app features are similar to what you get with the Roomba i3, including the revolutionary iRobot Genius Home Intelligence. You can also operate the Roomba i4 using Alexa or Google Assistant.
Wrapping Up
There you have it, folks, a Roomba i3 vs. i4 comparison review. As witnessed, these two robot vacuums are very similar, but then there are a few differences. Of course, the Roomba i4 is the best deal as it comes with a larger battery, two extra filters, and a virtual wall barrier.
For the record, the Roomba i4 initially was a Costco model, but it is now available at other online stores, including Amazon.