Ecovacs Deebot N79s vs Eufy Robovac 11plus: Which is the best?
BY Richard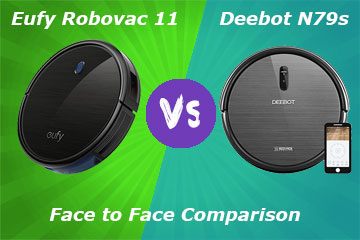 If you are scouting for a cheap robot vacuum, these two vacuums are among the most potent options. Many are times customers find themselves in a dilemma on which one of them to go with. In this Eufy Robovac 11 vs. Deebot N79S comparison review, we want to strip them down to see what advantages or disadvantages each of them has.
One thing you will notice about these two robot vacuums is that they are very affordable. While it is often assumed that a good robot vacuum costs $500 upwards, these two have proved the market otherwise. They offer a cheaper floor cleaning solution, and if maintained well, they could offer up to 5 years of service.
I know for many, getting the difference is the elephant in the room. That is what we are all about in this review; highlighting the differences between the Deebot N79s and Robovac 11. But just before that, let's review both models shortly before getting into the primary business of the day.
Robovac 11 Plus – 2nd Gen Upgraded Bumper and High Suction
You will realize that there are two very similar robot vacuums; Robovac 11 which is the base model and Robovac 11+ which is more prominent in performance as well as size. Today, we want to dwell specifically on the Robovac 11+ because it is the latest models and has the best features.
But still, it would be important to note the difference between the two. When comparing the Robovac 11 vs. Robovac 11+, there are a few factors that come into play; vacuum power and navigation.
Important
Robovac 11+ has boosted suction power, and that's the reason it is recommended for carpets. Of importance is the Max mode which is activated when the vacuum is on carpets and rugs. This is, in fact, the reason why Robovac 11+ is also known as Robovac PowerBoost. The bin is even larger than what you get in Robovac 11.
Another essential addition to this new model is the SmartIQ, a feature that enhances data transmission and consequently, navigation, mapping, and scanning. These are just among the new features the Robovac 11+ has.
Attention
But on the downside, Robova 11+ is quite thick than Robova 11. If your furniture has low ground clearance, the 3.4-inches height of the Robovac 11+ should worry you. An ideal robot vacuum cleaner should be short, but from the trends, it seems this is a far-fetched dream considering the latest Roombas are 3.6-inches high while something like D7 Connected is 3.9-inches tall.
Deebot N79s – cheapest alternative of roomba
Just like Robovac 11+, the Deebot N79s is an upgrade of the original series, Deebot N79. Both vacuums are very cheap, but the Deebot N79s has some extras. That's why we found it the perfect piece to match the equally competitive Robovac 11+.
By design, the Deebot N79 and N79s bear so much resemblance aesthetically, but the latter is taller. However, under the hood, several significant upgrades make the Deebot N79s the best choice. In this comparison review, we will focus on the Deebot N79s.
So, what brings the difference?
The first difference is the suction power and the fact that the Deebot N79s delivers more suction power. In fact, it has an extra cleaning mode called Max mode that provides extra suction to capture dirt and dust from the deep parts of the carpet fabric. Another thing, Deebot N79s comes with both Wi-Fi and voice control compatibility.
Attention
Remember, even though the Deebot N79 comes with Wi-Fi, unlike Deebot N78, you can't control it using Amazon Alexa or Assistant. The best thing about Deebot N79s is that it's not expensive, so it's better buying the N79s than the N79.
My only problem with the N79s is that it is taller than Deebot N79. It measures 3.3-inches compared to the N79s which is revised to 3.3-inches. But then, this is at least better than something like Roomba 980 or D7 Connected which are much taller. It is the Deebot N79s that carries the day; more features, affordable price!
Deebot N79s vs. Robovac 11+
Though these two brands offer different versions of their base models, we are going to focus on the top releases of each series. That said, our Deebot vs. Eufy comparison review will be between Robovac 11+ vs. Deebot N79s. So, without further ado, let's see how they compare face to face.
Robovac 11+ Design, dimensions & aesthetics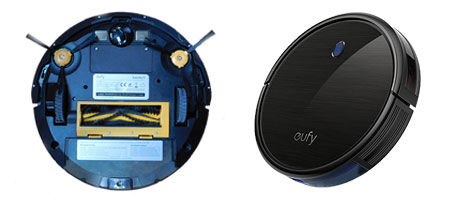 You will agree with me that Robovac is a sleek and stylish robot vacuum. It is far from your conventional block design with heavy ABS shells. This one is finished in a sleek anti-scratch glass cover that will fascinate pets. But you have to be very careful lest it starts getting scratches or even cracks.
By design, this is a round shape robot vacuum cleaner, definitely different from Neato robot vacuums that are
D-shaped. Robovac 11+ has a 12.8-inches diameter and stands at 3.4-inches. On our weighing scale, it hit 6.6 lbs.
Deebot N79s hardwood floor cleaning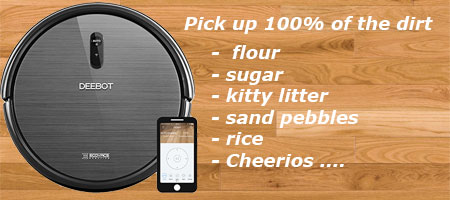 This robot vacuum also did an excellent job on hardwood cleaning all the dirt and debris we put on its way. In this battle, it is the ultimate winner as it was able to wipe out even the smallest flour particles Robovac 11+ had left behind. This is something that's expected considering it delivers a max of 1,300 Pa while the Robovac 11+ has slightly lower power.
Flour
100%
Sugar
100%
Kitty litter
100%
Sand pebbles
100%
Rice
100%
Cheerios
100%
Deebot N79s carpet cleaning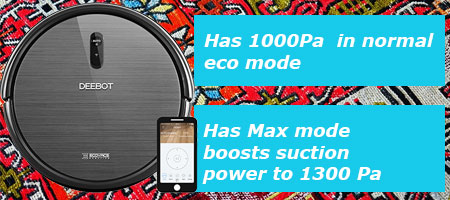 I like Deebot N79s because it has improved suction, in fact, better than Robovac 11+. In the normal eco mode, it delivers an average of 1000 Pa, and when Max mode is activated, it shoots to 1,300 Pa. When it comes to carpet cleaning, the Deebot N79s is the winner because of the improved suction.
If you have light to medium pile carpets, the Deebot N79s will be a great purchase. But on the downside, the robot vacuum tends to disregard dark spots on carpets deciphering them as stair falls. This is very unfortunate considering it is these dark spots that unveil dirt.
Deebot N79s pet hair and allergens cleaning
This robot is also ideal for pet hair cleaning. But I find it such a nuisance when it blows away the small pet hairs because of the massive suction power. Regarding the brush system, this one also has an anti-tangle system, so it is unlikely to find your robot jammed. The filters are still HEPA-style, but I'm glad this one is a little bit efficient than Robovac 11+.
How many cleaning modes does Deebot N79s have?


This is another area the Deebot N79s excels over its counterpart Robovac 11+. ECOVACS designed it with the standard Auto Clean mode and additional 3 specialized cleaning models. Auto mode cleans the entire house. There is also single room mode for containing it until it finishes cleaning while spot mode and edge mode is for targeted cleaning and wall cleaning respectively.

Auto mode
Single room mode
Spot mode
Edge mode
Deebot N79s operation noise
Eco mode 67dB
Max mode 73dB
Deebot is more potent than Robovac 11+, but then, there is a sacrifice. It is notably louder than Robovac and is not suitable at all for vacuuming at night.
In eco mode, it produces an average of 67dB whereas when Max mode is activated, the noise shoots up to 73dB. When shopping, know that there is nothing like a silent-operation vacuum cleaner. In fact, you should be guided by performance and not the after-effect.
Deebot N79s brush system


This one too has a main brush plus additional side brushes.
Deebot N79s is recommended for pets because the V-shaped brush system prevents tangling.
But my problem is that it is not as extensive as Robovac's meaning it sweeps a smaller area than Robovac. There is also a set of side brushes that clean the paths of the vacuum cleaner. This is nowadays a standard feature in all robot vacuums.
What filters system is used in Deebot N79s?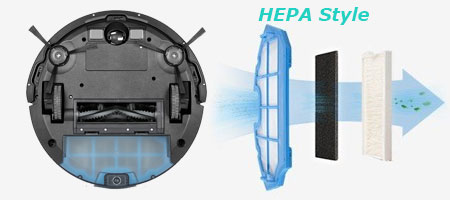 This robot vacuum also uses a HEPA style filter, but I am glad it is of superior quality.
While you may not notice the difference in a house cleaned by Robovac 11+, Deebot N79s will leave you a fresh ambiance free from allergens. However, for guaranteed allergens filtration, always go for true HEPA filters when buying replacements.
What's the bin capacity of Deebot N79s?
Deebot N79s has a slightly smaller dustbin with a 0.45L capacity. That makes Robovac 11+ superior as it can hold an extra 0.1L.
Also here, there is no full bin indicator, and that makes it a premium feature reserved for the high-end models for example Roombas.
Deebot N79s autonomy
Average 100min
Tile 100min
Carpet 85min
Recharge time 3hours
The runtime should also be a concern when you are buying the Deebot N79s. So, how does it square out with Robovac 11+?
ECOVACS is also a brand that has perfected efficiency, and this particular model comes with a Li-Ion battery that can push it for a cool 100 minutes.
Just like Robovac 11+, the runtime varies also depending on the surface.
On smooth surfaces, it can run for 100 minutes while on carpets, rugs and other heavy terrains like dented hardwood, it drops to 85 minutes. Still, you shouldn't complain because expensive models like Roomba 890 have a shorter runtime.
When it comes to power management, the Deebot N79s will also go to the charging base for 2-3 hours like Robovac 11+ and all the other robot vacuums. However, it does not resume cleaning after that.
Deebot N79s navigation and mapping
Deebot has slightly improved navigation called Smart Motion.
Even though it uses the same old approach and principles of infrared sensors, at least the updated software makes data transmission faster and consequently, the vacuum navigates more accurately.
When it comes to mapping, the same Smart Motion technology is employed. At least the cleaning pattern is kind of methodical but not as efficient as the industry leaders.
But the difference between it and Robovac is huge, and the Deebot's accuracy and systematic clean is evident from the shorter cleaning time.
This robot also lacks any form of containment, but at least it has Find Me to help you find where it is stuck.
Is Deebot N79s Smart?
One of the reasons Deebot N79s is the best is because it has been built with Wi-Fi. This means you can control it remotely from your Smartphone App on the ECOVACS Home App.
The earlier models, Deebot N79 also has Wi-Fi, so it is even better than Robovac 11+ which is an upgraded model.
With the previous N79, one problem was that it couldn't support voice control. In as much as it has Wi-Fi, it is not compatible with Alexa or Assistant, but the Deebot N79s has all these possibilities as well as a host of other 3rd party integrations.
Deebot N79s Usability
How about when it comes to Deebot N79s, is it any easier to use it?
Just like any other robot vacuum, you are required to charge it before use. The operation is also easy courtesy of the one-touch start button.
This particular model doesn't have a remote, so if you don't have Wi-Fi, the operation is limited to manual. This may not go well with homeowners with mobility issues as you have to bend down to reach the vacuum.
However, it is the Smartphone App operation plus voice control that puts the final nail on Robovac 11+'s coffin. Deebot N79s can be operated from the Smartphone App or Alexa. This means that you could clean your house right from the comfort of your office as long as the robot is connected to Wi-Fi.
But the best part is the Deebot's compatibility with Smart hubs like SmartThings, Wink or Vera.
What's included in the purchase of Deebot N79s?
How about the Deebot N79s, what does it bring on the table? Here are the items you will find upon opening the Deebot N79s package.
Integrated charging base
AC power adapter
Cleaning tool
Extra filters, extra side brushes
Welcome guide
12-month warranty
Why Robovac 11+
Is the Robovac 11+ worth the money?
Definitely yes, as this is a cheap and reliable floor cleaning solution. The first thing you will like the Robovac 11+ for is its affordability. It costs less than $300 and offers quite some great performance just like other high-end models like Roomba 690 and Roomba 890.
Some of the notable features that make it stand out include a larger dustbin and a quiet motor. Though it is not as powerful as Deebot N79s, it is efficient and runs with minimal disturbance.
However, this model lacks Wi-Fi, and that leaves you with only the physical remote controller. That said, you don't expect to schedule a cleaning session from the office as you would do with a Smart robot vacuum.
Why Deebot N79s
Is the Deebot N79s worth the money?
Similarly, Deebot N79s is a decent bargain if you are looking for a cheap Smart robot vacuum.
This one does exceptionally well on hard floors, carpets and pet hair and to crown it all it is compatible with Smartphone App and Alexa. And the price is almost the same as that of Robovac.
Some of the most noteworthy features include Wi-Fi, Find Me, Alexa compatibility, and Max mode for carpets. The wheels are also larger and will cross transitions without any problem.
My only problem with the Deebot N79s is how it disregards the dark spots on carpets. Otherwise, it offers excellent value for money. Actually, the perfect choice if you want a cheap Smart robot vacuum.
Eufy Robovac 11+ vs. Deebot N79s Winner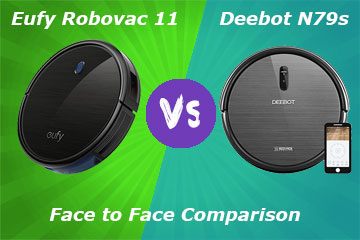 As mentioned earlier, these two robot vacuums are upgrades of their base models. The Robovac 11+ is the upgrade of the Robovac 11 whereas Deebot N79s is the upgrade of Deebot N79. That makes them both very high profile models but what's the best cleaner at the end of the day?
Before we announce our winner, it is first essential to bring in the cost and value aspect now that we have compared the features and specifications.
On a typical day, the Deebot N79s and Robovac 11+ all cost between $220 and $240. It is safe to say that they all cost the same because, at the time of writing, they have a $229 price tag. So, what do you think is the best deal now that they cost the same, but one has extra features?
To be honest, Deebot N79s has the upper hand in this discussion. Here are some of the reasons I would pick the Deebot N79s over the Robovac 11+.

Deebot N79s comes with a motor that delivers up to 1,300 Pa compared to Robovac's 1000 Pa.
The Smart Motion navigation and mapping system is efficient than Robovac's infrared sensors
This vacuum comes with Wi-Fi compatibility and can also use Alexa unlike Robovac 11+
Deebot N79s has more features and costs the same as Robovac 11+
But still, the Robovac 11+ offers a few advantages that would make you think twice. Here's why the Robovac 11+ is still a worthy contender.

Robovac 11+ has a larger dust bin compared to Deebot N79s
It comes with a remote so even without Wi-Fi, you can again program the vacuum
The motor is much efficient and silent compared to what Deebot N79s offers
It cleans carpets satisfactorily regardless of fabric colors unlike Robovac that discriminates against dark spots.
Verdict
We have now come to the close of this Robovac 11+ vs. Deebot N79s comparison review. Candidly speaking, it is the Deebot N79s that carries the day.
Besides being a top brand and more popular than Eufy, Deebot excels regarding features. Yes, the Robovac 11+ may be offering some equally good cleaning performance, but then, homeowners also want convenience, and that's where Deebot beats Robovac.
The Wi-Fi compatibility for Smartphone operation and Alexa control makes the difference. In as much as not everyone is a Smart home enthusiast, Smart connectivity is indeed a premium feature so if you can have it for the same price then it is the best choice.
So, for that reason only, the Deebot N79s is the best affordable robot vacuum for me. Robovac can give it a good run for the money, but it doesn't outshine this Smart robot vacuum from ECOCVACS.