Eufy Robovac 11 vs 11+ (PowerBoost)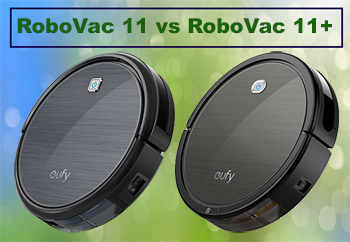 In this battle we compare 2 budget models Eufy Robovac 11 and modification 11+.
Which is the best?
Both models are among the best low budget robot vacuum cleaners in the market. The RoboVac 11 is the base model and the PowerBoost is just an upgrade.
When shopping, a lot of customers find it hard to tell the difference between the two so settling on one is always a dilemma. Today, we are going to put that to an end by reviewing these two products from Eufy. So, if you don't know which one will fit your needs, this is an article you will want to read to the end.

Best Uses
Bare, carpets and pet hair
Bare, carpets and pet hair
Brush
Sides + rotating main brush
Sides + redesigned wider brush
Battery
Li-Ion, 100 minutes runtime
Li-Ion, 60 PowerBoost, 90 normal
Good Choice
Best Uses
Bare, carpets and pet hair
Brush
Sides + rotating main brush
Battery
Li-Ion, 100 minutes runtime
Best Choice
Best Uses
Bare, carpets and pet hair
Brush
Sides + redesigned wider brush
Battery
Li-Ion, 60 PowerBoost, 90 normal
1. RoboVac 11 – Cheap and Reliable Vacuum Cleaner
If you are looking for a cheap and reliable vacuum cleaner with best in class suction, RoboVac should be on your wish list today.
Retailing at around $250, it delivers quite some great cleaning power for bare floors, carpets, and even pet hair. Actually, I compared it to the Roomba 690 and one of the areas it shined was cleaning performance.
Actually, were it not for the multi-surface brush system and AeroVac filters, RoboVac is a force to reckon. Otherwise, the 900 Pa suction power beats many of its peers like Roomba 650, Deebot N78, among others. But unfortunately, Eufy is not on the Smart front as this robot lacks Wi-Fi, a coveted feature in the Smart age. Even though you are supplied a remote control, it still can't supplement the convenience that comes with Smart robots. But anyway, with the rumors about Smart devices being susceptible and even leaking out your information, Smart robots may not be everyone's cup of tea so this model right here would be a top choice.
The battery life is also worth mentioning and will last longer than some of the industry's best roots like the Roomba 890 and even the expensive Roomba 960.
verdict

In as much as the lack of Wi-Fi is such a letdown, the RoboVac 11 is still a great choice considering the cheap price. Bere'sut when shopping, h a great tip. Always compare the price with the PowerBoost version; at times, the upgraded model is available at a higher discount.
Also known as RoboVac BoostiQ, this is just an upgrade of the RoboVac 11 and will be the best choice if you have carpets.
After the RoboVac 11 was released, Eufy took the critics opinion positively, went to the drawing board and brought us a more refined robot vacuum that will handle all types of carpets. Remember, the predecessor has quite some good action on some carpet types only; it gets overwhelmed on thick carpets and rugs. But this one, it did exceptionally well on all the carpet fabrics we tested it on.
One thing I'd like to say, in as much as the name PowerBoost may suggest that it's the suction power that brings the difference, no – there are several improvements on board. But then, it still disappoints when it comes to Smart features as it lacks Wi-Fi and definitely voice assistant.
verdict

So, what makes the difference? As we are going to see, later on, this new version has better suction power, a new brush system, design and even the overall performance. The battery performance is also enhanced and will comfortably handle a two- bedroomed standard house without worries of a half cleaned house because your robot ran out of power. I also like the fact that the dirt box is bigger so it reduces human intervention – by the way, nothing sucks like coming to a dirty house only to remember the bin was full. But at the end of the day, the price is very affordable, you wouldn't think twice!
Face to Face Comparison
If you are not keen, you might end up buying the RoboVac 11 instead of the RoboVac 11+. This is because of their huge similarity. But then, are they that similar? I will tell you no because these two are from the same brand, yes, but the newer model has highly improved features.
Should you buy the RoboVac 11 or the RoboVac 11+?
I frequently see this question on forums and blog comments and in a few words, I will tell you to go for the one with the best features.
In this segment, we are going to take a deep look at the two robots and see how they battle it out. We will be comparing the usability and performance of each model with regards to the important factors that you always consider when buying robot vacuum cleaners.
So, without further ado, let's get down to business.
Design
There is nothing much that has changed when it comes to design.
The Robovac 11 and RoboVac PowerBoost all comes in low profile designs. They can creep under most household furniture and will go lower than all the Roombas. But then, the newer model is a bit larger and heavier; it stands at 3.4 inches high and weighs approximately 10 lbs. while the older model is 3.1-inches high and weighs much lesser bin, 0.55L to be precise. So, if you hate emptying the bin every now and then, the newer model should be on your wish list.
Aesthetically, the robot maintains the grey finish and an anti-scratch tempered glass cover. I like it because pets will enjoy riding on top of it while seeing their reflection on the glass cover. But if you have kids, take care because it might break quite easily. For aesthetics, that was a real score but in terms of durability, I don't like the cover design.
Cleaning performance
This is the most critical aspect when buying robot cleaners and an obvious question here would be, which robot between the RoboVac 11 and RoboVac 11+ has the best cleaning performance?
I think the best way to answer this is to tell you about our findings during our week-long interaction with the RoboVac 11+, for the RoboVac 11, I have used it for quite some time – the ultimate decision will be yours.
The first thing you will want to look at here is the cleaning priority. There are different floor types each requiring different cleaning approaches, definitely depending on the messes too. There are also specialized cleaning needs like allergens, pet hair and even deep carpet cleaning.
We thoroughly tested the two models on several cleaning needs and this is the report.
Bare floors – Most robot vacuum cleaners are built for bare floors. These floors include hardwood, tile, linoleum, vinyl, and so on.

There is no much difference between the cleaning results when using these two models on bare floors. They will all work on bare floors so you might want to consider other features like cleaning time.
Carpets – This is where the real battle is and among the RoboVac 11+'s main strengths. This is not to say that the original RoboVac is not a good vacuum for carpets but it's the best between the two. First, I would like to comment about PowerBoost. This is the equivalent of Roomba's Carpet Boost mode. In this mode, the motor revolves faster thus generating extra suction power. But then, not far much than what RoboVac produces. Considering PowerBoost has extra 100 Pa only, it would be illogical to dismiss the RoboVac 11 for carpet cleaning just yet.
Here, I would recommend you make a decision depending on your type of carpet. If you have heavy carpet, just get the older RoboVac. It transitions very well and the battery lasts longer. On the other hand, if you have thin carpet, get the RoboBVac 11+ and enjoy the extras.
Pet hair – Both models are ideal for pet hair cleaning.
But I would recommend the newer version, RoboVac BoostiQ that comes with an all new brush system.
Remember, the rotating main brush in the RoboVac 11 will get tangled at times. But with the new model, it comes with a wider brush that was able to handle a Chihuahua's hair without any problem. It is also wider and would cover more floor area than the RoboVac original.
Allergens – There's also the problem of allergy and if you have one, you know how a robot with good filters will help. This is especially if you have pets which by far are the leading sources of allergens. Remember, while pet hair in itself may not be an allergen, it harbors them.
The RoboVac original comes with HEPA-style filters, same as the new version. Remember, HEPA style filters are not true HEPA. Basically, they offer quite some similar performance to HEPA filters but are of lower quality.
That said, none of the two offers anything extraordinary regarding allergens cleaning.
Regarding cleaning, you will realize that Eufy has a 3-stage cleaning system, same as Deebot and even Roomba. What brings the difference is the brush system, suction power, filters and such. But then, the working principle is the same.
Also, there's no one robot between them that is best for all cleaning needs; it's a matter of compromise.
Navigation
One of the areas that Eufy is less known for is AI and navigation technology, but that was during the older RoboVac 11's time. The new version is much more advanced and you will notice that even on the first day. If you'd ask me, this is one big reason you should choose the RoboVac 11+ over the original RoboVac 11.
The RoboVac original uses a set of infrared sensors with basic function; sensing obstacles, stairs, and localization. Together with the older software, it is not the best for high traffic homes. It got stuck almost daily when testing. But when we simulated how it would do in a house with fewer household, it was not bad at all.
My only word of caution is, don't buy it if you have a high traffic home; the navigation system is very average.
But what's new in the RoboVac 11+?
First, this robot has a more advanced software that boosts communication from the sensors. It is called BoostiQ and together with the new set of 11 sensors, it is able to navigate more accurately. The new model also has a pressure sensitive bumper for improved shock absorption when it hits obstacles.
Actually, we tested it in the same conditions and the PowerBoost won the crown. Though it is not invincible, it is better compared to the predecessors.
Regarding carpet transitioning, I didn't notice much difficulty though larger wheels like the RoadRovers in ILIFE V7s would have made life much easier on thick carpets. But then this shouldn't be a major concern because the robot itself is not recommended for thick carpet.
Smart features and convenience
If you ask many homeowners, the number one reason they would consider buying a robot vacuum cleaner is the convenience. In as much as the regular vacuum cleaners do a good job when it comes to house cleaning, they require human intervention; you need to push them manually. But with robot vacuum cleaners, they are intelligent and will do the work autonomously.
But then, there are two important features you need to consider if you are buying robot vacuums; Wi-Fi and Scheduling.
The RoboVac 11 and RoboVac 11 Plus come with this great feature. If you have a busy schedule, it will be of great help to you. It only takes a few minutes to program it throughout the week and it will automatically start cleaning floors without any prompting. As expected, all the two models have this feature.
But unfortunately, they all don't have Wi-Fi and as said earlier, this may look like a shortcoming but then, not everyone wants Smart gadgets around them. If you are keen on getting a Smart robot vacuum, check out the Deebot N79 or Deebot M80 Pro. But fortunately, if you have mobility issues, the remote control has got you covered; you can operate it right from your sofa.
Battery
If you have been shopping around, you must have realized that Eufy still does well when it comes to battery performance. While an average Roomba will do 60 minutes, Eufy will do 100 + minutes. But why is battery performance a concern? Which of the two vacuums has the best battery performance?
If your robot doesn't have the new auto-resume function that sends the vacuum back to cleaning, you need to be careful about battery performance. The same is the case for those with large apartments. But the good thing, these two Eufy models pack quite some power that can handle quite a large apartment. But then, there are some differences that are worth mentioning in this conversation.
The RoboVac 11 boasts a Li-Ion battery that can power it for a cool 90 minutes. Even though the likes of Debot N79 may do better than this, it is still commendable for a robot vacuum under $300. This is in light of the fact that expensive models like Dyson 360 and Roomba 960 will average 60 and 75 minutes respectively.
On the other hand, RoboVac 11+ has the same powerful battery but with very varied performance. It can do 100 minutes also when in normal mode and when in PowerBoost, it would have tried if it reaches an hour. But we realized that it heavily depends on the carpet fiber. For rugs, it uses more power and would average 50 minutes because the motor is running on overdrive. But on ordinary plush carpet pile, it did around 65 minutes.
Though I'm not complaining, Eufy should have built the newer model with a much larger battery to handle carpets and floors. If you have a large apartment with heavy carpet, the runtime may be too short for the entire cleaning cycle to be complete.
Frequently Asked Questions
Eufy 11 vs 11+: what is the best choice?
Taking into account the fact that both robots are almost identical in price, we prefer Eufy 11+ model. It features higher suction, longer run time, and improved brushes.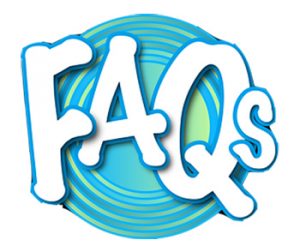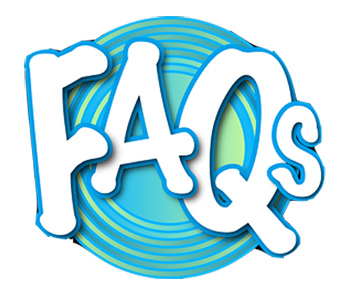 Are Eufy Robovac 11 and 11+ suitable for carpet cleaning?
These Eufy robots are suitable for hardfloors and low-piled carpets. If you have thick carpeting, the 11 and 11+ models will hardly cope with deep dirt because of the 1000 Pa suction.
Do Eufy Robovac 11 and 11+ come with virtual walls?
Robovac 11 and 11+ do not support virtual limiters.
Are Eufy Robovac 11 and 11+ suitable for allergic people?
The robotic cleaners use HEPA-style filters that trap the majority of particles. They significantly refresh the air and can be used by allegic people. However, these filters cannot capture the smallest pollen and other allergic particles.
Verdict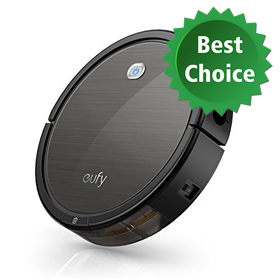 I know, it might still be a big issue settling on any of the two robots above. But then, from the fact that the RoboVac 11+ is an upgrade of the RoboVac 11, it ought to carry the day for obvious reason; it has more features.
The first thing I like it for is the affordability. Even though the average price of robot vacuums is $500, this one is still a worthy product considering it's under $300. The performance is more optimized and so is the navigation. If you have carpets and pet hair, it will still work for you efficiently and in fact, it has a dedicated cleaning mode for carpets called PowerBoost.
With all these features, it is safe to say that the RoboVac 11+ is the best robot cleaner. But then, if your budget is tight, the older version is still a worthy alternative. But then, the difference is not much so it would be a clever idea to step up the budget and get the upgraded version.