Best Eufy Black Friday Deals – up to 40% OFF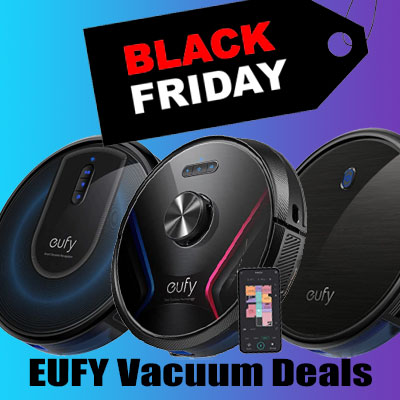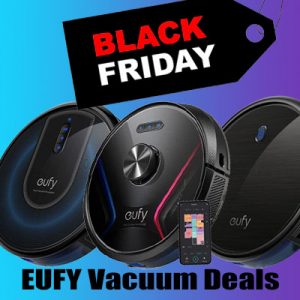 Finally, we are approaching the most awaited day of the year for shoppers – Black Friday 2022. It is time to buy with the most significant discount of the year!
If you have been waiting for this event to buy a good robot vacuum on a budget, then EUFY is a perfect choice. EUFY produces slim robots with logic paths for mapping for efficient cleaning.
This article will help you to go through the best EUFY Black Friday deals in 2022.
Black Friday 2022
Black Friday is a popular event when many goods from all categories are on sale. During the last few years, the popularity of online sales is only increasing due to COVID-19 restrictions for offline shops. So, Black Friday is executed by many marketplaces, and on this day and the following Cyber Monday, the biggest discounts are provided throughout the year.
Black Friday this year is on 25 November 2022 and Cyber Monday is on 28 November 2022. Within these days and weekends, you can buy a robotic cleaner twice or lower the regular price. The number of items in which category with the best and crazy price will be limited (up to 60%), so it is essential to check desired models in advance. It is difficult to say on which day, Cyber Monday or Black Friday, the most considerable discount will be provided. Still, on any of these days, the purchase will be reasonable.
Attention
If you do not want to wait until the end of November, you can check out early deals at the beginning and mid of November on most online stores, including Amazon.
Best EUFY RoboVac Black Friday Deals 2022

Eufy is a brand of robotic vacuum cleaners by the Chinese Company Anker Innovations. Under this brand, other easy-to-use smart home devices are also provided; each product is developed with the latest technological industry achievement and designed with a special love for the Customers. All devices are easily connected to create a smart home experience.
Eufy has several series (RoboVac, HomeVac, and WetVac) for any purpose of domestic cleaning for different key areas and any size of your home. The range of prices for models is also diverse. See below the description of the series with the hottest deals on Black Friday.
Eufy G40 Black Friday Deal – 40% OFF
The main feature of this series is the ultra-slim design of a robot with robust 2500 Pa suction and debris storage for up to 60 days of storage with a triple filtration system. On Black Friday, this budget series is presented with two models – eufy Clean G40+ for vacuuming only and eufy Clean G40 Hybrid+ for mopping and vacuuming.
The key features of the two models are:

View on Amazon

The models have a triple-filtration system in the robotic vacuum and the 3.2 L debris storage. The robot has a self-emptying function to transfer dust to the debris storage to avoid any interference. 99.9% of dust is securely kept inside the auto-locking dust bag to allow allergic people to breathe fresh and clean air (Allergy Care Station is certified by TUV Rheinland). The owner can set several cleans before it auto-empties to a docking station.
The robot has strong suction power of 2500 Pa for reliable daily dry cleaning with a Boost function for carpet to deep cleaning carpet's fibers.
It has ultra-slim dimensions to access the narrow space under the couch or cabinet – 17.68″L x 17.31″W x 13.96″H (366*433*372 mm).
The docking station has space to store accessories in a convenient and organized way.
G40+ finds the most efficient logical ways around the home – logically route planning. It has an anti-collision sensor to prevent crashes.
It is one of the quietest on the market robot – 55 dB.
Control functions are performed comfortably remotely from mobile applications. Also, the robot can be controlled by voice with Alexa and Google Assistant.
The robot is equipped with an auto-charging battery function when it is low and a further return to the spot where it is finished. Maximum run time is 100 minutes in quiet mode.
G40 Hybrid + robot, in addition to the listed features, has a 2-in-1 mop and vacuum feature. It can mop all types of hard floors with three water level consumption from a 130 ml water tank capacity. Moreover, G40 Hybrid+ supports no-go zones with boundary strips purchased separately.
Eufy RoboVac L35 Hybrid Black Friday Deal – 50$ OFF
This series belongs to middle-priced robots with such functions as Laser Navigation, multi-floor mapping, and ultra-strong suction 3200 Pa. In addition, both models, L35 Hybrid and L35 Hybrid+, can mop and vacuum simultaneously, and L35 Hybrid+ has an auto-empty station.
The advanced features (in comparison to G40) of the two models L35 Hybrid are listed below:

View on Amazon

The robot has LIDAR navigation to scan the home and create a real-time plan for up to three levels. The robot has a Z-path for efficient cleaning. You can set no-go zones, virtual boundaries, or chooser spots for cleaning (possible to establish custom cleaning preferences) in the application.
The robot can climb up to 20 mm thick carpets (from hard floor to carpets), small stairs, or uneven surfaces. For carpet as well as for G40 Boost function is automatically activated.
The robot has four suction levels for dry cleaning (Quiet – 600 Pa, Standard – 1200 Pa, Turbo 1800 Pa, and Max – 3200 Pa) and three water flow levels for mopping.
The 200 ml water tank is used with electric water control for mopping. For dust in robot L35 Hybrid 330 ml dustbin is built-in; in L35 Hybrid +, the bin has a 200 ml capacity.
Control can also be performed via an app or Alexa and Google Assistant.
To prevent accidental startup of RoboVac, a child lock function can be activated by pressing the home button for 3 seconds.
This robot is slightly louder – 62 dB in Max mode; but smaller – 350x350x100 mm. Maximum runtime is 145 minutes in quiet mode.
L35 Hybrid+ has a 25.000 Pa Auto-Empty Station (220×245×394 mm) equipped with a 3L antibacterial and deodorizing dust bag.
Eufy RoboVac G20 Black Friday Deal – 110$ OFF
This is another budget series of robotic vacuum cleaners similar to the G40. It is ideal for the everyday mess on hard floors and pet hair with the same powerful suction as G40 – 2500 Pa. For sales will be presented to models – RoboVac G20 for vacuuming only and RoboVac G20 Hybrid for vacuuming and mopping.
The key features of the two models are:

View on Amazon

It has smart dynamic navigation with methodical Z-shaped path cleaning with fewer missed areas in less time (the same as in L35 hybrid), not as random robots. To avoid stairs, falls, and drops, RoboVac G20 has drop-sensing technology. No-go zones can be set with purchased separate boundary strips.
It has four suction levels for vacuuming – quiet 600 Pa, Standard 900 Pa, Turbo 1500 Pa, and Max 2500 Pa. The robot can automatically change the suction power from any suction level to the boost mode for carpets less than 10 mm thick. For lifting dirt, a special rolling brush is installed.
G20 automatically, like other models, goes back for charging and resumes cleaning.
The robot is not only powerful and works up to 90 min in quiet mode, but works quietly– 55 dB.
G20 has an ultra-slim design – only 2.85 in height to go under beds and sofas. Overall dimensions are – 12.8 x 12.8 x 2.85 inches.
The remote control is executed by voice (Alexa) or app control with scheduling, suction control, and spot-cleaning functions.
G20 Hybrid, as well as other RoboVac Hybrid series, is a 2-in-1 model for vacuuming and mopping for a complete clean.
RoboVac X8 Black Friday Deal – 180$ OFF
One of the top high-tech series from RoboVac is X8 with iPath Laser navigation and twin-turbine technology, ideal solutions for long hair and pet owners with fur. Twin-turbines ensure 80% more airflow than a single one, provide increased capacity with fewer dust box cleanups and cleans better on the first pass (clean on 57.6% of pet pairs).
In addition, on sale will be presented RoboVac X8 for vacuuming only and RoboVac X8 Hybrid for mopping and vacuuming.
Other key features of the two models are:
View on Amazon

It has AI 2.0 map technology for creating and memorizing multi-floor maps. It cleans perfectly, even at night. In mobile applications no-go zones, customized areas, or spots for cleaning can be set. You can check the robot's location and already cleaned areas in real-time. The robot can also be activated with voice (Alexa).
Two turbines ensure great suction – each one with 2000 Pa power.
The robot has an ultra-large capacity dust box – 600 ml (RoboVac X8) and 400 ml (RoboVac X8 Hybrid) – with ultra-pack dust compression for more extended cleaning without emptying. This compression technology can keep 127% of dust more than without for the same volume.
X8 has extended runtime to 180 minutes with cleaning of 180 m2.
This robot has a low noise level from 50 to 65 dB, even in boost mode for carpet with maximum suction.
Robots have slim design – 13.58″L x 13.58″W x 3.85″H. Height is slightly bigger than for G20 models.
RoboVac X8 Hybrid(save up to 230$ off) has an extra-large 250 ml water tank for a 2-in-1 vacuum and mop simultaneously.
Summary
As you can see, EUFY proposes affordable vacuums with top functions of expensive models. For example, you can choose a dry and wet cleaning model with an auto-emptying docking station or an ultra-slim vacuuming-only model. Keep an eye on the model you need and quickly drop it in a basket, do not follow the best deals in price; in such a way, your purchase will be the most effective. Do not forget before the purchase to check into your account and read all terms and conditions.
That is all we had for you in this review of the best EUFY Black Friday 2022 deals and discounts. Besides EUFY, there are several other robot vacuum deals and discounts. Make sure to read our review of the best Roomba, Neato, Dyson, Deebot, and Roborock deals for Black Friday 2022.