Best EUFY Black Friday Deals 2019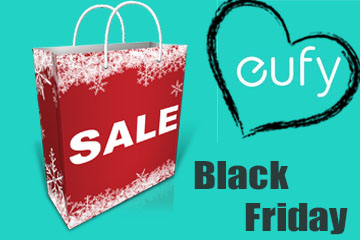 Black Friday is here once again, and that means time to shop and drop.
If you are looking for a cheap robot vacuum, we have lined up all the best EUFY Black Friday deals.
Whether you are looking for a cheap model or one of the high-end Robovacs, you came to the right place.
Our Quick Pick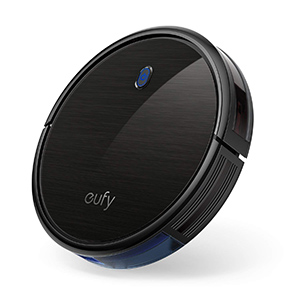 The EUFY Robovac 11s Slim was among the best EUFY Black Friday deals last year.
It is the cheapest EUFY vacuum at the moment, and just like last year, expect up to 40% off on this vacuum.
But is it a worthy purchase?
Well, you get what you pay for. Robovac 11s is not the best in terms of performance and convenience.
It does a great job on small to medium-sized apartments, but on carpets and high traffic rooms, there's still a lot to be desired.
This model also lacks WiFi, so there's no app operation or Alexa.
After all, it's an entry-level robot vacuum.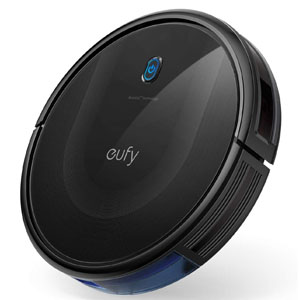 The Max model is part of a campaign by EUFY to reach out to the carpet owners segment. It is a new model that will be making its debut to Black Friday.
It should have quite a huge discount bearing in mind that a few people would opt for a robot vacuum that lacks smart connectivity.
In terms of performance, the new Max features an upgraded motor that takes auction power to 2000Pa. This is enough to handle the low pile and high pile carpets as well.
But it still lacks WiFi just like the EUFY 11s.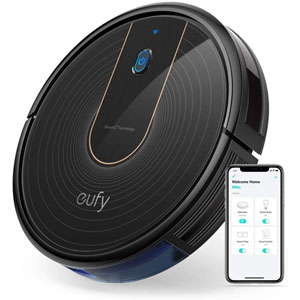 This is among the most popular EUFY vacuum in the market.
Last year during Black Friday, homeowners bought it for around $190 down from it's normal $280 price tag.
This year, with an upgrade, the Max model, expect huge discounts as well.
If you are looking for a connected model, the EUFY 15c will be a great choice.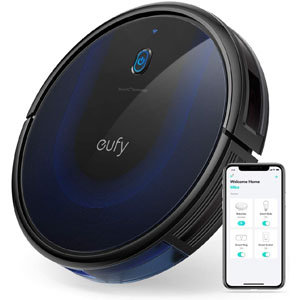 The EUFY Max is a new model released in 2019, and just like the 11 Max, it will be making its maiden entry to Black Friday.
With the predecessor having huge discounts, there won't be similar discounts for the Robovac 15c Max.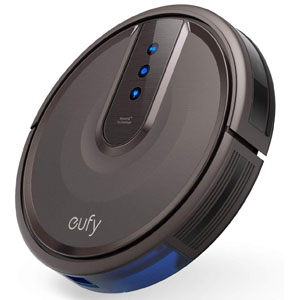 The EUFY 15T is a pretty new model and will also be making its first entry to Black Friday.
It is also among the cheapest models and featured in the recent Amazon Prime Day sale.
On Black Friday, it will also be among the best EUFY deals attracting up to a 40% discount.
The EUFY Robovac 15T is quite similar to the rest of the vacuums only that this time, it has a touch panel, hence the T at the end of the model number.
It has a 1500Pa max suction power and maintains the three-stage cleaning system.
Attention
Have it in your wish list if you have bare floors and low to medium pile carpets, as well as pets. Note, it sacrifices WiFi and instead comes with an IR remote.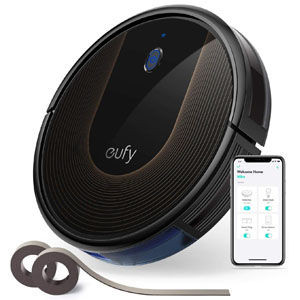 These two EUFY vacuums were among the trending products during last year's Black Friday, attracting up to a 35% discount.
This year also expect a huge discount, especially for Robovac 30 now that no one is buying a vacuum without WiFi.
Now, which of the two models should you buy?
Well, the Robovac 30 and 30c have no major difference only that the 30c features WiFi for app operation and Alexa compatibility.
Otherwise, they both have a three-point cleaning system with a maximum of 1500Pa.
The runtime is 100 minutes and can cover 1292sq ft.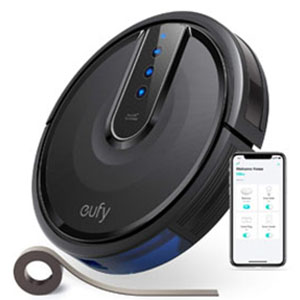 Robovac 35c was introduced early this year and has been quite a success.
It featured in the recent Amazon Prime Day sale, and it will also be among the hot deals during Black Friday.
At the moment, it costs around $300, but during Black Friday, you should snap if for around a 20-30% discount.
Now, what does this model add?
Well, nothing much, and in fact, it comes with a shorter boundary marking strip compared to the earlier Robovac 30c.
Check out our Robovac 30c vs. 35c comparison review for more.
There you have it folks, all the EUFY Black Friday deals. But then it's not guaranteed that you will snap any of them whenever you like.
Black Friday is for smart shoppers. Below are some of the tips that will help you shop during Black Friday.
First, know which robot vacuum you want. If you have decided to buy a EUFY robot vacuum, know the models available and make a wish list depending on your budget, and most importantly, your needs.
There are cheap EUFY vacuums as well as the expensive models.
In the same token, we have robot vacuums for carpets, bare floors, pet hair, and so on.
Attention
Many shoppers are dragged to the best deals only and end up buying a vacuum that doesn't suit their cleaning needs.
Anticipate the deals as well. Know when the deal will be dropping and be prepared to shop and checkout fast as the deals are limited.
Important
Just before the deals go live, make sure to have your account logged on and all the information updated. Also, remember to check out the terms and conditions of the deals.