Botvac Neato D7 vs Roomba i7+ Comparison
BY Richard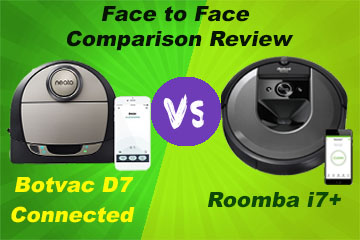 If you read our Roomba 980 vs. Botvac D7 Connected comparison review, you understand that Neato is a big deal.
Today we want to find out if it is better than iRobot's new model regarding convenience as well as cleaning performance.
So without further ado, here's the Botvac Connected D7 vs. Roomba 980 face to face comparison review.
To start, we will first review the two models to see the unique features it offers. At least that way, we will be all on the same page when we start comparing the features.

Connectivity
iRobot Home app, Alexa, Google Assistant
Alexa, Google Assistant, SmartThings, Neato Chatbot
Good Choice
Connectivity
iRobot Home app, Alexa, Google Assistant
Clever Choice
Connectivity
Alexa, Google Assistant, SmartThings, Neato Chatbot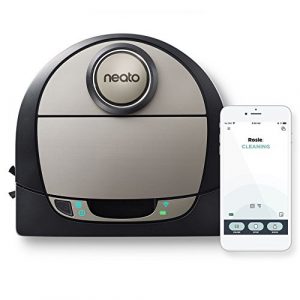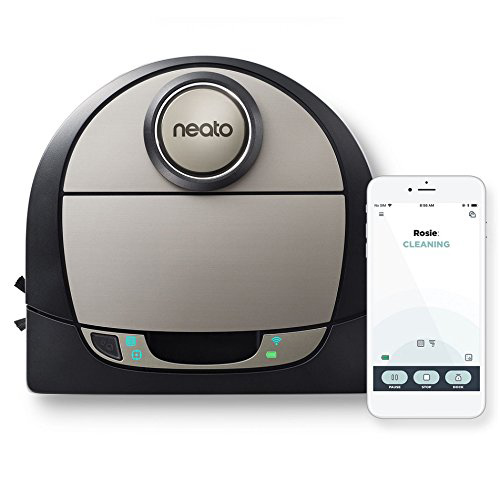 The D7 Connected is the latest Neato vacuum cleaner and a worthy competitor of Roomba 980. If you've read reviews around, you understand that Roomba 980 has been the best robot vacuum cleaner. That tells you how good the D7 is.
One of the most noteworthy features of the D7 Connected is the new 5GHz compatibility. If you have a house with dead spots, even with a mesh network system, probably 5GHz Wi-Fi would do the trick. As the name suggests, it supports Smartphone app operation and Alexa, among many other integrations.
Another cool feature this vacuum headlines with is the boundary marking technology called No-Go lines. You don't need any extra devices like Virtual Walls nodes. Draw the border on the app, and that's it.
Important
Regarding cleaning performance, this is among the few vacuum cleaners that have seriously rivaled Roomba 980 as an all-round cleaner for bare floors, carpets and pet hair.
It features a 3rd generation two speed motor and a dual combo brushroll for versatile cleaning. The Turbo mode is particular here as it works in the same way as Carpet Boost; a feature that makes Roomba 980 stand out from all over there Roomba's, including the new i7 series.
2.Roomba i7+ Empties on its own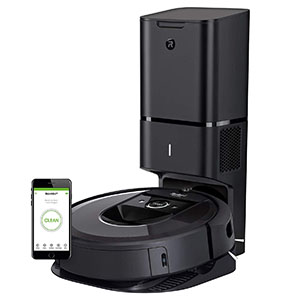 Roomba caught us by surprise by releasing an i7 series when we were drooling for a Roomba 1080 or something now that the current model was a 980. Remember we've had Roomba's from the 400 series.
To be honest, Roomba i7+ isn't better than the Roomba 980 as far as cleaning performance is concerned. This is because it doesn't have a Carpet Boost. That means it's not the best vacuum for carpets, especially the high pile carpets. But still, there's something about this robot vacuum cleaner, and that's why it's even expensive than Roomba 980. The Roomba i7 comes with two new features.
First, we have the i7+ series that comes with iRobot CleanBase technology. This is a revolutionary system that empties the bin automatically. While earlier Roombas and all other vacuum cleaners, in general, require daily attention of emptying the bin. This one will empty itself automatically and can last a whole month. But it's imperative to note that the Roomba i7 doesn't come with the CleanBase unit. If you want this feature, buy the Roomba i7+ only.
Another thing, the Roomba i7 series comes with iAdapt 3.0 which is an advanced system of the previous VSLAM technology. This time, iRobot included what is called Imprint Smart Mapping. This is a system that recognizes the rooms in your house. You can always tell the Roomba to concentrate on the dirty rooms like the kitchen only instead of cleaning the entire house.
Roomba i7+ vs. Botvac Connected D7 Comparison Review
Now, we come to the day's main business. In this section, we have compared all the important aspect that you should be on the lookout for when buying a vacuum cleaner.
In each section, we will be discussing the essence of the feature or aspect, what each model offers and lastly, the winner.
DESIGN & AESTHETICS
Even though the aesthetics of a vacuum cleaner don't really matter, the design is of the essence. Still, you may want to buy a vacuum that complements your interior so the aesthetics may be a concern.
So, how does the Connected D7 compare to Roomba i7+?
Shape
Important
There are two basic shapes robot vacuums come in; round and D-shape vacuums. Most of the robot vacuums are round, but we also have several other shapes.
Our two vacuums in this review happen to be round and D-shaped.
Neato Connected D7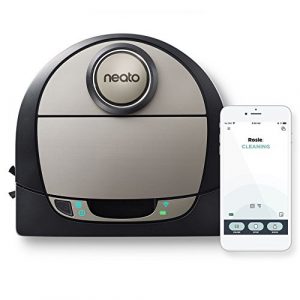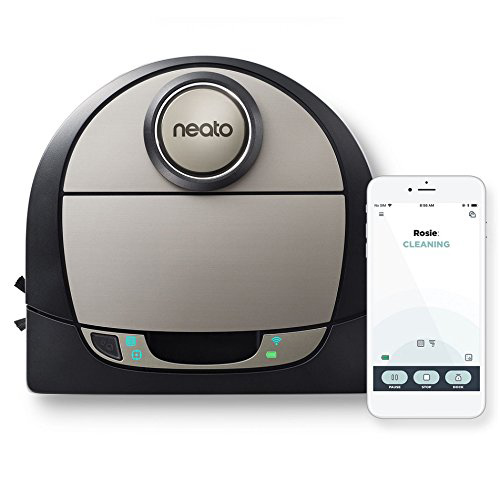 Neato Connected D7, on the other hand, is D-shaped like the Connected D3 and D5. The advantage of this is better cleaning in the deep corners and along wall edges. There's also a side brush just like Roomba, so definitely here, Neato carries the day.
Shape D-shaped
Weight and dimensions
A good vacuum cleaner should be light for easy portability. You will be carrying it upstairs and down stairs frequently. It should also have a low profile design to creep under the low clearance furniture.
Attention
To be honest, Neato and Roomba are not the best when it comes to the slimness of the vacuum.
But anyway, let's see what each offers.
Roomba i7+
The Roomba i7+ is not any different from Neato, but at least it stands at 3.6-inches. It has a 13.4-inch diameter and weighs 7.45 lbs. This is excluding the CleanBase unit.
Diameter 13.4 inches
Height 3.6 inches
Weigh 7.45 lbs
CLEANING PERFORMANCE
Important
The most important factor when selecting a vacuum cleaner is obviously the performance. But then, the cleaning performance of robot vacuums is determined by an amalgam of factors: from the motor to the brushroll and filters, among others.
We are going to look at each factor separately. In this segment also, we will share the cleaning test results of the test vacuums to help you understand what the features translate to when it comes to the actual cleaning.
Priority
What are your cleaning needs? Will the vacuum cleaner that you are buying to handle all the specific needs you have? Robots are highly specialized to handle specific tasks. While they may all use the sweep and vacuum approach, the performance varies depending on the task. So, what is Botvac D7 and Roomba i7+ designed for?
Neato Connected D7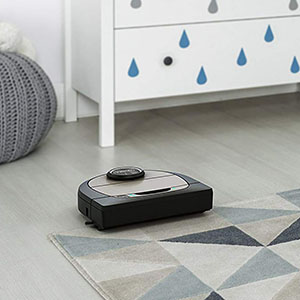 When it comes to the Botvac D7 Connected, at least it is an all-around cleaner that has a dedicated mode for carpets (Turbo mode). This means it can handle all carpets including high pile carpets and shag. Bare floors, pet hair, and allergens are not a problem as well.
Motor performance
Important
The suction power of vacuums is very fundamental. The motor is the component that is responsible for producing this vacuum power. A good robot cleaner should have a powerful, efficient and quiet motor.
So, is Roomba's motor better than Neato's?
Neato Connected D7
As for Neato, we have a 3rd Generation motor that runs on two speeds; Eco mode and Turbo mode. In Eco mode, it generates around 1,000 Pa, and when switched to Turbo mode, it hits 1500Pa. This is one feature that makes the Neato Connected D7 a worthy competitor of Roomba 980.
Generates 1500Pa
Brush system
Besides the vacuum power, the cleaning head is the other crucial feature. Remember, robot vacuums work on the principle of agitation and suctioning. Now, while the motor delivers suction power, the brushroll agitates the dirt, for easy pickup and vacuuming.
Important
But one important thing to note here is that hard floors require a soft brush and carpets require, at least a tougher brush. A good vacuum cleaner should have both brushrolls to handle the carpets and the bare floors.
Neato Connected D7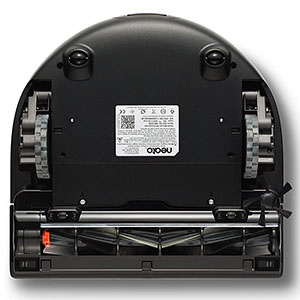 When it comes to Botvac D7 Connected, we also get an 11-inch spiral combo brush. It can handle fragile floors and carpet as well. One thing we didn't like is that it's tough and rigid when new. (Try it out on one corner of the carpet first). It also has a side-sweeping brush that complements the D-shape design for thorough wall edge cleaning.
Filtration system
If you keep pets and you have allergies, you understand that life can at times be unbearable. This is because of the pet-related allergens.
Attention
Even though pet hair is the primary carrier of Fel d1 protein, the biggest of allergens, skin flakes and dander are still a concern. Get a vacuum with true HEPA filters. These are 99.97% efficient meaning no allergens will be spared.
Neato Connected D7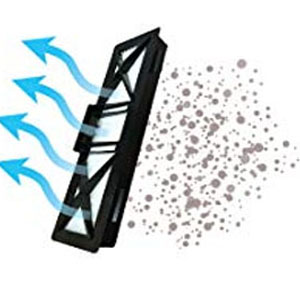 Neato Robotics also uses HEPA filters which are 99% efficient. That makes it best for allergy sufferers, just like Roomba.
Bin capacity
A good cleaner should have a large bin to hold more dirt. One thing everyone hates is the BIN FULL beep or notification. That means the vacuum will have stalled until you empty the bin. That makes bin capacity a crucial aspect when choosing the best vacuum between Roomba i7+ and Connected D7.
Neato Connected D7
When it comes to the Roomba i7+, we have the exclusive self-emptying bin system. This means you can forget the worries of having to empty the bin. Under the Roomba i7+, we have a vent where the CleanBase hose attaches and empties the bin. The CleanBase can hold up to thirty bags; that's a whole month's dirt!
Important
Please note, Roomba i7 doesn't come with the CleanBase. Only the i7+ has this self-emptying capability.
Cleaning tests
Now, having compared all the crucial features, let's now share with you the cleaning results of both vacuums.
Previously, we have tested Neato in the Roomba 980 vs. Botvac D7 Connected comparison review. It performed exceptionally well though Roomba 980 was slightly better on deep carpet pile.
So, did the new Roomba i7+ live up to the expectation? Let's find out.
As usual, we used the common household dirt; Cheerios, sugar, flour, kitty litter, sawdust, hair and so on. Our tests were on a hardwood floor surface, low pile carpet and a high pile carpet.
Hardwood floors
Neato Connected D7
Botvac D7 Connected has two power modes and its the standard mode that;'s ideal for hardwood floors.
The performance was more or less the same as Roomba i7+ as they have the same power when Neato is in Eco mode.
All the dirt was sucked up in two to three passes.
Flour
97%
Sugar
98%
Kitty litter
100%
Sawdust
100%
Hair
100%
Cheerios
100%
Our rating for Botvac D7 Connected on the hardwood floor is 98% as well.
Low pile carpet
Neato Connected D7
Neato Botvac Connected D7 has better performance on carpets because of the Turbo mode. In this mode, the 1500Pa suction power flushed out all the dirt from inside the pile.
Flour and sugar posed some resistance, but on the second pass, nothing is left behind.
To be honest, the D7 Connected was dominant on the low pile and even the medium pile.
Flour
97%
Sugar
97%
Kitty litter
99%
Sawdust
100%
Hair
100%
Cheerios
100%
Our score here is 98%.
High-pile carpet
Neato Connected D7
On the other hand, the Connected D7 did an excellent job. It collected all the dirt in a buzz.
Slowly but surely, it picked up the large dirt particles and then zeroes in on the small sugar and flour particles.
Of course, all the flour wasn't collected, but this is not even something you'd expect on a high pile carpet.
Important
In our Roomba 980 vs. D7 Connected review, Roomba won the battle here because it has 1700Pa in Carpet Boost mode.
Flour
96%
Sugar
95%
Kitty litter
99%
Sawdust
100%
Hair
100%
Cheerios
100%
Our rating for Botvac Connected D7's performance is 96%.
NAVIGATION & MANEUVERABILITY
There are several important factors to consider when discussing the navigation and maneuverability of robot vacuums.
Navigation technology
The fundamental factor when it comes to navigation is the native system.
Important
We have two types of systems; SLAM (Simultaneous Localization and Mapping) and VSLAM (Visual Simultaneous Localization and Mapping).
Right now, the advanced vacuum cleaners use the latter as it's more accurate and efficient. SLAM is also efficient but not as accurate.
If you have high traffic rooms, then it's critical that you get the best navigation system lest you end up buying a vacuum that gets stuck and hits obstacles now and then.
So, how do the two vacuums compare here?
Roomba i7+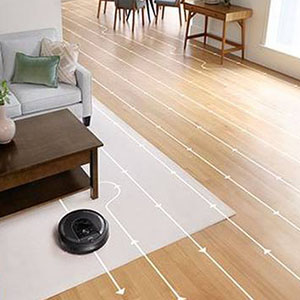 The Roomba i7+ is definitely the best here and is actually better than Roomba 980. It comes with iAdapt 3.0 which is an upgrade of the previous iAdapt 2.0. Besides the camera navigation, Roomba i7 and i7+ have the additional Imprint Smart Mapping. With this system, your Roomba identifies all the rooms in your house. You can tell it to clean the kitchen only, and it will do so.
Floor mapping
Many people ignore the floor mapping system when buying robot vacuum cleaners.
For starters, floor mapping is all about how the robot scans the floor, and it's choice of path. Even though it looks like a completely different aspect, floor mapping is directly influenced by the navigation system.
The floor mapping system will determine if the vacuum will reach every corner of your house and most importantly, it determines the time it takes to complete cleaning the entire house.
So if you have a large apartment, this is a really important aspect. That said, better floor mapping system than the new Roomba i7.
Neato Connected D7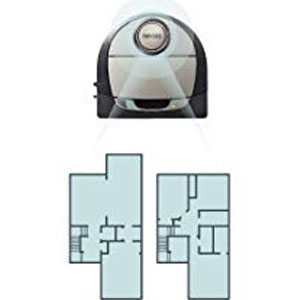 For Neato, we still haven't seen the company embrace VSLAM technology, so the scanning and mapping system is not comparable to Roomba's floor mapping. That's the reason it takes Neato longer to clean.
Boundary Marking
Time and again, there will be the need to restrict the robot vacuum from reaching certain areas. While many robot vacuums lack any form of boundary marking, we have models that come with physical barriers while other use invisible barriers.
Important
Invisible barriers are the best because they are very easy to set up. No one wants the bulky markers that are hard to set up.
Let's find out which technology each model uses and most importantly, what's the best model.
Neato Connected D7

One of the areas Neato excels in is the boundary marking technology. It comes with the revolutionary No-Go Lines.
Unlike Virtual Wall, you don't need modes or any setup. Just draw where the vacuum should not cross on the FloorPlanner. It is a simple a that.
Besides No-Go Lines, Neato is generous enough to include physical markers that the earlier Botvac models have. These come in handy when you don't have Wi-Fi, but you want to set boundaries.
CONVENIENCE
The essence of buying a robot vacuum cleaner is because of the convenience. They are easier to use and offer more flexibility compared to the uprights, canisters, stick, and handheld models.
When talking about robot vacuum convenience, there are several factors to be considered.
Scheduling
Attention
Robot vacuums can be programmed to work independently. All you need to do is set your preferred cleaning time, and the robot will embark on cleaning when that time reaches. Unfortunately, no vacuum cleaner in the market now can be programmed to clean more than once in a single day.
Neato Connected D7
Neato also has the scheduling function, but this time, you can program the vacuum on the Neato Home app only. That means you need Wi-Fi to schedule your Neato.
Autonomy
Attention
Robot vacuums are cordless thus they come with inbuilt or removable and rechargeable batteries.
The battery determines how long the vacuum will run and consequently, the floor size it can handle with a single charge.
Another important consideration is power management.
Do you have to charge the vacuum manually or it does so automatically? What about when it is fully charged, does it go back to finish cleaning? Let's find out.
Roomba i7+
Roomba i7+ comes with a smaller battery than the Roomba 980. It packs a 1,830mAh Lithium-ion battery that can last it for around 75 minutes which is fair considering the Roomba 960 also does 75 minutes.
It will also resume and recharge automatically. But it will resume cleaning after fully recharging, and that take 2-3 hours. That said, the Connected D7 has the edge here considering its battery is much powerful and can complete cleaning on time.
Average75min
Battery 1800mAh
Recharge time 2-3hours
Connectivity
A smart robot vacuum comes with Wi-Fi connectivity that allows for Smartphone operation, and integration with other 3rd party platforms, for example, Apple Homekit, Amazon Alexa, Wink 2 Hub, SmartThings, and so on.
Neato Connected D7
Botvac Connected D7 also comes with Wi-Fi, and the advantage is that it' compatible with the 2.4GHz band and well as 5GHz.
It works with Alexa, Google Assistant, SmartThings, Neato Chatbot among others.
AFTER SALES
Besides the design, cleaning performance, convenience, and other features, we have another subset of factors you should consider.
Warranty
A longer warranty period is crucial. Warranty is like some sort of insurance against whatever you are buying. The company covers for manufacturer's defects and other problems that didn't arise from the owner's misuse. But don't just look for a long warranty. There are so many frauds out there who don't honor warranties.
Both Roomba i7+ and Botvac Connected D7 come with a one year warranty. The two are genuine and will honor any warranty as long as you stick to the terms and conditions.
Maintenance
A good vacuum cleaner should have minimal maintenance requirements. Many are times we buy a cheap vacuum only to find that the long-term maintenance costs are higher.
So, which of the two vacuums in our comparison are easy to maintain? Is it the Roomba i7+ or Neato Botvac Connected D7?
Neato Connected D7
When it comes to the Botvac Connected D7, the maintenance requirements are the same. The difference is maybe the battery. This one will last a little bit longer so replacement may be after 18-24 months. The replacement parts are also readily available and actually cheaper than Roomba's.
Value
Lastly, you need to evaluate whether you are indeed getting value for your money. Are you getting what you are paying for?
Attention
The price of the vacuum cleaner should be proportional to the features and performance.
Neato Connected D7
Important
The Botvac Connected D7 is also great value for money.
It has features that rival Roomba 980 which is still the best vacuum in the market only that you have to empty the bin often. With a suggested retail price of $800, Botvac Connected D7 is a clever bargain as it can clean high pile carpets effectively when Roomba i7+ performs dismally.
Roomba i7+ vs. Botvac Connected D7 – Who's the winner?
Now, we are wrapping up our Roomba i7+ vs. Connected D7 comparison review.
Finally, it's time to declare our winner but before that, here are a few things we liked about each of the two models.
Why we liked Botvac Connected D7
Longer runtime – Neato can run for a cool 150 minutes on a single charge which is twice what Roomba i7+ offers.
Quick boost charging – You don't have to wait for the entire charging time. The Neato Botvac will boost its charge to complete cleaning.
Carpet cleaning – The Turbo mode works like Roomba 980's Carpet Boost mode making it ideal for low to medium pile carpets.
No-Go Lines – You can set boundaries by just drawing the limits on the FloorPlanner. This is much easier than using magnetic strips or Virtual Walls nodes.
Indeed, Roomba and Neato have their own selling points. But at the end of the day, the best vacuum cleaner is one which meets all your cleaning demands.
Neato Connected D7
On the other hand, Neato Botvac Connected D7 is an all-round cleaner that is comparable to Roomba 980.
It performs exceptionally on all surfaces including high pile carpets which overwhelmed Roomba i7.
The Turbo mode gives Neato the capabilities of Roomba's Carpet Boost; a dedicated cleaning mode for carpets.
Neato Botvac also has twice the runtime of Roomba making it ideal for large apartments.
Boundary marking is definitely better than Roomba's Virtual Walls.
This vacuum is also cheaper and will save you a few bucks for getting a robot mop.
verdict

For these reasons, Neato Botvac Connected D7 is our winner in this vacuum comparison review. However, if you are keen on a fully robotic vacuum cleaner, for high traffic rooms, grab the Roomba i7+
Wrapping Up
There you have it folks, a Roomba i7+ vs. Botvac Connected D7 comparison review.
The new iRobot vacuum is better in a few areas like navigation and floor mapping, self-emptying bin, usability, and design. But still, this is not enough to beat Neato's best robot vacuum.
The Connected D7 has better cleaning performance, better runtime, effortless boundary marking, and a host of the feature on the Home app.
So, what's your choice? Is it Roomba i7+ with a self-emptying mechanism of Botvac Connected D7? Talk to us in the comments section below.