Amarey A800 vs. A900 vs. Eufy 11s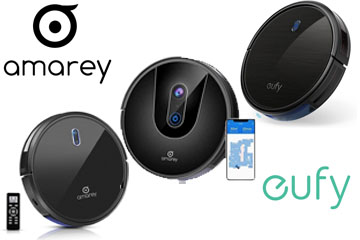 If you are looking for the best affordable robot vacuum, Amarey and Eufy offer some of the best deals.
In this Amarey A800 vs. A900 vs. Eufy 11s, we have lined up the affordable models from each brand. Find out what are the differences between these models and which one is best for you.
But just before we get into the details, here is an overview of the two brands and the respective models in this comparison review.

Comparison Table
Dimensions
12.8 x 12.8 x 2.85 inches
Nice Choice
Dimensions
12.8 x 12.8 x 2.85 inches
Comparison Ptice History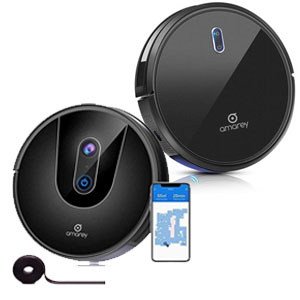 Amarey may be a new entrant in the robot vacuums industry, but it's a brand that has a promising future. So far, the subsidiary of Ankobot has three robot vacuums on the market; A800, A900, and the latest model, the A980.
In this comparison review, we have focused on two popular models from the Chinese brand, the A800, and A900.
The A800 is the base model with just the basics. It lacks Wi-Fi, so if you are a smart home enthusiast, this model will disappoint.
On the other hand, the A900 comes with all the features the A800 has but adds smart operation, making it a smart home ready robot vacuum.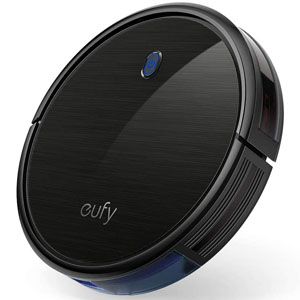 Eufy is a popular brand known for its wide range of appliances, including vacuums, smart lighting, and smart health accessories.
The Chinese brand is part of the larger Anker Innovations, a company popular not only in China but also in the US.
In this review, we have compared its low-end model, RoboVac 11s to Amarey A800 and A900.
The Eufy RoboVac 11s is a base model with the basics only. It also lacks Wi-Fi, so here again, if you are a smart home enthusiast, this won't be the best deal for you.
However, there are several other smart models in the RoboVac 11 range that you can opt for.


Amarey A800 vs. A900 vs. Eufy 11s Face to Face Comparison Review
After the quick overview of the two brands and the models in this comparison review, let's get to the main details. We will be comparing the three models based on the important factors considered when choosing the best robot vacuum to buy. Without further ado, let's get into it.
1. Design and Aesthetics
The design of a robot vacuum is an important consideration as it determines where a robot vacuum can reach, talk of under furniture and between spaces.
When it comes to aesthetics, it has nothing to do with cleaning performance, but some buyers have color preferences. It's also a good thing if you can discern robot vacuums from their aesthetics.
Amarey A800 and A900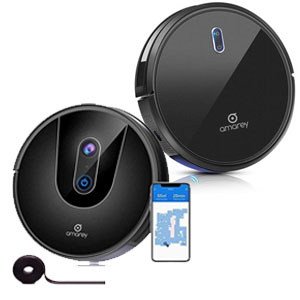 As for the Amarey A800 and A900, there are a few negligible differences.
Amarey A800 is the thinnest at 2.7-inches while the A900 is a little bit thicker at 2.9-inches. When it comes to diameter, and weight, both units are 12.7-inches wide and weigh 5.7lbs.
The biggest difference is with the aesthetics. While they are available in both black and white color options, Amarey A900 has a revised top interface with a single power button at the center and an on-board camera lens. On the other hand, Amarey A800 maintains a similar design to the Eufy 11s, buttons at the top, and the logo below.
2. Cleaning Performance
Important
The most important consideration when choosing a robot vacuum cleaner is its cleaning performance. In this section, we will discuss the different components that determine how efficient a robot vacuum cleaner is. We will also be sharing our exclusive Amarey A800 vs. 900 vs. Eufy 11s cleaning test results.
Cleaning Orientation
Amarey A800 and A900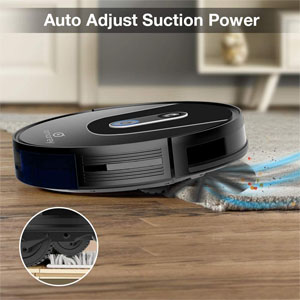 The Amarey A800 and A900 are not very different from the Eufy 11s. Both models do a great job on bare floors; tile, hardwood, linoleum, vinyl, etc.
They also handle pet messes pretty well though long dog hair tends to tangle the brushes. When it comes to carpets, the performance is also the same. The duo will vacuum low pile carpets very well, but on medium and high pile carpets, they tend to get overwhelmed.
Suction Power
Amarey A800 and A900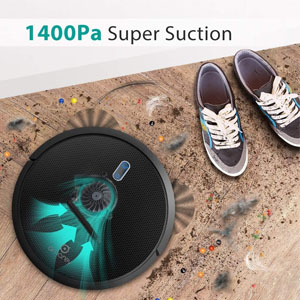 Amarey A800 and A900 are the same here as they both have a motor that delivers a maximum of 1400pa. That means the two are more powerful than Eufy 11s, but in real-life performance, the difference is negligible. If you want a more powerful Amarey vacuum, check out the new A980 that delivers 1600pa.
One notable difference between these two models is that the A800 lacks any form of carpet identification while the A900 identifies carpets and steps up suction power. As for operation noise, the A800 and A900 produce a maximum of 61dB.
Brush System
Amarey A800 and A900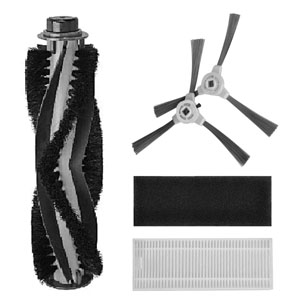 Amarey A800 and A900 share the same features here. They both have a motorized brushroll as the primary brush. It performs well when it comes to agitating and picking up dirt, but unfortunately, it gets tangled when dealing with long dog hairs.
On the sides, two spinning brushes sweep the paths, directing dirt to the primary brushroll. Here also, the brushes require replacement after an average of 8 months depending on usage. Periodic maintenance is also necessary.
Filtration
Amarey A800 and A900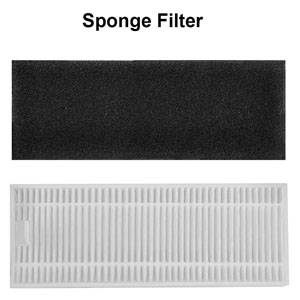 When it comes to Amarey A800 and A900, the two share the same filtration design but a slightly different dust box. The triple filter system comes with a 3-layer filter, including a washable pre-filter, a sponge, and a high-efficiency filter.
As for the dust box capacity, the older Amarey A800 has a large 0.6 L bin while the A900 has a slightly smaller 0.5L bin.
Cleaning Modes
Eufy RoboVac 11s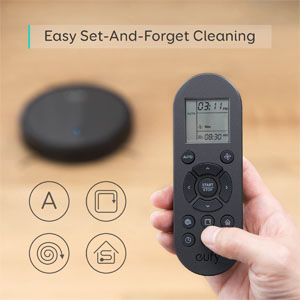 Eufy RoboVac 11s BoostIQ also comes with multiple cleaning modes.
There is Automatic cleaning, which is meant for daily cleanup, Spot mode for cleaning specific spots that have concentrated dirt, Edge cleaning for wall edges and corners, and schedule cleaning for cleaning at specific times throughout the week.
Cleaning Test Results
As usual, we test all the robot vacuums in our reviews, and in this Amarey A800 vs. A900 vs. Eufy 11s comparison, there were no exceptions.
We used common household dirt to test the robot vacuums on different surfaces. Below are the results.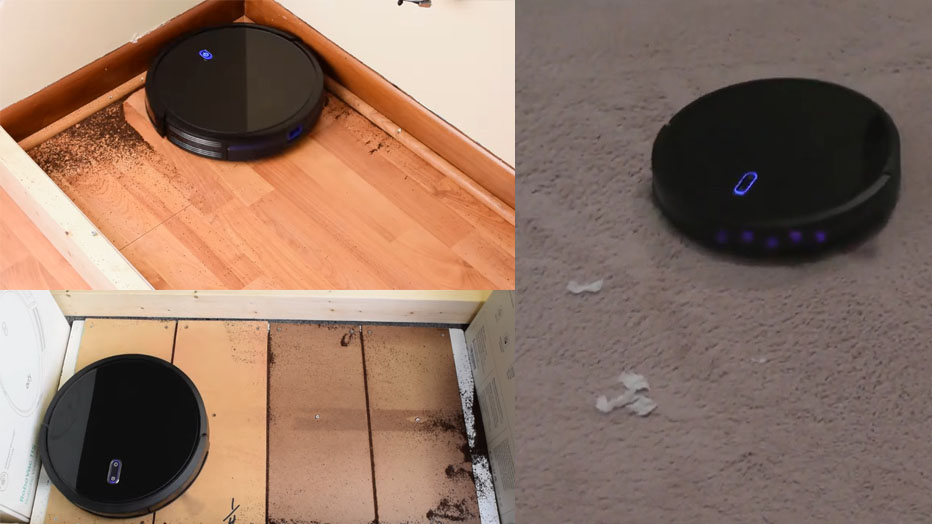 3. Battery and Autonomy
A good robot vacuum should have a powerful battery that ensures the entire house is covered before it docks for recharge. Besides runtime, it should have a longer life cycle. You don't want to buy a robot vacuum with a battery that lasts just three months before needing a replacement. Power management is also a concern here.
Amarey A800 and A900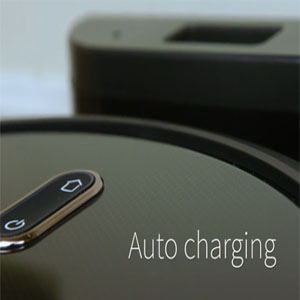 When it comes to the Amarey A800 and A900, we have the same 2600mAh battery, but then, the two vacuums have been optimized differently, such that they have different runtimes.
The Amarey A800 did 100 minutes on bare floors and 65 minutes on high pile carpets. On the other hand, the Amarey A900 managed 120 minutes on bare floors and 70 minutes on high pile carpets. The recharge time is the same, 2-3 hours.
In terms of power management, none of the two robot vacuums will resume cleaning after recharging. Both batteries have the same life cycle, 12 – 18 months, depending on usage.
4. Navigation and Mapping
The navigation and mapping system of robot vacuums is critical because it determines where the robot will reach, and importantly, the efficiency. In this segment also, it's important to look at the containment options, if any.
Amarey A800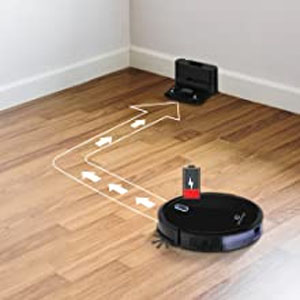 On to Amarey, the two models differ greatly when it comes to navigation and mapping. The Amarey A800 comes with the same SLAM navigation system that deploys obstacle detection and cliff detection sensors to find its way around your house.
In high-traffic rooms, expect it to get stuck a few times, but in homes with minimal traffic, it gets the job done. The A800 lacks any intelligent floor mapping mechanism, so it cleans in a random pattern.
5. Smart Connectivity and Convenience
In this smart home age, a smart robot vacuum should be a priority. But then, not all robot vacuums are smart home ready. Let's find out what smart connectivity and convenience features these three robot vacuums have.
Amarey A800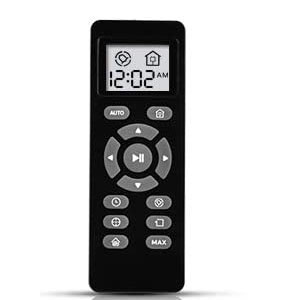 The Amarey A800 is just the same as Eufy in that it also lacks any smart connectivity features, so smartphone app operation or Alexa compatibility is not available. Here also, you get a physical IR remote for controlling the robot.
Amarey A800 vs. A900 vs. Eufy 11s
There you have it, folks, an Amarey A800 vs. A900 vs. Eufy 11s face to face comparison review.
As you have seen, these are entry-level models except for the Amarey A900, which boasts a few bells and whistles, talk of the VSLAM navigation and mapping, boundary strips, and smart connectivity.
If you are looking for the best robot vacuum to buy from the above three, definitely the Amarey A900 is the best choice.
Attention
Narrowing down to a battle between Amarey A800 vs. Eufy 11s, the latter seems like the best choice because it doesn't tangle, and the BoostIQ feature makes it more efficient as it adjusts suction power depending on the surface.
If you are on the market for any of these three robot vacuums, make sure to subscribe to our price drop alerts, and we'll notify you when there is a sale or discount.