Roomba vs iLIFE Comparison Review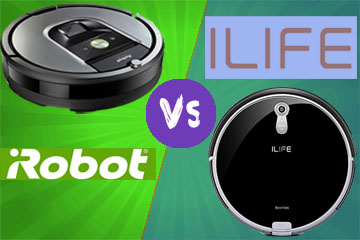 The Roomba vs. iLIFE debate seems to be an unending one. But today we want to put the matter to rest by comparing the two brands from different angles like cost and value, performance, maintenance, durability, autonomy and so on.
Ultimately, we will give our verdict on which is the best option between the two. So, if you are in a shopping dilemma, keep it right here.
As a sneak peek, iRobot is a renowned American robot vacuum brand that combines the best technologies to manufacture high-end robot vacuums. The company has been in business since 2002.
On the other hand, iLIFE is a Chinese brand synonymous with cheap, but reliable robot vacuums including integrated robot vacuums with mop. This one is a little bit new having been established in 2007.
Now, let us dig deeper and find out why we chose these two brands and not any other.

Brush
Dual Multi-Surface Brushes
Dual Multi-Surface Rubber Brushes
Dual Multi-Surface Rubber Brushes
Filtration
AeroVac filtration system
Why we chose iLIFE
iLIFE is the exact opposite of Roomba in terms of price.


Chinese brands are known to be cheap and often disrupt the international markets; that's what ECOVACS, iLIFE, and Xiaomi are up to. The most expensive iLIFE robot vacuum costs a quarter of what the latest Roomba will set you back.
Besides the price difference, iLIFE offers something unique, and very fundamental which many robot vacuums including Roombas lack. This is the mopping function which the Shenzhen-based company has advanced slowly, and so far, it is the only robot mop with an intelligent water dripping technology; i-dropping.
verdict

Think of a floor cleaner that vacuums and mops simultaneously, at a fraction of what Roombas cost; that's what iLIFE is.
Popular iLIFE & iRobot models
iLIFE models
ILIFE has two series; the iLIFE A series for carpets and the V series which integrate mopping function. The popular models are the A4s, V5s Pro and the new V8s.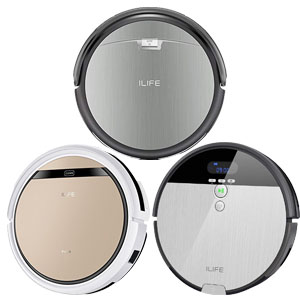 What we like in iLIFE robot vacuums
iLIFE robot vacuums come with mopping function which complements just sweeping and vacuuming. You don't need to invest in another cleaner, but with a Roomba, you will still need to get the Braava Jet 240 or 380 to mop the floor.
ILIFE robot vacuums also have a longer runtime. Each one of them does more than 100 minutes while the only Roomba that can exceed 100 minutes is the 980 which is not in our review today.
These vacuums are also low profile and very sleek.
iLIFE vs Roomba: Face to face comparison
Now, to the main business of the day; we have compared the top models from the two brands highlighting the strengths and weaknesses of each brand.
1. Cleaning
The cleaning performance is the most crucial consideration when choosing a robot vacuum. That is an excellent playground to test the two brands. Just for the record, Roombas are robot vacuums while iLIFE has robot vacuums and robot vacuums with mops as well. There are also several other differences between Roomba vs. iLIFE that we will be discussing below.
Cleaning orientation
As you all know robot vacuums are highly specialized. You need to buy a cleaner that is specially designed for your cleaning needs; be it hardwood floors, pet hair, carpets and so on. Many of the robot vacuums combine two or more cleaning abilities.
Let's see how Roomba compares to iLIFE in terms of cleaning orientation.
verdict

Roombas boast raw cleaning power and have a slight advantage over iLIFE models as we will see in the final cleaning tests. However, the extra mopping function gives iLIFE a huge boost and in fact makes the brand the best for bare floors and pets as it vacuums and mops the stains and grime that pets leave behind.
Motor and power
Attention
Under the hood of robot vacuums is a crucial component called the motor. Its responsibility is producing the suction power that vacuums the dirt from the floors.
There are different types of motors in the industry from the low end to high-performance motors.
Important
Even though motors are rated in Watts, the power of the vacuum is calibrated in Pa which with high Pa implying better performance.
So, between Roomba and iLIFE, which brand has high suction?
iLIFE
iLIFE A4s has been specially designed for carpets and comes with a much powerful motor that delivers 1000Pa.
The V5s Pro is a little powerful than the V5s as it delivers 850Pa in Max mode while the new iLIFE V8s delivers 1000Pa.
verdict

Even though iRobot turns the tables when you bring in the Roomba 980, the popular iLIFE and Roomba models rank the same when it comes to power output. Our pick, however, is the Chinese brand because they are cheaper and hit 1000Pa while Roomba's 2nd Gen motor manages 900Pa.
Brush system
There are two brush systems in robot vacuums cleaners.
We have the primary brush whose role is agitating and picking up dirt. On the sides, you may have two or a single sweeping brush that sweeps the paths of the vacuum.
Attention
Carpets require tough bristle brushes while the bare floors are good with soft brushes or rubber extractors.
So, what do these two brands offer?
iLIFE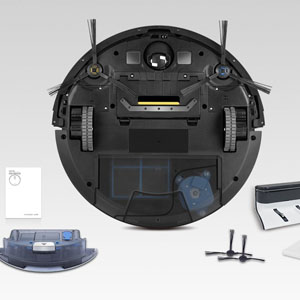 The iLIFE V5s Pro has two side brushes but no primary brush so, expect dismal performance.
This is the same for the new iLIFE V8s.
The A4s also has dual side brushes and a special motorized bristle brush to tackle carpets and stains.
verdict

Here, the only iLIFE model that can match Roomba is the iLIFE A4s. The spiral-shaped bristle brush picks up dirt , but it is not as good as Roombas dual multisurface brush system which is specialized on that there is one brush for breaking down dirt and another for picking up the dirt.
Filtration
Besides sweeping and picking up dirt, robot vacuums also purify the air by capturing the tiny particles that cause bad odor and trigger allergens.
Important
Here, you need to consider true HEPA filters which have a 99.97% efficiency and filter down to 0.3 microns. However, most of the robot vacuums out there have HEPA style filters which go down to 10 microns and may have an overall efficiency of 85 – 90%.
iLIFE
For iLIFE vacuums, we just have the same filters in all the models. These are HEPA style filters as well and have a good efficiency as well.
verdict

Here, it is a tie because they all have HEPA filters. However, we feel iLIFE is the winner because it is cheaper and offers the same thing as the Roombas.
Bin capacity
Robot vacuums come with dust cups and need frequent emptying and occasional washing.
Attention
An ideal robot vacuum should have a large bin to reduce the frequency of emptying. A full bin indicator is also essential to alert homeowners when the bin needs emptying.
Roomba and iLIFE vacuums have different bin capacity and emptying technology so let's review them to find which one is the winner.
Roomba
iRobot robot vacuums have a much similar design, and so is the dust bin.
They all have a 0.3L bin and come with a full bin indicator.
This notifies the homeowner when it is full because once it is full, the Roomba stalls.
verdict

Here, the dilemma is between a large dust box vs. full bin indicator. It is thus hard to call a winner because each has its advantages and disadvantages. However, we are more inclined to the iLIFE V8s because of the 0.75 L bin.
Cleaning extras
Apart from the features we all know, some robot vacuums offer something unique apart from the sweeping and vacuuming.
Luckily for Roomba and iLIFE, there is something unique offered so let's see what cleaning extra is worth.
iLIFE

As for iLIFE, the V5s Pro and V8s both offer mopping.
They come with extra water tanks and microfiber clothes for dry and damp mopping depending on your needs.
In case of water spills, the dry mopping function will come in handy while the damp mopping is for clearing paw marks, stains, and grime among other sticky messes.
verdict

Here, iLIFE carries the day because mopping is a more practical cleaning extra. Sweeping and vacuuming only doesn't guarantee the best clean, but a single pass with a damp cloth brings back the shine on your hardwood floor, tile or linoleum. Dirt Detect comes in handy rarely when kids spill cereals or sugar.
Cleaning Test Results
To create a real household dirt environment, we used the common dirt for example sand pebbles, kitty litter, cereals, salt, and flour.
So, how did the two robot vacuum brands deal with the dirt?
Hardwood
iLIFE
When it came to iLIFE, the V5s Pro performance was similar to the 690 with a few flour patches remaining behind.
However, all the other dirt vanished. The A4s and V8s both come with the same power and completely vacuumed all the dirt including the flour.
Rice
iLIFE V5s Pro
98%
iLIFE V4s
100%
iLIFE V8s
100%
Flour
iLIFE V5s Pro
96%
iLIFE V4s
97%
iLIFE V8s
96%
Sugar
iLIFE V5s Pro
98%
iLIFE V4s
100%
iLIFE V8s
100%
Kitty Litter
iLIFE V5s Pro
96%
iLIFE V4s
100%
iLIFE V8s
100%
Sand
iLIFE V5s Pro
98%
iLIFE V4s
100%
iLIFE V8s
100%
Cereals
iLIFE V5s Pro
100%
iLIFE V4s
100%
iLIFE V8s
100%