Roomba 891 vs. Roomba 980 Comparison Review
(Last Updated On: March 30, 2018)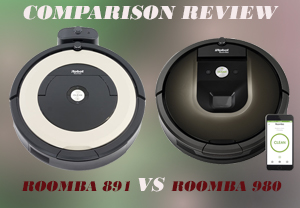 The Roomba 891 and Roomba 980 are the best robots in the 800 Series and 900 Series respectively. In the market, they are also among the bestsellers from iRobot, the best robot vacuum brand in the market.
But for many guys out there, settling for one of these two is the problem. That's the reason we decided to write a Roomba 891 vs Roomba 980 comparison review.
If you are new in the market of Roombas, here is a short summary of the two models.
Roomba 891 – The Best Features at an Average Price
This is among the best robot vacuums in the Roomba 800 series and packs some of the best features at an average price; neither cheap nor expensive.
It comes with all the standard features; 3-stage cleaning system, iAdapt 1.0, HEPA filters and Wi-Fi. Perhaps what sets it apart from the rest of the Rombas, the likes of Roomba 880, 690 and other older models is the extra suction power.
I have used the Roomba 650, 690, and some older 800 models and I can tell you for a fact, this one has more air power. It does a great job on carpets and pet hair and that's the reason I still keep it.
The Roomba 891 will always remain an excellent purchase considering the price and range of features. Actually, I would rather go for this one at $200 lesser than the Roomba 960; i.e if navigation is not my primary concern.
This robot has almost all the features the Roomba 960 has; the difference is that the 960 has the iAdapt 2.0 navigation while the 891 has iAdapt 1.0. Also, the 891 lacks auto-resume function.
So, if you have a large and high traffic room you will want to go with the 960. On the other hand, when compared to the Roomba 690 that is also cheaper and has Wi-Fi and the same navigation system, and several other features. But the 891 greatly overshadows it because it has Advanced Dirt Sensors, tangle-free brush system, 5x more power, and HEPA filters.
The average retail price of the Roomba 690 is $350 while the 890 retails at around $500. I would be ready to let go the extra $150 to get these extras.
When shopping, I know you might not get the Roomba 891 exactly. Please note that the Roomba 891 is exactly the same as the Roomba 980 only that the disposal methods are different. You are more likely to find the Roomba 891 offline or in European markets while the
Roomba 980
is readily available online. So, if you don't find the Roomba 891, get the
Roomba 890
; they are one and the same thing.
Roomba 980 – Ultimate Robot Vacuum Cleaner
If you are looking for the ultimate robot vacuum cleaner for high traffic rooms, carpets, all floor types, pet hair, allergens and other dirt, then this is your product.

Price history

| Type | Price | When |
| --- | --- | --- |
| Current | 899$ | Apr 20, 2018 |
| Highest | 1,802$ | Jan 8, 2018 |
| Lowest | 787$ | Feb 2, 2018 |
Last price changes

| Date | Price | |
| --- | --- | --- |
| Apr 9, 2018 | 898$ | — 0$ |
| Mar 30, 2018 | 899$ | ↓ -1.05$ |
| Mar 24, 2018 | 897$ | ↑ 2$ |
| Feb 2, 2018 | 787$ | ↑ 110$ |
| Jan 8, 2018 | 1,802$ | ↓ -1015$ |
ECOVACS
DEEBOT N78,
bObsweep PetHair
,
Roomba 690
and the rest.
The Roomba 980 is one of a kind
. This is the ceiling model in the 900 series and together with the Roomba 960, they are the only Roomba models with i
Adapt 2.0 navigation
and also
entire level cleaning
.
Read my full Roomba 960 vs. Roomba 980 comparison review. But then, the 980 has several extras that push its price to $900.
The Roomba 980 is $200 more expensive than the Roomba 960 and here is why.
First, the Roomba 980 has a feature called Carpet Boost that delivers 10x more power which is twice what the Roomba 960 does. Its battery performance is also better. The Roomba 980 may average 120 minutes while the Roomba 960 averages 75 minutes. But I don't think this should be a major factor when weighing in between the two because they all have entire level cleaning. The robot will recharge itself and resume cleaning automatically.
So, at no time will you find your house cleaned halfway as is the case with older Roombas. Also, there is a difference when it comes to the Smartphone App. The Roomba 980 has Clean Map reports & advanced cleaning settings which the Roomba 960 lacks. This should also be a non-issue.
That said, the only reasonable advantages the Roomba 980 offers is Carpet Boost. This is a big deal considering these average cleaners don't clean carpets thoroughly, especially fur carpets and rugs.
But I always tell people that if you don't have a carpet, it would be a clever idea to buy the Roomba 960 – spending $200 more for a feature you won't need is not a good idea at all!
Roomba 891 vs. Roomba 980 Comparison
Now that we know a thing or two about these two vacuum cleaners from iRobot, it's time we go further and see how they compare. Here we will look at the top considerations when shopping for vacuum cleaners and see how each one does.
Cleaning performance
This is one area where these two vacuum cleaners share a lot in common but at the end of the day, the cleaning performance is different because of a few tweaks.
Since shifting from AeroVac, Roomba has maintained the new AeroForce 3-stage cleaning system that still uses the old approach; agitation (loosening), lifting and lastly, suctioning. These two vacuum cleaners have this cleaning system. They also have HEPA filters that come in handy for those who have allergies.
But at the end of the day, the Roomba 980 boasts far much better performance because of one thing; the extra air power it has. I know for a fact that the Roomba 980 has a more powerful Gen 3 motor that delivers 10x the air power at peak performance.
Even though both have tangle-free dual multi-surface brush systems, and even a self-adjusting head, the extra vacuuming power gives the 980 an edge over the 891 and even the Roomba 960. There's no place this can be more evident than on carpets. Regardless of the type, the Roomba 980 will still come with some dirt on a carpet that a Roomba 891 will have just cleaned. So, for that reason alone, the Roomba 980 carries the day when it comes to cleaning performance.
| Feature | Roomba 891 | Roomba 980 |
| --- | --- | --- |
| Brush system | Tangle-free Dual Multi-Surface Brushes, Edge-Sweeping Brush | Tangle-free Dual Multi-Surface Brushes, Edge-Sweeping Brush |
| Power | 5x | 10x |
| Filter | HEPA | HEPA |
| Dirt detection | Advanced Dirt Detect | Advanced Dirt Detect |
| Carpet Boost | No | Yes |
Navigation
Once you've made sure that your target vacuum cleaner can handle your floor type, and special cleaning needs if any, you will want to look at your rooms' traffic. You have to be very careful because Roombas are not invincible and may get stuck at times. Before the 900 series was released, there was the need for a solution – the market wanted a more intelligent robot that didn't get stuck and thanks to iRobot's investment in R&D, we have the new iAdapt 2.0 navigation.
There's nothing much to say about the Roomba 891 as far as navigation is concerned. The crown already went to the Roomba 980 that has VSLAM navigation. Besides the sensors, there is a camera at the top that aids in helping it move around more accurately. It detects its location more precisely from the distance between it and landmarks like sofas, tables, doors, walls, e.t.c. This together with the regular sensors make its navigation more accurate. If you have a high-traffic room, this is what you should go for.
Also, the 980 offers better features when it comes to containment. The Roomba 891 comes with Virtual Walls only while the 980 has Virtual Walls Lighthouse.
Battery life
This is one of the areas that most robot vacuum buyers ignore but often come to regret. The battery life of a robot vacuum cleaner is very important. The first thing you need to ask yourself is, how large is your floor? A large floor means longer cleaning time and thus a vacuum with longer battery life is best. But then, something more important to look at is entire level cleaning. What does the robot do after recharging?
Almost all robot vacuum cleaners will go to the charging station when power runs out but a few will resume cleaning thereafter. The Roomba 890 will only recharge but won't resume cleaning until prompted to do so. This can be quite a problem especially if you have a large floor considering the average runtime is 60 minutes. The good thing is that the Roomba 980 will automatically resume cleaning after recharging. This is together with the Roomba 960. Besides this, it has longer battery life compared to the 891. It can average 100 minutes when Carpet Boost is activated on fiber carpets but on pile carpet, it goes up to 120 minutes.
| Feature | Roomba 891 | Roomba 980 |
| --- | --- | --- |
| Battery type | Li-Ion | Li-Ion |
| Average runtime | 60 minutes | 120 minutes |
| Battery management | Recharge only | Recharge and resume |
Convenience
These vacuum cleaners are called robots because they are meant to help us work. So, it will be important to get one with the best convenience features. Some of the features to look out for here include Scheduling. This feature allows you to schedule cleaning sessions throughout the week and that's it. There is also remote control and this can be with a voice assistant or via Smartphone App. Both models are compatible with Amazon Alexa and Google Assistant. They also have Wi-Fi and can be operated right from the iRobot Home App.
But I would go for the 980 because on the Smartphone App, you have more options. You have Clean Map reports & advanced cleaning settings that help you customize your cleaning.
When it comes to convenience, this is hard to call but in my opinion, I would just go for the cheaper Roomba 891. There's nothing new the Roomba 980 offers as far as convenience is concerned.
| Feature | Roomba 891 | Roomba 980 |
| --- | --- | --- |
| Smart features | Wi-Fi | Wi-Fi |
| App | iOS/Android | iOS/Android |
| Voice control | Alexa, Assistant | Alexa, Assistant |
Our Verdict
The Roomba 980 deserves the slot for the best option between the 980 and 891. I am saying this because it has a better navigation system; in fact, the industry's leading. Apart from this, it offers better cleaning performance especially on carpets courtesy of the higher air power. Also, it has a longer runtime and most importantly, it will resume cleaning after recharging to make sure the job is done.
But unfortunately, it is very expensive so if you are on a tight budget, you can maybe settle for the Roomba 891. Yes, it lacks in some of the latest technologies, for example, camera visualization and Carpet Boost but it has some of the most important features like Wi-Fi, HEPA filters, 5 x more power and so on. The icing on the cake is the price; it retails at around $500 which is almost half the price of the Roomba 980.
Now that you know the difference between these two vacuum cleaners, it's time you carefully evaluate your needs and make a go for one of them. Remember, the Roomba 980 remains the ultimate choice but the Roomba 891 is the affordable option!
If you like this article, please rate it.