Roomba 690 vs 890 – What's the Best Choice in 2018?
BY Andry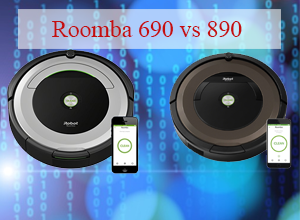 If you are on a budget and you can't get any of the two prime Roomba 900 series vacs, here are two great alternatives; the Roomba 690 and Roomba 890.
These two vacuum cleaners boast some of the high-end features including Wi-Fi. The good news is that they all cost less than $400 which is quite cheap for a Roomba with Wi-Fi and Smart Home Connectivity. However, there's an unending debate on which is the best Roomba between the two.
It is because of this dilemma that we finally decided to spend some time testing each one of them before coming up with this Roomba 690 vs Roomba 890 comparison review. So, without further ado, here is a head-to-head analysis of these two Roombas.
Size and Weight
13 x 3.6 inches and weighs 8.4 lbs.
13 x 3.6-inches and weighs 7.8 lbs
Vacuuming Technology
AeroForce 3-Stage Cleaning System
Filters
High-Efficiency AeroForce Filters
Best Choice
Size and Weight
13 x 3.6 inches and weighs 8.4 lbs.
Vacuuming Technology
AeroForce 3-Stage Cleaning System
Filters
High-Efficiency AeroForce Filters
Good choice
Size and Weight
13 x 3.6-inches and weighs 7.8 lbs
The Roomba 690 – Budget-Friendly Smart Robot Cleaner
Before the Roomba 690 was unveiled, I was a great fan of the Roomba 650. However, I later traded it and got the all-new Roomba 690 that came with Wi-Fi and voice-activated control; the most enviable features at that time. In addition to this, I liked its performance on hard floors as well as carpets. I used it for around 3 months and I must say that I was impressed with its performance.
However, there are a few things that I didn't like and iRobot should have improved. First, it combines the old AeroVac cleaning system with AeroVac filters. It also got stuck when it hit obstacles and left black marks on my wall.
Pros
Wi-Fi and voice-activated control for easy and remote operation.
Dual multisurface brushes that ensure dirt is loosened and picked up more effectively.
There's also Dirt Detection that uses acoustic sensors to know where dirt is concentrated.
Impressive performance on carpets for such a cheap robot vacuum cleaner.
The under $350 price tag is great considering it is Smart and a top brand.
Cons
Gets stuck quite often and leaves black marks when it hits white walls
Has the less effective AeroVac cleaning system and filters
Misses some spots because of a rather random navigation
The Roomba 890 – Versatile and Reliable Cleaning
For those looking for a more advanced Roomba that can match the 900 series, the Roomba 890 is a great choice. Although it is lacking in some areas, it shares some of the top class features the Roomba 900 series has. I used this vac for over 8 months and unlike others that I trade to get a new one, I kept this particular one and it still offers some great performance. What makes it a better buy compared to the Roomba 690 is the new brush system, improved air power, Virtual Walls, and the advanced Dirt Detection Series II. It is also ideal for pet hair and carpet cleaning.
Besides being too noisy, it often got tangled in my fringe carpet. This is also the case in oriental carpets but when it comes to thin carpets, it is impressive. The dirt bin also has a small capacity for such an advanced Roomba.
Pros
Highly versatile as it can clean floors, carpets as well as pet hair and allergens.
More efficient and advanced AeroForce cleaning system.
It connects to Wi-Fi for Smartphone App operation and voice-activated control.
Tangle-free brush system for improved agitation and action on pet hair.
Powerful motor that delivers 5x more air power for improved suctioning.
High-efficiency filters that remove 99% of allergens.
Effectively sweeps wall edges courtesy of the 27-degrees angle side brush.
There's also Virtual Walls even though only 1 is provided.
Cons
Only ideal for thin carpet as it gets tangled on other carpet types
You have to empty the bin frequently; it is very small
What's the Difference between the Roomba 690 and 890?
The Roomba 890 and Roomba 690 share a lot of features. They all have a 3-stage cleaning system, Dirt Detection, Wi-Fi, Alexa and Google Assistant compatibility and iAdapt navigation among others. However, these two vacs have several differences that set them apart and this is why our topic today is, Roomba 890 vs Roomba 690. Having said that, it's time we look at what makes these two vacs different and see which one is the best value for money.
Size and Weight
Even though it is hardly noticeable, the Roomba 890 and 690 have different sizes and weight. I couldn't miss this because I have had both of these Roombas for quite some time. While the Roomba 890 measures 13 x 3.6 inches and weighs 8.4 lbs. the Roomba 690 measures 13 x 3.6-inches and weighs 7.8 lbs.
Vacuuming Technology
These Roombas also have a highly noticeable difference in their general cleaning performance. Even though they all have a 3-stage cleaning system, the 690 uses AeroVac technology while the 890 has the more advanced and efficient AeroForce.
AeroVac technology uses a dual multisurface brush system that has one brush for loosening dirt and another for picking up the dirt ready for suctioning. The suction power is average and would do some justice on carpets as well as pet hair.
On the other hand, AeroForce technology packs a more advanced brush system with debris extractors. It has a tangle-free multisurface brush system that reduces tangling. On the other hand, it is equipped with an airflow accelerator that delivers 5x more air power. The combination of the two makes the Roomba 890 a great choice for pet owners. The high suction power, on the other hand, makes it superior for carpet cleaning.
Filters
This system also uses AeroVac filters that offer some average performance in filtering small debris and allergens. On the other hand, the 890 has High-Efficiency AeroForce Filters that capture up to 99% of allergens especially dander and other pet-related allergens. I must commend the 890 for its air purification properties too. Even though it is not as effective as air purifiers, its contribution is worthwhile.
Full Bin Indicator
Another thing that makes these two vacuum cleaners different is the Full bin indicator. When I had the Roomba 690, I normally found it stuck because the bin was full. However, I liked the fact that the Roomba 890 has the Full Bin Indicator that alerts homeowners when the bin is full. This is a great feature but iRobot needs to up their game a little bit higher in terms of capacity as well as convenience. For Christ's sake, ILIFE, a lesser known brand has some of the industry's best technologies like Smart bin detection and i-dropping technology.
Boundary Marking
What if you don't want your Roomba to get to some areas? If you have such worries, forget the Roomba 690. Only the Roomba 890 has boundary marking. Even though most Roomba 890 owners complained that it has only 1 Virtual Wall provided, it is better than none. You can restrict your Roomba from accessing specified areas with the invisible markers. However, to get the best out of this feature, buy an additional Virtual Wall.
The Downside of the Roomba 890 and 690
Having looked at their difference, I must address one of their major flaws; they don't have entire level cleaning. Even though iRobot included self-recharge in these two vacuum cleaners, I was disappointed that they don't have the auto-resume function to enable them to finish cleaning from wherever they left. This is a major blow especially to those with large floor areas. You have to be at home for it to entirely finish the cleaning.
Roomba 690 vs Roomba 890: Which one is Best?
The Roomba 690 and 890 share a lot in common but one of them is ultimately superior – the Roomba 890. It has better performance on carpets and pet hair courtesy of high suction power and AeroForce technology. With one Virtual Wall, it also offers better multiroom cleaning and can be restricted from reaching certain areas. Regarding price, the Roomba 690 retails at around $50 lesser than 890. I'd be ready to pay the extra $50 anytime for these extras!