The iRobot Roomba 650 Robotic Vacuum Cleaner Review
BY Richard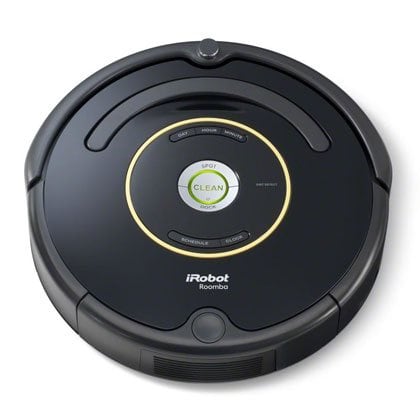 Roomba robotic vacuum cleaners are perhaps the most popular and most sought after vacuum cleaners globally. Since their introduction, their demand has increased rapidly and now, they are a household name. Roombas have been built with the latest technologies and features for convenience and most importantly, for efficient and stress-free cleaning.
Among the most popular Roombas is the UL and ETL Listed Roomba 650. This vacuum cleaner sports a simple, yet efficient design to enable it to perform its core functions. It is ideal for a range of floors including hardwood, tile, linoleum and laminate floors. During my stint with it, I also used it to clean my carpet and it worked just fine. Today we are going to review the Roomba 650 after spending a week with it to see whether it is worth the hype as well as the price tag.
Technologies Roomba 650
Low-Profile Design
As is with most robotic vacuum cleaners, the Roomba 650 sports a low-profile design to help it maneuver under furniture, kickboards, beds and other to hard-to- reach areas. It measures 13.4 x 3.6 x 13.4 inches and weighs approximately 7.9 pounds. As you can see, it has a height of 3.6 inches only. The 650 is actually among the best vacs in terms of design.
However, there's one thing I disliked about the Roomba 650 and perhaps that's the reason I decided to upgrade to the latest Roomba at that time, the Roomba 860. It often got stuck under furniture. Apparently, this was not because of its design. We'll cover the reason later.
AeroVac™ Technology
The kind of filter a vac uses greatly determines its efficiency. The Roomba 650 employs AeroVac technology to guarantee the best in class filtration. This vac is equipped with AeroVac filters that filter out debris, dirt, pet hair dust, lint, carpet fuzz and even allergens.
3-Stage Cleaning System 
The Roomba 650 boasts of an elaborate 3-stage cleaning system. Unlike many vacs that just brush and suction, this one is unique. It uses a combination of three advanced technologies which balance between debris extraction and suctioning.
The first stage is agitation. Here, the brushes loosen and break the embedded dirt and debris. The second stage is brushing. The vac uses counter-rotating brushes to lift the debris away from the surface of the floor. The last remaining stage now is suctioning. The vacuum pulls the debris from the floor surface with the help of the counter-rotating brush and lifts them into the dirt bin.
Another unique feature of the Roomba 650, which is also present in almost all the Roombas is the spinning side brush. Unlike many vacs that leave a trail of dirt on its sides when moving, the 650 leaves none. The spinning side brush sweeps all the remaining dirt along its path, wall edges and hard to reach corners.
Intelligent iAdapt Responsive Technology
Navigation is very important in robotic vacs. The Roomba 650 uses the iAdapt Responsive technology. This technology has several sensors to enable the Roomba 650 do its job and most importantly, keep it safe.
First, this technology has sensors that first map out your entire house. This helps it know exactly how your house floor plan is so that it can clean it methodically. This is unlike many vacs that have no elaborate navigation technology thus they clean the house randomly, often leaving some areas dirty. However, from our experience with the Roomba 650 for a week, it got stuck like thrice.
Initially, we thought that the house was too congested. We removed several items that it got stuck to but the problem persisted. Like earlier said, this was not as a result of its shape or design, it is purely a navigation challenge.
iRobot and few other robotic vac enthusiasts suggest that the iAdapt Responsive Technology also helps it adjust to the different floor surfaces. This guides the Roomba on how best to clean the floor depending on its texture.
Acoustic Dirt Sensors for Concentrated Cleaning
The Roomba 650 has been engineered with unique acoustic dirt sensors. This is among the features that I would say make the Roomba 650 superior to some of its competitors from other brands like ECOVAS, Neato Robotics and so on.
At first, we had all dismissed the effectiveness of this feature. In fact, my test partner had dismissed it as a marketing hype. So, we decided to test it out. We scattered a few debris at strategic points and set it out for cleaning. Amazingly, it concentrated on these areas and intensively suctioned all the debris leaving the area sparkling clean.
7-Day Programmable Scheduled Cleaning
This vac also has the convenient scheduled cleaning mode. I found this feature to be very worthy especially for those who have busy schedules. We did test out this feature and its performance was excellent. We set the auto-cleaning times to be 10:000 am in the morning. The Roomba immediately left it Home Base® at these times and cleaned the house automatically.
Soft-Touch Bumpers with Cushions
I know you might be wondering what would happen when your Roomba hits a hard obstacle. Worry not because the iRobot 650 is designed to avoid obstacles. It has sensors that guide it wherever they go. The edges have been crafted with soft-touch bumpers that differentiate between hard and soft obstacles, There is also a cushion lining to absorb impact and also to prevent damage to walls and other fragile obstacles.
Cliff-Detection Sensors
We never thought about this feature when reviewing the Roomba with my partner. In fact, we were caught by surprise when we noticed it avoided a case of staircases that were at the front door. Initially, we thought there was a bug that made it avoid the areas but upon doing a little research, we learned that it has elevation and drop sensors that helped it avoid stairs and other dangerous areas where it could drop off.
Virtual Wall® Barrier
Another interesting feature of the iRobot 650 is Virtual Wall Barrier. This feature allows home owners to set boundaries in areas where they don't want the vac to reach.
Unlike those cleaners that use physical barriers, the 650 uses virtual walls that can be detected by the iAdapt Responsive Technology to prevent the Roomba from reaching these areas. We tested this function and the results were impressive. It totally avoided the areas we had marked. However, using this feature might be quite a hassle especially for first-time users.
Simple Push Button Control
The Roomba 650 is an easy-to-use vacuum cleaner. It has a simple push button control, unlike other vacs that have complicated control panels. Upon pressing it, the button turns green indicating that it is ready to clean. When the battery is low, it turns yellow and then red when the battery is flat.
NiMH Battery
The Roomba 650 has a powerful Nickel Metal Hydride battery. This battery has enough capacity to run the Roomba for approximately an hour. However, it is worthy to note that it might as well run for more minutes or lesser depending on usage. During our review, for example, it runs at different times. During the first clean, it was on for about 72 minutes. After adding some dirt when testing the Acoustic Dirt Sensors, it was on for about 55 minutes. On average, this battery takes approximately 3 hours to charge.
Features
Low profile design
3-Stage Cleaning System
AeroVac technology
iAdapt Responsive Technology
0.48-liter dirt bin
Bin-full indicator
Scheduled Cleaning – 7 days max
Cliff-Detection Sensors
Soft-Touch Bumpers with Cushions
Virtual Wall® Barriers
UL and ETL Listed
NiMH battery
60-minutes average runtime
3-hour recharge time
1-year limited warranty
Maintenance
The Roomba 650 is quite easy to maintain. Although we never carried out any serious maintenance practice, it is recommended that you carry out the general basic maintenance practices like cleaning the motorized brush, spinning side brush, dirt bin, and sensors for optimum performance.
What we can attest to about the maintenance of the iRobot Roomba 650 is emptying the dirt bin. Emptying it is as simple as lift, dump, and return. The bin is easily accessible and actually slides out easily.
In our one week review period, it never got full. However, when repackaging it, we realized that there is a smaller filter that needed to be cleaned more frequently, perhaps after every emptying. This filter also needs replacement more often, preferably quarterly but definitely, subject to your usage. The good thing is that iRobot has included an extra filter for your first replacement.
What's In The Box
Roomba 650 unit
AeroVac Bin
Home Base
Battery Charger
Extra AeroVac Filter
Auto Virtual Wall
Pros
Low-profile design – This vac can reach all the tricky spots in your house courtesy of its low-profile design
Dirt sensors – Dirts sensors make the Roomba 650 a great addition to any pet owner's household. It knows exactly where there's more dirt and works to intensively clean such areas.
Virtual Wall Barriers – This cleaner enables users to mark off territories that they don't want the Roomba to reach courtesy of the Virtual Wall technology.
Highly versatile – The Roomba 650 is one versatile vac. You can use it on bare floors, carpets, wooden floors, tiled floors and so on.
Easy Operation – The Roomba 650 features an easy-operation simple push button.
Safe in the house – Safety is very important when operating a robotic vacuum cleaner. The Roomba 650 has Cliff-Detection Sensors and Soft-Touch Bumpers with Cushions for its safety as well as the safety of your walls.
Cons
Gets Stuck More Often – The Roomba 650 is an amazing vac only that it gets stuck more often. This is not because of its shape but the navigation system.
Noisy when working – Another shortcoming of the Roomba 650 is that it emits a lot of noise when working.
Competition
It is very hard for the Roomba 650 to thrive in the current market. Not only does it face competition from its siblings in the Roomba series but also from other brands. Here are a few other vacuum cleaners that compete with the iRobot 650.
(i) Neato Botvac D80 – One of its major competitor in the market is the Neato Botvac D80. Even though they share almost the same specifications, the D80 has an upper hand because it has an LCD. The D80 also sports the popular D-Shape design with CornerClever technology for a comprehensive cleaning. Another area where the Botvac D80 beats the Roomba 650 is the dirt bin capacity. The former has a 0.7-liter dirt bin while the latter has a 0.48-liter dirt bin.
On the other hand, the Roomba 650 beats the D80 when it comes to boundary marking. The Roomba 650 uses Virtual Walls Barriers while the D80 uses physical magnetic wall barriers which are hard to set up. In general, if you look at the price difference, the Roomba 650 offers more for less.
(ii) iRobot Roomba 690 – The Roomba 690 is just an upgrade of the Roomba 650. One thing that makes the Roomba 690 superior is the Wi-Fi connectivity, a feature the 650 lacks. The Roomba 690 also supports voice control and can be operated with Amazon's Alexa and Google Assistant. You can simply ask Alexa to start the Roomba, stop or dock.
Other vacuum cleaners that give the Roomba 650 a run for its money include the Neato Botvac Connected, Roomba 770, Botvac D3, ECOVAS Deebot N79 and so on.
Verdict
The iRobot Roomba 650 is an old version in the Roomba series. For this reason, it lacks many convenient features like its later siblings like the Roomba 880, 890, 960 and 980.
It, however, ranks better when compared to other models in the series, for example, the 770. However, it offers excellent cleaning and convenience. Its versatility is also a plus because it doesn't limit you to the type of floor you need to use it on. Considering its current price, the Roomba 650 is still a worthy purchase for anyone shopping for a simple robotic vacuum cleaner.