The Dyson 360 Eye Robotic Vacuum Cleaner
BY Andry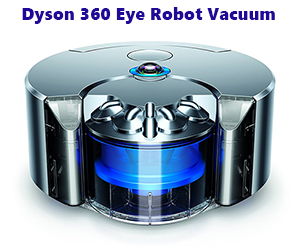 The Dyson 360 Eye is a revolutionary vacuum cleaner that is arguably the best robotic vacuum cleaner. There was so much hype before the 360 Eye was released and was poised to be the ultimate vacuum cleaner for general household cleaning. Several years down the line, we are going to see how the Dyson 360 Eye has performed in the market.
Dyson announced that they are creating an innovative and high-performance robotic vacuum cleaner to rival the Roomba. Afterwards, they retreated to their working base leaving us speculating on how it would be. During its engineering process, there was too much hullabaloo that the Dyson 360 was going to be the best ever created vacuum cleaner. However, the question remains, has it lived to its expectations?
Here's an overview of this robotic vacuum cleaner from Dyson.
Even though this cleaner has been criticized for having a tall body design that can't allow it get under furniture, its other features have completely covered this flow. First, it has a super-efficient cleaning system that ensures comprehensive cleaning on all floor types. The navigation system is the icing on the cake. It has a 360-degrees view and thus the name Dyson 360 Eye. Besides, it has Wi-Fi and voice control.
Before we get deep into this review of this cleaner, here are a few pros and cons;
Pros
Large wheels
Efficient cleaning system
Powerful motor
Precise 360-degrees navigation
Low-noise operation
Wi-Fi and voice control
Cons
Very tall design
Shorter run time
No boundary marking
Very expensive
Having said that, we will now go straight into the review of the 360 Eye and see why it is championed as the best robotic vacuum cleaner.
Design and Aesthetics
In terms of design, Dyson was not very keen in maintaining a low-profile design as is in many vacuum cleaners. This vac measures 9.4 x 9.1 inches and weighs 5.4 lbs. With a height of 4.7-inches, the 360 Eye is not impressive at all considering the likes of the Roomba, iLIFE, and Neato range between 2.9-inches and 3.6-inches. This means that the Dyson Eye will definitely have trouble getting under most furniture. Bearing in mind most dirt hides under beds, kickstands, sofas and other household fittings, Dyson ought to have done better than this. In fact, this is among the areas that leave this top vacuum cleaner questionable among customers and top vacuum cleaners review websites. However, it is worthy to note that even though it is taller than the Roomba, it is compact in width allowing it to get in between very small gaps where neither the Roomba or iLIFE vacuum cleaners can get through.
When it comes to aesthetics, the Dyson Eye is one cleaner to die for. It sports a sleek and stylish design that you will definitely love. On its top interface, there's a single button for starting or stopping the vacuum cleaner. Furthermore, the status indicator has been integrated into this button. This indicator notifies users when the bin is full, low battery or an internal error. At the center also, there's the titular 'Eye' which is simply a 360-degrees camera for navigation. We will look at this in detail when we get to its navigation system.
Our Rating:

When it comes to design and aesthetics, we will rate it 4.5 of 5-stars
It would be 5-stars only that it can't get under most furniture.
Floor Priority
With many vacuum cleaners on the market that perform dismally when it comes to floor versatility, most customers are now insisting on cleaners that clean all floors. I am sure Dyson had this in mind when designing this cleaner. Let us see how it performs on different floors.
This cleaner has been optimized to work on all floor types. It can clean hardwood floors, linoleum tile, and even carpet floors.
One notable thing here is its action on carpet floors. It has a strong motor that delivers up to twice the suction of ordinary vacuum cleaners. It is able to clean the deepest parts on carpets. This is mostly where a lot of dirt hides and where most vacuum cleaners don't reach. The only vacuum cleaners that can match the 360 Eye's performance on carpets is the iLIFE V7S and Roombas with Carpet Boost.
When it comes to linoleum, hardwood and tile floors, its performance was exceptional. It was able to clean these floors without any hassles at all.
Our Rating:

Here, this cleaner scored clean 5-stars
How Reliable is the Cleaning System?
With all the hype surrounding the Dyson 360 Eye, I'm sure its cleaning performance is something everyone would like to know. This is because cleaning is the primary function of any vacuum cleaner. Contrary to what most rumors suggested before this cleaner was launched, it has an exceptional cleaning system that no one ever thought about or knew of its existence. Most rumors had suggested it would borrow from either Roomba's AeroForce or Neato's SpinFlow PowerClean. However, its cleaning system is very different from the rest but delivers a superior performance you can rely on.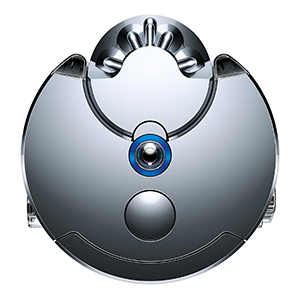 First, Dyson engineered a robust patented high-speed Digital motor V2 that spins in up to 78,000 RPM when working at its optimum. With such power, it produces up to 2x the suction power produced by ordinary vacuum cleaners. This makes it the best vacuum cleaner for all surfaces including carpets as well as pet hair and allergens. During our test, the amount of dust it pulled out from an already vacuumed carpet was quite astounding and shocking. Besides, it is highly energy efficient and has been optimized to ensure it produces minimal noise when in operation. So, if you like cleaning your house at night, or you don't like disturbance, then this is your cleaner.
Besides the high suction power, it combines a full-width brush and Radial Root Cyclone technology to ensure it captures even the smallest dust particles and debris. Like earlier mentioned, the brush system is full-width to cover more space. This makes it more efficient and most importantly, makes the cleaning fast. The brush bristles are made from nylon bristles and carbon fiber filaments which are ruthless in brushing floors and effective in pulling the fine dust off floors respectively. They ensure that even the dirt and dust that has stuck on floors are brushed off ready for suctioning into the 0.33L bin courtesy of and Radial Root cyclone technology that leaves not even a speck of dust untouched.
When it comes to cleaning, the Dyson Eyes scored an impressive 5-stars, the reason is obvious; no cleaner can match its cleaning performance!
When it comes to navigation, we have seen some of the most mediocre vacuum cleaners that can barely finish cleaning without getting stuck at least once. However, with the advancement in technology, we now have some of the best vacuum cleaners with exceptionally precise and accurate navigation systems. Among them is the Dyson 360 Eye which combines large tank wheels, Infrared sensors and a 360-degrees camera for seamless navigation.
First, Dyson made sure that this cleaner was able to move freely on whatever surface, be it hardwood floors or thick carpets. You find that many companies focus more on building very efficient navigation systems and forget about wheels. Note that even with the best navigation system, an effective wheel is fundamental. This vacuum cleaner has tank track wheels that guarantee stability, maintains a constant speed and most importantly, keep the robot on course as it maneuvers its way on different floor surfaces and obstacles.
Besides, it comes with a unique 360-degrees vision system. There's a panoramic lens that has been positioned to capture an all angle view of your entire room. On the other hand, the live vision camera captures 30 images per second and uses these images to build a complete and updated picture of its immediate environment. Consequently, the Simultaneous Localization and Mapping Software (SLAM) then triangulates the cleaner's position in the room to allow systematic navigation and methodical cleaning.
In addition to the camera visualization, there are a set of Infrared sensors that boost navigation. These sensors have the ability to map out your entire house and plan on how to efficiently clean it. One shortcoming of Dyson is that there is no form of boundary marking. If there would be Virtual Walls or at least magnetic strips, it would be better.
Our Rating:

In terms of navigation, the Dyson 360 Eye scored 5-stars
For How Long Can it Clean?
Battery type and life is also an important factor in vacuum cleaners. A good vacuum cleaner should have a long lasting battery with a good run time. I must say that this is another area that the 360 Eye greatly disappointed.
The Dyson 360 Eye has a lithium-ion battery that has a 45 minutes average run time. This is quite unimpressive for such an expensive and high-end vacuum cleaner. When compared to other vacuum cleaners like the Roomba 980 and Botvac Connected which can run for over 120 minutes, this is dismal performance and Duyson should really work on improving this.
Regarding charging time, it can get a full charge in around 150 minutes.
Convenience Features
In terms of convenience, Dyson is an A+ player and never disappointed with the 360 Eye. It comes with several convenience features that make life easier for homeowners. From scheduling to remote control, you can always rely on this vacuum cleaner.
First, the Dyson 360 Eye comes with self-charging and auto-resume capability. With this vac, you don't need to worry about what happens when it runs out of charge when cleaning. It will automatically go to the charging base and resume cleaning from wherever it left once it recharges.
If you are the type of a busy schedule, don't worry. All you need to do is know which times you would wish your house to be cleaned. Then, you can use the schedule cleaning feature to program cleaning sessions. Once these set cleaning times reach, the cleaner will leave the docking station and start cleaning without any prompting.
Finally, this vacuum cleaner has Wi-Fi and App compatibility. With the App, you can easily monitor and issue commands to the cleaner from wherever you are on the Dyson Link App. Besides, it is compatible with voice control devices like Amazon's Alexa and Google Assistant.
Our Rating:

In convenience, the Dyson Eye scored 5-stars
What's in the Box?
Dyson vacuum cleaner
Integrated charging base
Batteries
User guide
Warranty
What We Liked in the Dyson 360 Eye
The Dyson 360 Eye is an amazing vacuum cleaner that packs a range of world class features. Here are some of the things that make us feel it is the best vacuum cleaner that you should buy.
First, it is super-efficient when it comes to cleaning. It can clean a wide range of floors and offers better cleaning in carpets. Besides general household cleaning, it sucks dust, pet hair and even allergens leaving you with a fresh breathable atmosphere.
Another plus for the 360 Eye is the superior navigation system. Unlike most vacuum cleaners, it is backed up by a 360 degrees camera for real time viewing. It can clearly distinguish obstacles and has elaborate wheels to help it maneuver around seamlessly. This makes it ideal for high traffic rooms.
The Dyson 360 Eye also has a low-noise operation. The motor has been optimized to make sure it emits minimal noise without compromising on its performance. This ensures that the cleaner works without creating any disturbance so that you can go about your other work in the house.
Wi-Fi and voice-control also give users the power to do more. You can clean your house from anywhere, anytime. You can either use your App to control the vacuum cleaner or even use voice-activated control.
What We Didn't Like in the Dyson 360 Eye?
In as much as the 360 Eye is hyped, it also has some flaws which we think Dyson should have addressed to make it a complete success.
First, this cleaner finds it very hard to go under most furniture because of its height. Dyson should have emulated other vacuum cleaners and ensured a low-profile design. However, its width is impressive when compared to the likes of the Roomba and iLIFE.
Its battery run time is also not good. 45 minutes is not just enough to clean the entire house. Considering the price, this vacuum cleaner should have been able to run for at least 2120 minutes like its competitors in the market, the likes of Roomba 980, iLIFE A6 and others.
Which are the Dyson 360 Eye's Rivals in the Market?
As you all know, the market for vacuum cleaners is heavily flooded. Brands are seriously battling it out to assert their names and reputation. More so, new brands are also joining the already flooded market. For this reason, the 360 Eye faces very stiff competition. Here are some of its major rivals.
1. Roomba 980
– Being iRobot's best ever vacuum cleaner, the Roomba 980 is a close competitor of the Dyson 360 Eye. They are both high-end vacuum cleaners retailing at almost the same price even though the Roomba 980 is slightly cheaper.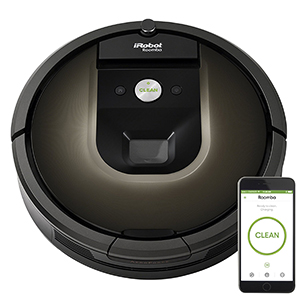 The Dyson 360 Eyebeats the Roomba 980 in several ways. First, its cleaning system is more efficient than the Roomba's. Besides, it has a camera for real time viewing and navigation. The wheels are also made to allow seamless navigation on all surfaces.
On the other hand, the Roomba 980 beats the Eye 360 in several areas. First, it has better battery run time. While the Dyson Eye runs for 45b minutes only, the Roomba does 120 minutes. Second, the Roomba has Virtual Walls to restrict the cleaner from reaching specific places. This is one feature the Dyson Cleaner lacks.
2. Botvac Connected
– The Botvac Connected from Neato Robotics is also a worthy rival of the Dyson 360. Even though they offer almost the same features, here is how they compare.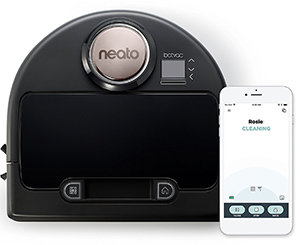 Dyson 360 beats the Botvac Connected outright in terms of navigation. While the Botvac uses LaserSmart navigation, the Dyson 360 has a more advanced navigation system with camera visualization. Besides, its cleaning system is better and more reliable than that of the Botvac.
However, the Botvac Connected has better battery life. It can run for over 120 minutes while the Dyson Eye can only manage a mere 45 minutes. On top of that, the Botvac Connected is way cheaper than the Dyson Eye yet it still offers reliable performance.
Verdict; Is the Dyson Eye 360 Worth the Money?
Having looked at the features of the Dyson Eye and how it compares with other vacuum cleaners, it's high time we decide on whether it is worth all the hype and the hefty price tag. The Dyson 360 Eye has world class features that offer unrivaled performance. It has a sleek design and its cleaning versatility is impressive. Besides, it offers detailed cleaning and its navigation system is second to none. Even though it has a few flaws, it is still a worthy vacuum cleaner that anyone who is not on a budget should set their eyes on!