🥇 ECOVACS Deebot vs. iRobot Roomba Comparison Review
BY Richard Harrison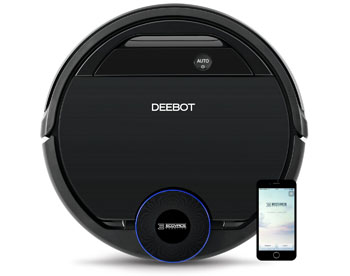 Deebot Ozmo 930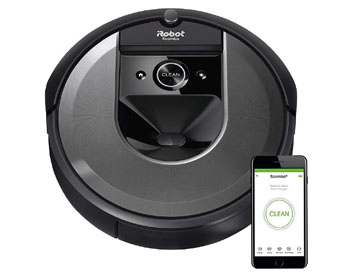 Roomba i7
Price History Chart
Price history Deebot Ozmo 930

| Type | Price | When |
| --- | --- | --- |
| Current | 234$ | February 24, 2020 |
| Highest | 828$ | June 23, 2019 |
| Lowest | 230$ | January 7, 2020 |

Last price changes

| Date | Price |
| --- | --- |
| Feb 20, 2020 | 234$ |
| Feb 3, 2020 | 245$ |
| Feb 1, 2020 | 240$ |
Price history Roomba i7

| Type | Price | When |
| --- | --- | --- |
| Current | 599$ | February 24, 2020 |
| Highest | 799$ | July 3, 2019 |
| Lowest | 549$ | December 1, 2019 |

Last price changes

| Date | Price |
| --- | --- |
| Jan 19, 2020 | 599$ |
| Dec 23, 2019 | 699$ |
| Dec 18, 2019 | 579$ |
The Chinese vs. American vacuum brands war is getting intense. In this Deebot 930 vs. 937 vs. Roomba i7 vs. i7+ comparison review, we want to find out whether the cheaper Deebot 900 series can match the expensive iRobot I series.
To start, we will look at the overview of each brand and the highlights of the two models.

Good choice
Best choice
Name
ECOVACS DEEBOT OZMO 930,...
iRobot Roomba i7 Robotic...
Good choice
Name
ECOVACS DEEBOT OZMO 930,...
Best choice
Name
iRobot Roomba i7 Robotic...
This is a California based robot vacuum brand, the pioneer and arguably the best robot vacuum brand in the market. It boasts over ten models including the newly released Roomba S9 and S9+ that synchronizes with the Braava M6 robot mop for simultaneous vacuuming and mopping.
The I series was released late last year and became the first self-emptying robot vacuum cleaner.
The series has two models; i7 and i7+. The i7 is the base model, and the difference between it and the i7+ is that the former does not come with the iRobot CleanBase unit, and consequently, it attracts a cheaper price.
Established in 1998 by Qian Dongqi, ECOVACS is a Chinese home appliances brand best known for its Deebot series of affordable vacuums. Just like iRobot, the brand boasts several models including Deebot N79 robot mop which was once among the best selling robot vacuums on Amazon.
The Deebot 930 and 937 are among the latest masterpieces from the brand. The two are similar in terms of features and performance as well as pricing. The different model numbers, however, are as a result of where the particular model is sold.
Now that we know a thing or two about the two models, it's time we dive to the finer details. We will first analyze the similarities before focusing on the differences. Later on, we will tell you who should buy which model, and for what reason.
Deebot 930 vs 937 vs Roomba i7 vs i7+ Similarities
Round shape design – Lately, we have seen D-shape designs in Neato and the new Roomba S9. However, for these two models, the standard round shape design is retained.
Suction power – iRobot and ECOVACS have second generation motors, and each delivers around 1000Pa.
Recharge and resume – Both vacuums have been designed to recharge automatically and resume cleaning thereafter so you will not find your floors halfway vacuumed.
Smart connectivity – Roomba i7 and Deebot 930 feature 2.4GHz Wi-Fi which allows for app control and voice control (Alexa and Google Home)
Filtration – The two brands have not yet adopted true-HEPA filtration. While the approach may be different, one thing remains constant – they all use HEPA style filtration.
Zone Cleaning – Both Roomba and Deebot feature Zone Cleaning function. You can easily select a zone where you want the robot to vacuum instead of it covering the entire house.
Floor mapping – Both vacuums will scan and map your floor area for a systematic and methodical cleaning pattern, thus ensuring entire floor coverage, in the shortest time possible.
Deebot 930 vs. 937 vs. Roomba i7 vs. i7+ Differences
Cleaning orientation – The Deebot Ozmo 930/937 will sweep, vacuum and mop simultaneously whereas Roomba sweeps and vacuums only, so you need to invest in a separate robot mop.
Cleaning head – Roomba boast a dual multisurface brush system; one brush is for agitation and the other one for dirt pick up. As for Deebot, we have an interchangeable cleaning head; one for bare floors and another for carpets.
Application – Roomba i7 is best suited for bare floors like hardwood and tile, pet hair and pet messes and maybe low pile carpets. As for Deebot, it offers excellent pet hair pick up on bare floors, as well as the low and high pile carpets.
Bin system – Ozmo 930 and 937 feature a 0.45L bin and lack any notification mechanism. As for Roomba i7, it boasts a 0.3L bin and comes with full bin indicator. The i7+ comes with iRobot CleanBase that empties the bin automatically.
Boundary marking – While they both have boundary marking, Roomba i7's Virtual Walls works with physical barriers, whereas the Ozmo 930 has digital boundaries where you draw limits on the app.
Battery performance – Roomba i7 disappoints with an 1,800mAh battery that lasts for 75 minutes. As for the Deebot, we have a 3200mAh battery that lasts for around 110 minutes.
Navigation system – Deebot Ozmo uses a SLAM (Simultaneous Localization and Mapping) algorithm called Smart Navi 3.0 Mapping. On the other hand, Roomba has the VSLAM (Visual Simultaneous Localization and Mapping) algorithm called iAdapt 3.0 that uses sensors and a real-time camera.
Who Should Buy Roomba i7?
The Roomba i7 is the perfect choice for homeowners on a schedule as the self-emptying bin system. You can go for thirty days without worrying about bin emptying.
This system is also ideal for allergy sufferers, as they aren't exposed to captured allergens during emptying.
Buy the i7 also if you have high-traffic rooms as the VSLAM algorithm combines sensors and cameras for more precise navigation.
Who Should Buy Deebot 930/937?
The Deebot 930 and 937 are best if you are looking for a budget robot vacuum.
The fact that it is cheaper and integrates mopping function makes the Ozmo 930 the best value for your money.
Hardwood floor owners should also prioritize the Ozmo as it mops the fragile hardwood with minimal water.
Pet paw marks and urine stains are also wiped out thoroughly courtesy of wet mopping.
Buy this model also if you have a large apartment as the longer runtime allows it to cover up to 1615 ft2 / 150 m2.
Carpet owners should also consider the Ozmo 930 as it comes with the Carpet ID function and a specially designed carpet cleaning head.