🥇 Coredy R500 vs. R650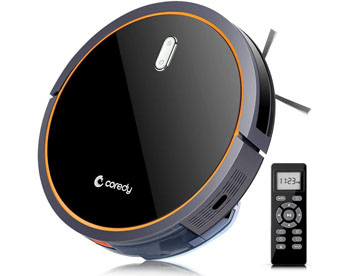 Coredy R500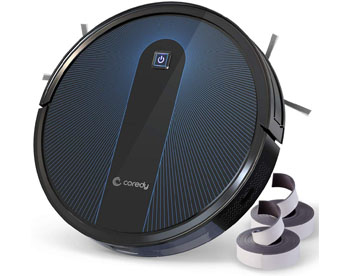 Coredy R650
Best Robot Vacuum Deals Today
Price History Chart
Price history Coredy R500

| Type | Price | When |
| --- | --- | --- |
| Current | 0$ | |
| Highest | 0$ | |
| Lowest | 0$ | |

Last price changes

| Date | Price |
| --- | --- |
Price history Coredy R650

| Type | Price | When |
| --- | --- | --- |
| Current | 206$ | June 3, 2020 |
| Highest | 226$ | November 26, 2019 |
| Lowest | 103$ | April 3, 2020 |

Last price changes

| Date | Price |
| --- | --- |
| May 19, 2020 | 206$ |
| May 18, 2020 | 216$ |
| May 11, 2020 | 138$ |
Coredy may not be a household name when it comes to robot vacuums, but it's still a worthy brand.

In this Coredy R500 vs. R650 robot vacuum comparison, we have two of the most popular models from the Cypriot brand.


Cleaning System

Boost-Intellect Technology

Boost-Intellect Technology

Cleaning Modes

Auto, wet/dry, spot, max, edge

Brushes

v-shaped rubber roller brus

v-shaped rubber roller brus

Good choice

Cleaning System

Boost-Intellect Technology

Cleaning Modes

Auto, wet/dry, spot, max, edge

Brushes

v-shaped rubber roller brus

Best choice

Cleaning System

Boost-Intellect Technology

Brushes

v-shaped rubber roller brus

If you are torn in between the Coredy R500 vs. R650, this is an article you want to read until the end.
Why buy Coredy
Coredy is a little-known brand established in 2011. Even though it was overtaken by the likes of EUFY, Neato, and the rest, it's slowly regaining the lost glory.
It may not be offering the best in class features, but it's among the best affordable robot vacuums.
Now, to the main business of the day, what are the similarities and differences between these two models?
Coredy R500 vs. R650 Similarities
From the look of both models, in the box, and the units themselves, it can be hard to tell the difference. Below are all the similarities between the Coredy R650 and the older R500.
Design – One of the outstanding features of the Coredy R500 and R650 is the slim design. The duo stands at 2.7-inches, which is slim enough to go under most household fittings, where most of the dirt hides, and also, where the furry mates groom themselves from.
Navigation and mapping – Both Coredy vacuums use a SLAM (Simultaneous Localization and Mapping) algorithm. They have IR sensors for obstacle detection, pressure-sensitive bumpers and anti-drop sensors as well. Regarding the floor mapping and scanning, it may not be the most intelligent, but they do a great job in small to medium-sized apartments with average traffic.
Boundary marking – At least you can set boundaries where you don't want the two vacuums to reach using the supplied physical boundary marking strips.
Battery and power – The new R650 shared the same battery and power management features as the older R500. The two feature a 2600mah battery that does an average of 120 minutes on bare floors, but when on carpets, the runtime drops to around 70 minutes. The recharge is automatic and takes 2-3 hours to recharge.
Remote control – None of the two models come with Wi-Fi, so smartphone operation is limited. Instead, they are supplied with physical IR remotes.
Cleaning modes – The Coredy R500 and R650 come with 5 cleaning modes, including schedule cleaning, which allows you to program the cleaner for a straight week.
Coredy R650 vs. R500 Differences
While the two models are similar, there are profound differences that consequently bring a difference in price.
Suction power – The R500 has an efficient motor that delivers a maximum of 1400Pa while the R650 steps up suction to 1600Pa when Boost Intellect is activated. That means the R650 is a better vacuum for carpets, but definitely not the best there's. The likes of EUFY 11s Max and 15c Max, Roomba S9, and Roborock S6 have well over 2000Pa.
Orientation – One of the biggest achievements and a key driver of Coredy is its 3-in-1 vacuum cleaners. The R500 will sweep, vacuum, and mop (dry and wet), but the R650 sweeps and vacuums only.
Bin and water reservoir – The Coredy R500 comes with a 0.3L water tank for wet mopping and a large 0.55L bin. On the other hand, the RV650 comes with just a bin. Measuring 0.5L, it has been re-designed with a wide opening door, which enhances usability when emptying.
Filtration – While the two vacuums share the same high-efficiency filter, there is a difference in design. The new R650 boasts an upgraded washable HEPA filter, which reduces maintenance costs. There's also a pre-set filter and a sponge filter for enhancing efficiency. As for the R500, we have a HEPA filter only.
Brush system – Both models have dual side sweeping brushes, but the primary brushroll design is different. The R500 has a unique v-shaped rubber roller brush with patented tangle-free technology making it ideal for picking up both short and long pet hairs. On the other hand, the R650 improves the brush with an upgraded planting/rubber rolling brush.
Who should buy Coredy R500?
The R500 has been designed to sweep vacuum and mop. If you are looking for a robot vacuum that has a mop, this is your match.
Important
It does a great job on bare floors, especially hardwood and linoleum.
If you don't want to see the pet paw marks after vacuuming, or the urine stains, this is a great deal.
Who should buy Coredy R650?
Attention
The R650 sacrifices the mopping function, so you will need a dedicated robot mop. But the good thing, it vacuums carpet more effectively than R500.
So if you have a medium pile to high pile carpet, or shag and rugs, the R650 is meant for you.
Summary
As you have seen, R500 and R650 are two similar models, but there is a big distinction. One is for homes with bare floors, and that's the reason for low suction, but has a tank for mopping.
The other is designed for homes with carpets and sacrifices the mopping function for higher suction.