360 S6 vs. 360 S7 vs. Roborock S6 Comparison Review


For some time now, Roborock has dominated the Chinese robot vacuums market. But recently, another top Chinese robot vacuum brand, 360, was spotted in the US market. At the moment, there is a serious battle that pits Xiaomi's Roborock vs. 360. In this article, we have compared the two best 360 vacuums against the best Chinese robot vacuum. Without further ado, here is a detailed 360 S6 vs. 360 S7 vs. Roborock S6 face to face comparison review.
1. Design and Aesthetics
As far as the design goes, the important things to consider are the shape and dimensions. Aesthetics is not so important as it does not influence the cleaning performance. So, how do the three vacuums compare here? And can you tell the difference from their physical appearance?
360 S7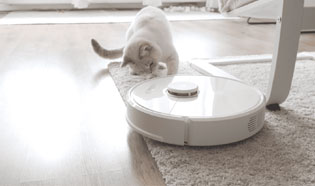 The S7 is not different from the S6 as it is also round shaped with the same dimensions, 13.7 x 13.8 x 3.9 inches. But regarding the weight, it is slightly heavier at 8.38lbs. Please ignore the reviews that suggest it is 11lbs. As for the aesthetics, this vacuum is in plain white and a thin orange accent surrounding it.
2. Cleaning Performance
When it comes to cleaning performance, the first thing to consider is cleaning orientation. Next up is the components, which include the motor, brushes, and filters, as well as the cleaning modes.
360 S6
This vacuum came to challenge the Roborock S6, and it succeeded as it also offers wet mopping courtesy of an 80ml water tank and mopping cloth. When it comes to suction power, this vacuum also impresses with a yield of 1800pa powered by a 3-speed motor (Quiet/Standard/Max). The bin has a 0.4L capacity, while the filtration is based on HEPA-style filters.
3. Cleaning Tests
As usual, we do thorough tests on all robot vacuums we review. We tested the three vacuums on bare floors and carpets using the common household dirt, and below are the results. Find out which is the best performing vacuum in this Roborock S6 vs. 360 S6 vs. 360 S7 comparison review.
4. Autonomy
This is all about the power management of the robot vacuums. Here, we will compare aspects like battery technology, capacity, runtime, recharging, and life cycle. So, which is the best choice in this 360 S6 vs. 360 S7 vs. Roborock S6 vacuum comparison?
360 S6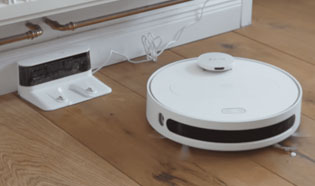 The S6, on the other hand, tags along with a smaller 3200mAh lithium-ion rechargeable battery. The battery lasts for 120 minutes when in Quiet mode, 100 minutes in Standard mode, and Max mode, 85 minutes. As expected from such a high-end vacuum, the S6 will recharge and resume cleaning automatically. As for the battery's life cycle, it should serve you for 12 months or so if you take proper care of it.
5. Navigation, Mapping and Boundary Mapping
Robot vacuums operate autonomously courtesy of a navigation system that enables it to detect and avoid obstacles, as well as falls. The floor mapping and scanning system, as well as the ability to learn the layout of your home, is essential. Lastly, we also considered the boundary marking technology.
360 S6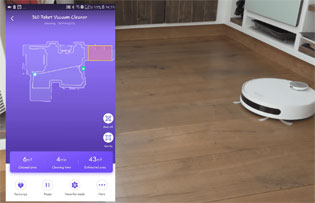 Next up is the S6, which uses an LDS Lidar + SLAM algorithm just like Roborock. The LDS comes in handy for localization while the bumpers and sensors are for cliff and obstacle detection. When it comes to floor mapping, the 360 S6 will also learn and adapt to your floor plan, saving a maximum of 3 maps courtesy of an AI-powered software. Just like Roborock, it uses a systematic cleaning path and will not skip any spots on the floor.
6. Smart Features
A good robot vacuum should be smart home ready. This gives homeowners the privilege to operate them remotely via the respective mobile apps and other smart home operation devices.
360 S7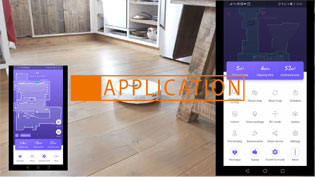 The new S7 is not different from the 360 S6 as it also tags along with Wi-Fi for smartphone app operation and Alexa compatibility.
Frequently Asked Questions
What is the best robot vacuum for carpets?
Face to face comparison shows that Roborock S6 is the most powerful and functional robot for carpet cleaning. It provides 2000 Pa suction and Carpet Boost technology. Also, a motorized brush roller helps collect more hair and lift any debris from the pile. Still, one should admit that Roborock 360 S7 model is very similar to the S6. Thus, it`s also a nice choice for carpet cleaning.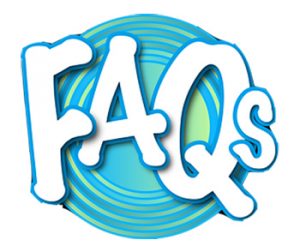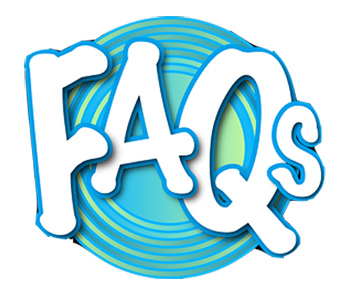 What is the most affordable robot cleaner?
As far as Roborock 360 S6 is the oldest of these three vacuums, it is the most affordable robot either.
What is the difference between Roborock 360 S6 vs 360 S7?
These models feature a lot of similar functions and characteristics. However, the first robot weighs 7.7 pounds, while the second is heavier with its 8.38 pounds. Also both vacs perform wet cleaning. The 360 S6 has a 80 ml water tank. And the 360 S7 can boast of a bigger tank for 150 ml. Dustbins differ as well. We see a 400 ml and a 570 ml bins. Final and essencial difference lies in power. Roborock 360 S6 produces 1800 Pa. Roborock 360 S7 provides up to 2000 Pa and uses the auto-adjustable brushes.
Roborock 360 S7 vs Roborock S6: which robot has longer run time?
Roborock S6 is the most durable model with its 180 minutes of operation. Roborock 360 S7 lasts for 120 minutes.
Winner: 360 S6 vs. 360 S7 vs. Roborock S6
As we have always mentioned in our reviews, the Chinese robot vacuum cleaners offer better value for money compared to the European and US brands. But between the three vacuums, which one is the best? That's what we are about to discover in this closing segment of this 360 S6 vs. 360 S7 vs. Roborock S6.
To start, the 360 S6 will definitely not be the best as it's quite an old model from 360. The battle here is between the 360 S7 vs. Roborock S6, the latest models from 360 and Roborock. Well, there is not much difference between the 360 S7 vs. Roborock S6 though the former has a lot of praise heaped on it regarding the intelligent technology it uses in navigation and mapping.
The advantage of the 360 S7 is the larger bin and the fact that it can save up to 10 maps. But then, the Roborock S6 has more practical advantages compared to it. First, you will like the advanced mopping system that offers two mopping settings. The other advantage, and perhaps the main reason why the Roborock S6 is superior in this discussion, is the longer runtime.